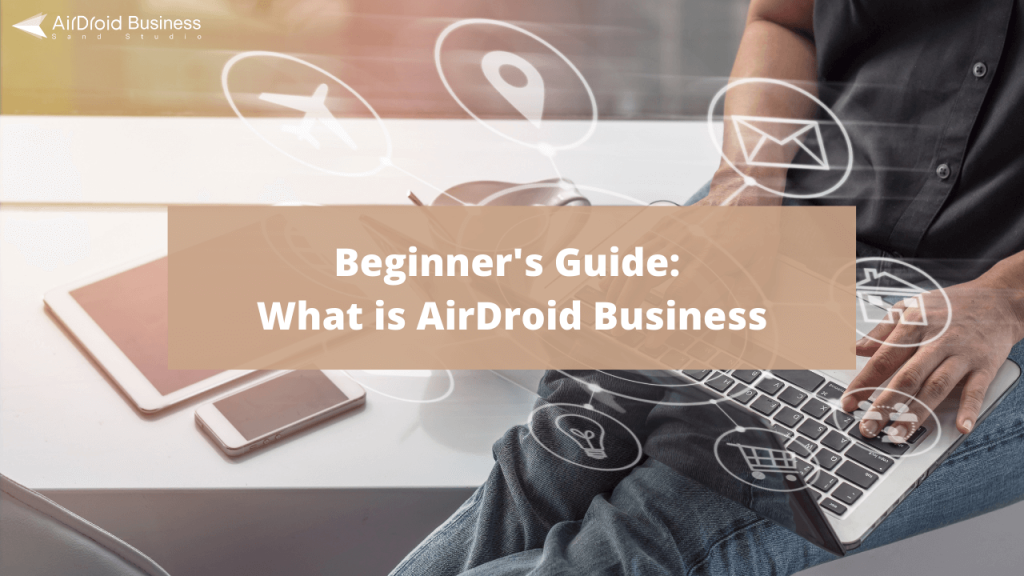 If you're looking for an easy-to-use but powerful mobile device management software that helps you remotely control and manage more than 10 Android-based devices, AirDroid Business is your answer. This guide will provide you a broad overview of AirDroid Business, what it can achieve, how to make it work for your business, pricing plans, and how to get started.
What is AirDroid Business?
AirDroid Business is an all-in-one Android Mobile Device Management (MDM) Solution that focuses heavily on remote Android device management. It is a mdm solution specifically designed for both small businesses and enterprises who need to manage more than 10 devices on a daily basis. It helps business owners and IT professionals to remotely access, control, and manage both attended and unattended devices through a centralized approach. Stay up-to-date with your remote Android devices anytime anywhere. Identify potential system errors in advance and take actions to shorten troubleshooting time.
Introducing Admin Console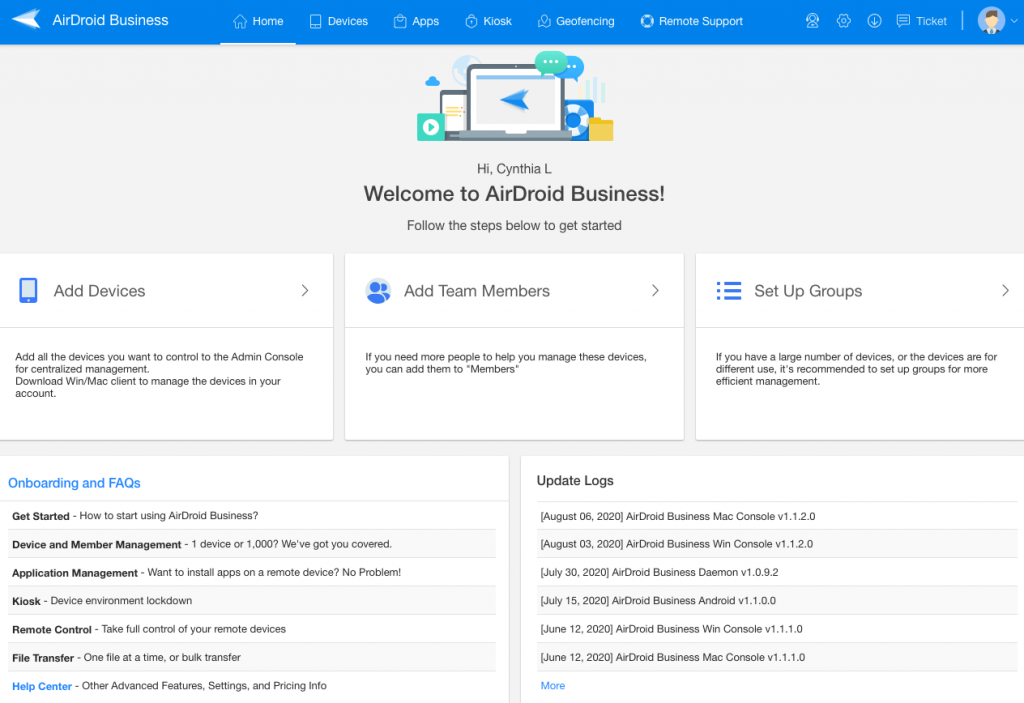 Admin Console is a cloud-based dashboard that allows IT managers or business owners to remotely access, control, and monitor their Android devices' real-time performances. After downloading Biz Daemon, the android device management app onto the device that needs to be controlled, users will be able to view all the enrolled devices from monitoring templates and perform different remote device management tasks. These include locking devices into kiosks, remotely updating apps, and tracking device locations.
Alternatively, if you're looking to manage multiple users and devices, you can easily assign roles, permissions and categorize devices in groups. For enterprises looking for an Android MDM software, this member management feature can greatly reduce labor cost and IT workload.
Introducing Desktop Client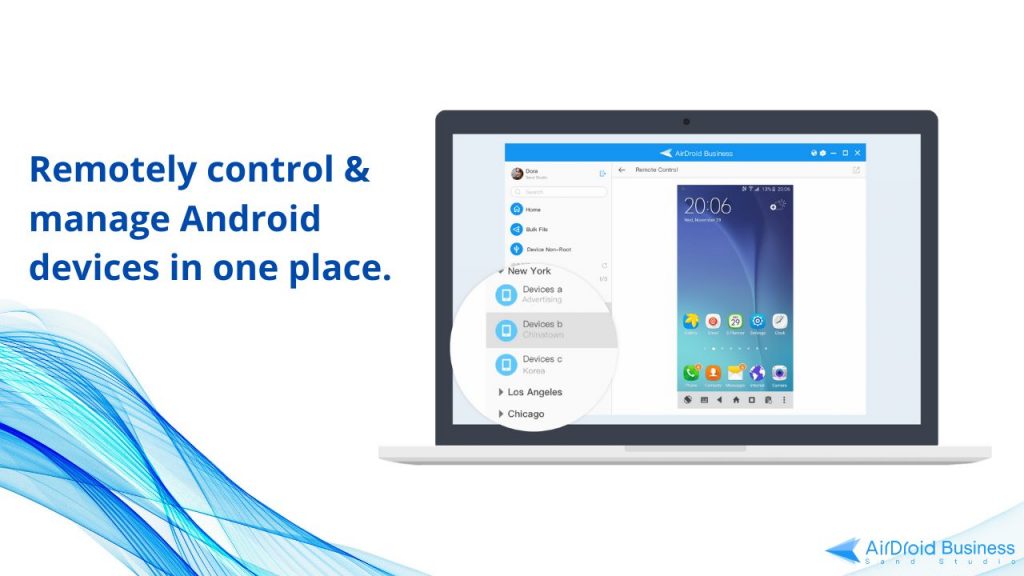 AirDroid Business Desktop Client works like an Android remote control center. This is where the majority of unattended remote access and unattended remote control tasks happen! With Desktop Client, you'll be able to achieve more than 15 remote device management goals, such as remote camera, remote screen-sharing, remote keyboard, and bulk file transfer.
What can AirDroid Business Achieve?
You can accomplish A LOT with AirDroid Business. What makes AirDroid Business stand out from other MDM solutions is its emphasis on remote device management. With the advancement of technology and ubiquitous use of mobile devices, businesses are to face the biggest challenge inevitably: How to remotely manage your deployed devices more efficiently? AirDroid Business helps relieve the uncertainty and insecurity of managing unattended devices by offering a comprehensive device management solution with the following 9 major features.
6 Major Remote Management Features

Monitor Remote Devices: Remotely monitor all your deployed devices' status from one dashboard, choose from 5 different monitoring templates, identify malfunction or hardware issues in advance.
View Devices Locations: Quickly locate your devices' location and help your team keep track of each device's activity.
Remote Access and Control: Activate screenshot, remote camera, file transfer, and other remote tasks to resolve any technical problems. 
Two-Way File Transfer: Send or receive files from remote devices in real-time. A faster way to manage and update files on your deployed devices.
Batch Mode: Easily edit, manage, and even delete files in multiple devices all at once. 
Assign Roles and Member Grouping: Assign roles of Admin, Member, and Viewer to your team. Efficiently manage all devices' accessibility in one place.
Read more: How to Set Up Devices & Member Management
3 Add-on Product Features
Kiosk Mode*: Lockdown your remote devices and allow limited access to specific apps for data security concerns, such as digital signage or service kiosks at public places. Read more
Application Management Service (AMS)*: Simplify your app updates and maintenance with force installation and staged rollouts. Use App Library to customize and manage your apps effortlessly. Read more
Geofence Management*: Set digital parameters and track your device's path movement. Design your workflow trigger such as device lockdown and receive a notification when the geofence has been breached. Read more
*AirDroid Business add-on features can be purchased separately.
MDM Solution for Industries
With Remote Control and 3 add-on features provided by AirDroid Business, how can you make the best out of it? Below are three industry examples of how your organization can maximize the full potential of AirDroid Business, improve your productivity and save significant costs!
1. Digital Signage
Remotely update and uninstall apps without manual interference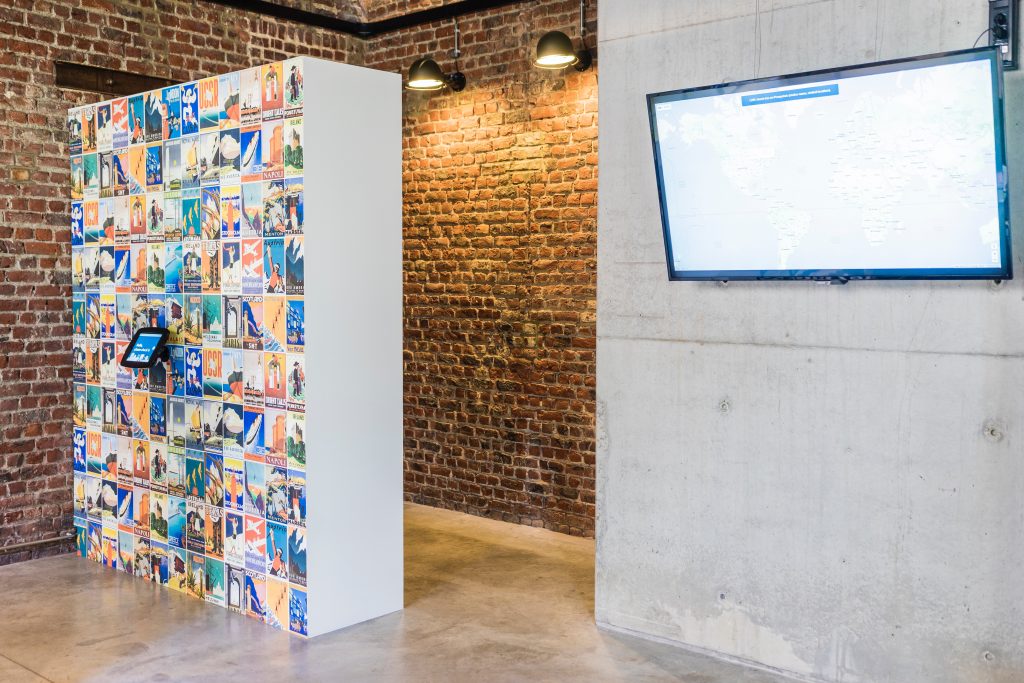 Scenario: Hotel California introduces digital display boards in their lobby and reception area. They use digital signage to showcase their hotels, special offers and events. They even created their own hotel booking app to engage more with their customers. Now, if today they decided to update their in-house apps and apply these changes in every digital signage they've deployed across the whole country, how can they accomplish this?
Solution: They simply sign in to AirDroid Business, go to Application Management Service, select the devices in which their in-house apps are installed, click update, and that's it!
Hotels are only one of the industries implementing digital signage. Others include: Airlines and Airports, Casinos, Restaurants, Healthcare, Education, Banking, and more. For businesses using digital signage as their advertising strategy, one crucial concern is to be able to remotely update apps on their unattended devices deployed out in the field faster and easier. With basic remote control and AMS, businesses can easily update/uninstall apps or reboot their unattended Android devices in a less costly way.
Read more: Remote Device Management for Digital Signage
2. IT Service
Remotely view, control , and troubleshoot devices more efficiently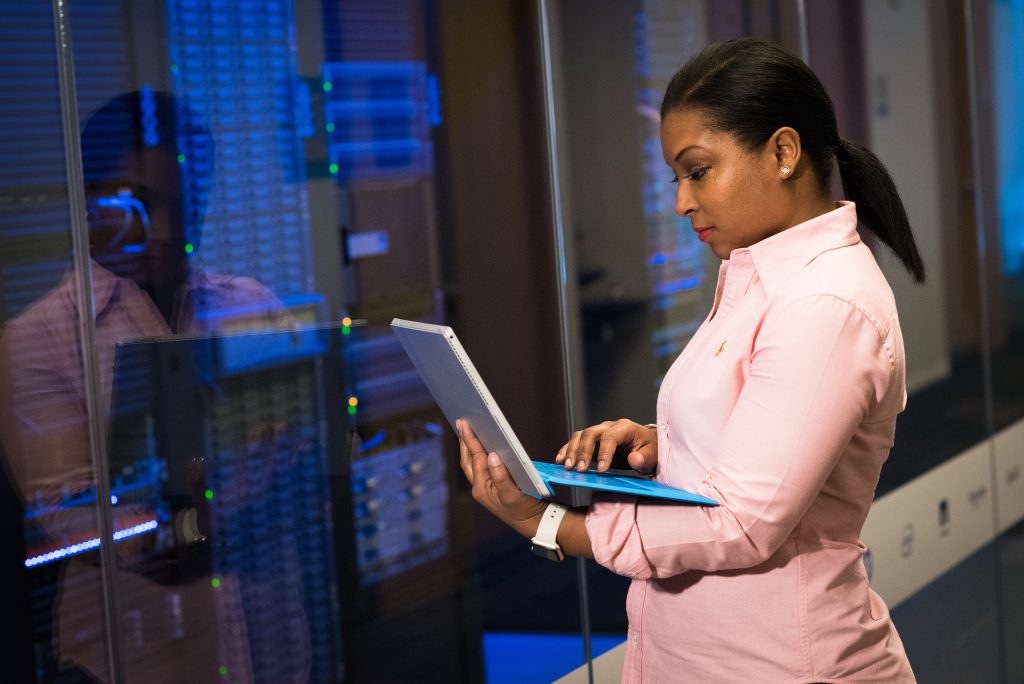 Scenario: FutureTech Inc. is an IT company that offers software services to SafeAlways Insurance, an international company spread across Asia and Europe. SafeAlways distributes Android tablets to their sales so they can showcase their products to their customers and close deals more efficiently. FutureTech published a new version of an app installed in SafeAlways' Android tablets after receiving a troubleshoot report last night. And now IT support agents want to apply new changes onto all the unmanned devices, how can this be done?
Solution: An IT professional at FutureTech navigates to Application Management Service in AirDroid Business, he then goes to App Library, selects the App and devices he wants to update and completes all the updates for all unattended devices from SafeAlways right away.
An IT software company usually serves customers of different industries and requires IT professionals to provide support when necessary, especially when technical issues need to be resolved immediately. With AMS, IT admins can run Forced Installation to replace broken apps immediately. IT professionals can further use Kiosk Mode to lockdown specific applications on devices, and even configure Wi-Fi settings to better remote control and manage all devices.
Read more: 3 Ways How MDM Can Help IT Manager Increase Productivity
3. Logistics
Remotely lock devices from user misuse and data cost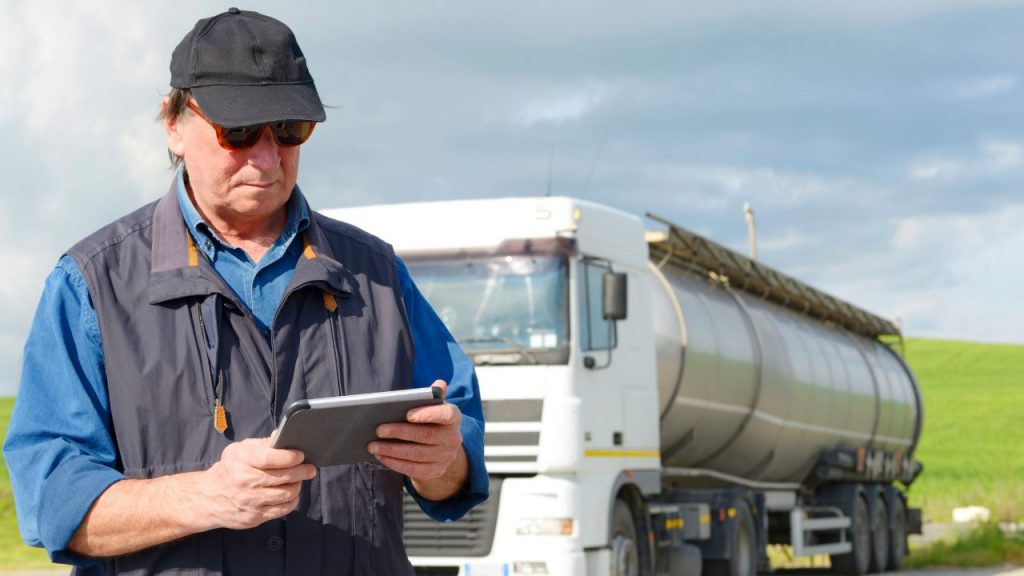 Scenario: Evergreen Logistics dispatched several Android tablets to their drivers and installed company-owned apps on the devices for work purposes across the whole United States. However, IT team has been receiving calls from their drivers reporting device malfunction issues because they accidentally inactivated something on their tablets. How should the company prevent these device misuse from happening so frequently?
Solution: IT manager at Evergreen Logistics use Kiosk Mode to lockdown applications on their Android tablets. Drivers are only allowed to use company-owned apps at work. Additionally, they block websites such as YouTube and Facebook on the tablets so drivers won't be able to access these pages and waste unnecessary data cost. In order to make sure your device end users don't tamper with the settings, activate Kiosk Mode on all of your Android devices and limit your system settings so even your employee with zero IT background won't have any trouble using the device at work.
With the growing demands for touchless delivery, many logistics companies are now implementing mobile device management solutions to minimize IT workload and save operational costs.
Read more: AirDroid Business for Transportation and Logistics
AirDroid Business Pricing Plan
AirDroid Business offers 3 based plans in essence: Basic, Ultimate, and Enterprise. Add-ons can be purchased individually according to your needs. Depending on the number of devices, team members, and business type, you can find a detailed breakdown of our pricing plans here. If you have further questions, please contact sales@airdroid.com directly.
How To Get Started?
To start using AirDroid Business, please follow the steps below:
Step 1. Get your 14-day FREE Trial here (No credit card required).
Step 2. Verify your email address through "Log in Now" button.
Step 3. Complete your company's profile.
*If you don't find our welcome letter in your inbox, remember to check your Spam or Trash folder.
Once you complete filling out all the information, you should see your Admin Console, which is a cloud-based dashboard where you complete all your device management activities.
Please note it's NECESSARY to complete binding your devices before you can start remotely managing your devices. But don't worry! Here are some step-by-step guides to help you along the way:
For more information, please visit AirDroid Business Help Center
It is inevitable that more and more businesses will adopt a mobile device management (MDM) solution to cope with the ever-changing business world shaped by technology advancements. The key driver here is to maintain your business continuity by finding the right MDM solution that matches your needs and continues driving growth in the long run. Start your AirDroid Business 14-Day FREE Trial Today!