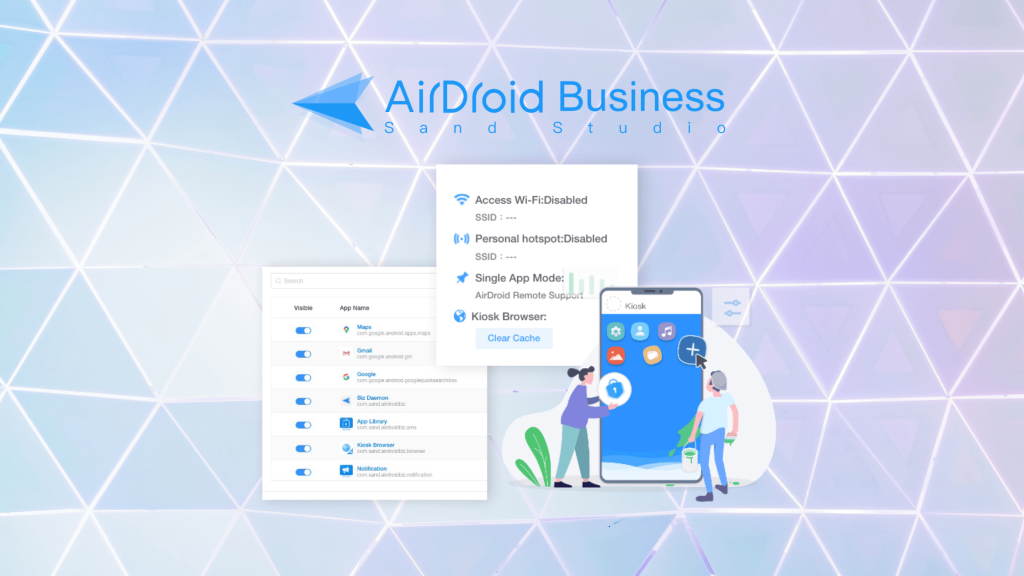 According to the latest research published by Technavio, the global self-service kiosk market is expected to grow by USD 2.29 billion during 2020 to 2024. In fact, the increasing demands for kiosks have been recognized across all industries including retail, restaurants, healthcare, financial services and more.
What is Android Kiosk Mode?
Android Kiosk Mode is a device lockdown mechanism that limits your android mobiles or tablets into a single-app mode or applications of your choice. In addition, AirDroid Business Kiosk Mode lets you create website whitelist to restrict website visits using a kiosk browser, customize home screen interface, and configure peripheral settings such as WiFi, hotspot, volume, and more.
Features of Android Kiosk Mode
App Lockdown: Optimize your user experience
App lockdown helps prevent your devices from being tampered easily and creates a more engaging user experience. You can either set your kiosk in single-app mode or offer limited access to specific apps. This feature is particularly useful when your businesses are turning android devices into interactive kiosks, such as music sampling booths, or restaurant self-service kiosks like McDonald's.
Kiosk Browser: Create secure browsing behavior
Kiosk Browser can come in handy when you want to limit website URL visits, schedule browser cache cleaning, and other web browsing behavior. This can help keep your end users focused on the intended tasks without being distracted by other irrelevant websites. The main purpose is to create a safe and pleasant user experience.
Device Peripheral Settings: Adapt to all usage scenarios
Android Kiosk Mode allows you to configure a wide range of peripheral settings including WiFi, hotspot, volume, screen timeout, Bluetooth, screen brightness, and a lot more to fit all types of business scenarios.
Device Interface Design: Unify brand identity
Android Kiosk Mode also gives you flexibility to customize your business logo, modify wallpaper, and edit text color to show your brand identity on your devices. This helps send a unified brand message to both your employees and customers while reinforcing user experience at the same time.



How to Enable Kiosk Mode on Android Devices?
After learning about the features of Android Kiosk Mode, let's follow the steps below and set up your first android kiosk:
Step 1: Enter your AirDroid Business login details , navigate to Admin Console >> Kiosk >> Brand & Layout to create your first device brand interface design.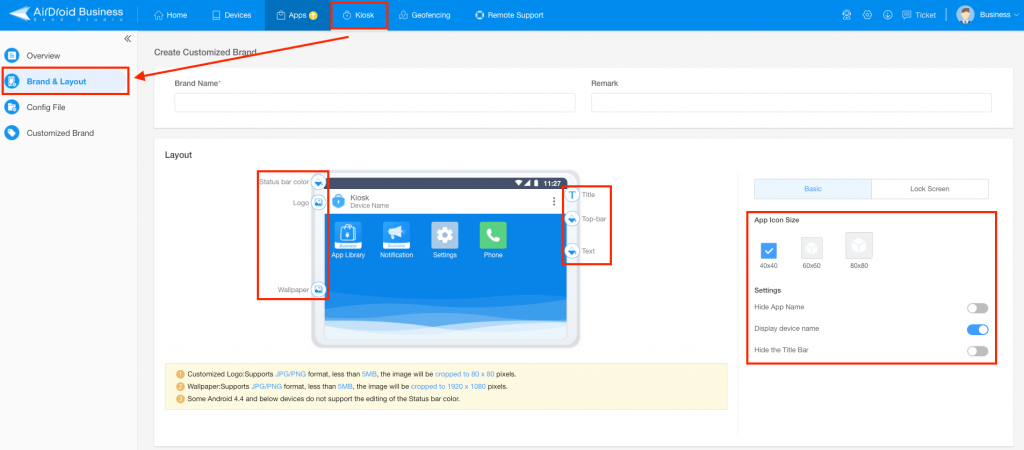 Step 2: Navigate to Config File and create an Android Kiosk profile for your Android devices. Enter the required name and description for your profile.

Step 3: Navigate to App Allowlist to add and select the applications you want to show on the devices.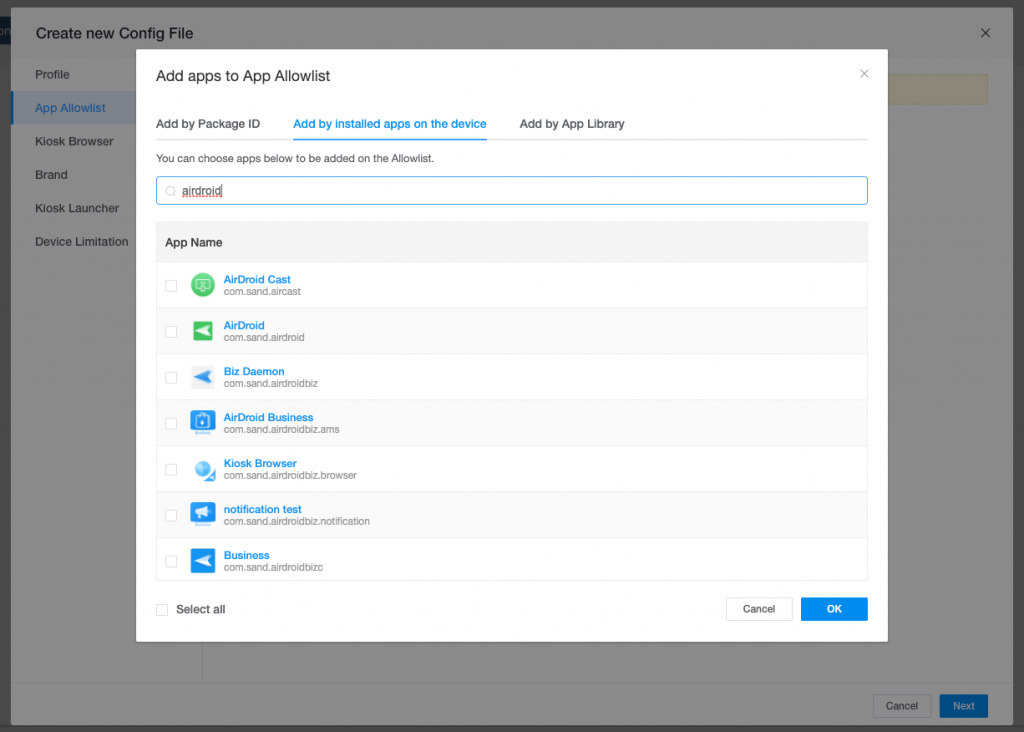 Step 4: Navigate to Kiosk Browser >> Website Allowlist to add certain website urls for access.
You can also set a webpage as default homepage.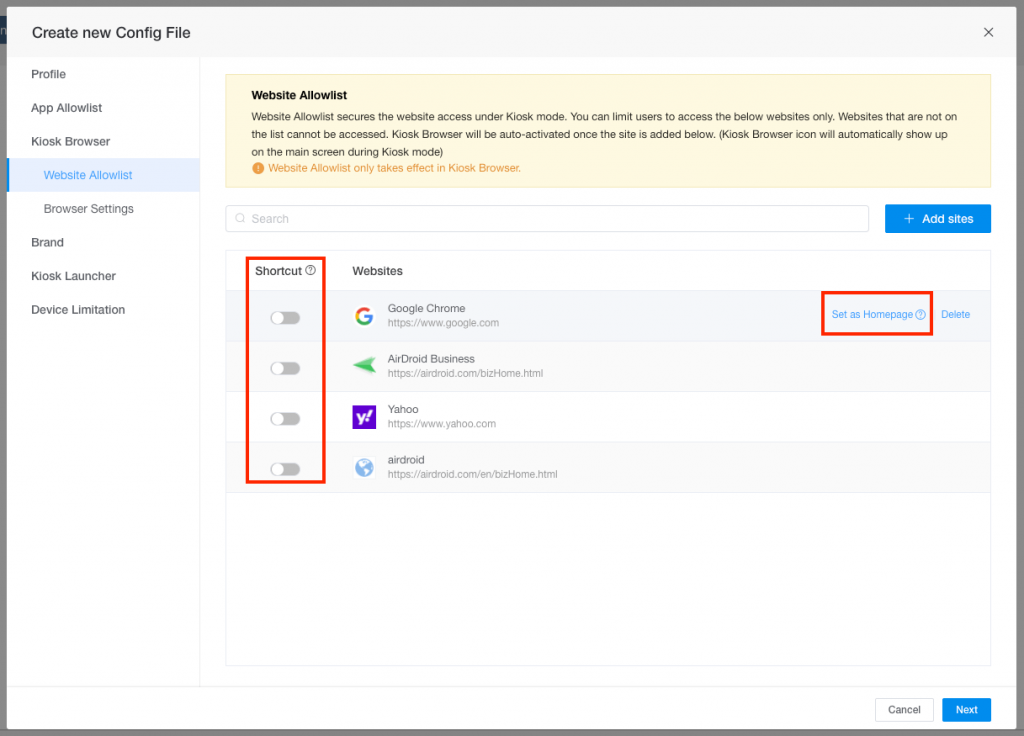 Step 5: Configure Browser Settings such as displaying URL bar, using incognito mode, or activating auto-clear cache.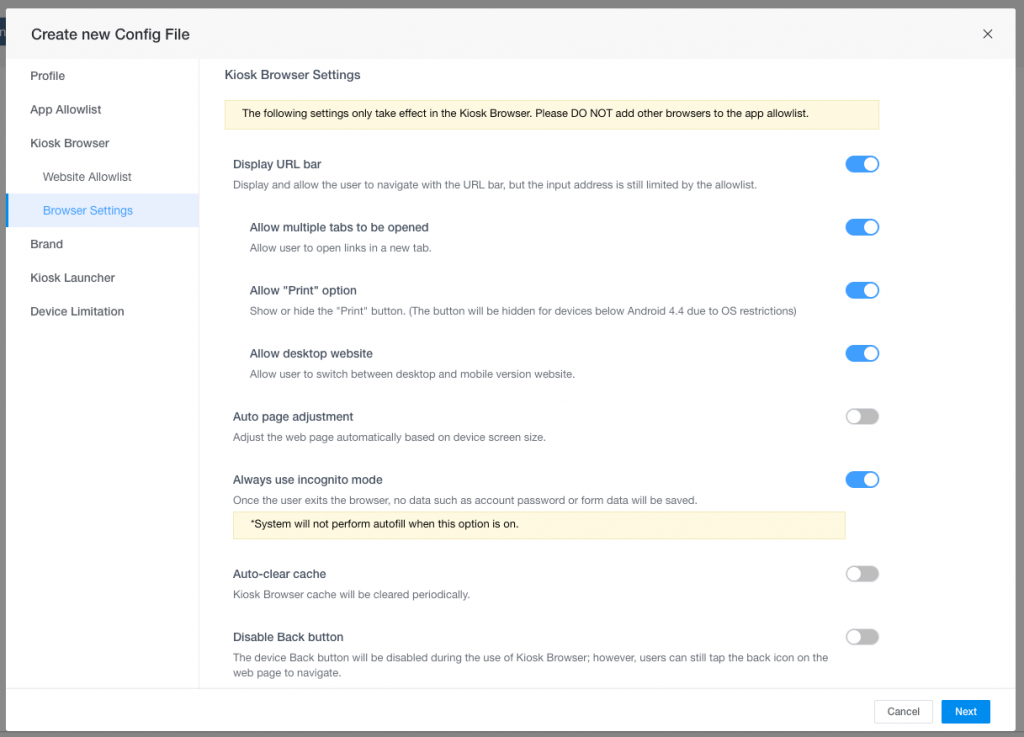 Step 6: Select the device brand interface design you want to apply to your devices.

Step 7: Navigate to Kiosk Launcher >> Single App Mode to turn your devices into a single app.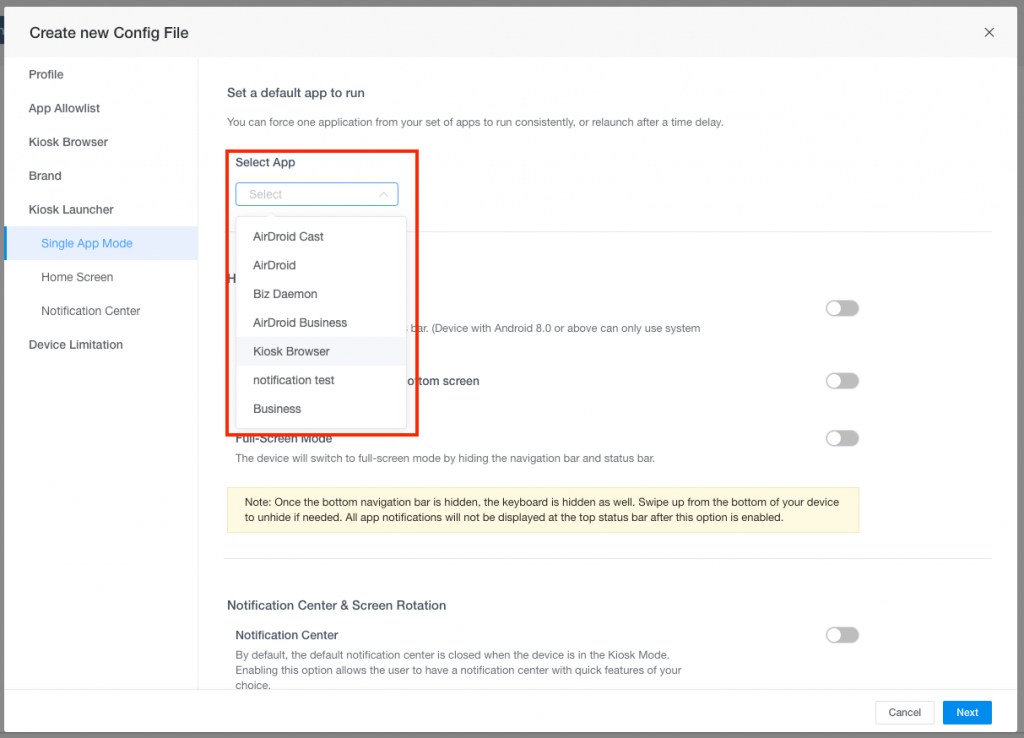 Step 8: Modify your Home Screen and Notification Center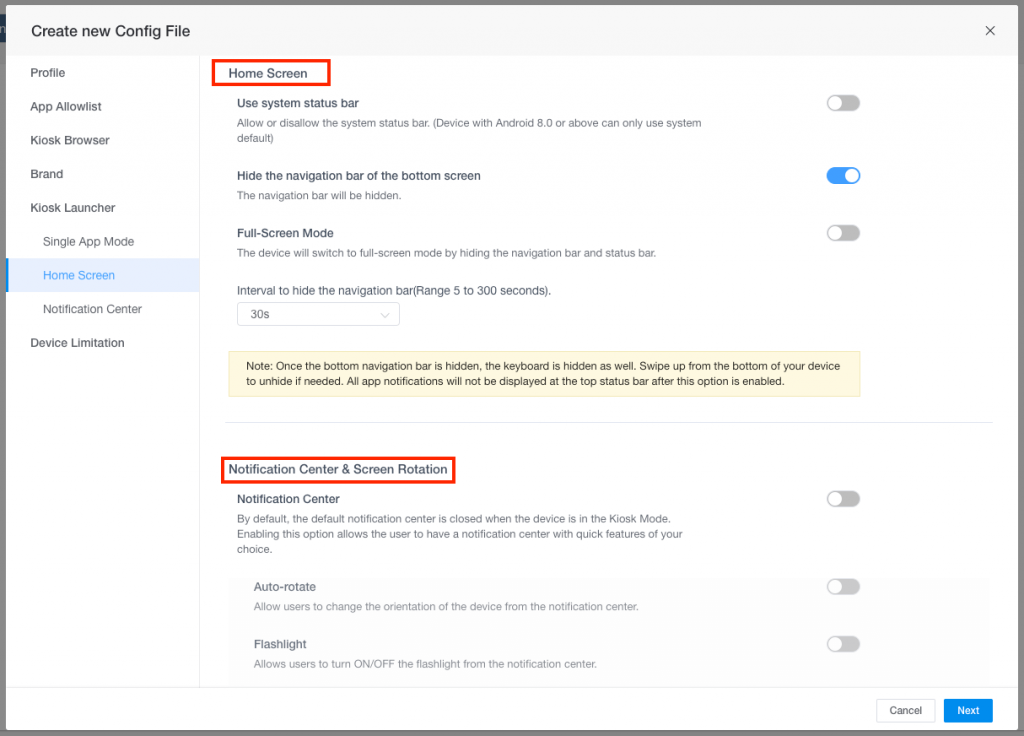 Step 9: Navigate to Device Limitation to set up all the peripheral settings including wifi, volume, hotspot, bluetooth, and screen display.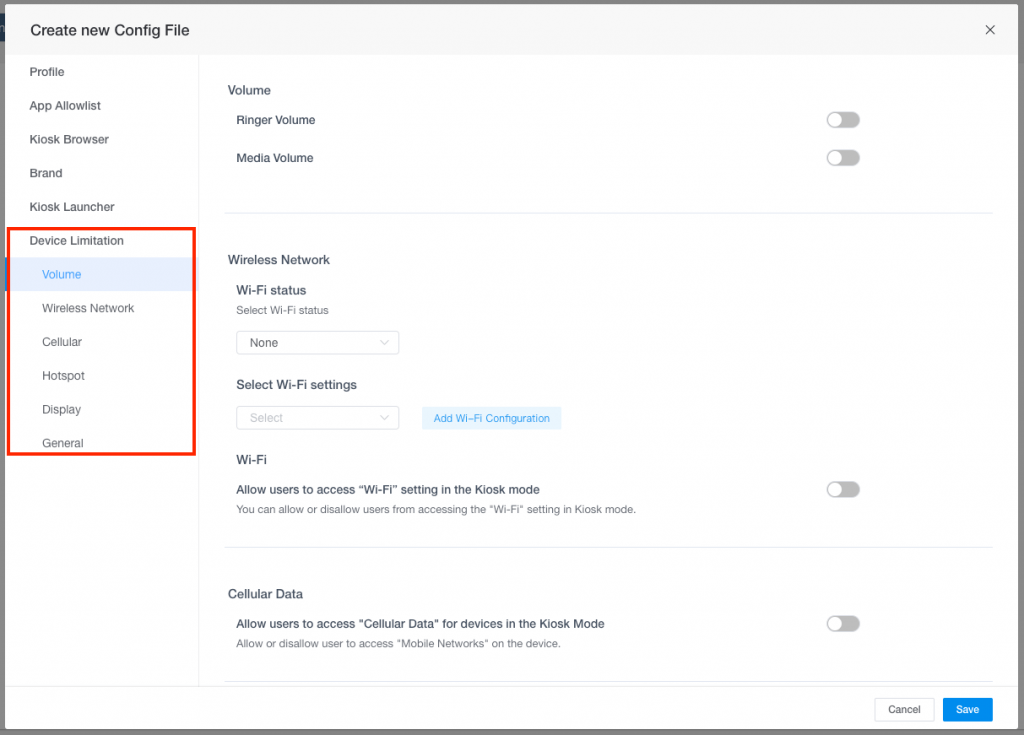 Step 10: After saving the profile, click Add and select the device group to apply your Kiosk profile.
While the majority of businesses use Kiosk Mode to lock down devices for security measures, many are deep diving into more device configurations to provide the best navigating experience for their end-users. As mentioned, you can modify device connection method, home screen interface, website browsing URLs, apps accessibility, and more.
What are the benefits of Android Kiosk Mode?
To cater to customers' growing demand of dynamic user experience, many busniesses now turn to kiosks in the hope of closing the gap between sellers and buyers while generating higher customer satisfaction. In fact, there are various benefits business owners can reap from when integrating kiosks into their businesses.
Improve customer experience
Reduce customer cost
Increase customer base
Save time and increase efficiency
Help with branding and advertising
Validate product ideas
Boost job satisfaction
Read more: 3 Essential Ways Android Device Lockdown Boosts Work Productivity
What are the applications of Android Kiosk Mode?
Kiosk for Healthcare
Many healthcare organizations are also utilizing device lockdown to ensure personnel from different departments have limited access to sensitive apps and files.
Kiosk for Education
For example, many educational organizations are using Kiosk Browser to only allow students to access school-related websites in class. This way, students are able to engage better and teachers don't' have to keep worrying that students may stumble upon inappropriate content and affect their learning process.
Kiosk for Digital Signage
If your business is using digital signage to get closer to customers, reinforcing unified brand awareness through digital displays across cities or even countries can help greatly. Furthermore, some businesses are using android devices as interactive or self-service kiosks. By customizing the lock screen display, businesses can showcase their logo during screen timeout session.
Kiosk for Retail
Retail is perhaps one of the industries that heavily rely on kiosks services. From restaurants, supermarkets to shopping malls, businesses are implementing self-service kiosks and mobile kiosks to streamline daily operations and improve customer experience. Restaurants use kiosk mode to turn their android device into a single app for food ordering. Shopping malls use kiosk browser to help shoppers navigate in store.
Kiosk for Logistics
In order to keep truck drivers focused and engaged on the road, logistics company use Android kiosk mode to allow access to company-owned apps only. In addition, websites such as Youtube and Facebook are restricted to prevent excessive data expenses.
With so many unattended kiosk devices deployed out in the field, having a centralized device management software becomes a crucial matter.
Login to your Admin Console or apply for a 14-day free trial to try it out today. You can also visit our website or pricing plan for more information.