Last Updated on September 7, 2022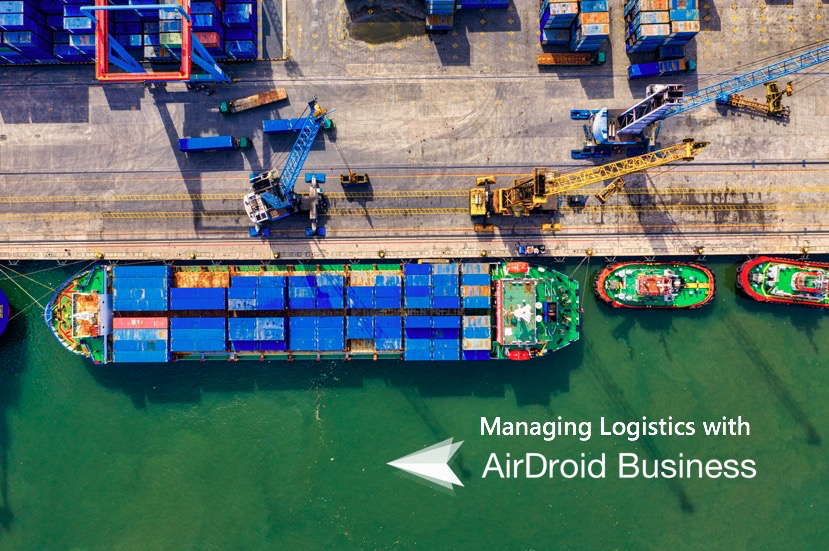 The growing usage of mobile devices in managing logistics and supply chains has been a boon to the industry, enabling businesses to closely track shipments, better understand shipment timing, optimize logistics routes, and more.
However, these benefits are not without their challenges, with the associated increase in usage seeing a number of roadblocks for those using and managing these mobile devices; with loss of productivity due to driver distraction, the challenge of managing multiple devices across different locations, and ensuring essential business applications are updated in a timely manner.
Luckily, the development of mobile device management solutions, or MDM, has provided logistics companies with a useful tool in the remote management of mobile fleets – AirDroid Business is one such MDM solution, with a suite of features helpful in enabling the management and control of deployed devices.
So how exactly can AirDroid Business help?
For logistics companies with a large fleet of vehicles spread across a number of cities or states, performing maintenance, installing updates, and disseminating essential company documents has traditionally been a massive challenge – with IT admins having to wait until the whole staff is in one place to do so. AirDroid Business combats this need through their cloud-based admin console, where administrators can remotely monitor device status, restart devices, transfer important files via two-way file transfer, or view the screen remotely to walk users through update installation.
Many logistics companies also have custom applications for delivery tracking and management, and ensuring these apps are up-to-date with multiple devices across multiple locations is a challenge. This struggle is made more cogent when you take the possibility of app 'bugs' into account – with functions intended to increase productivity often backfiring. This can result in users trying to troubleshoot issues solo and changing important settings in the process, which can lead to even more device issues.
To remedy this, AirDroid Business offers administrators the option to deploy new applications and force updates through the AirDroid Business application management services (AMS) suite. The suite also enables administrators to schedule app releases, customize app icons, and stage rollouts for testing to ensure that app bugs are fixed before release. Administrators can also use remote control to resolve any issue or coach employees who are experience issues in using the custom apps.
Every day in the United States, 1000 drivers are injured, and at least 9 are killed due to driver distraction. To minimize this risk, AirDroid Business offers logistics companies the ability to lock devices to only a few functions during specified time-frames through their kiosk mode.
A Real-life Scenario
A logistics company can lock a device so the driver can only access the company's custom delivery app, a messaging app for communication, and a document reader. When the driver finishes their deliveries, kiosk mode can be turned off to restore full device functionality.
Finally, when drivers are late making deliveries or are otherwise unreachable, administrators can track devices through the admin console, showing the device's location. The ability to track device location offers a layer of security for delivery drivers who may be in remote areas. If an accident occurs, administrators can view the location of the devices through the admin console and contact emergency assistance if necessary.
Along with these features, AirDroid Business offers additional MDM features. To check out the full range of capabilities, or request a 14-day free trial, please visit AirDroid Business/Home.