Remote Device Management Guide
Managing mobile devices in the workplace is getting more challenging. Whether you're an IT manager yourself or a managed service provider (MSP), the importance of efficiently managing remote devices within organizations will continue to grow. In fact, 53% of enterprises say mobility improves business processes and productivity. Let's find out how remote device management may help.
What is Remote Device Management?
Remote device management refers to a set of practices involving accessing, controlling, and monitoring IoT devices, mobile devices and tablets in an organization from one centralized platform. A RDM software enables IT administrators to remotely deploy devices, troubleshoot problems, manage applications and block unauthorized data access for higher enterprise mobile security.
Features of Remote Device Management
AirDroid Business MDM Admin Console is the all-in-one control panel where you can complete variant remote device management tasks for Android, including remote factory reset, remote lock, block device permissions, and even update apps from afar. We'll walk you through an extensive tour on how remote device management works with AirDroid Business to help you improve enterprise security.
In the case of lost devices, IT admins can protect the enterprise data by using remote wipe or factory reset. All the historical data on the Android device will be completely erased and returned back to the original factory setting. Alternatively, you can select what corporate data you want to delete instead of performing a complete data wipe. Once the data has been erased, you'll need to reinstall bizDaemon in order to remotely access and manage the device again.
‣ Remote access and control
For businesses that deploy devices out in the field, being able to remotely access and control Android tablets or screens can impact productivity greatly. AirDroid Business Mobile Device Management Software enables IT admins to access unattended Android devices and even take total control of the device to perform some quick troubleshooting. For unattended devices such as digital signage boards or mobile point of sales, immediate technical support can tremendously affect a business' revenue.
READ MORE: Remotely Control and Access Android Devices With AirDroid Business Desktop Client
‣ Remote monitoring and alerts
Remote monitoring management is one of the top priorities for creating a secure enterprise mobility. When enabling remote view in Admin Console, IT admins can monitor Android's real-time performance. You'll be able to see a specific device's screenshot, camera view, and even its location. For more advanced Android remote monitoring, you can set up automated alerts concerning data usage limit, battery capacity, offline devices, and other conditions to identify potential risks in advance and take proactive measures to save additional operation costs when issues occur.
READ MORE: Tips on Automating Android Alerts for Remote Device Monitoring
‣ Manage device users and access permission
You are allowed to assign different roles to every device user, as well as the level of device accessibility. There are three roles to choose from, Viewer, Team member, and Admin.Only Admin has full access to all devices. You can further identify device ownerships by categorizing devices in groups, renaming them, and assigning device groups to specific users respectively. For example, if you're managing devices scattering in different cities, you can group devices by city names and then assign City A to a group of users while City B to another. This way, IT admins can manage all of the remote devices easily while the end users will only have device access restricted to the city where they work. Alternatively, you may also delete users and device groups in bulk action from Admin Console.

You can send messages to multiple devices all at once by creating a notification in the "Device" section of your Admin Console. Further customization can be done by selecting the device groups you want to send the notification to. Later on, you can also check the read status of that notification in your dashboard. The sent notification will appear as a pop-up on the device screen and will not disappear until the message has been read.
‣ Lock down devices remotely
Your Android security management can be enhanced through remotely locking down devices. You can easily lock your entire devices by using the "Lock Device" feature in Admin Console. End users will only be able to use the devices after entering a passcode.
However, many organizations are offering Android devices to their clients and customers for commercial use. In these business scenarios, IT admins can apply Kiosk Mode, which is a mechanism that locks devices for restricted access to apps and websites without endangering the enterprise's data security. With a powerful Android mobile device management software, organizations can lock their devices into single-app/multi-app mode, create website whitelists to block unauthorized webpage visits, and even lock down the device's browser to create higher in-store customer engagement. IT admins can easily apply these lockdown configurations to different device groups created earlier in the "Device" section.
READ MORE: Beginner's Guide: Android Kiosk Mode And Device Lockdown
‣ Automatically update apps
MSPs and IT admins can use Application Management Service to automatically update Android apps en masse with AirDroid Business MDM. In order to prevent complete breakdown during an official app release, admins can choose to run app tests in advance, or use Staged Rollouts to update apps by percentage. Additionally, you can manage app updates via scheduling to avoid busy business hours during day time. And if unexpected malfunctions occur that require immediate fixes, IT admins can replace the broken app with an updated version using Force Installation.
You may also easily manage and update the Biz Daemon version on your devices. BizDaemon is the controlled end installed on your remote devices for all Android device management tasks to work properly.
You can enable GPS location tracking when managing multiple android devices. For logistics companies or other industries where devices are always on the move, Admin Console lets you track every Android's route history to further secure company-owned devices. In addition, IT admins can set up digital geofences or parameters to monitor the movements of Android. If a device leaves or enters the specified fences, it will automatically trigger an alert and follow-up security measures such as remotely lock the device to prevent any data breach.
Benefits of remote device management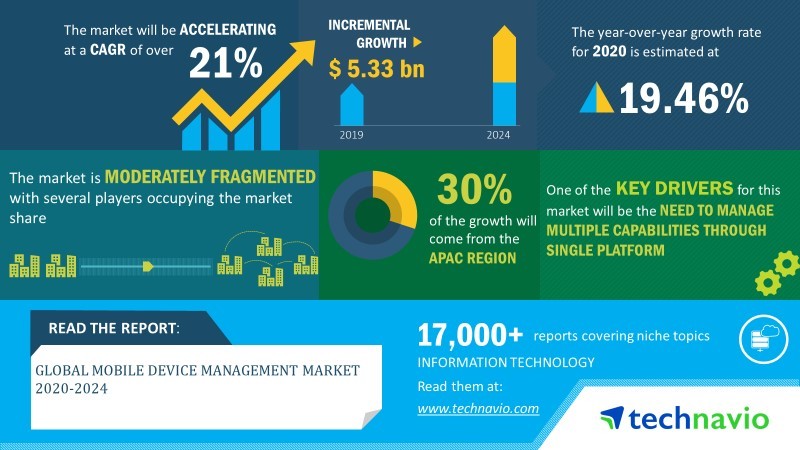 Remote device management (RDM) software is one way to safeguard an organization's data while efficiently operating in a mobile ecosystem. Benefits of implementing a remote device management solution includes:
‣ Get Real-time device status and trigger automatic alerts for precautions
‣ Troubleshoot device issues immediately with remote access and control
‣ Run remote app updates and track work productivity
‣ Protect data breach and deny access from outside the organization
Businesswire predicts that the MDM market will reach $7.96 billion by 2023. This highlights the importance of providing streamlined and secure device management strategy for your clients as a MSP provider and as an IT service manager. MDM software like AirDroid Business offers fundamental remote monitoring management functions with add-on services available for purchase based on your business size and needs. Start your 14-day Free trial today or talk to our sales for more information today!