Why does having MDM alerts matter for your business?
Having the ability to monitor your devices' status from various angle can be critical to business success. Android devices, just like other mechanical devices, will slowly depreciate over time with use as well as encountering errors. And if devices are being used heavily by employee and customers on a daily basis, it is expected that the device will start to malfunction within a few years. These issues are almost impossible to prevent, as a result, businesses are responsible to provide assistance that helps resolve these issues immediately before they result in unsatisfied customers and reduced business productivity.
MDM alerts allow IT administrators to get the latest device performance without needing to constantly keep their eyes on the monitor to watch over the remote devices and refresh page every few minutes manually. Once the automatic alerts are set up, instant notification and will be sent to the team to report a device malfunction so the team can respond to the issue and resolve it right away. There are many advantages of using MDM alerts for your business, they include helping companies to save labor costs, reduce device downtime, receive timely notice of critical activities, and increase overall business productivity.
💡💡💡 Read more about MDM: 8 Useful Android MDM Features for Your Business
Here are 8 MDM alerts you should set up

Device online/offline status
The online/offline status alerts can be useful for companies that need to monitor unattended devices and make sure they are operating as expected. When a device is down, it triggers the offline alert and sends an instant notification to the IT admins so they can quickly react to it and get the device back up again. For example, when a digital signage device for displaying ads suddenly breaks down, the IT team will immediately get notified of the event so they can quickly contact the nearby store or staff to help reboot and reconnect the device. This helps to effectively reduce device downtime and improve customer's experience.
Cellular data usage
Keeping track of your devices' data usage is a way for businesses to be cautious of suspicious device activities and prevent unauthorized device use and access. Excessive data usage can often indicate an unapproved use of device that could potentially be a threat to corporate data. For company-owned devices, it is important to ensure the device security is compliant with company policies to protect corporate data. Setting real-time alerts when a device reaches the data limit can help to catch skeptical device activity such as transferring large size of file that could be an act of stealing or leaking company information or downloading personal apps that could be affecting the employee's overall productivity at work while keeping your internet costs under control.
Or, in a worst-case scenario, an excessive use of data could also be a sign of malicious malware at work. It is possible that a compromised phone may be consuming an excessive amount of cellular data by running a hard-to-detect virus such as Spyware and Trojan horses in the background. With the alerts, it allows businesses to act fast and make necessary security procedure to eliminate the cause of excessive data usage before it puts your company's data security at greater risk.
Network connectivity
For corporate devices that needs to be up running for 24/7, it is crucial to make sure those devices have a secure and stable network connection, whether that's through Wi-Fi or cellular network. The use case of network connectivity varies; however, the connectivity alert should always reflect real-time status. That way, when the network starts breaking down, the alert allows IT admins to react fast and switch to a backup network or data if necessary until the primary network is restored.
This alert is especially critical to businesses that are time sensitive and require to constantly access data from the cloud. Take healthcare as an example, clinics and hospitals rely heavily on pulling out patients' record from their database system hosted on the cloud, with real-time network connectivity alert, it will trigger an immediate response when a device has lost internet connection.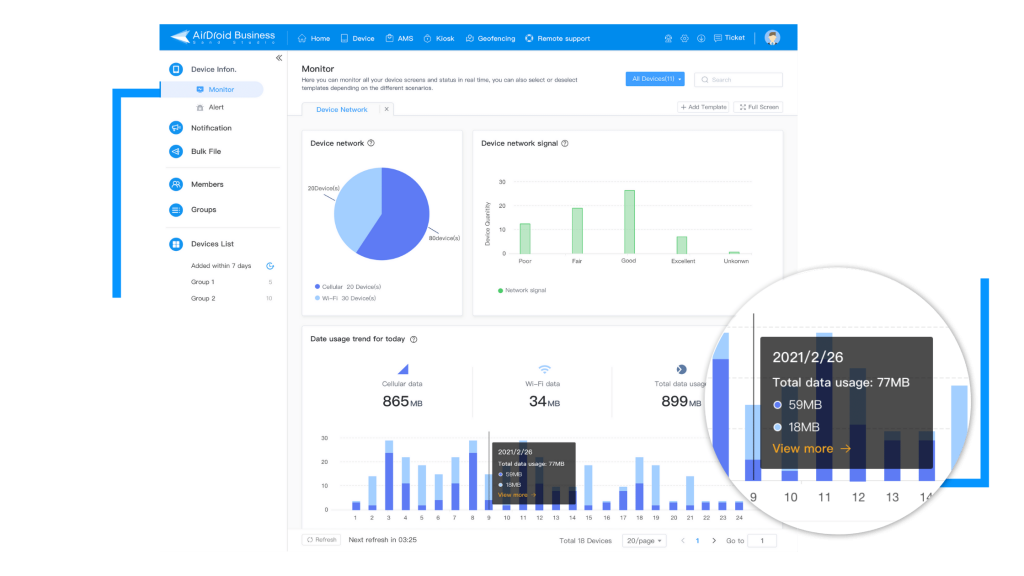 Battery status
It is true that the battery life can vary significantly from device to device, especially when companies deploy different types of device models. Having the ability to keep track of your devices' battery status such as battery charging status, temperature, and capacity can help you identify if a certain device model is more likely to drain battery faster than the others or if there is a problem with device hardware that needs to be replaced soon to optimize your inventory pool.
Another use case with battery drop can be a sign that an unattended device has been unplugged unexpectedly. This can be an indicator that the device is either stolen or accidentally removed from the charging station. An example alert for such scenario can be set to "trigger alert when device battery drops to 95%" for devices like self-serving kiosk that should be plugged in at all times.
Application Status
An application alert can be set up when businesses are pushing app updates on large fleet of devices; having 100 or more devices out in the field. This will help IT admins quickly identify the devices that have failed to update/install the newest app version. In addition, application alert is needed for use case when organization uses different device brands and models and not all devices can necessarily be compatible with your company's custom apps. With the instant notification, this can help your IT managers to identify the most optimized device brand and models (or a specific operating system) for your business operations.
For businesses like chained restaurants and retail stores, they are usually heavily relied on POS devices such as POS kiosk and mPOS to run payments and keep track of inventory. An app status alert can be handy for chained companies that will need to update apps on many devices across different regions, allowing them to swiftly troubleshoot the remote devices that were unable to successfully complete the process. This helps businesses to reduce device downtime and avoid affecting customer experience.
💡💡💡 Read more about Mobile App Management: How Mobile Application Management (MAM) Helps with App Updates
Storage capacity
There are many ways that could be a precursor of device malfunction or shutdown. Besides battery temperate, when a device is getting close to its storage limit, it is common that the device will start to slow down and eventually stops operating. Storage capacity issues can suggest potential unauthorized use of corporate device when users have used the device for personal downloads such as Google Play apps. In other cases, the status of device storage could also simply mean that the local storage has exceeded the business expectation and will need to require an update with an external memory card or a secondary plan.
Having storage capacity alerts allows IT specialists to be proactive and take actions before device performance starts lagging due to insufficient storage. Additionally, it is important to keep in mind that all Android devices will need a minimum of 500MB to 1GB free space in order to function properly. Some preventative actions to help free up more device storage space could be deleting unwanted apps or data, clearing cache, switching from local storage to cloud storage, and upgrading the device or storage, and more.

Kiosk/Screen lock
Kiosk alerts is an important device security mechanism. Particularly for customer-facing devices like signage, reservation tablet, and self-serving kiosk. Having the ability to enable kiosk mode to restrict or lockdown usage and access for your device is essential. This can prevent and protect your devices from being tampered with by the end-users. With the Kiosk alert turned on, it will immediately send the IT administrators a notification when a locked device has its restriction settings disabled by non-admin users.
For addition use cases, businesses can also set a specific action that will set off the alert and trigger the system to automatically lock the device for security. For example, when the system detects an abnormal device use on employee tablets such as transferring company-sensitive information or having too many failed login attempts to corporate database, these suspicious behaviors will trigger the alert to notify the admins while auto-locking the device temporarily until the suspected intrusion has been cleared out.
💡💡💡 Read more about MDM kiosk mode: How to lock Android devices into single app Kiosk Mode
Device Motion – Geofencing
Geofencing is a location-based security mechanism that allows administrators to set up policies to ensure corporate-owned devices are restricted to the configured geographic boundaries. For devices that are always on-the-go like devices used in transportation, device motion alerts can help identify unusual activities when a device has been idle for too long or a device has gone off the usual route. Once the manager has received the alert notice, he/she can then quickly check up on the driver to see if everything is okay or if an immediate rescue and substitute is needed.
On the other hand, device motion alert isn't only limited to moving devices. It can also be useful for single-purpose devices that are designed to be used on-site only. If an on-site device has left its location, a geofence alert and an automatic device lock response will immediately be triggered. This is an essential workflow for businesses like mobile display stores and information kiosk stations to ensure mobile security.

How to choose the right MDM alerts and tools for your business?
The importance for each mobile device management alert varies by use case. MDM alerts should be based off of your business use case and needs with the ability to customize triggering events accordingly and allow real-time responses. Once the alerts are set up with other mdm tools such as remote access and control, this will help your IT team to reduce response time and be able to remediate problems and troubleshoot device errors immediately, as well as improving overall employee and business productivity.
AirDroid Business now offers more than 10 customized triggers for your Android alert notices, you can also control who can receive notifications within your team. Additionally, these alerts are included in the drive monitoring dashboard where businesses are able to keep track of their Android devices from a 360-degree view from device hardware and app operations to location tracking and even external hardware connections. These alerts include:
➤ Cellular and Wi-Fi data usage
➤ Device online/offline status
➤ Battery capacity and temperature
➤ Storage capacity
➤ Device motion and geofencing
➤ Application status
➤ Kiosk & device lockdown status
➤ External HDMI status
➤ … and more!
💡💡💡 Read more use cases in different sectors: Tips on Automating Android Alerts for Remote Device Monitoring