What is AirDroid Business App Management Services (AMS)
When you have multiple devices deployed out in the field, running app updates or releases on your unattended Android devices could be a nuisance. AirDroid Business MDM Software lets you install or update android apps on a large group of devices remotely and silently with the help of "Application Management Services" (AMS).
Tip 💡: Application Management Service (AMS) is an add-on for AirDroid Business and can be purchased on top of the Basic or Ultimate plan. For the Enterprise plan, AMS comes free of charge.
5 key features to simplify android app management for you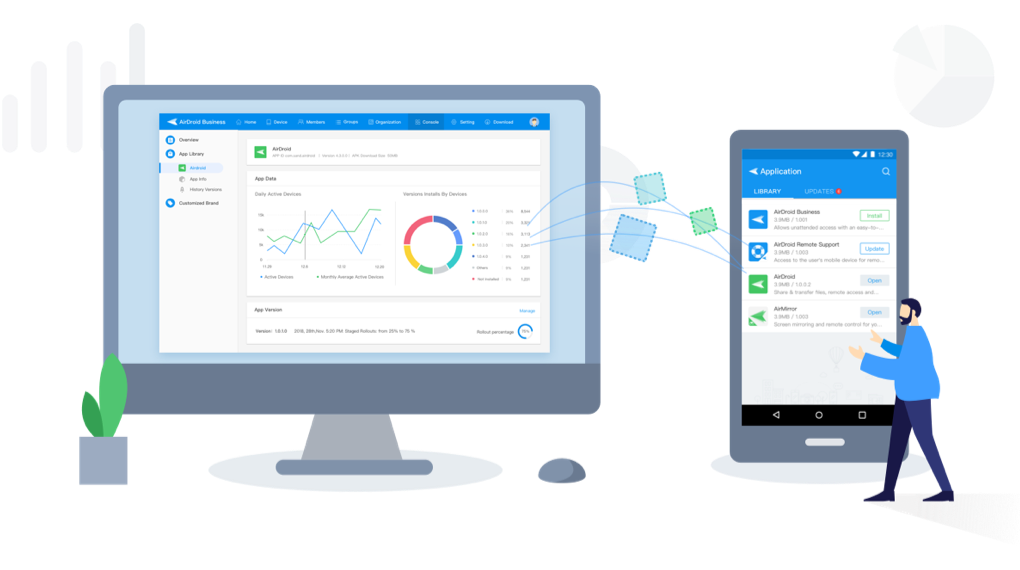 Remotely test and customize your releases
To enable the testing of new app releases for bugs, the AirDroid Business AMS feature enables users to undertake "Staged Rollouts". Users can release or update apps by
● Test release: choose a select group of devices to test out your updates.
● Staged rollouts: when you're ready to roll out the updates, you can use one of the 4 parameters to have more granular control – by percentage, by locations, by devices, or by device groups.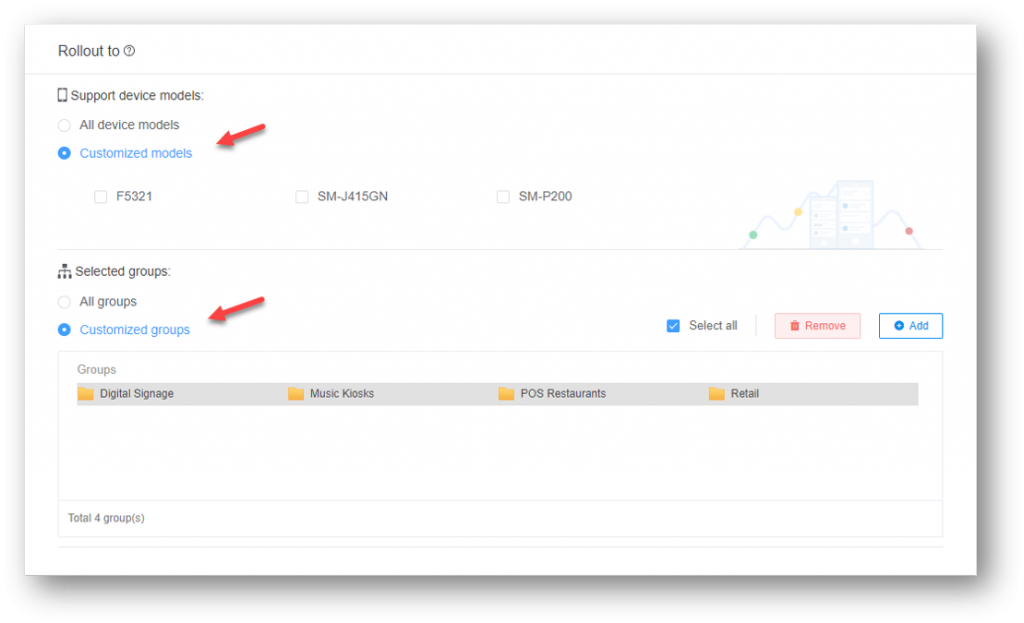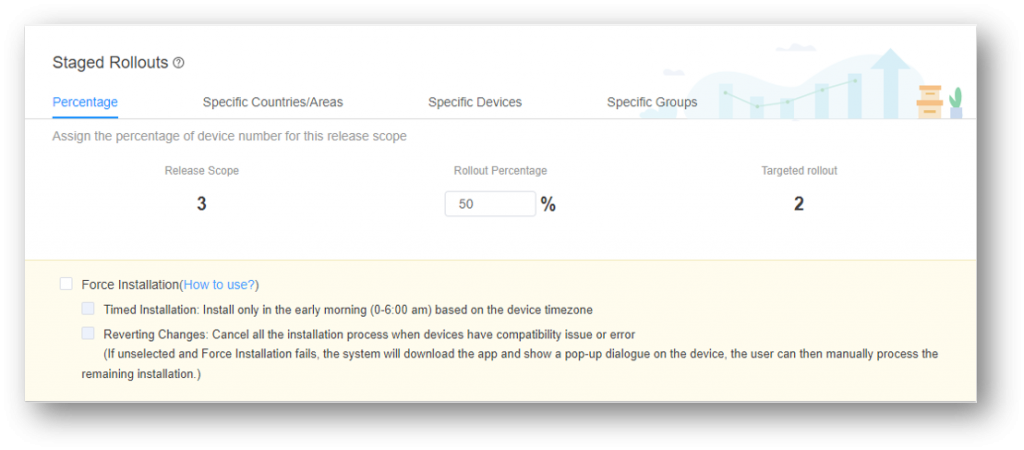 In addition, administrators can also choose to release applications that are specific and relevant to the user. This way you not only minimize risks of device malfunctions but save your IT team a lot of time.
Step by step guide: Update the Biz Daemon app using Version Update Manager
Remotely schedule your releases
In order to minimize the impact on end-users experience, AirDroid Business AMS allows you to fully control when to update or release your apps on your deployed devices. For example, if your android devices are distributed in different countries, you may remotely schedule your apps to auto-update at its corresponding time zone to avoid technical errors during business hours.
● Standard publishing: immediately publish your updates.
● Scheduled publishing: you can choose the time zone and specific publishing time based on your needs.
Tip 💡: You can always run a trial release before activating a formal release to avoid unexpected errors.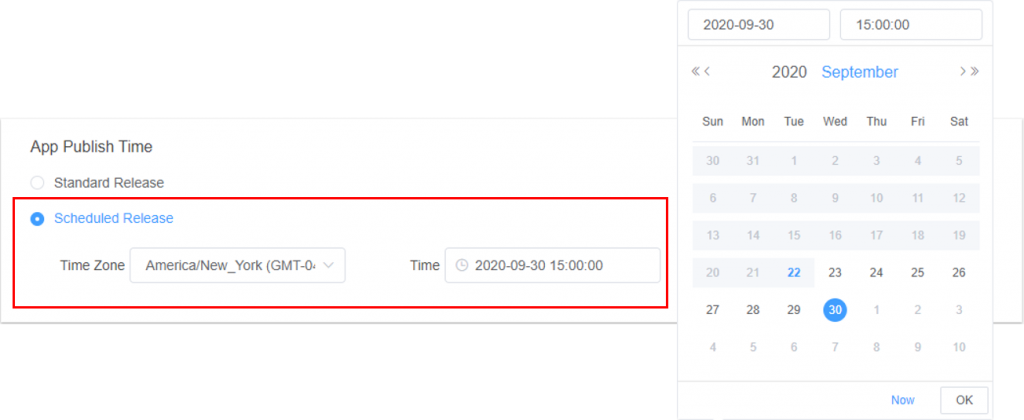 Step by step guide: How to set up scheduled auto app updates for android?
Remotely force install apps or updates
In the case of serious application errors or bugs, IT admins can quickly replace malfunctioning apps using "Forced Installation". By providing immediate technical support, your business may increase productivity and more happy employees or customers. This feature is especially useful for unmanned devices, removing the need for technician visits to implement updates and downloads.
● Timed installation: this option will enable the install or update to be executed from 00:00 to 06:00 (based on each device's time zone) to avoid interfering with business hours.
● Reverting changes: automatically cancel installation or update when there's compatibility or errors during the process.
Step by step guide: How to set up forced installation for android apps?
Create your own app library
The AirDroid Business AMS feature enables users to create and update their own custom applications, upload an installation package (APK), write an introduction, upload screenshots, and set up the publication of applications. Businesses can also have their own in-house app library to make app management more efficient.

● Upload and customize app details: you can fill in the app details, such as the name of the app, short and long description, icon image, and screenshots.
● Multi-language support: create different language sets for your apps if you are publishing the apps in different languages.
● Add release notes: add update information like changes and notes for each update
Tip 💡: If your app supports multiple languages, you many also complete the set up in your AMS section in Admin Console.
Step by step guide: How to create and update your apps on android?
Customize how your apps look
The AirDroid Business AMS feature enables users to fully customize their applications for brand cohesiveness. Administrators are able to use AMS to customize the app's name, icon, launching page, and the images on the user interface.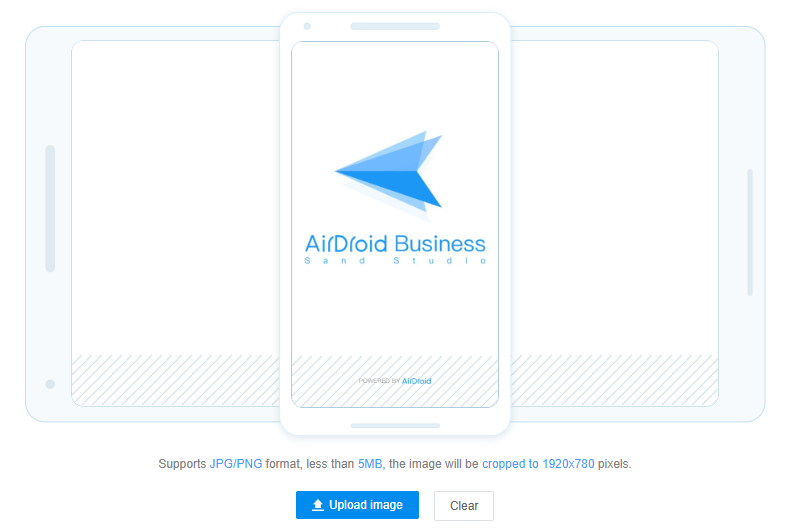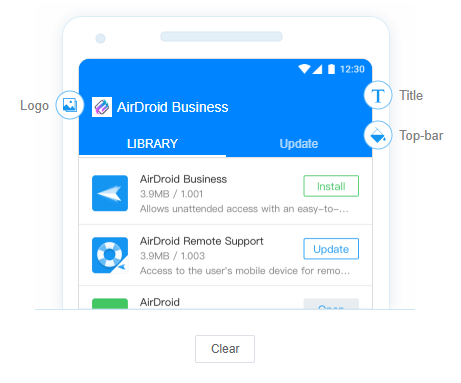 Step by step guide: How to incorporate your branding?
More productivity tools for managing your Android devices
There's no doubt that updating apps on a single android device is completely different from updating apps on enterprise-owned or commercial use devices. You need a professional mobile application management software like AirDroid Business to help prevent unforeseen technical errors en masse. Other features offer by AirDroid Business include Remote Access and Remote Control, Kiosk, Geofencing, and Remote Support.
Apply for a 14-day free trial or visit www.airdroid.com/business for more information.