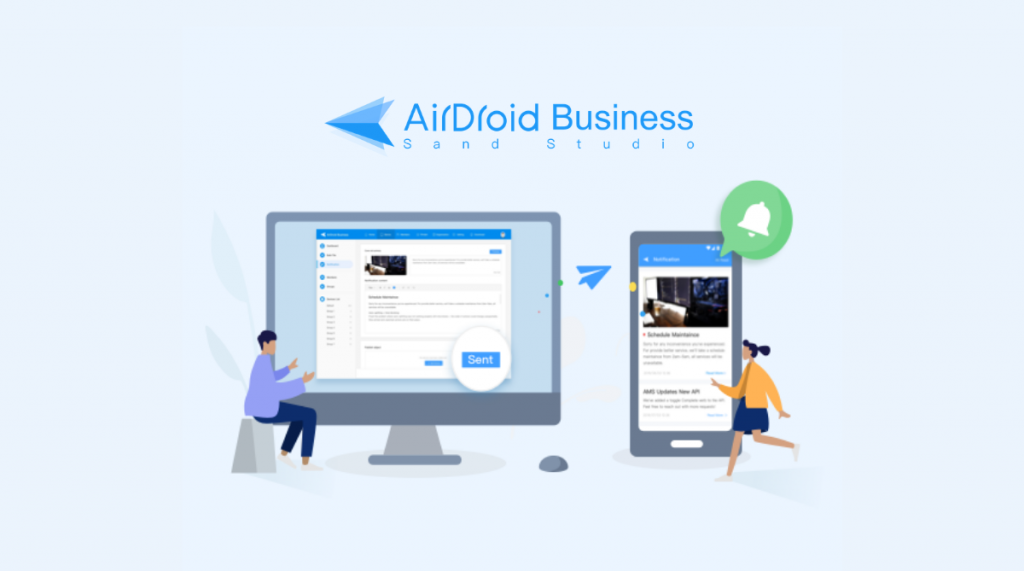 What is Notification for AirDroid Business?
A more efficient way to sync messages with
end users
Notification is a broadcast messaging service that lets you push customized messages to remote devices on which AirDroid Business Daemon app and * Notification App are installed, within a click directly from the Admin Console.
Notification works perfectly with AirDroid Business's easy-to-use yet powerful device management solution, enabling admins to schedule releasing time, select one or groups of devices as recipients, send and delete remote messages, and check * the "read status" all in one place.
* Notification App: required for messages to be received on the device. The Notification App will be automatically installed along-side AirDroid Business Daemon. After enabling Notification, all published messages will display in the Notification App.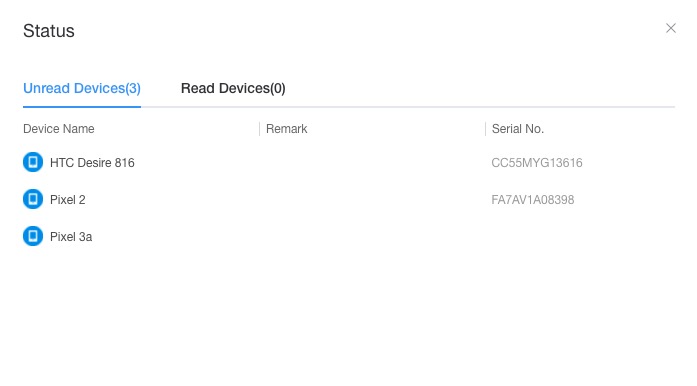 What can Notification do for your business?
Key Features of Notification
☑ Schedule sending messages
☑ Select single receiving device or groups
☑ Customize messages and images
☑ Customize the Notification app layout to suit your brand image
☑ View Notification status to easily check if a message has been read on each device.
For both communication and promotion, Notification allows you to manage your daily messaging tasks remotely and effortlessly. Let's see how you can boost productivity by leveraging the three key features of Notification.
For examples:
Simplify Customizable Layout for Marketing
Brand alignment helps build recognition, credibility, and ultimately loyalty, which is one of the most important responsibilities that marketers face. AirDroid Business Notification makes app design branding simple for everyone. By just typing and dragging, you could change the Notification App name and upload your business' own icon and launch page. When the settings are done, all changes will be updated to all devices. Moreover, you can feel free to add a logo and a title on the top-bar; the top-bar color can be adjusted into your brand color, all in a highly intuitive user interface.
The Notification function also supports images while generating a notification, making it the perfect tool for promotions and advertisements and helps save on the cost of SMS and emails.
💡 App Icon: Supports JPG/PNG format, less than 5MB, the image will be cropped to 144 x 144 pixels.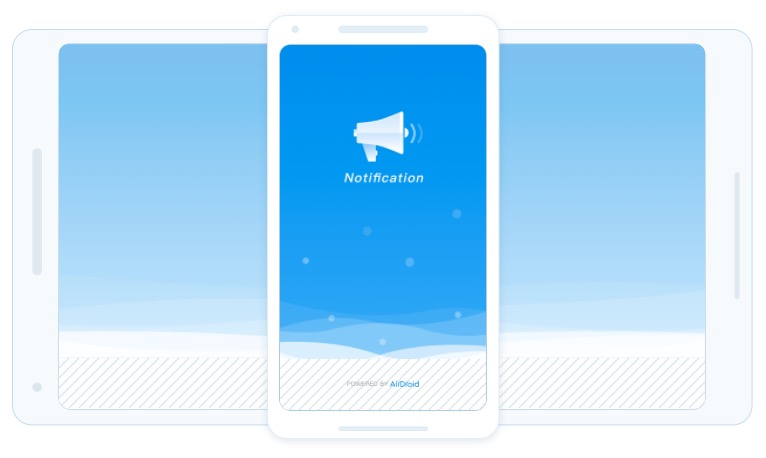 💡 Launch Page: Supports JPG/PNG format, less than 5MB, the image will be cropped to 1920 x 780 pixels.
Facilitate Internal Information Flows for Logistics
In transportation and logistics, tons of internal information needs to be put in place on a daily basis. The traditional messaging processes between management and field staff could be tedious and prone to error. AirDroid Business Notification supports real-time, centralized internal information management, and scheduling automation to ensure your team is adequately connected to the office.
With 'read status,' it becomes much easier and clear to make sure every important message is received by the drivers and, meanwhile, keep the manager informed whether a message has been read anytime, anywhere.
Reduce Setup & Troubleshooting Time for Unattended Devices
The Notification App Auto-generation helps avoid the possible setup obstacles for unattended devices providers; the Notification functions are available as long as the device is connected to AirDroid Business Admin Console.
AirDroid Business Notification with the record in Notification App offers IT and operators better communication and understanding when troubleshooting. Operators can view the instructional message for the particular device and all maintenance records before.
For unattended devices like ordering kiosks at the restaurants, Notification enables providers to interact with the personnels on site, such as making new device update announcements, without using any third-party apps.
How to set up Notification
For detailed guide on how to generate a Notification and set up further options, please visit our self help article to start broadcasting notifications to your remote devices: How to setup Notification for AirDroid Business?
For more information about AirDroid Business, please visit www.airdroid.com/business