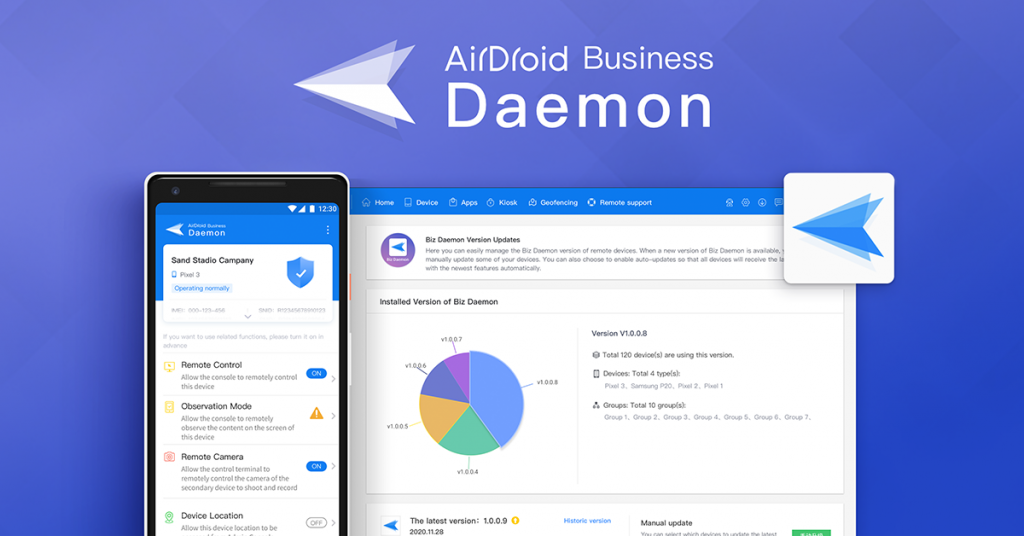 What is Biz Daemon and what can you do with it?
Biz Daemon essentially is the required app that allows you to monitor, manage, and control devices from your computer or mobile phone remotely. Once it's installed on a device, it will automatically show up in the monitoring dashboard in the Admin Console. In case you need help, here's an article on how to enroll your Android device.
We regularly release updates with new features, optimizations, security enhancements, and some of which will require you to update your Biz Daemon app on the device. A lot of our customers manage multiple Android devices across different locations, so it's hard for them to update all of the apps in person. With the new Version Update Manager, you will be able to monitor, customize rules, and automatically run the updates right from a browser remotely.
Managing Biz Daemon updates with AirDroid Business
● See what version each of your devices is on, along with device name and what device group they belong to.
● You can turn on auto-update, which allows you to update the biz daemon on all your devices whenever there's a new version.
● You also have the option to manage updates manually and have access to a variety of release options to fit your needs.
● You can see the update history to keep track of the latest progress and status of your device deployment.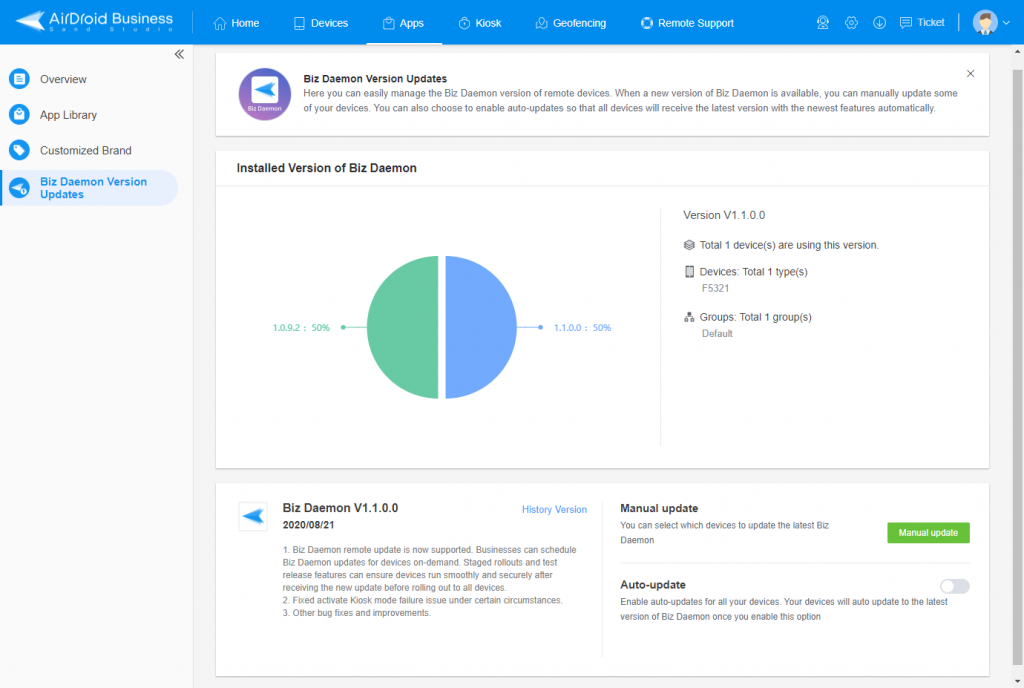 💡Tips: you can find the Version Update Manager for Biz Daemon under AMS.
When should you turn on auto-update?
We release new features, optimizations, and security updates on a regular basis. If you prefer to have all of your devices stay up-to-date so that you get the latest fixes and new features, but don't have the time to manage individually, then turning on auto-update is definitely an option. Here are a few things about auto-updates:

💡Tips: you can switch to manual update anytime, but the progress will be halted if there's any task's currently running.
● Auto Update: when turning on auto-update, AirDroid Business will start the process as soon as the update is available, regardless of the time and day.
● Timed Installation: you can also choose to have the update installed during non-working hours (from 12:00 AM to 06:00 AM based on the time zone of your devices).
● Cancellation: when there's incompatibility or error while installing the update, AirDroid Business will halt the process. Users can manually resume the installation for the remaining devices.
When should you use manual update?
You should use manual update when you need more control over the scope and schedule of the release. For most organizations, it's a preferred option since you have much better flexibility for testing before the update goes out to every device. You can also select only certain devices that need to be updated. Here's what you can do with manual update:
● Test Update: select up to 10 devices to test whether the new Biz Daemon update version can be successfully installed. Once the testing is done and there's no issue, then you can go ahead and run the updates.

1. By percentage: you can specify what percentage of your deployment will get the update so when something unexpected happens your entire deployment won't get affected. It's always safe to do your updates in batches when you have a large group.
2. By country or region: when your devices are spread across different countries (i.e. a pan-Europe project), you can select which country will get the update first. By doing so, you can plan your updates based on different business needs.
3. By device serial number or ID: this is useful when your company or organization tracks assets using device ID, like serial number. You can find older devices from your inventory database, generate a list of devices that need to be updated, and upload the list.
4. By device group: AirDroid Business makes it super easy to manage devices. You can create device groups and separate your devices for easy discovery. You can then decide which group should get the update based on your needs.

● Schedule Update: in addition to the different releasing scope, you can decide when the update will be rolled out by selecting the time zone and the exact rollout time.

How to get started?
The new Version Update Manager for AirDroid Business helps you monitor and manage Biz Daemon version updates using a browser remotely. It allows you to get the latest updates, new features, optimizations, or security enhancements for your devices. You also have total control over how you want to rollout the updates.
To get started, log in to your AirDroid Business Admin Console, and find the Version Update Manager under the AMS (Application Management Service) tab.
For more information on Mobile Application Management, please visit https://www.airdroid.com/en/business/mobile-application-management/