Last Updated on January 9, 2023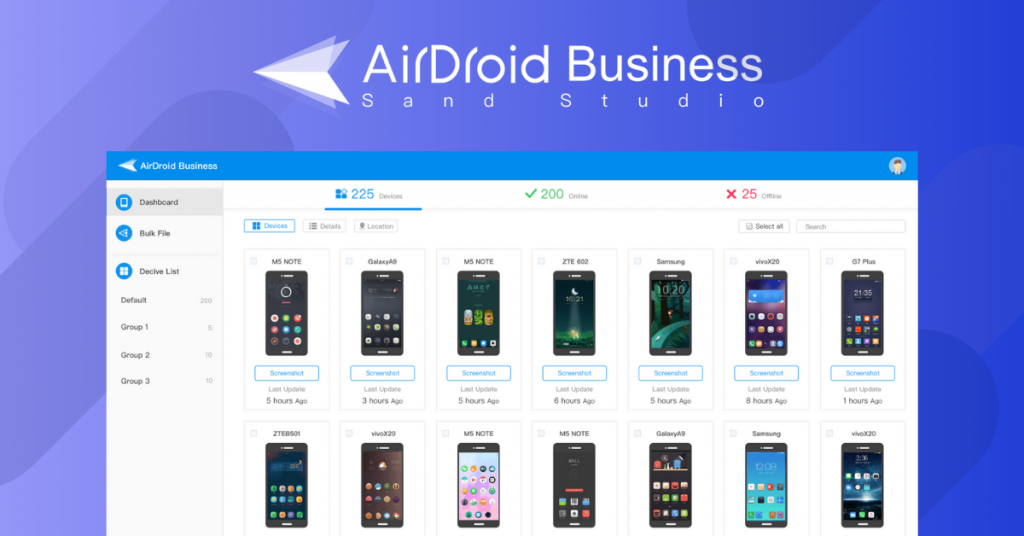 What is AirDroid Business Admin Console?
AirDroid Business Admin Console is a cloud-based centralized dashboard that works as a mobile device management control center. It lets you remotely access, manage, and monitor all your attended and unattended Android devices in one place.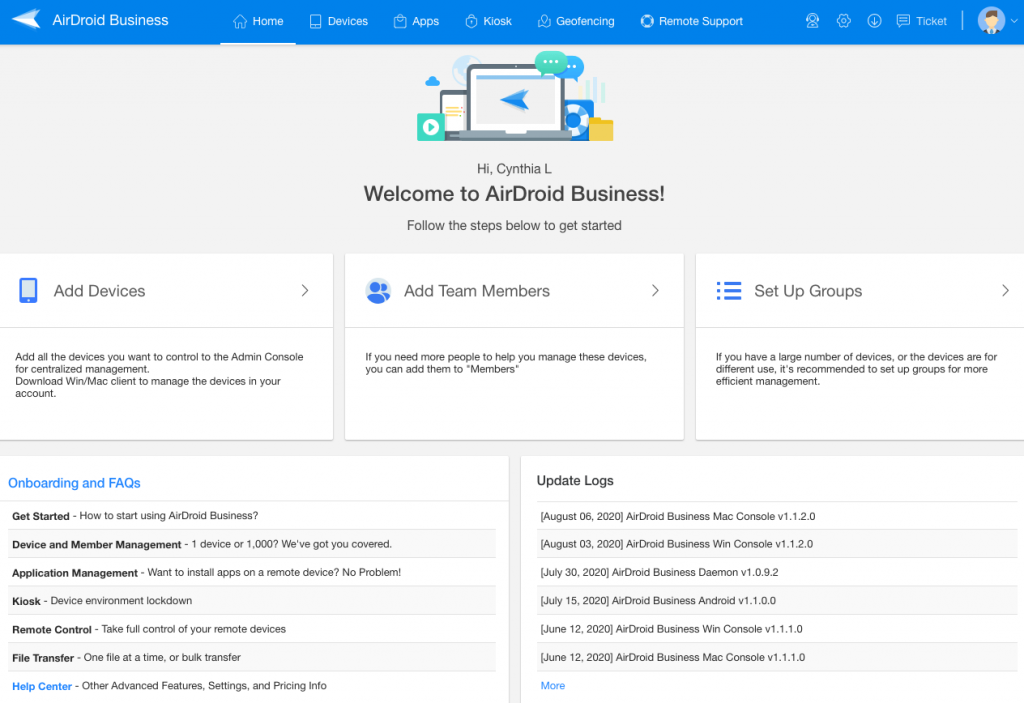 In this guide, we will provide a brief introduction of the tasks you can complete within your Admin Console. Let's get started!
Navigating Admin Console
When you enter your Admin Console, you will see five major tabs in the upper toolbar as shown above. Each function allows you to perform and carry out different device management tasks.
On the upper right, you will see all the general information icons, which include Customer Service, Settings, Download, Ticket, and your Profile. In the dropdown menu of your profile, you may configure your profile and role permissions for security purposes. You may also check pricing lists and complete your purchase all within the Admin Console.
💡 A faster way to modify your "Profile & Preferences" is by navigating to "Settings" ⚙️
Android Device Management Shortcuts

For most businesses, the primary purpose of implementing a mobile device management (MDM) software is to manage batches of remote devices more efficiently. AirDroid Business Admin Console offers an intuitive dashboard that allows you to add devices, team members, and organize groups conveniently.
Device Enrollment
When you click on the "Device Enrollment" tab (previously, "Add Device"), you will be redirected to your Device Wall. If you have already enrolled your devices, you will see all your binded devices listed here. If you have not enrolled your devices, you can complete the enrollment through three different ways: Deployment Mode, QR Code, and Bind Bulk Devices. For further details please visit: How to add devices? Installation, Setup & Binding for AirDroid Business
Add Team Members
Do you need more people to help you manage your remote devices? You can achieve this and improve business productivity by adding team members and assigning them to specific device accessibility. This way, you can always ensure that your devices are securely accessed and controlled at all times.
Set Up Groups
We know that managing a fleet of devices is no easy feat. If you have a large number of devices to monitor or your devices serve various business goals, you can always group your devices together.
By setting up groups for your manned and unmanned devices, you can easily monitor and manage device status, locations, and perform bulk actions more efficiently.
Now that you know what you can do with AirDroid Business Admin Console, let us go deeper into each product's features and learn how to make the most of this all-in-one MDM solution. 
Remote Troubleshooting (unattended)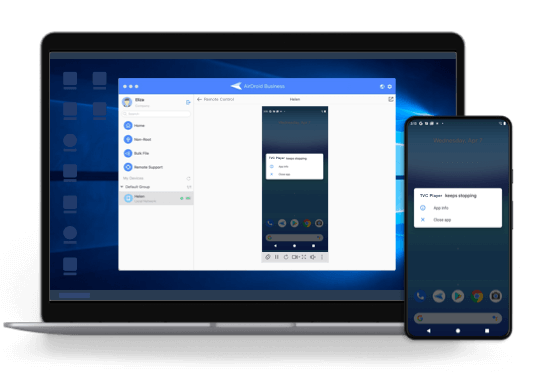 AirDroid Business' unique MDM solution comes with powerful remote access capabilities that allow you to remotely view device screen, take control, transfer files, or even gain access to the device's camera. With today's global commerce landscape, carrying out onsite support and maintenance takes up too much time and resources, which is hard to justify on an ROI basis. With remote troubleshooting, you are able to quickly gain access to the device and apply fixes right away without having to travel on-site or waiting for the device to be returned to you.
💡Read more: How to use AirDroid Business Desktop Client to supercharge your remote troubleshooting efficiency!
Application Management Services (AMS)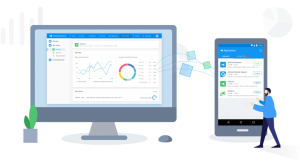 Application Management Services (AMS), developed by AirDroid Business, helps IT managers or SMB owners simplify the process of app updates, releases, and maintenance on remote devices. Companies can now schedule app release, staged rollouts, force installation, and even customize their own app for branding purposes. When technical issues occur on certain unattended devices, IT support agents can use remote access and perform an immediate app update to resolve the issues as fast as possible. 
Kiosk Mode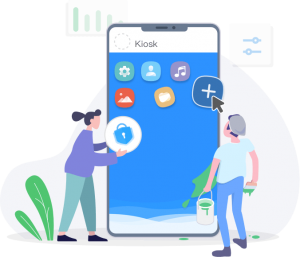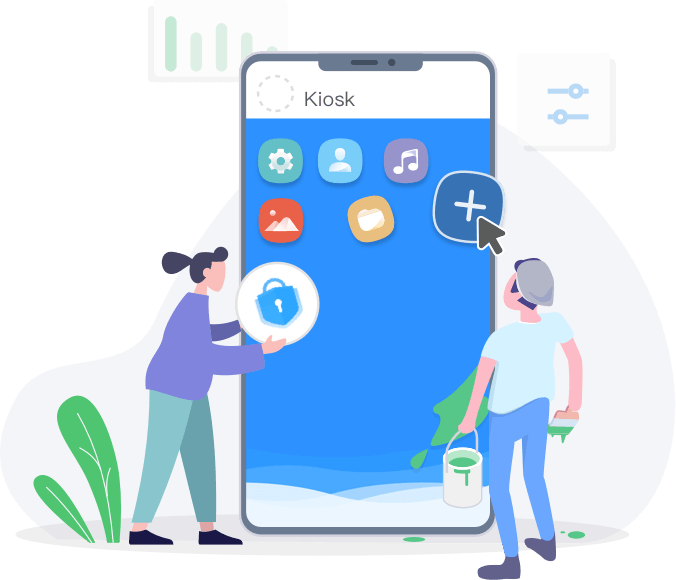 Kiosk Mode for AirDroid Business is a device lockdown solution that allows business users to set specific apps and restrictions on their remote devices. For many companies that have deployed POS machines, digital signages or android kiosks out in the field, it is imperative to prevent customers from tempering the settings for security concerns. By activating Kiosk Lock Mode, companies can allow users to only have access to certain apps or functions like WiFi, Bluetooth, or browsing behavior. This helps provide additional protection to unattended devices.  
Geofencing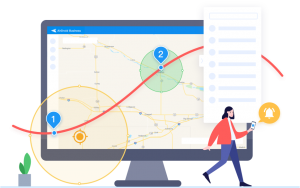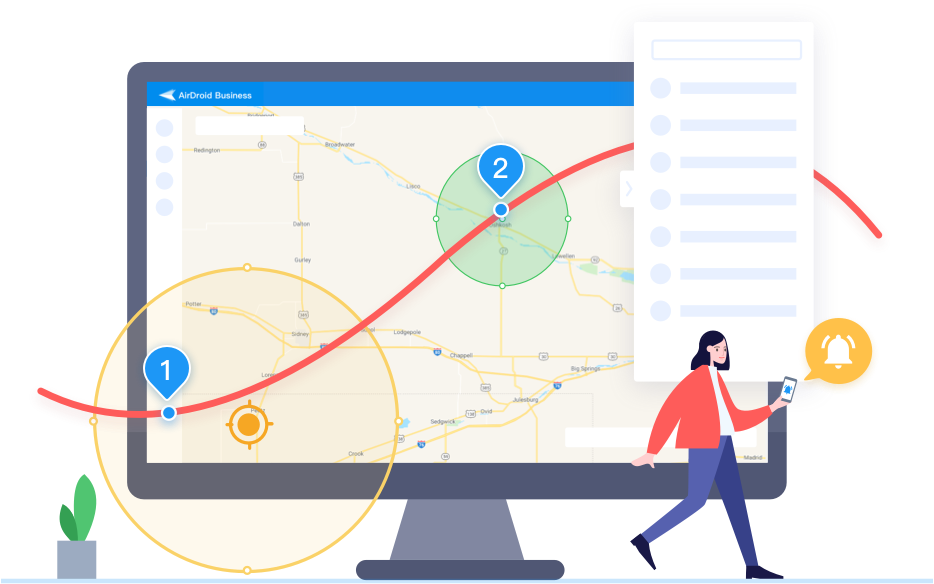 Geofencing is a location-based add-on service included in AirDroid Business MDM Software. This feature is most broadly applied in the logistics industry. Business owners can easily track a device's location and path history from Admin Console. Furthermore, they can set up digital fences to trigger workflows and notifications when a target enters or exits the geofence. In addition, detailed settings such as location sync frequency or recording frequency and even device groups can be set up if your business needs to have a more comprehensive control over your devices. 
💡Read more: Beginner's Guide to AirDroid Business Geofencing
Remote Support (for attended devices)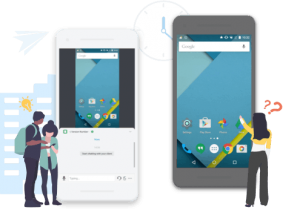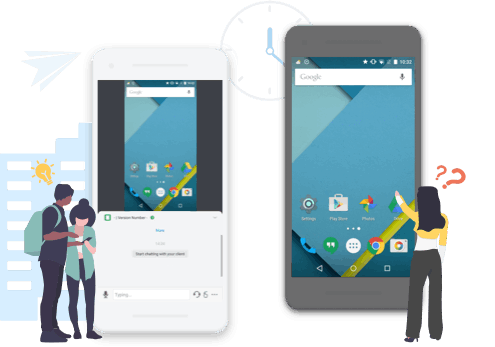 Different from AirDroid Business' MDM solution, AirDroid Remote Support is a 1-to-1 remote assistance solution designed for customer service teams. It helps provide instant support to reduce communication friction and raise customer satisfaction scores. AirDroid Remote Support Software offers five major functions, which are: secure connection with 9-digit-code, real-time screen sharing, AR camera, all-in-one communication suite, and flexible seat management. 
💡Read more: Beginner's Guide to AirDroid Remote Support for Business Users
From your Dashboard in Remote Support, you can receive an overview of data, including the service hours used by your support agents, connection times, and employee's individual performance. You can even check your customers' device information, network type, and service duration. With all your Android devices deployed out in the field, providing immediate support and minimizing customers' frustration is what makes your business stand out among your competitors.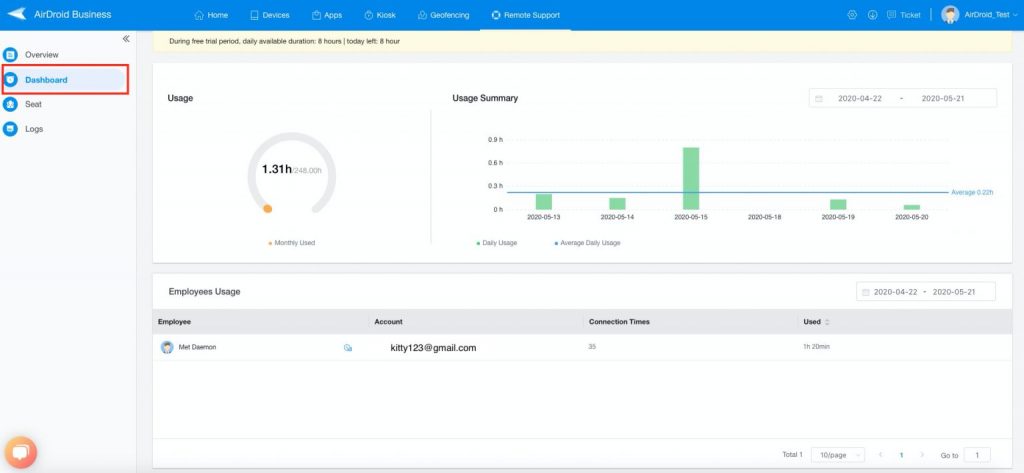 To sum up, AirDroid Business Admin Console is a powerful remote control center that fulfills your business need for Android device management. It also provides flexible add-on features that caters to all business sizes and industries. Business owners can always scale up whenever they see fit and cut down unnecessary cost when implementing an MDM solution. For more information about AirDroid Business, please visit www.airdroid.com/business