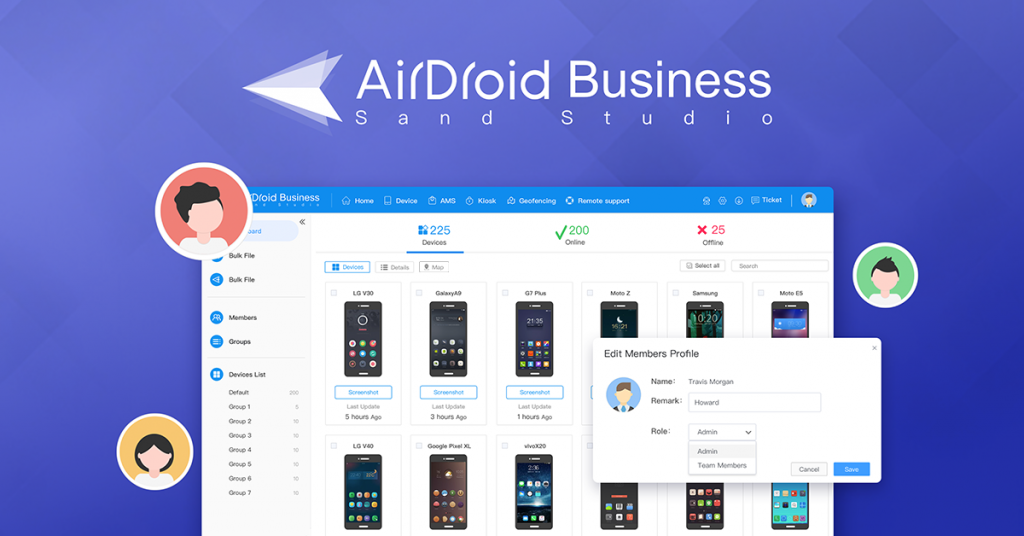 One of the powerful features with AirDroid Business MDM solution is its centralized dashboard for device and member management. With the help of Admin Console and AirDroid Business Desktop Client, you can keep track of all your unattended android devices and achieve various remote tasks all without leaving your office. This article gives a granular view on each remote device management feature and how you can maximize its potential to accelerate your daily workflows.
Challenges of managing mobile devices
As more and more organizations are relying on mobile (both attended and unattended) devices to have the flexibility and more complete customer experience, ensuring these devices work 24/7 has become a big challenge. Needlessly to say, the investment in devices and services will not be realized if the devices are always down. Here are some of the most common challenges that a company will face as the number of devices grow:
Downed devices, whether it's manned or unmanned, directly impact your ability to provide services to employees and customers, and sometimes the bottom line.
Your IT managers are spending more unnecessary time by performing daily operations one device at a time.
It is becoming more difficult to spot an issue when you have a fleet of 100+ devices. You might need be relying on manual monitoring, which takes time and could hinder your efforts to fixing issues.
Your overall costs increase since you need to spend more time and human resources just to maintain the day-to-day operations.
1. Quick & easy device enrollment
AirDroid Business offers an easy 2-step method to help you quickly enroll attended and unattended android devices based on your business type.
Step 1: Download and Install "Biz Daemon" on your controlled devices
💡 If you'd like to have all your organization's information preloaded onto your devices, select the APK for "Bulk-Deployed Version". This is also best recommended by our support team at AirDroid Business, for it will save you a lot of hassle when you have more than 10 devices to enroll.
💡 There are three ways to download the APK: direct download, link download, and QR code download. Based on your business type, you may choose the one that works most compatibly.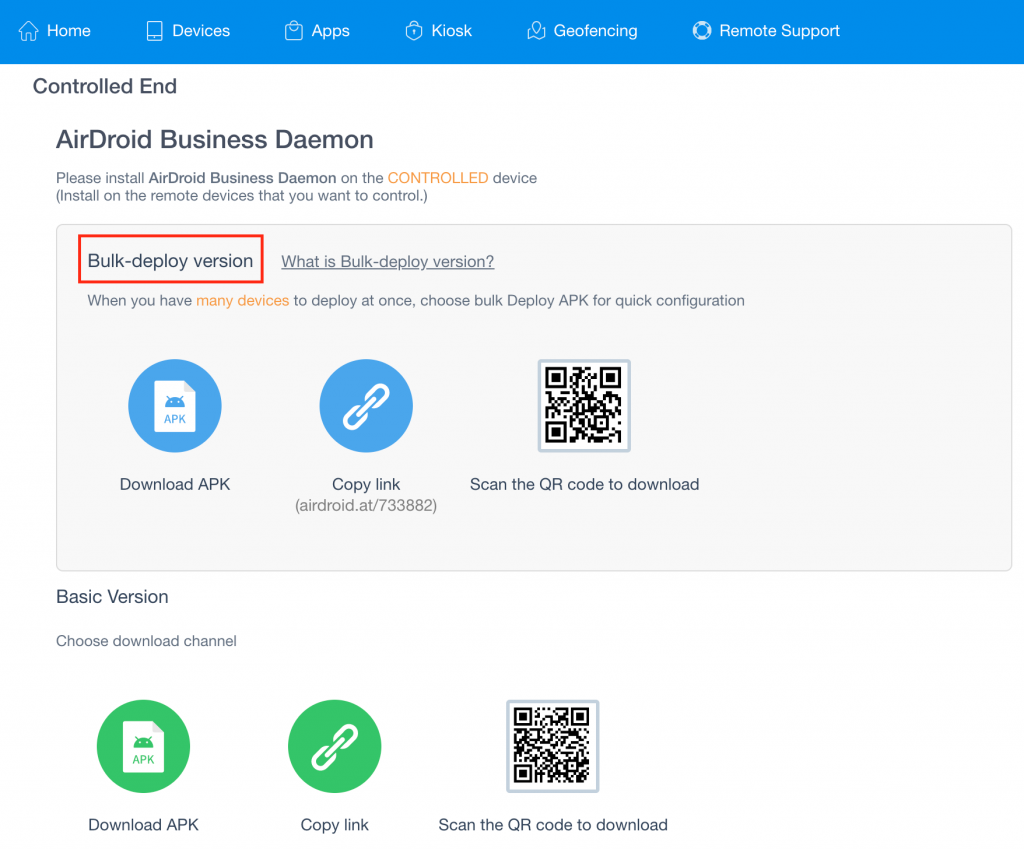 Step 2: Enroll your devices with 3 different methods
For device enrollment, once you open biz Daemon on your controlled devices, you can use the three following method to enroll your devices.
💡 Deployment Code: If your controlled device has a keyboard or camera, use "Deployment Mode"
💡 QR code: If your controlled devices doesn't have a virtual keyboard or camera such as digital signage or tv set, select "QR Code" method.
💡 Bulk Operations: This function lets you enroll multiple devices with specific names, roles, and groups easily by adding your device ID (IMEI, IMSI, SNID)
Read more: Step-by-Step Guide: How To Add Devices To AirDroid Business?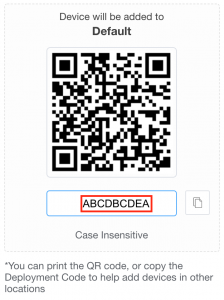 2. Dashboard – proactive monitoring & alerts
Finding the best time-effective way to manage all manned and unmanned devices plays a very crucial role in mobile device management. That is why a powerful MDM solution should also include a comprehensive dashboard where you can keep track of all devices' performance with a quick glance.
Monitor your devices anytime with complete information
In AirDroid Business, you can monitor every aspect and status of your devices in the field. This gives you the ability to stay in the know at all times. The different aspects of monitoring are displayed using Templates, each template displays a certain type of information. You can customize your dashboard by adding different templates, so every time you login to the Admin Console, you can immediately see the most important information. Here are the different templates and what they are best suited for:
Screenshot: displays your devices' screen status. It's particularly useful for digital signage or managed services as you can quickly spot any screen that's not functioning properly. For example, a black screen usually indicates that the screen isn't displaying anything as it's supposed to. You don't need to wait until someone near the site to report the issue.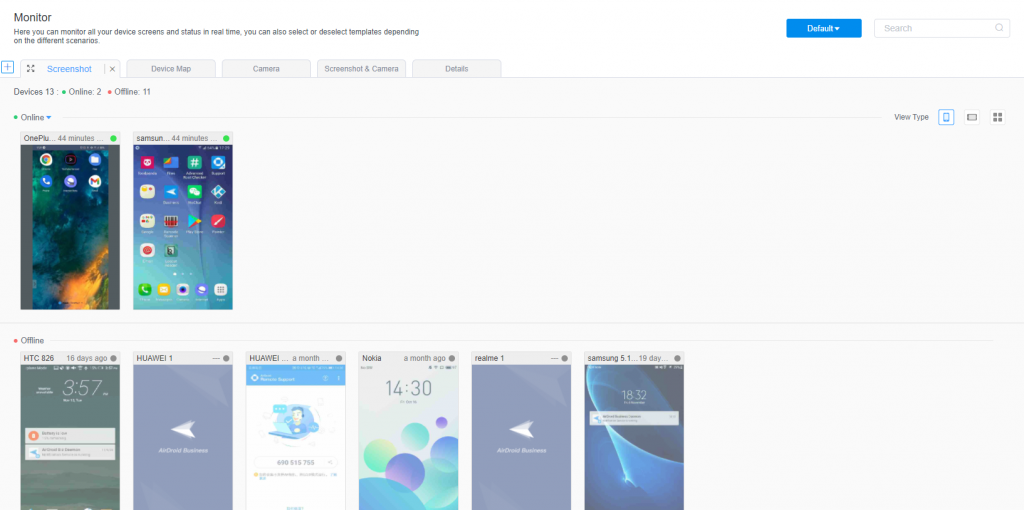 Device map: you can monitor the location of your devices on a map to give you a bird' eye view of your deployment. The device map template is usually used by organizations with a workforce that's also on the move, such as logistics and transportation or delivering services.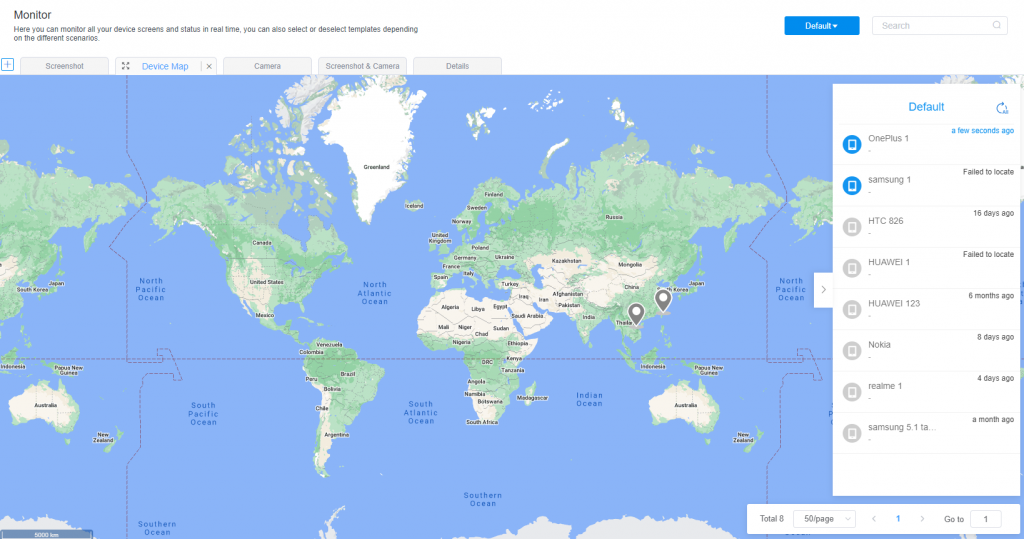 Camera: This allows you to see one or many devices' surroundings using the cameras remotely. It can act as a surveillance dashboard and is used by home or building security (intercom or hallway cameras), security patrol with bodycam, or anything that takes advantage of a mobile device's camera.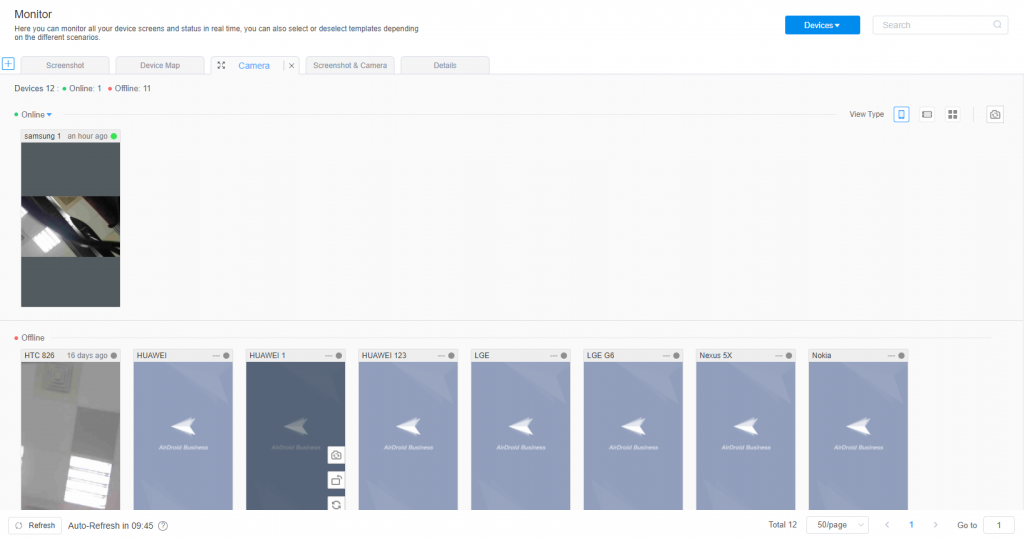 Screenshot & camera: this template lets you see both the device screen and its camera view at the same time.
Details: you can see detailed information of your devices in a list format and customize the information you want to see, including device name, model no., network and battery status, CPU usage, serial number, and many more. It also shows the online/offline status of your devices, so you can sort the order list using any of the above properties, giving you a complete view of device health with detailed information.
Click "Customized List" to select the device information you want to track in your Admin Console.

Alerts to keep you notified even when you're not on duty
In addition to monitoring the health of your devices, you are also able to receive notifications automatically when your devices are in a critical state, including low battery, memory, or abnormal traffic spikes. Alerts and notifications can help you monitor your deployment even when you aren't actively on duty. You can still take the necessary action to minimize downtime.
Configure advanced device settings
You can configure your settings for higher device security. From your device group, click into a specific device and modify device settings like lock device, factory reset, and app list. In addition, you can also turn your Android devices into kiosks by activating Kiosk Mode.

To sum up, with this comprehensive dashboard, IT managers can identify malfunctioning devices quickly or perform other remote control tasks easily. Remote device management certainly plays an imperative role when it comes to selecting an MDM solution.
3. Send group notifications to devices
Sending notification to a fleet of devices at the same time can be very useful when you have important announcements to make on all of your deployed devices. In another case, notifications can serve as general maintenance for end users so they are updated with all the device changes. You can simply create notifications from your Admin Console, customize cover images and word color as well.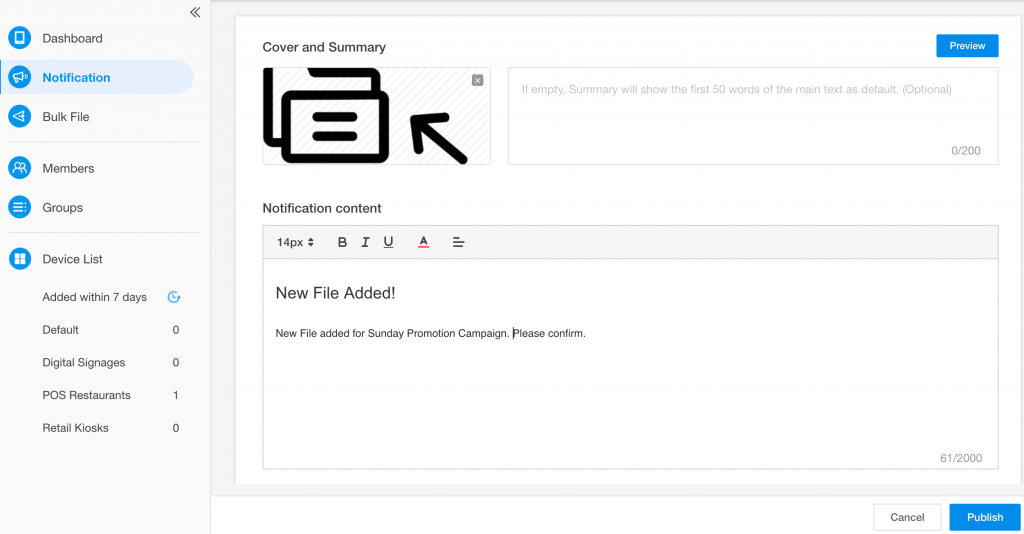 Once you click on "Publish", your remote device should receive the notification immediately and it should look something similar like below:

As mentioned earlier, you can also choose to push different notifications to different groups of devices. You can further check if your message has been opened by all the end users of the devices you sent to like the image below.


Use cases and benefits of group notifications
Notifications is a great way to send important messages or announcements to attended/manned devices. Instead of sending emails or having to put everyone in a messaging chat group, AirDroid Business' notifications act as a system notification that will appear and stay at the top of the notification bar. Employees have the flexibility to check on the messages at any time, without the fear of missing it.
Logistics & Transportation: as delivery personnel and drivers are always on the road and may not having time to check on messages (also everyone is on different schedules and locations), having notifications stay on the notification tray of the device allows the drivers to check whenever they are available.
Medical & Patient Tracking: during the pandemic, there have been a lot more use cases where potential subjects need to be tracked, usually with a mobile device. The government or agency can then send important announcements to every device, instead of having to call one by one.
4. Bulk file transfer – one PC to multiple devices
Many businesses are turning remote android devices into kiosks or digital signages. This indicates that managing different files on these unattended devices can be a nuisance. Not exactly! With the feature of "Two-Way Transfer", you can now transfer or delete files between PC and mobile devices simply by dragging and dropping them. In addition, AirDroid Business even lets you send files to your selected groups through "Bulk File Transfer", meaning you have complete control over file management on all of your android devices.
Use cases and benefits of bulk file transfer
Sending update files (app) to devices (unattended and attended): when you are managing a fleet of devices and some of them need to be updated, you can easily send the update files to those devices. If you are looking at a larger deployment and need to push updates to more than a few dozen devices, we have an automatic app update solution called Application Management Service (AMS).
Sending company documents: whether it is a driver or an employee's device, you can easily send company documents directly to the devices. This way you don't need to worry about getting your staff to get the files from the cloud or logging into a file sharing service. You also don't need to check if everyone has indeed downloaded the files as the documents are directly pushed to their devices for immediate access.
5. User Management for 3 Different Roles
AirDroid Business allows owners or IT managers to add new people and assign different roles to help them further manage fleets of devices while maintaining data security. If your company has devices scattered across cities or countries, this feature will be particularly useful. Teams located in different regions are only allowed to access their own device groups. This feature makes sure device settings won't be tampered easily without unauthorized permission.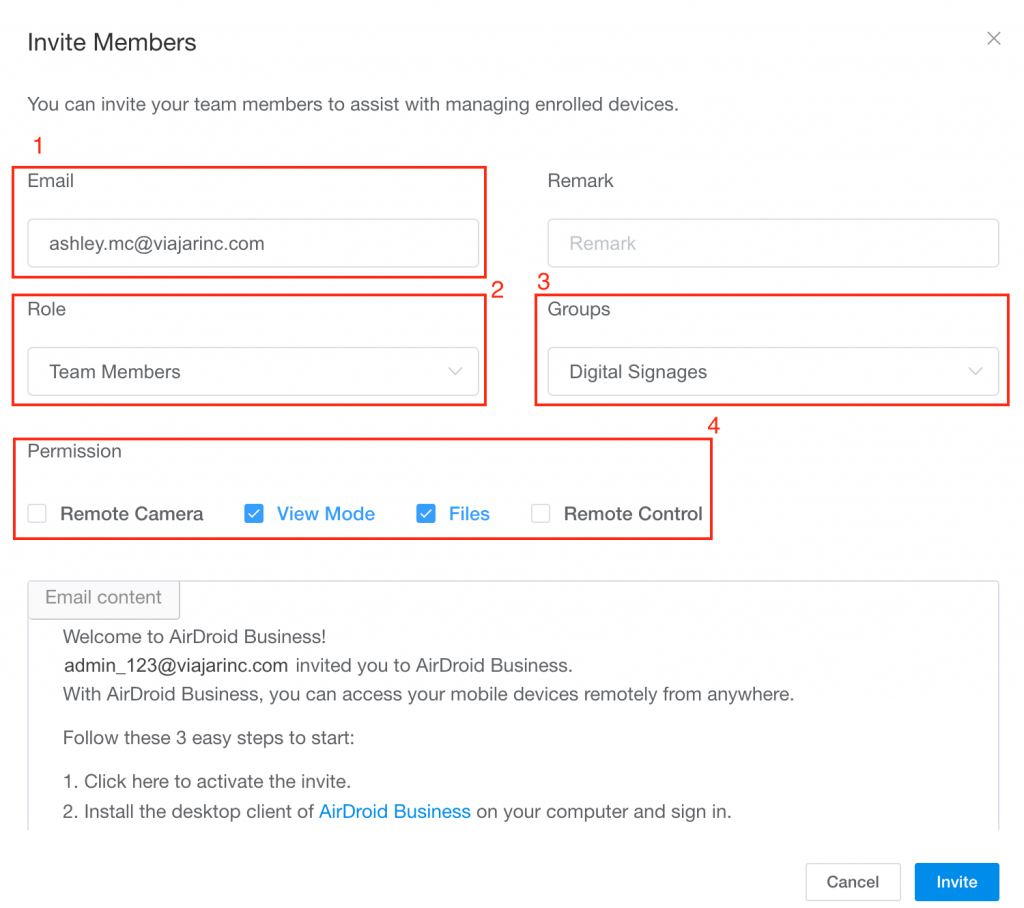 There are three different roles that can be assigned in AirDroid Business Admin Console, they are:
Admin: An Admin has full accessibility to manage and control all enrolled devices in Admin Console.
Team member: A Team member can only access and manage devices assigned to him/her by Admins
Viewer: A Viewer has limited access to assigned devices during specific time frames. They can only use "Remote Camera" and "Remote View" Mode.
Here's a quick comparison chart of accessibility between three different roles:
| | | | |
| --- | --- | --- | --- |
| Roles/Accessibility | Admin | Team Member | Viewer |
| Access to Devices | ⭕️ | 🔺 | 🔺 |
| Remote View | ⭕️ | 🔺 | 🔺 |
| Remote Camera | ⭕️ | 🔺 | 🔺 |
| Remote Control | ⭕️ | 🔺 | ❌ |
| Invite Members | ⭕️ | ❌ | ❌ |
⭕️ Full access 🔺 Limited access ❌ No access

As mentioned, different roles will have accessibility to a specific device or device group. This helps protect a company's sensitive information from being accessed and reinforces security concerns that have always been a critical matter in mobile device management.
Use cases and benefits of user management
Managed service providers: if your business involves managing services for your clients, you can create spectator-level accounts so your clients can also look at the status from time-to-time. Your team will have admin access since you need to access everything most of the time.
Multi-project management: when you have multiple projects, each with a fleet of devices to manage, you are likely to have different account managers taking care of each project. AirDroid Business gives you a one-stop and single-entry platform, but the flexibility of customizing each account's access rights, so you can enjoy the ease of managing a multi-project deployment with one solution. Each account manager has access to his or her deployment, but the managers might have access to multiple ones.
6. Convenient Device Grouping

Mobile Device Management applications vary across industries and business sizes. Therefore, having full flexibility to group and manage multiple devices based on your business model is one important factor to consider when choosing your MDM solution. Business owners and IT managers can choose to categorize their devices based on locations, departments, type of services, and more. With the help of device grouping, daily maintenance can be easily accomplished within a few clicks.
Use cases and benefits of device grouping
Managing different projects: it's common for companies providing services to manage different projects at the same time. For example, a company providing community watch/security service can group the intercom devices (Android-based) by the apartment complex, followed by naming each device the apartment number.
Managing a global deployment: group your devices using regions, cities, or even countries. If these devices belong to different customers, you can also further categorize them so you can quickly find the group of devices you want.
AirDroid Business provides a centralized interface where business owners or IT managers can swiftly manage all of the remote android devices in one single place. Log in to your Admin Console and try out all the features mentioned above. If you haven't gotten an AirDroid Business account, you can apply your free trial today!