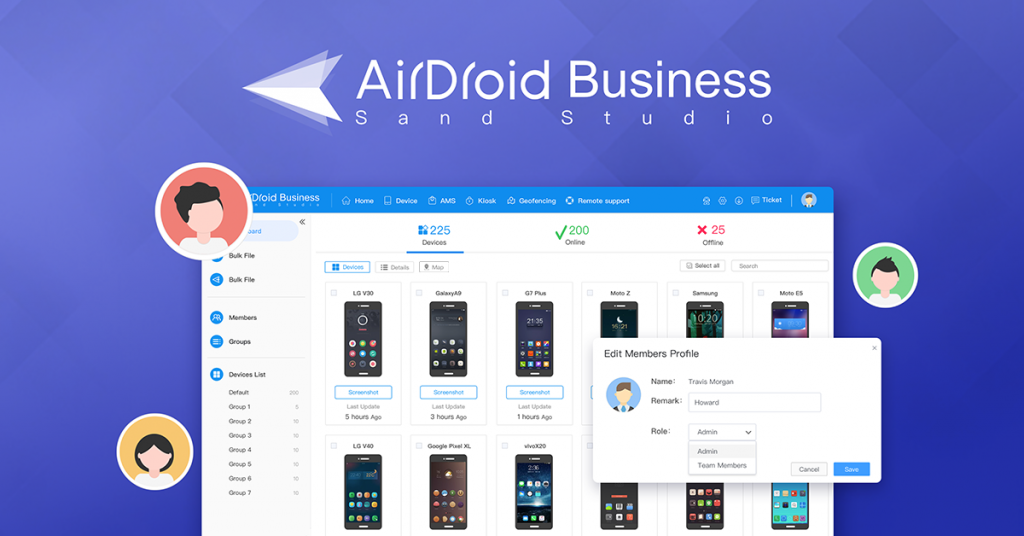 One of the powerful features with AirDroid Business MDM solution is its centralized dashboard for device and member management. With the help of Admin Console and AirDroid Business Desktop Client, you can keep track of all your unattended android devices and achieve various remote tasks all without leaving your office. This article gives a granular view on each remote device management feature and how you can maximize its potential to accelerate your daily workflows.
1. Quick Enrollment with New Devices
AirDroid Business offers an easy 2-step method to help you quickly enroll attended and unattended android devices based on your business type.
Step 1: Download and Install "Biz Daemon" on your controlled devices
💡 If you'd like to have all your organization's information preloaded onto your devices, select the APK for "Bulk-Deployed Version". This is also best recommended by our support team at AirDroid Business, for it will save you a lot of hassle when you have more than 10 devices to enroll.
💡 There are three ways to download the APK: direct download, link download, and QR code download. Based on your business type, you may choose the one that works most compatibly.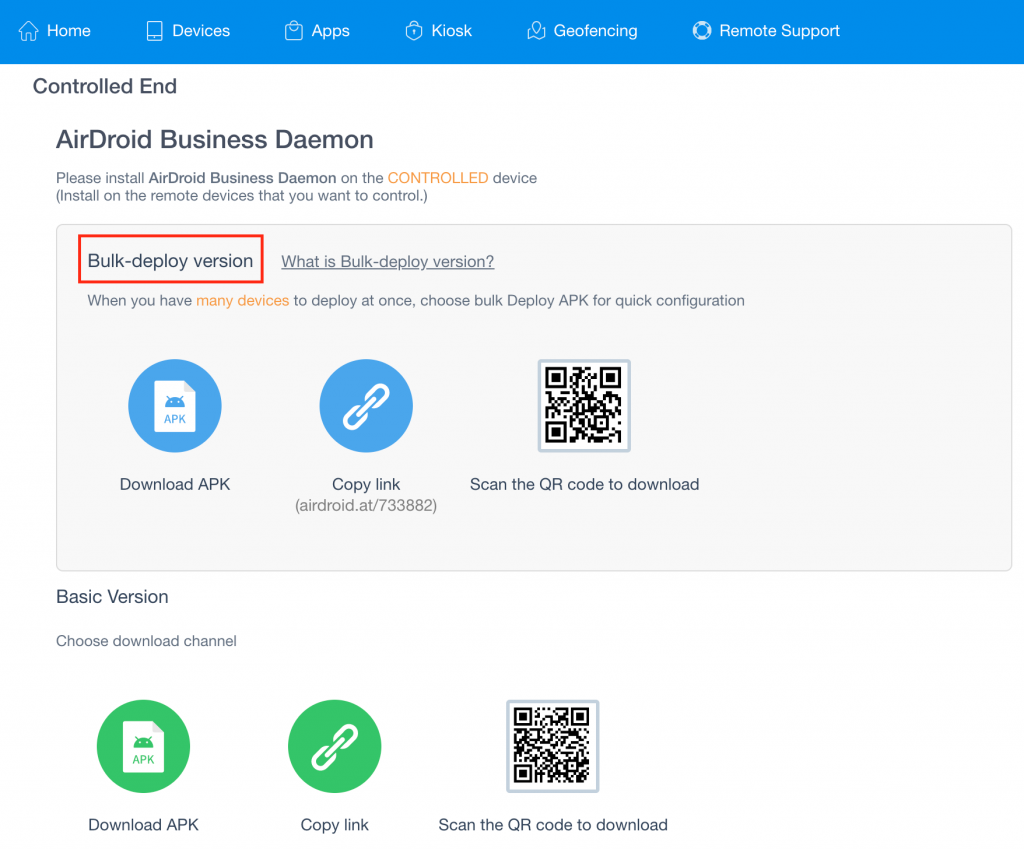 Step 2: Enroll your devices with 3 different methods
For device enrollment, once you open biz Daemon on your controlled devices, you can use the three following method to enroll your devices.
💡 Deployment Code: If your controlled device has a keyboard or camera, use "Deployment Mode"
💡 QR code: If your controlled devices doesn't have a virtual keyboard or camera such as digital signage or tv set, select "QR Code" method.
💡 Bulk Operations: This function lets you enroll multiple devices with specific names, roles, and groups easily by adding your device ID (IMEI, IMSI, SNID)
Read more: Step-by-Step Guide: How To Add Devices To AirDroid Business?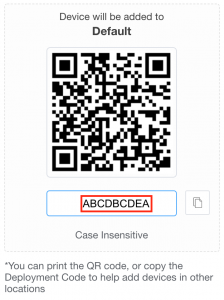 2. Convenient Device Grouping

Mobile Device Management applications vary across industries and business sizes. Therefore, having full flexibility to group and manage multiple devices based on your business model is one important factor to consider when choosing your mdm solution. Business owners and IT managers can choose to categorize their devices based on locations, departments, type of services, and more. With the help of device grouping, daily maintenance can be easily accomplished within a few clicks.
3. Send Large Files to Multiple Devices
Many businesses are turning remote android devices into kiosks or digital signages. This indicates that managing different files on these unattended devices can be a nuisance. Not exactly! With the feature of "Two-Way Transfer", you can now transfer or delete files between PC and mobile devices simply by dragging and dropping them. In addition, AirDroid Business even lets you send files to your selected groups through "Bulk File Transfer", meaning you have complete control over file management on all of your android devices.
4. Send Notifications to Multiple Devices
Sending notification to a fleet of devices at the same time can be very useful when you have important announcements to make on all of your deployed devices. In another case, notifications can serve as general maintenance for end users so they are updated with all the device changes. You can simply create notifications from your Admin Console, customize cover images and word color as well.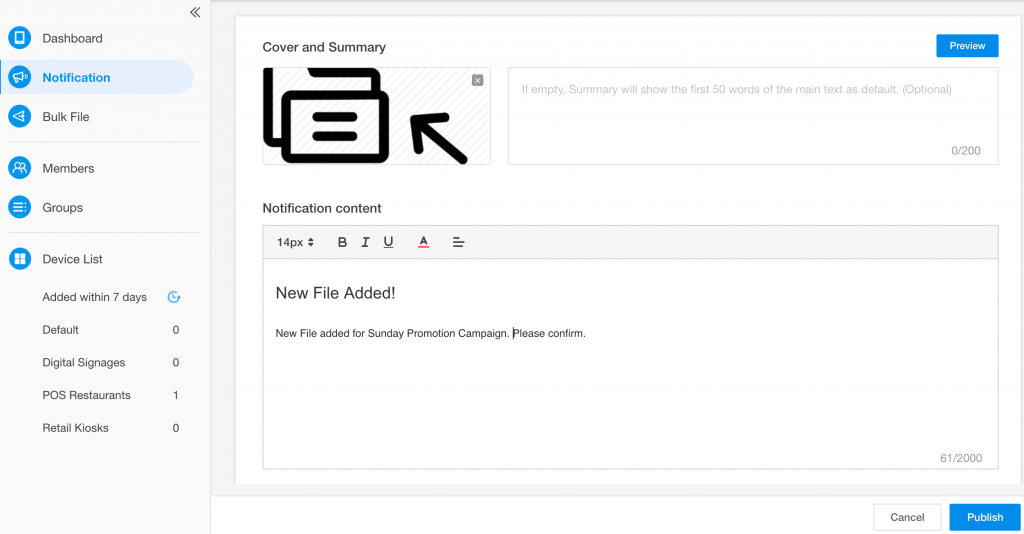 Once you click on "Publish", your remote device should receive the notification immediately and it should look something similar like below:

As mentioned earlier, you can also choose to push different notifications to different groups of devices. You can further check if your message has been opened by all the end users of the devices you sent to like the image below.


5. Comprehensive Dashboard to Monitor Device Performance
Finding the best time-effective way to manage all manned and unmanned devices plays a very crucial role in mobile device management. That is why a powerful mdm solution should also include a comprehensive dashboard where you can keep track of all devices performance with a quick glance.
Monitor your device's connection status
Get an overview of all your enrolled devices and their connection status instantly.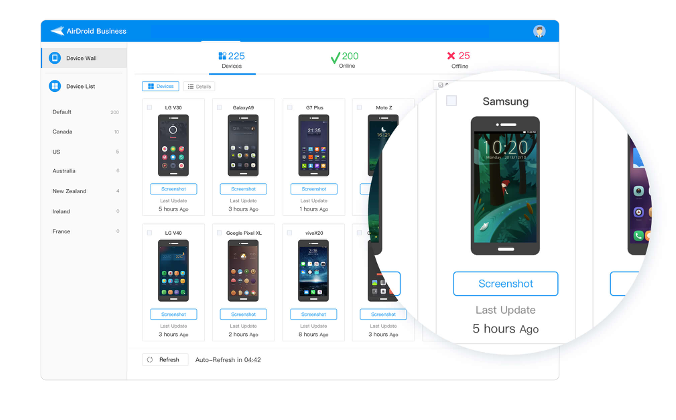 Locate your device immediately
Know where your android device is located and respond quickly to any abnormal activities,

Check and customize your device details
Click "Details" in your device dashboard and you will see a detailed list of your device information, including connection status, device name, device model, network, capacity, data usage, biz Daemon version, and root status

Click "Customized List" to select the device information you want to track in your Admin Console.

Take screenshot of one or multiple devices
If your remote android devices are deployed as digital signage or tv, you can take screenshots of your devices to ensure they are displaying content properly and respond quickly when technical errors occur. You can also refresh all the screenshot of your remote devices altogether.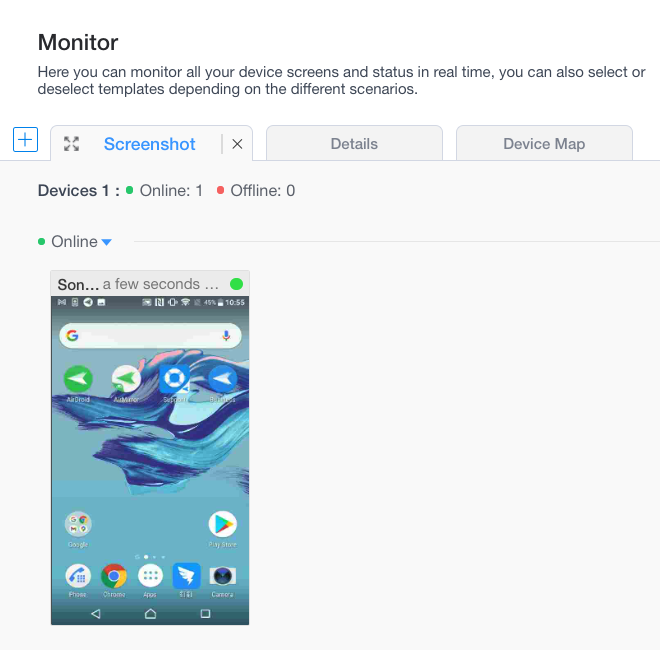 Read more: What is Digital Signage and Why Your Business Needs it?
Configure advanced device settings
You can configure your settings for higher device security. From your device group, click into a specific device and modify device settings like lock device, factory reset, and app list. In addition, you can also turn your android devices into kiosks by activating Kiosk Mode.

Top sum up, with this comprehensive dashboard, IT managers can identify malfunction devices quickly or perform other remote control tasks easily. Remote device management certainly plays an imperative role when it comes to selecting a MDM solution.
6. User Management for 3 Different Roles
AirDroid Business allows owners or IT managers to add new people and assign different roles to help them further manage fleets of devices while maintaining data security. If your company has devices scattered across cities or countries, this feature will be particularly useful. Teams located in different regions are only allowed to access their own device groups. This feature makes sure device settings won't be tampered easily without unauthorized permission.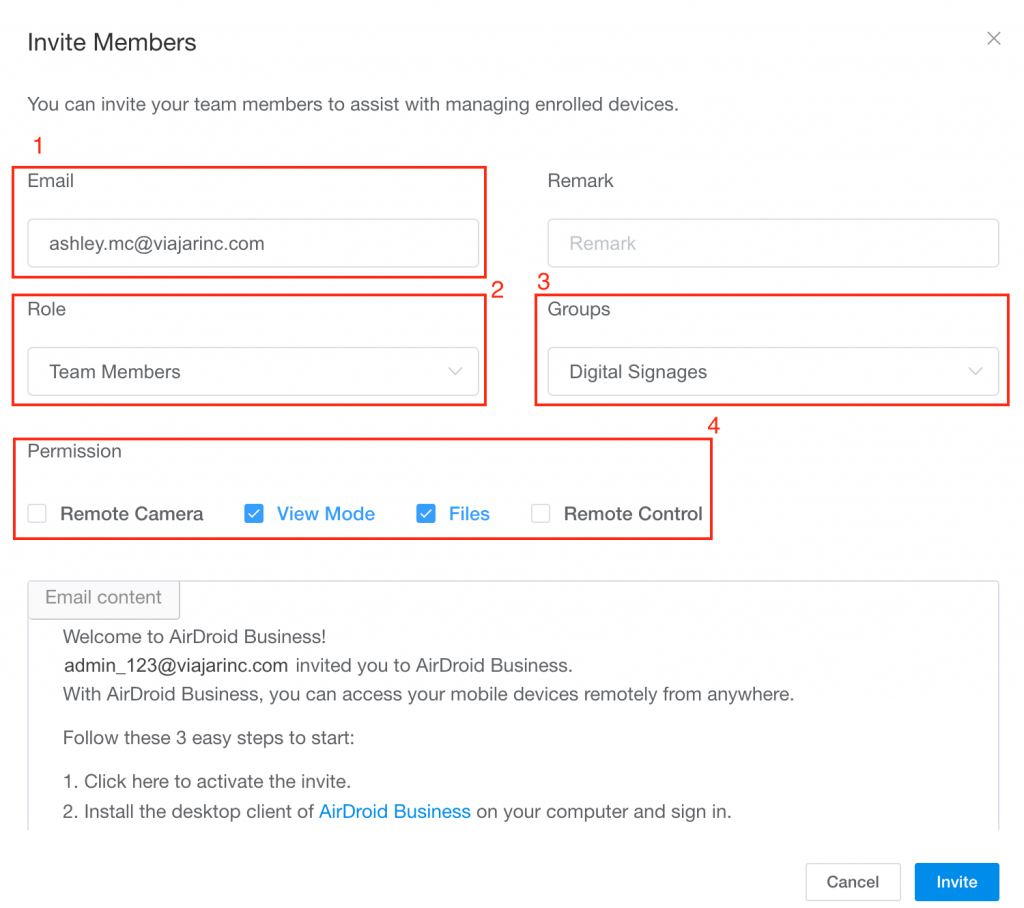 There are three different roles that can be assigned in AirDroid Business Admin Console, they are:
Admin: An Admin has full accessibility to manage and control all enrolled devices in Admin Console.
Team member: A Team member can only access and manage devices assigned to him/her by Admins
Viewer: A Viewer has limited access to assigned devices during specific time frames. They can only use "Remote Camera" and "Remote View" Mode.
Here's a quick comparison chart of accessibility between three different roles:
| | | | |
| --- | --- | --- | --- |
| Roles/Accessibility | Admin | Team Member | Viewer |
| Access to Devices | ⭕️ | 🔺 | 🔺 |
| Remote View | ⭕️ | 🔺 | 🔺 |
| Remote Camera | ⭕️ | 🔺 | 🔺 |
| Remote Control | ⭕️ | 🔺 | ❌ |
| Invite Members | ⭕️ | ❌ | ❌ |
⭕️ Full access 🔺 Limited access ❌ No access

As mentioned, different roles will have accessibility to a specific device or device groups. This helps protect a company's sensitive information from being accessed and reinforce security concerns that have always been a critical matter in mobile device management.
AirDroid Business provides a centralized interface where business owners or IT managers can swiftly manage all of the remote android devices in one single place. Log in to your Admin Console and try out all the features mentioned above. If you haven't gotten an AirDroid Business account, you can apply your free trial today!