Last Updated on September 7, 2022
Comparing features between AirDroid Business plans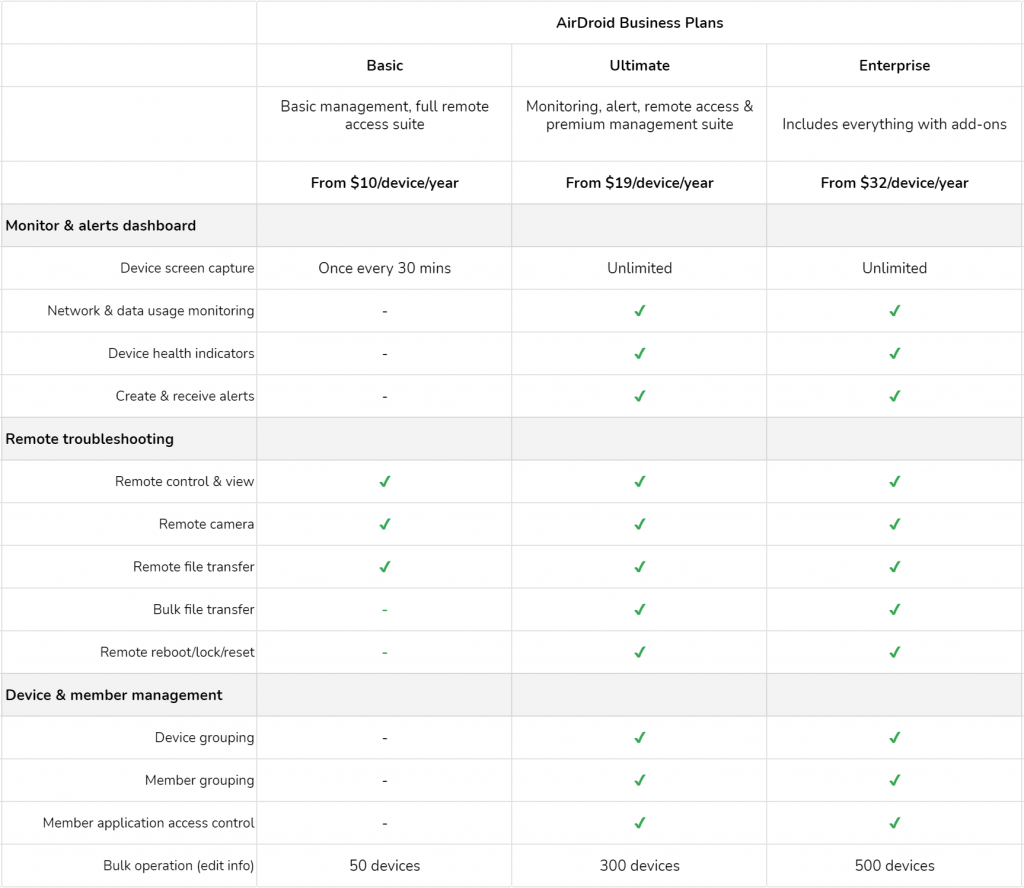 ⚡ READ MORE: visit our website for the full features comparison chart
More companies are now integrating mobile devices and tablets into their daily operations. Apart from the BYOD policy that's been broadly adopted by most organizations, many are actually deploying unattended devices out in the field to either reach more customers or sustain daily operations under difficult times. For example, businesses deploy Android-based digital signages to showcase product or marketing information. Retail industries implement Android-based self-service Kiosks to speed up payment and food ordering processes.
With multiple devices distributed remotely across cities or even countries, device management can be a challenging quest for IT managers and business owners. There should be a more efficient way to remotely manage, control, and even monitor these devices for any abnormal activities. This way, you can provide immediate troubleshooting and lower the impact on business operations considerably. Guess what! You can easily achieve these goals with AirDroid Business latest remote monitoring feature.
AirDroid Business, priding itself as an all-in-one Android mobile device management solution puts great emphasis on remote monitoring and detecting anomalous device activities for businesses to help them lower operational costs and maintain utmost productivity at all times. With the latest updates, you'll find unattended remote access and remote control for your Android devices even more efficient than before. Companies can now receive real-time details on all their device performances in one screen view.
Let's take a look at what device metrics can your business monitor and how to get notified when things go wrong.
Remotely Monitor Android Devices using 8 different views
1. General Indicators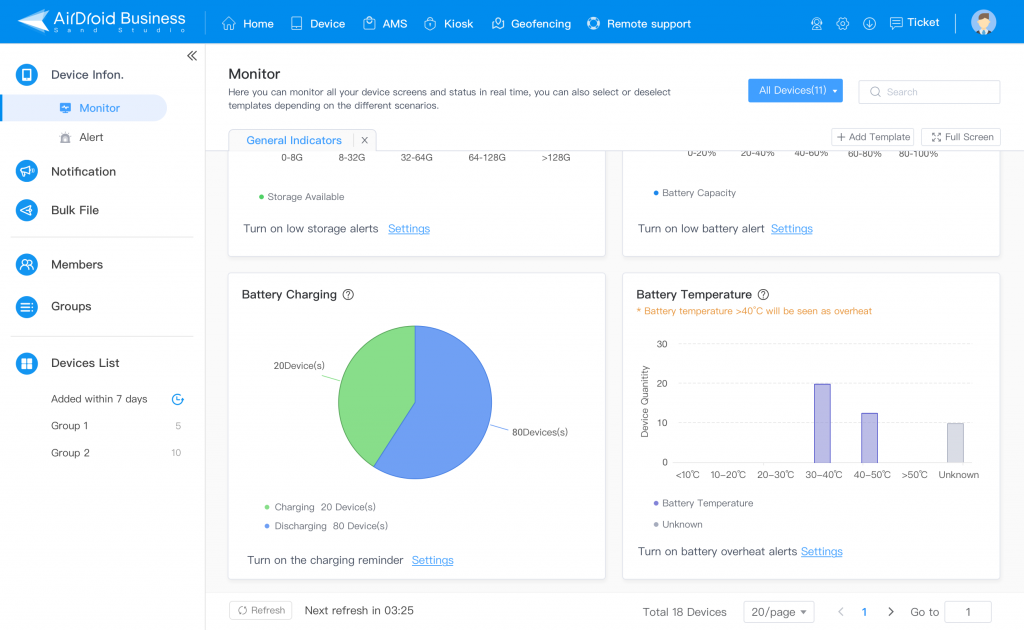 General Indicators Template is where you get a holistic view of all your enrolled Android, attended and unattended. General indicators showcase data including:
➤ numbers of devices that are online and offline
➤ the offline duration of particular devices
➤ storage currently available on your devices
➤ battery capacity of each device
➤ battery charging status
➤ battery temperature of every device
With numerous devices out in the field, it's critical to know if they are performing accordingly based on your intended purposes. The General Indicators Template offers you a quick overview of all your Android device activities so you can identify peculiar signs and react in advance to avoid complete device failures. Moreover, you can set up various alert notifications to receive the latest update on your devices.
Keeping track of your device's basic functionality is one way to ensure streamlined workflows. For example, overheated batteries can often lead to device malfunction and offline devices can tremendously disturb sales revenue in the long run. With the General Indicators Template, you can ensure every device is up and running smoothly and minimize the frequency of device glitches.
2. Device Network & Data Usage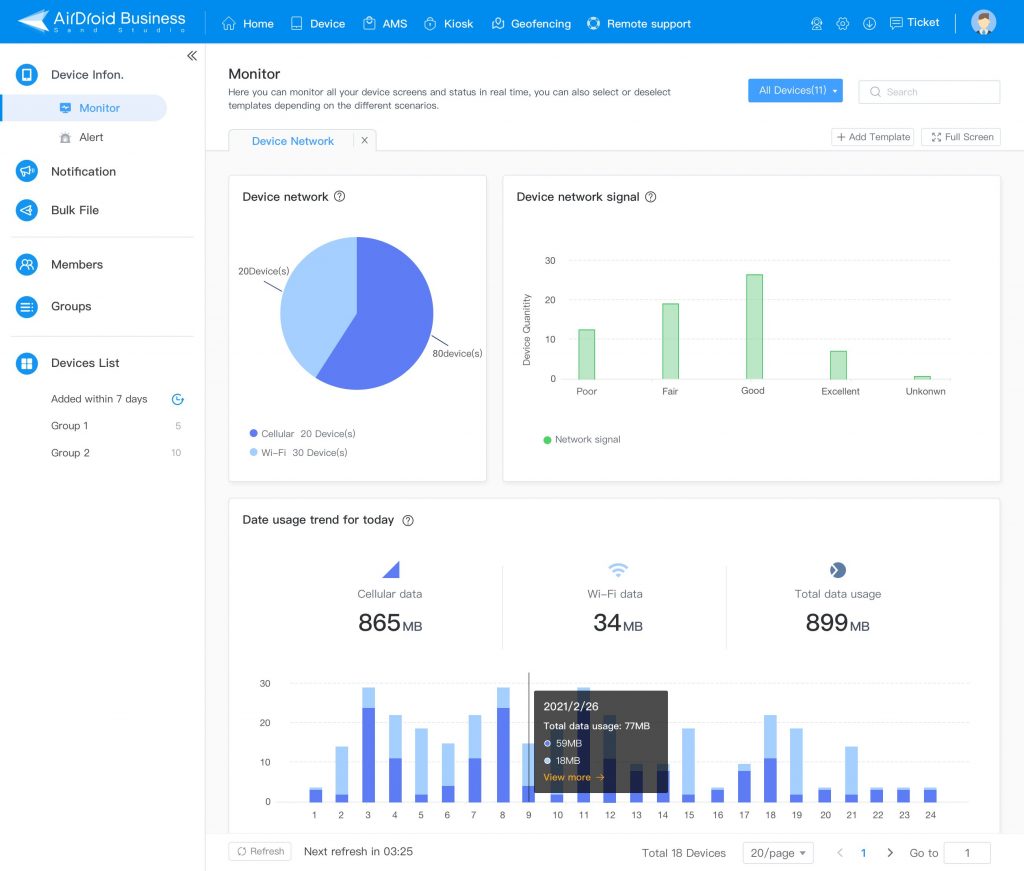 Device Network Template lets you monitor all the vital network details and keep your internet costs under control, including:
➤ Device network
➤ Device network signal
➤ Data usage trend for today
You can easily identify the number of devices that are using cellular data and Wi-Fi respectively. For businesses that need strong internet connectivity to maintain their operations, device network signal tells you which devices are having poor internet connection and will need some IT support or modifications.
Most importantly, the Device Network Template lets you keep track of your daily data usage and even break down into different time slots. This design lets you distinguish unusual data usage for a particular device at a specific time, making remote device management less of a hassle. Once irregular activities are identified, you can quickly resolve these issues by remotely accessing and controlling the device. Industries like logistics and retail that sometimes spend an awful amount of money on expensive data costs can actually be avoided when proper device monitoring and alerting systems are established.
3. Biz Daemon Status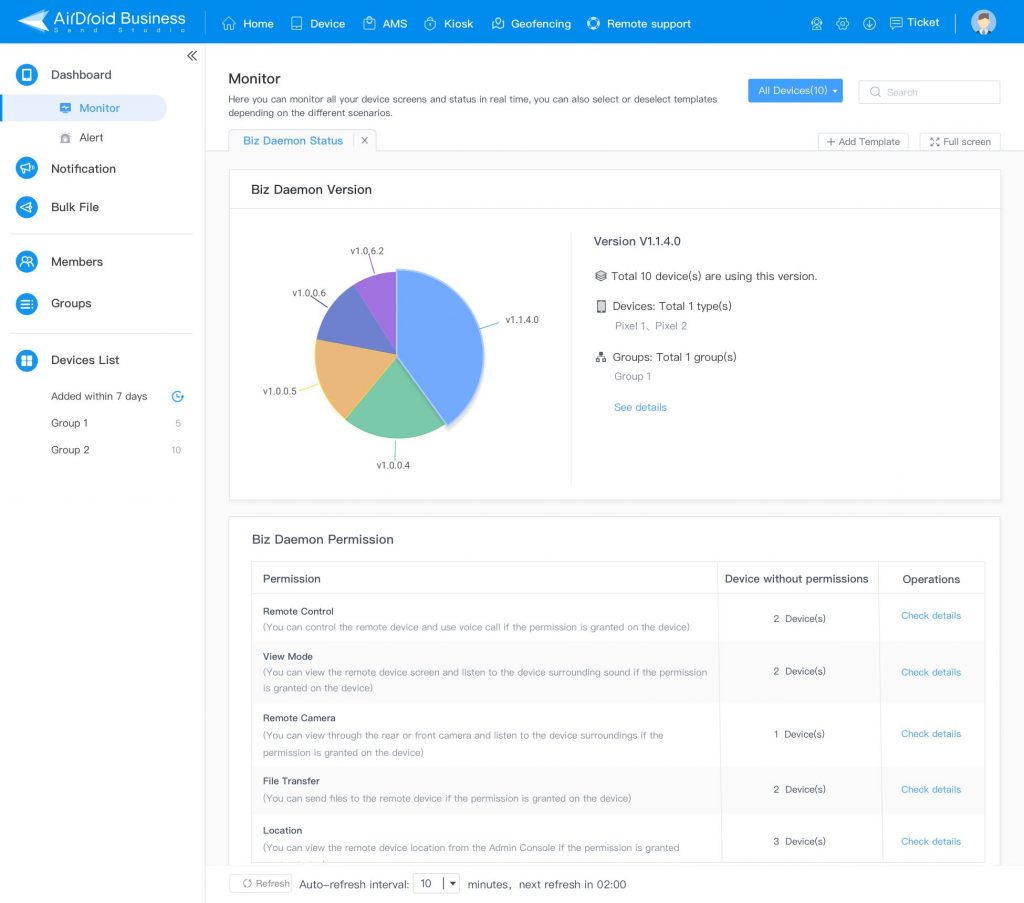 Biz Daemon Status Template shows you valuable information regarding your Biz Daemon version and device management permission. Biz Daemon is the key factor for AirDroid Business mobile device management software to work. It's one of the critical device information you'll need to keep track of when managing your Android devices. IT managers can effortlessly single out certain devices with an older version of Biz Daemon and schedule them to automatically update all together using Application Management Services (AMS). Additionally if you have different groups of devices, you can also look into further details to double check that all devices are with the latest version of biz Daemon.
Biz Daemon Permission plays an indispensable role for business to successfully utilize remote access, remote control, file transfer, app updates, and other remote device management tasks. You can find out which device is missing access for a particular activity with the list provided in the template. Alternatively, when you receive alerts for abnormal device activity, you can also diagnose the problem by checking whether it's because of a permission issue from the Biz Daemon Status Template.
4. Device Screenshot
Screenshot allows you to see the screen display of your attended and unattended Android devices. If you have multiple unattended devices stationed in various locations such as digital signages or healthcare information kiosks, this is the best way for you to remotely access and check whether these devices are displaying the right content. Alternatively, you can switch your screen display from vertical to horizontal easily by switching "View Type" on the upper right corner.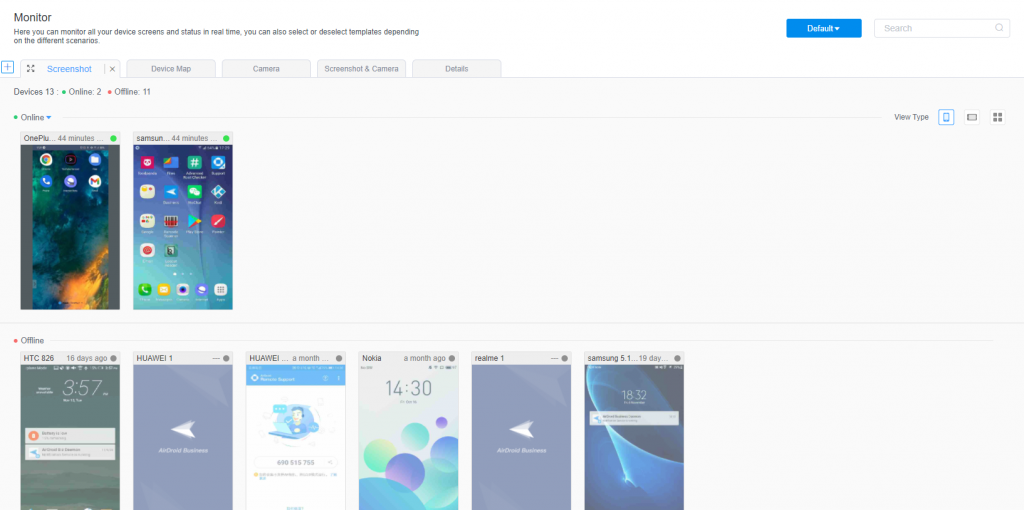 5. Device Details
Device details literally lets you check all your device's details and spot potential technical errors to give you more response time when remote support is needed. This template includes basic device details such as connection status, device name, and device model. However, to streamline workflows and lower data cost, you can select other additional details such as CPU usage and battery capacity to get a more comprehensive understanding of your device's performance. In fact, the latest update in AirDroid Business' remote device monitoring allows you to track up to 25 different conditions of your device!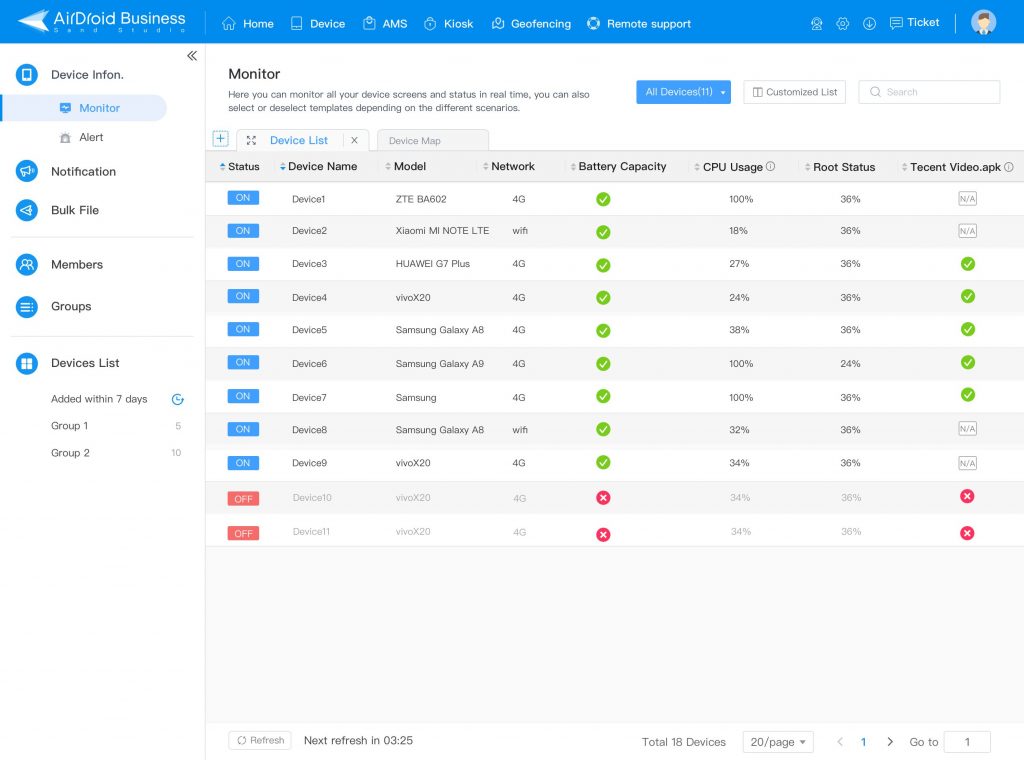 6. Device Map
Device Map helps you locate your Android devices, both attended and unattended. For businesses that distribute portable Android devices to their staff or clients, location tracking is a critical feature to have within an Android MDM solution.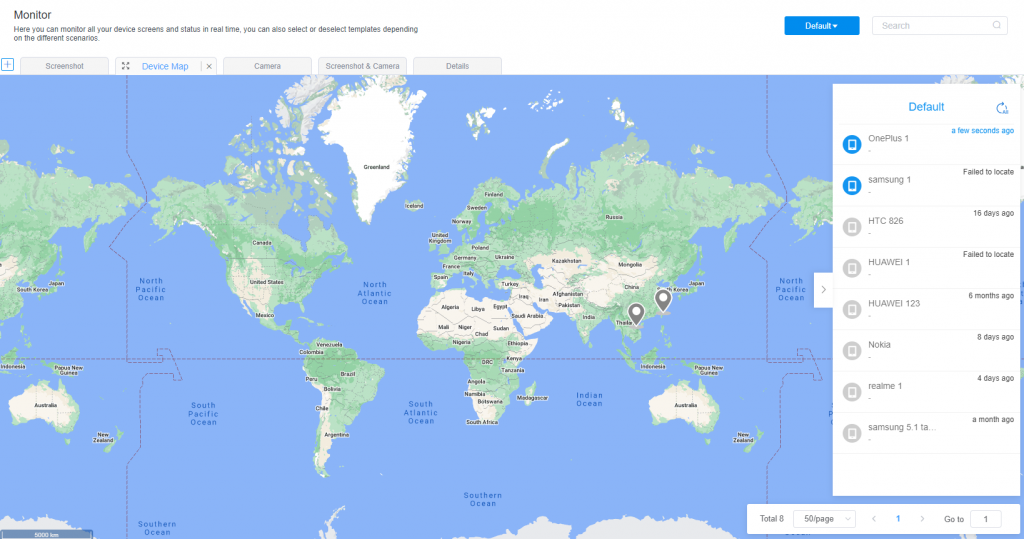 7. Device Camera view
Device Camera view can come in handy for businesses using Android-based devices as security methods or public-facing devices, such as kiosks that measure people's temperature before entering a store. Conveniently, businesses can use unattended remote access and control to switch between monitoring the device's front camera or rear camera.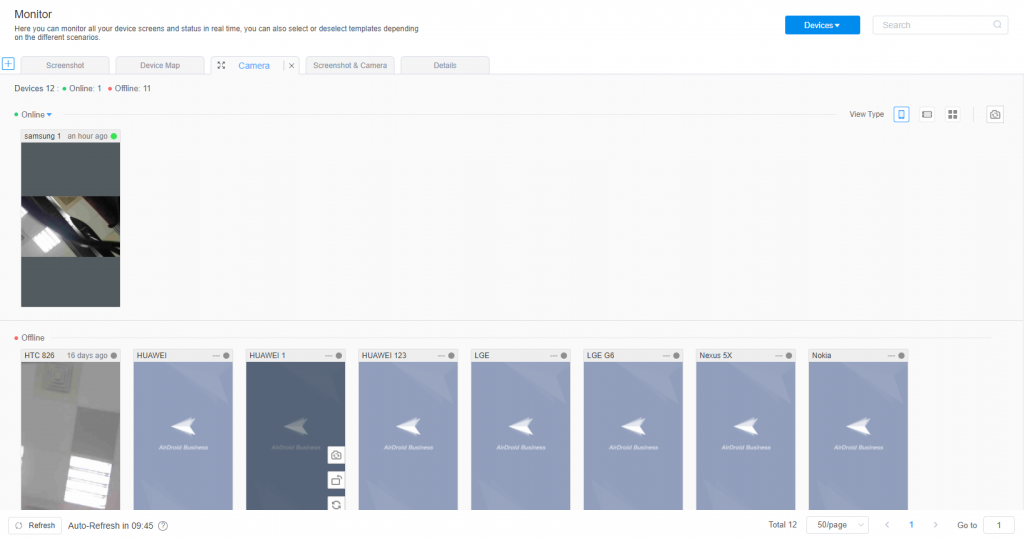 8. Screenshot & Camera in one
Namely, this is a combined view between Screenshot and Camera. This template not only gives businesses an exhaustive understanding of the device's performance but its surroundings all at once. In most unattended Android remote control business scenarios, IT support is requested only after technical issues appear. With these all-inclusive monitoring features, IT team is able to take precautions and reduce troubleshooting costs at the same time.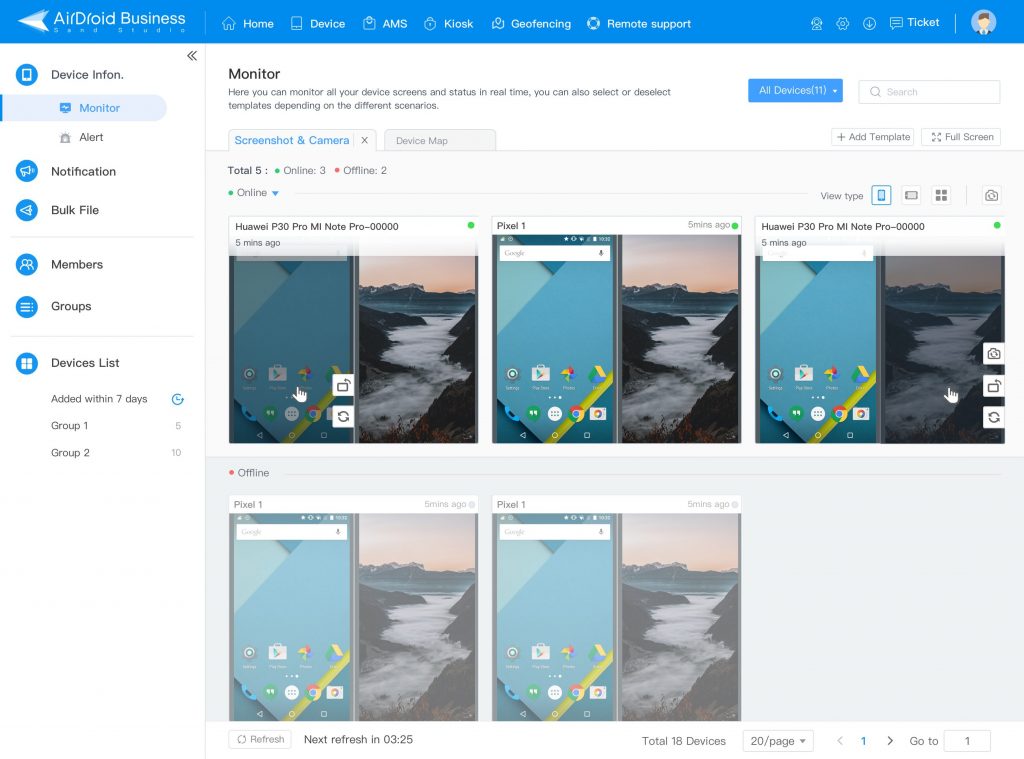 Preventive alerting system
The AirDroid Business Alert System works together with the monitoring templates introduced above to help IT admins get the latest device performance. The biggest advantage of setting up these alerts is that you no longer need to watch over these devices and refresh tons of data every ten minutes. You will be notified when a particular device is malfunctioning. Once receiving an alert, your IT team can react quickly via remote access to troubleshoot technical errors immediately.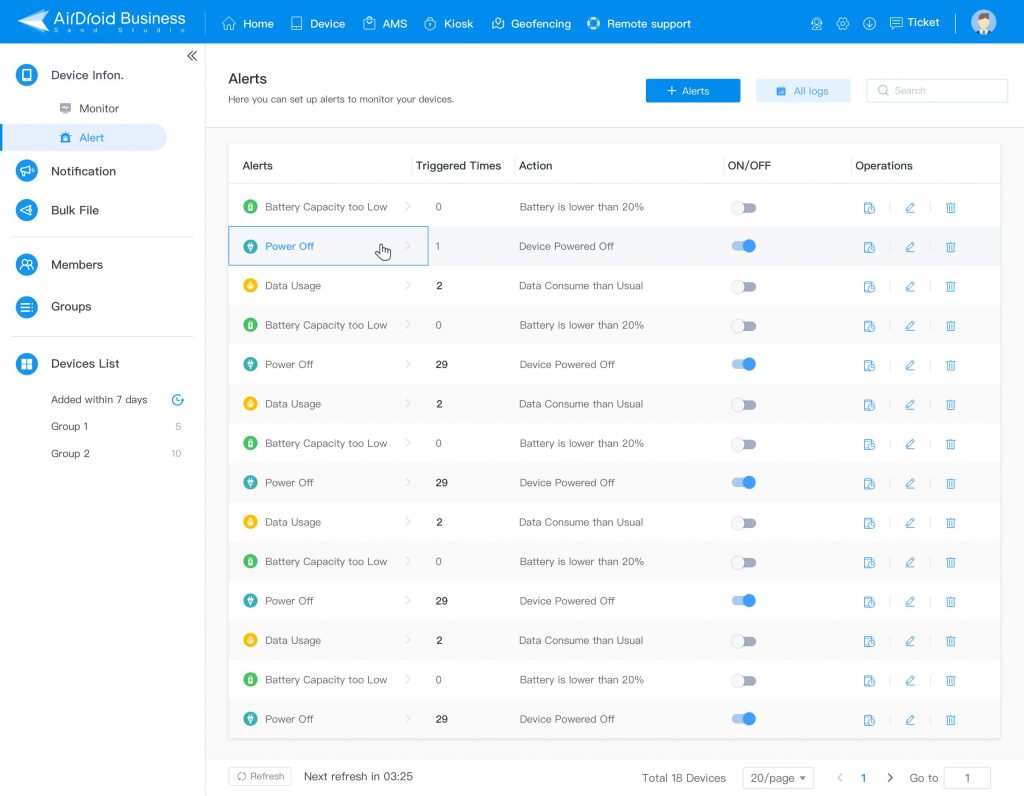 Choose from more than 10 alert triggers:
‣ Cellular and Wi-Fi data usage
‣ Device online/offline status
‣ Battery capacity and temperature
‣ Storage capacity
‣ Device motion and movement
‣ App status
‣ Biz Daemon permission status
‣ Kiosk Mode status
‣ Screen lock status
‣ External HDMI status
‣ …and more coming up!

Efficient Management for Multiple Device Groups
One of the difficulties in managing a fleet of unattended Android devices lies in unorganized device grouping. In order to efficiently access and monitor remote devices scattered across a city or country, navigate to "Devices" on the upper right corner and select the designated device group you want to get a quick glance at all your devices. Respond quicker to malfunctioning devices and minimize impacts on your business operations.
Optimized Auto-Refresh Screen Time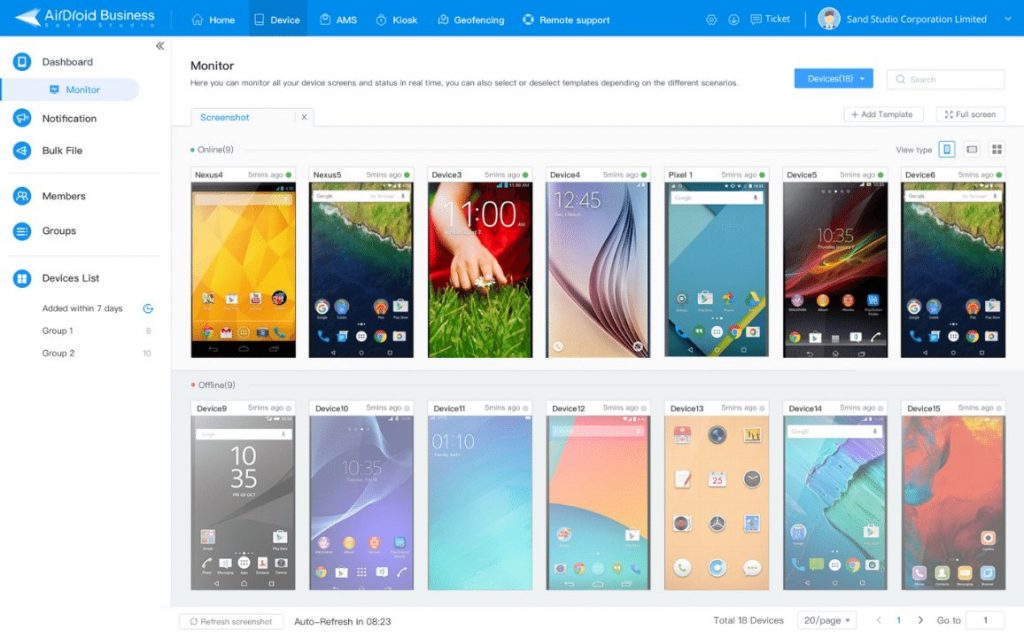 Another biggest change among the feature updates is the optimization of screen refresh time. The time period has been optimized from every five minutes to every ten minutes. By delaying the auto-refresh screen time, you can save more device data costs and stabilize your device's daily operations. Most importantly, you can get complete real-time monitoring data, including screenshot, front camera view, and rear camera view whenever you refresh your devices.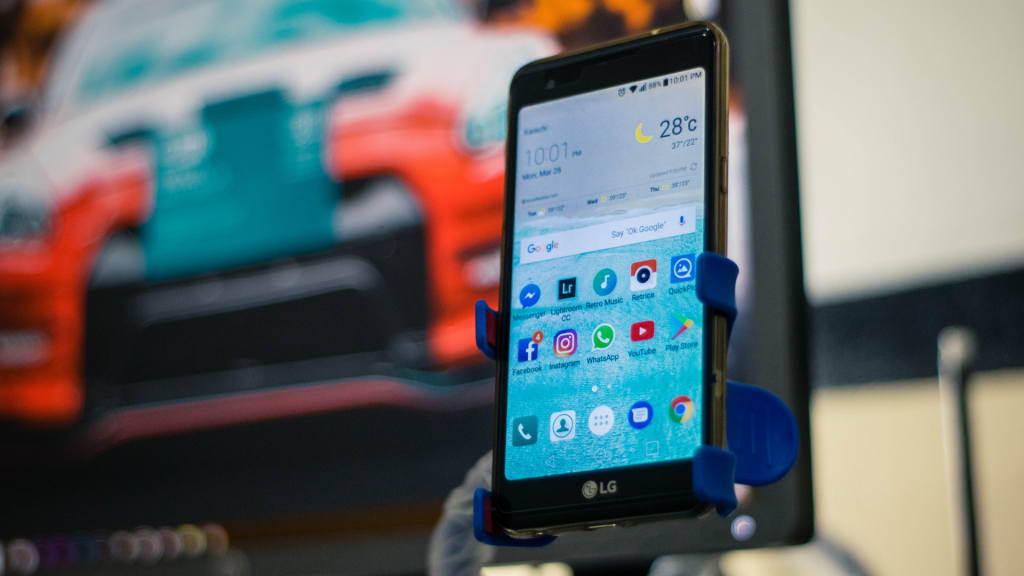 For a business with unattended Android remote access and control scenarios, the latest updates in AirDroid Business allows users to monitor the real-time performance of every device while detecting underlying issues in advance through setting up customized alerts. By shortening IT response time, could actually be the paramount factor that put you ahead of your competitors.
With all the latest updates in Android remote device management and monitoring, AirDroid Business, the all-in-one Android MDM software now offers SMBs and enterprises a faster and simpler way to remotely manage numerous attended and unattended Android devices.
How to start remotely monitoring Android devices?
Easy! Follow these three simple steps and you'll be able to start remotely monitoring your Android devices in no time.
➤ Step 1. Register an AirDroid Business account
➤ Step 2. Log in to your account and install AirDroid Biz Daemon on your Android devices that need to be monitored
➤ Step 3. Navigate to "Device – Monitor" and find all of your device activities in your dashboard