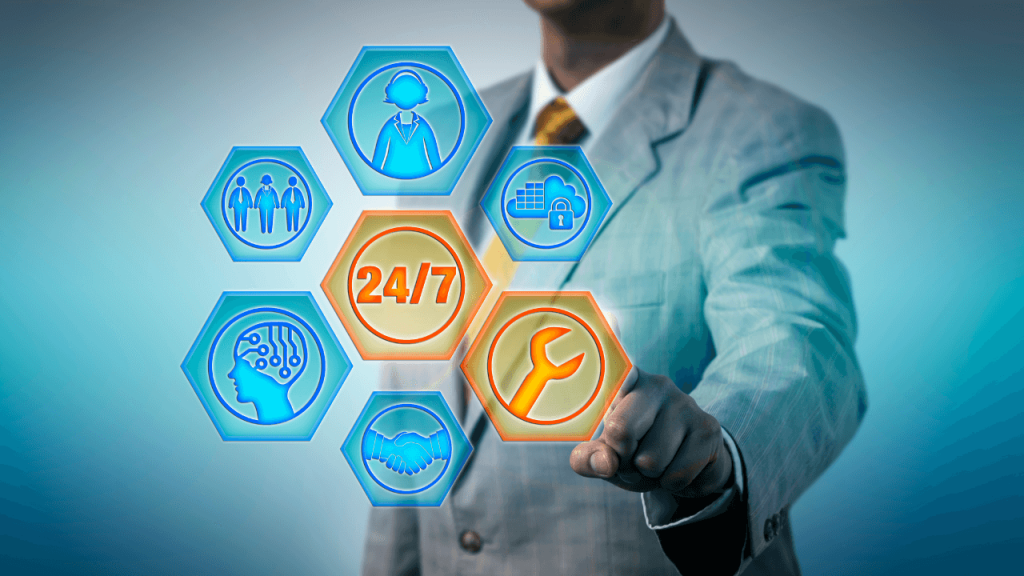 The demand for IT outsourcing is rapidly expanding. According to Techanvio, the value of the IT outsourcing market is expected to reach $486.16B by 2024. Managed Service Providers (MSPs) are not only helping organizations manage their IT infrastructure and devices, but keeping them up-to-date with the latest technology trend and tools to further secure their company network.
It's obvious that modernized technology is reshaping MSP's reach and market position tremendously. Many MSPs are having difficulties retaining customers and some system integrators (SIs) are still uncertain whether to become a MSP. While physical infrastructure maintenance is a must-have for MSPs, cloud adoption, remote device management, and remote security measures are what businesses demand now. This article will introduce the basic concept of an MSP, why businesses need an IT service provider, and the benefits of having a MSP. If you're still looking for ways to improve your service delivery and value propositions as an MSP, you can most definitely kick start with this article.
What is an MSP?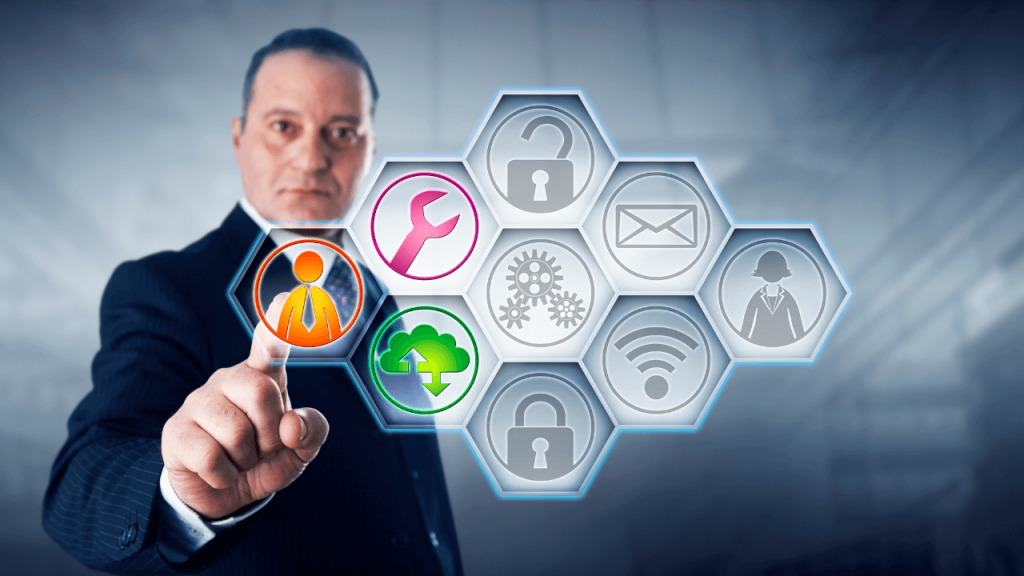 An MSP stands for managed service provider, referring to a company that provides a computing network platform to remotely manage an organization's entire IT infrastructure or partial IT services based on the service-level agreement (SLA). The managed services may extend to end-user devices and include real-time monitoring, remote troubleshooting, IT asset management, and enterprise data security. The Pricing model for MSPs are charged differently based on their clients' needs. Organizations can pay by per device, or by a specific tool or resource they need.
While every IT support provider offers different services, here's a list of must-have features an MSP should deliver:
• Remote network monitoring, management, and security
• Data backup and recovery
• IT infrastructure maintenance
• Software and applications management
• Device User Authentication
• Data storehouse, warehouse, and management
• Process execution and enforcement
• Remote and on-site technical support
MSPs also act as an IT consultant that provides expert advice to help their clients plan strategically in regards to their IT decisions. Hence, MSPs serve as a more comprehensive IT specialist to help SMBs and enterprises streamline their business operations.
Why do businesses need MSP?
It's fairly common for businesses to outsource their IT services to MSPs. Small and medium-sized businesses normally don't have the full potential to invest in extensive network infrastructure and skilled labor. Therefore, it's a more cost-effective and time-saving way to simply go with the MSP offerings. 35% of outsourcing clients and providers stated that cost saving is the most important factor.
Areas of businesses that are more often outsourced to MSPs include:
• information technology
• payroll
• workforce management
• human resources
• contract management and compliance
• inventory management;
• mobile device management
While the traditional break-fixed service provider treats every troubleshooting case independently, an MSP provider takes on a more holistic approach by investigating network issues, device configurations, cost optimizations, and more. A trustworthy relationship is mandatory between an MSP client and provider. It is imperative that IT specialist companies make data security a priority for their clients and constantly look for innovative ways to meet their clients needs.
Benefits of MSP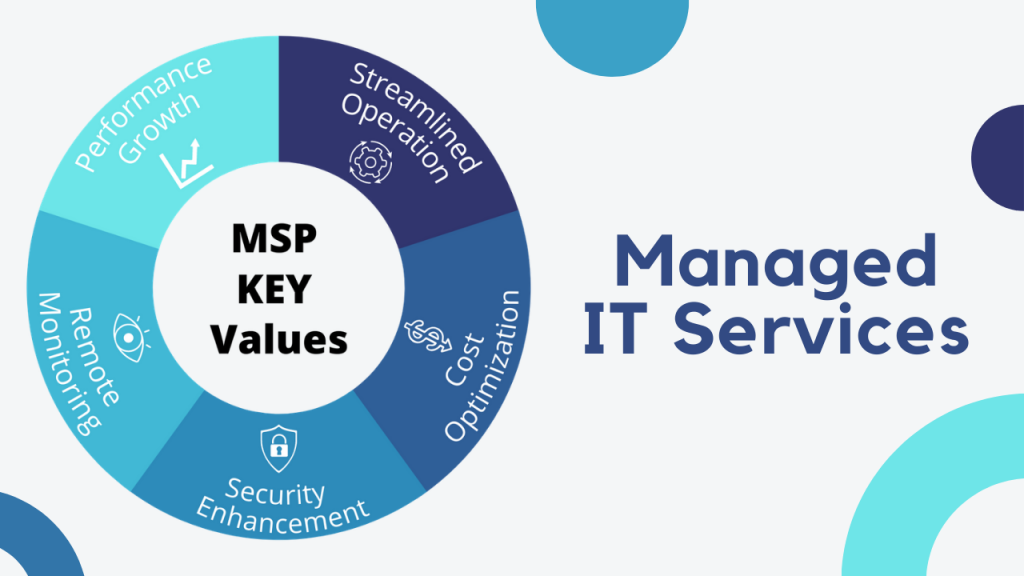 Both SMBs and enterprises express their demands for managed services. Let's take a deep dive on the exact benefits organizations can receive when partnering with MSPs.
Organizations can save a great deal of operational costs when outsourcing services to MSPs. Training and maintaining in-house IT staff is expensive, considering a company needs to hire system analysts, data administrators, network engineers and other tech-relevant positions to build a strong IT infrastructure. More often, this leads to higher frustration because the dedication and money spent don't meet the expectations. About 51% of technology executives say they outsource application and software maintenance, and 40% outsource their data centers.
By collaborating with an MSP based on an SLA, MSP providers promise to deliver timely and precise IT work in both hardware and software, which ultimately saves time and boosts productivity for organizations. Most importantly, with a service-based subscription model, businesses will only need to pay for the required features or number of devices, further minimizing IT expenses and solving staff-shortage problems altogether. This also helps keep an organization's budget in check.
MSPs provide professional knowledge and technical skills to help organizations establish uninterrupted flow of services more efficiently. IT service specialists are empowered with the latest tech trend and tools which can come in handy when helping organizations make strategic decisions. Moreover, MSPs can help businesses resolve compliance issues and remove the danger of a company being held by industrial action. MSPs also deal with software licenses and the latest security regulations, ensuring businesses are practicing within law. This way organizations don't need to offer additional training courses on skills that are rarely needed. Most importantly, employees won't need to worry about handling complicated network issues and further impact their work productivity.
READ MORE 5 Ways MDM Can Help MSP Improve Efficiency
• Emphasis on core business
When partnering with a MSP, businesses can focus on increasing their competitive advantage and unique selling points. As a business continues to expand, managers should focus more on strategic planning instead of dividing labor work on complex IT maintenance. About 51% of technology executives say they outsource application and software maintenance, and 40% outsource their data centers. This outsourcing partnership helps clearly define the promised IT support work an MSP should deliver. After all, the key to revenue growth is the collaboration among all departments, including a perfectly functioning IT infrastructure.
Businesses need to stay flexible and be ready to scale up or down according to market demands. Most organizations are not ready for rapid IT accommodations concerning lack of proper technical knowledge and time required. On the other hand, MSPs can quickly add or remove resources and devices since they are an expert in these situations. Furthermore, MSPs help identify proactive opportunities for improvement and offer immediate solutions to support their client's business goal. Partnering with an IT service provider helps businesses boost productivity and efficiency. Ultimately, business expansions can be good for both outsourcing clients and providers. It's a win-win situation.
Many businesses face network security vulnerability and end up spending extra on cybersecurity matters. The most expensive component of a cyber attack is information loss, which represents 43% of costs. Dedicating a separate in-house IT team to deal with cybersecurity and malware attacks is simply not a budget-friendly option, particularly for SMBs. Constant data breach can also make customers lose trust in your brand and lose sales. MSPs are equipped with the right tools such as remote monitoring management (RMM) to help take proactive security measures and identify abnormal network activities in the first place.
• 24×7 support availability
Businesses may have offices across the world and require immediate IT support at all times. MSPs offer 24×7 services to keep track of network and device performance according to SLA. With remote monitoring in place, IT admins and business executives can even get automated alerts via email when odd activities are detected. MSPs ensure highly responsive and continuous IT services whenever and wherever a business requests.
The latest offshoring statistics show that the IT sector is moving toward outsourced suppliers most quickly. Managed services is in high demands and MSPs can use this advantage to grow more clients by adopting the best mobile device management solution to help organizations monitor their mobile ecosystem.
AirDroid Business is a MDM software specifically designed for Android devices. It offers fundamental remote device management features, including remote access, remote control, and remote monitoring. The MDM solution also provides add-on services like Kiosk Mode and Mobile Application Management that helps you lock devices, block websites, and automatically update apps across all of your Android devices. Start your 14-day FREE trial or talk to our sales today!