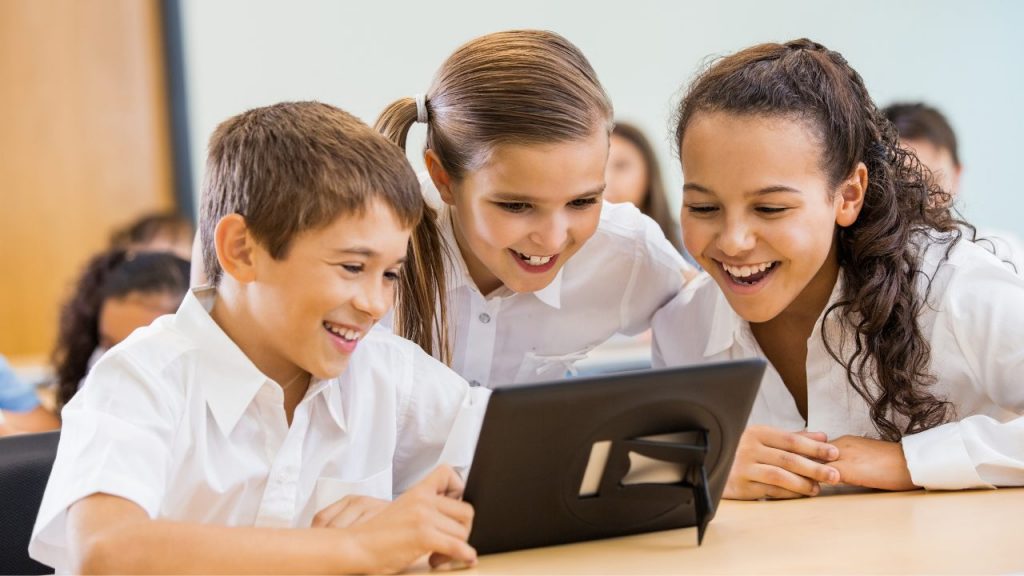 The entire globe has hit a notable technology milestone in the past few years. The way users are using their mobile devices have completely transformed. . Moreover, even students got more connected to the era of the internet and smartphones these days. While kids enjoy using their phones for gaming and exploring new ideas, parents too enjoy seeing their kids learning more every day. However, in the case of kids, this internet trend brings a set of new considerations for security, privacy, and management.
E-learning is transforming the whole education system vividly. Having said this, the security concerns are a lot more during teaching online. Security and data breaches have become costlier than ever, but mobile device management for education is the best alternative option for classroom tablet management.
MDM solution for education helps teachers and IT admins manage all the mobile devices and tablets used in the classroom. The software controls all the students' devices to ensure that they are using their respective technology responsibly and safely. Classroom device management software like MDM even blocks websites, apps and monitors students' in-class activities. All the MDM solution comes with several unique features, like security enhancement, application management, Kiosk Mode, and remote device monitoring. Other critical features include push applications to user devices, single sign-on integration, license, and endpoint management. Schools can even identify devices connected to their network or locate lost devices with ease.
The overall process is cloud-based; hence one can manage everything remotely at any time. MDM software like AirDroid Business offers an all-in-one solution that allows teachers to remotely monitor students' screens, keep them from accessing unauthorized websites, and track their learning experiences in class.

Education device management tools can have both favorable and unfavorable consequences. Even though students can widen their capabilities to learn, they also provide access to inappropriate online content. No doubt, mobile devices have turned out to be excellent alternatives to textbooks. This quick information access also comes with the vulnerability of accessing mature content.
Previously, schools never accepted mobile phones in the classroom, but since remote learning is the only option now, MDM acts as a savior. Through MDM solution, schools can adopt any mobile strategy they want. The software is big into customizations and can deliver the exact solution one may need. Since the control of the software is all cloud-based, here are some more strong reasons for schools to adopt MDM now!
• Create immersive learning experiences
Children nowadays are digital natives, you can't keep them quite far from the tech culture. Kids have started using mobile apps and virtual tools before going to school. Hence, they are quite positive towards the digitized education system, and they highly rely on mobile phones for education. For this reason, educators should leverage technologies to teach modern kids. E-learning with MDM thus will create an immersive learning experience without worrying about security.
If chosen the right MDM solutions for schools, teachers can make teaching more cognitive, fun, and visually engaging. Students will respond instantaneously and collaborate smoothly in real-time activities or projects. Moreover, they can even engage with a range of media more flexibly than while studying ever before.
• Ensure a distraction-free learning
E-learning can be a double-edged sword, but not with MDM services. Students often get distracted, and it's one of the major cons itself of online education. But MDM for education can cut off this disadvantage effectively through its student-friendly features.
With innovative MDM solutions, teachers can restrict access to social media, entertainment, gaming, and messenger applications by hiding specific apps or blocking certain websites. Hence, all in all, it's a great way to keep students distraction-free throughout the teaching process.
• Block access to inappropriate online content
Technology and the internet are limitless, and so is the content out there. Pornography, gaming, gambling, social media abuse has increased a lot nowadays. More often, kids aren't aware of the downsides of these issues. These unwanted exposures to children can become violent and mentally harassing. Hence, the task here for teachers is to minimize unwanted exposure using Kiosk Mode.
Kiosk Mode is a lockdown mechanism that's very much needed for parents, tutors, and academic institutions to keep students focused while learning. With AirDroid Business, IT admins can hide specific apps from the screen, or block particular websites from being accessed. Teachers can even apply multiple app mode that only grant access to relevant apps in class.
Applying Kiosk Mode on tablets reduces the potential distractions by making everything else entirely inaccessible. With the suitable tablet management software, tutors and educators can have a bird' eye view of all devices in this mode. Moreover, they can even access them all remotely at any time through the admin control center. This makes remote learning more efficient and engaging for both students and teachers.
• Ensure seamless distance learning
Yet another benefit of using MDM for schools is it protects students from Zoom raiding or zoom bombings. These issues refer to unwanted and disruptive intrusion generally done by cyber attackers. The security of video conferencing hence can become a major concern on any platform.
MDM services for education allow tutors to secure the whole system remotely. Through implementing the right MDM solutions, schools can ensure the stability of every students' system. This in result improves the quality of distance learning on a major level.
Through the MDM services, Teachers can remotely send push notifications about the class time beforehand. During virtual classes, teachers can keep their students engaged by optimizing lesson time. Since all the lesson timings will be optimized, there won't be any classroom malfunctioning to a greater extent.

1. Select the right device and MDM software
If you are starting out with MDM services for your school, the tactic here is to choose the type of device, especially for students. The two essential things you need to consider before searching the type of devices are best options include:
What is the overall curriculum for the year, and what the pattern teacher will choose to teach?
Students' age group and their understanding of Edtech 
The reason behind this is, the level of understanding of both high schoolers and pre-schoolers is a lot different. Also, as compared to high school kids, younger children will require much less functionality. Having said this, a tablet is better for art or design class students, a laptop is better for writing-intensive and high-school students. Whereas, a normal android phone is suitable for preschoolers and primary class kids.
To run the MDM service for school smoothly, you must follow certain mobile device management strategies:
• Cost of devices and whether each student will be able to afford it
• The difficulty level of functionality of the device
• How long the device will be used for the whole day, i.e the durability
The point of durability is essential because the majority of devices will be extended to the students. Also, students won't require any fancy device and just a good processor. Hence, you have to keep all these points into consideration to remotely manage mobile devices in the classroom effectively!
Schools need to choose MDM services that provide flexibility to a great extent. The software should offer customizations like the ability to control device settings and system settings anytime anywhere. The admins should be able to monitor all devices' performance and receive dysfunction alerts in advance for more proactive actions. AirDroid Business helps IT admins set up automated notifications to detect abnormal activities and faster troubleshooting processes.

2. Decide on BYOD or shared devices
Yet another tactic to effectively manage classroom devices for school remotely is to understand what type of device set-up is required. Usually, schools use three popular device strategies in a virtual classroom, which are:
a.) Bring Your Own Device
In this setup, children are free to use any device that is available in their house. This model helps schools cut off costs, and parents don't have to worry about spending out on a fleet of devices. However, in a remote setup, some schools are still against the BYOD model. The reason is that it gets difficult for schools to manage different operating systems all at once. Also, some devices have different functionality than others thus it results in a lack of consistency in the virtual classroom. One more downside of BYOD is everyone is trying to access the same online materials at the same time, which can get chaotic to manage.
1:1 device is usually used for school purposes and not for virtual classrooms. In this model, the school purchases a device and gives it to the students. In this way, each student gets their own device for learning lessons from the school itself.
A shared system is among the best preferable tactics you can use to run MDM services for school smoothly. Here, all the students of the virtual class will use the same device model and will have their own unique login to access study material or lessons. And if in any household, two students are learning in the same school, the authorities will hand out only one device.
Each of these device setups has its own pros and cons, but with the best decision, the school can surely manage the remote setup easily. All of these options have pros and cons, so it is up to the school to decide which model will work best.
You can consider the following tips before choosing the right device setup for students' remote learning:
• The budget of the overall MDM setup
• If there is any need for certain models for remote learning
• Any degree of involvement of parents required for remote learning
3. Manage user accessibility and device groups

In schools, usually, students, teachers, and other caretakers can enter the system to perform different tasks and retrieve any kinds of data. Hence try choosing an MDM software that allows user management and limited access configuration for difference end users. Different device user roles should have respective access and permission to further ensure data security.
Setting up MDM services for school remotely is easy, but maintaining it for the long term can get tedious sometimes. The one strategy you can try here is to start with lower grades for a month, and later try it out for others. Baby steps are the key to managing remote learning effectively. You have to look after the loopholes first and then deploy each strategy step by step.
4. Offer Regular Trainings on digital literacy
In a remote MDM setup, all stakeholders need to learn about its usage remotely to gain maximum benefits. Hence, the tactic here is to educate all the teachers and IT administrators foremost before deploying the services. The school administrators have to make sure that everyone has completely understood the remote network infrastructure. Because if they aren't able to access or manage it, you will have to increase your budget to hire a remote specialist. Moreover, even teachers should be well equipped on using digital education tools and how to operate them smoothly.
5. Keep Track of device performance and app updates
A successful mobile device management service requires good infrastructure while implementation. A remote learning setup can't survive without real-time monitoring, regular app updates and efficient troubleshooting.
MDM software helps make remote application updates easier than before. Since schools are deploying learning apps to enhance students' engagement in class, constant updates are necessary. IT admins can remotely update all the apps across all devices from one centralized platform. Ideally, the software is easy to use and is a lot understandable to beginners as well. Whether the school is in an urban area, or a rural area, accessing MDM services will never be an issue. IT admins can always use remote view to monitor every device's current status and check for abnormal activities.
Schools need to choose MDM services that provide flexibility to a great extent. The reason behind this is, teachers, and higher authorities have to create various management policies to run the remote school system smoothly. The software should offer customizations like the ability to control device settings and system settings anytime anywhere.
In addition, schools might need to add more devices regularly throughout the year. Therefore choosing an MDM software that's scalable by the number of devices is also important.
The current educational institutions adopt technology-based teaching methods. And the remote learning trend will surely sustain for a long time. Through MDM solutions, institutions can configure the entire device fleet remotely. Moreover, the limited member access and track lost devices feature are quite effective for new learners. Having said this, we hope that this guide about how to use MDM solutions effectively, and tactics to remotely manage classroom devices would work in your favor!
AirDroid Business is a mobile device management software specifically designed for Android devices. It offers fundamental remote device management features, including remote access, remote control, and remote monitoring. The MDM solution also provides add-on services like Kiosk Mode and Mobile Application Management that helps you lock devices, block websites, and automatically update apps across all of your Android devices. Start your 14-day FREE trial or talk to our sales today!