Many industries are gradually switching to a mobile workforce, experiencing a rapid transformation to remotely accessing work on mobile devices. A remote workplace reinforces the critical need for businesses to boost IT support services infrastructure and streamline their enterprise mobility management.
Mobile device management software is an essential technology for managing and securing the data and applications used on your company's remote devices. It also operates as the primary interface to remotely control enrolled company-owned devices and employees' personal devices. Depending on your company's mobile operation system, MDM for Android and iOS are both available in the market.
Since Android holds a 75.85% share of the mobile OS market, this article will focus primarily on Android device management solutions. Here is a list of 8 must-have Android MDM features every business should evaluate to manage your mobile workforce efficiently.
1. Unattended remote access and troubleshooting
App crashes, malfunctioning devices, and failed installations are just some of the wide range of technical issues IT administrators have to manage. Unfortunately, traditional IT troubleshooting methods such as onsite visits, emails, and phone calls are too costly and time-consuming for the service provider and the employee or customer.
IT admins can resolve issues quickly and efficiently for non-technical users or those out in the field using the unrestricted remote control feature built within an MDM software. Any IT support and services can be administered in real-time and from the comfort of the admin's office.
2. Large file transfer for multiple devices
Bulk file transfer allows your business to send multiple files to different groups of devices in your fleet. Two-way file transfer will enable you to send or retrieve files between two devices. Organizations should always make sure data transfer is secured between devices with encryption.

Bulk action can also be very time-efficient when it comes to device enrollment. For example, MDM solutions would offer a quick installation process with a QR code to scan or APK that allows businesses to add or remove new devices without interfering with daily operations.
3. Device grouping, monitoring, and security management
A robust interface for secure device management and reporting is vital to monitor Android devices remotely. For reporting purposes, device-level analytics, alert options, and a real-time dashboard can help you quickly scan your devices and their status. In addition, device grouping allows you to group your devices for work, which is a convenience that is important to have when you're managing hundreds of remote Android.
Include your IT team in thoroughly vetting your MDM solution selection and its features. You don't want to commit to a tool that doesn't integrate well with what you already have. IT Asset management should include the capability to register, configure and monitor Android devices, along with reporting on their status. You can also generate reports on the number, type, and operating systems of registered devices. Creating a secure management environment within a mobile workforce is one of the top priorities for organizations nowadays.
Suppose your business manages unattended devices such as digital signage. In that case, the device screenshot function will take a screenshot of the device's current status to let you see if it's working correctly. If it's not, you can quickly diagnose the issue and resolve it.


4. Remote lock and remote wipe devices for enhanced security
Protection against data breaches is essential with any MDM software. For example, if your business deploys multiple unattended devices in the field, being able to remotely lock your Android device and wipe out sensitive company data on the lost or stolen device is always a must-have. Mobile devices can potentially leak confidential information that can risk the reputation of your business.
Revealing sensitive customer or employee information can also impact your company's bottom line, mainly if your organization is highly regulated, such as those in healthcare and other industries. Businesses should also ensure their device management for Android doesn't cause distress and increased workload for their employees on a technical level.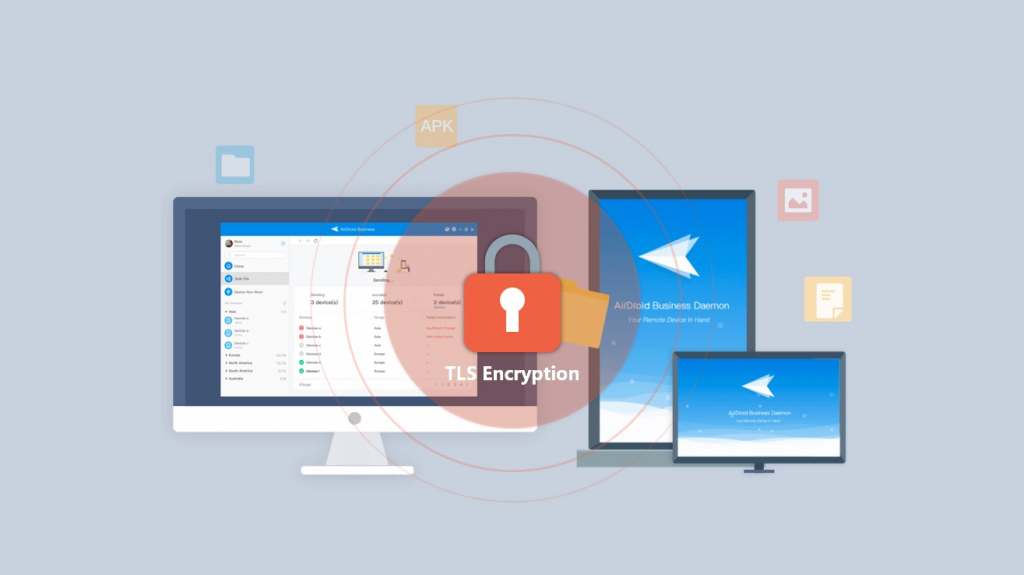 In addition, two-step login verification, remote factory reset, and remote device lock are also crucial mobile device management features your business doesn't want to work without. For example, if you think a device is compromised, you can perform a factory reset of the device to wipe all company data from getting into the wrong hands.
5. App management for updates, releases, and maintenance
Application Management Services (AMS) is a part of the Mobile Application Management (MAM), allowing IT administrators to update, release, and manage apps more efficiently. Android app management can help you easily update apps for your clients for businesses that sell software solutions.
While iOS and Android apps take up most of the app market share, Android has seen a 167 percent increase in revenue over four years. And according to a 2020 mobile OS market share report, the Android operating system represents roughly 73% of the whole market. Therefore, businesses must seek out a better solution to update apps on devices/tablets, whether onsite or remotely. Effective MDM solution for Android tablets will allow you to update and manage apps across managed devices more cost-effectively remotely.
One of the MAM features is Staged Rollout. For app updates, a staged rollout will update only a specific number of devices by percentage, region, type of device, and groups before public release. This measure helps minimize the range of affected devices in case any potential app issues occur. In addition, you will have the ability to review your apps usage data and release percentage.
Another MAM feature is Scheduled Release. This feature allows you to release an app at your preferred time slot and avoid unexpected tech errors during your business hours. If you're managing multiple Android devices scattered across a city or countries, updating apps on your Android tablets via bulk actions can no longer be a nuisance. It offers an in-house app library feature that lets IT admins manage other apps from Google Play.
Last but not least is Force installation, in which IT admins can replace an older version of the app by force or install a new app across all remote devices without any manual interference. Forced Installation and unattended remote control can also work together as a quick troubleshoot solution for businesses for unattended devices deployed out in the field.
6. Kiosk mode: Lockdown manned devices in the field
Kiosk mode is a device lockdown mechanism that allows you to set specific apps and restrictions on your remote devices. It ensures that users can't employ the device for anything but its intended use.
Organizations can decide what settings, apps, or websites each device can access. Kiosk mode provides a secure and restricted mobile workforce that users are still able to be productive within.
Many Retail businesses are applying Kiosk Mode on devices or tablets to enhance customers' shopping experience. In addition, a lot of digital signage kiosks are also being used in several commercial areas, like malls and department stores.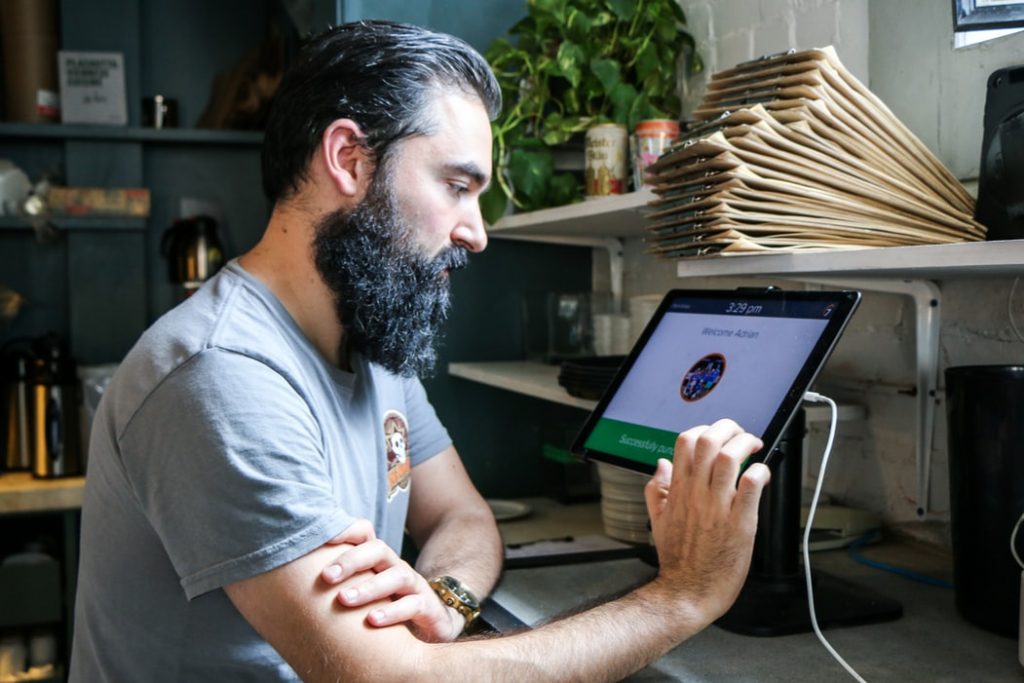 Many educational organizations are also using MDM software to improve students' learning experience. However, while school-issued tablets have been shown to enhance the learning experience, they can also serve as a distraction for students.
Kiosk mode can limit access to specific apps or websites needed for educational purposes, so students can stay safe and focused on the task at hand. IT admins can even hide specific apps from showing up on the screen. For example, Android tablets distributed for students will not show Google Play Store to avoid unauthorized downloads.
7. Geofence Location Tracking Service
Geofencing assists transportation companies with locating and tracking their truck drivers' Android and other mobile devices. Geofence technology lets you set up a digital perimeter and view the current location and track where it has been. In addition, you can set up geofence alerts with path tracking. For example, when a remote device breaches the geofence, the system will notify an IT admin while triggering a response like locking down the device.
In addition to being a popular feature with transportation and logistics, geofence tracking is also widely used in the security industry. For example, security guards often carry Android-based walkie-talkies or mobile phones to track if they follow protocols and reach each security checkpoint at the required time.
Some of AirDroid's customers are helping local health agencies monitor and track those who are quarantined due to COVID-19. A geofence is created for each individual or household to see if they leave the quarantined area. Path tracking can then trace the person's route to identify areas that need to be sealed off. Similarly, geofence alerts or push notifications can also be triggered when the tracked device moves out of the specified range.
8. End user support for customers and employees
Find out if your Android management solution offers a self-service portal, help desk, and multi-language support if needed. Unless you can provide 24/7 support for your users, you'll need to get help from your MDM's customer service resources.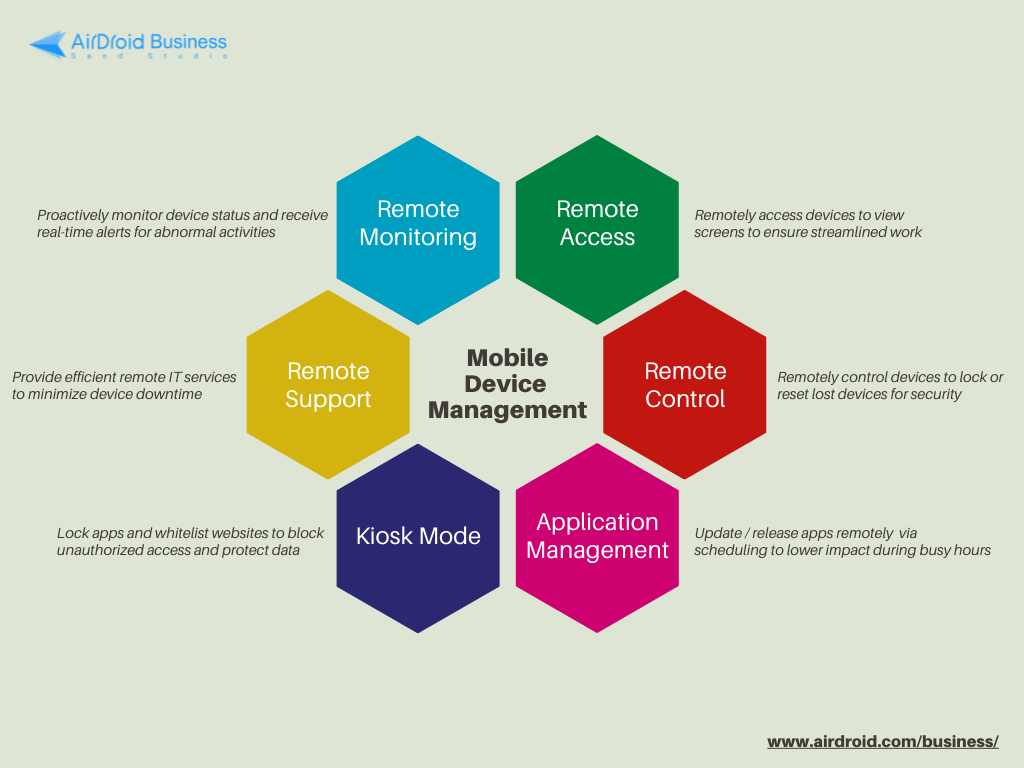 For companies with maintenance contracts, real-time screen monitoring will help you identify abnormal activities in your customer's system. Upon happening, you can instantly offer remote IT support via remote access and remote control to check the status of their hardware. In addition, IT admins can quickly apply the latest updates without being onsite at the customer's physical location.
Some Android MDM solutions also offer remote mobile device camera sharing that allows the technician to see the customer's hardware using their remote video camera on Android and other mobile devices.
Businesses of all sizes now have complete responsibility for supplying up-to-date technology for customers and employees while protecting their confidential information. With an Android device management tool, you don't need a large corporate-sized budget for a network administrator and IT security team. Moreover, executing a strategic enterprise mobility management with the right MDM software can not only save more operational costs but boost revenue.
Before selecting a suitable Android device management solution for your enterprises, make sure to take these eight MDM features into account. Evaluate whether your current IT infrastructure integrates well with your business:
IT unattended remote access and troubleshooting
Bulk and two-way file transfer for multiple devices
Device grouping, monitoring, and security management
Remote lock and remote wipe devices for enhanced security
App management for updates, releases, and maintenance
Kiosk mode: Lockdown manned devices in the field
Geofence Tracking Service
End user support for customers and employees