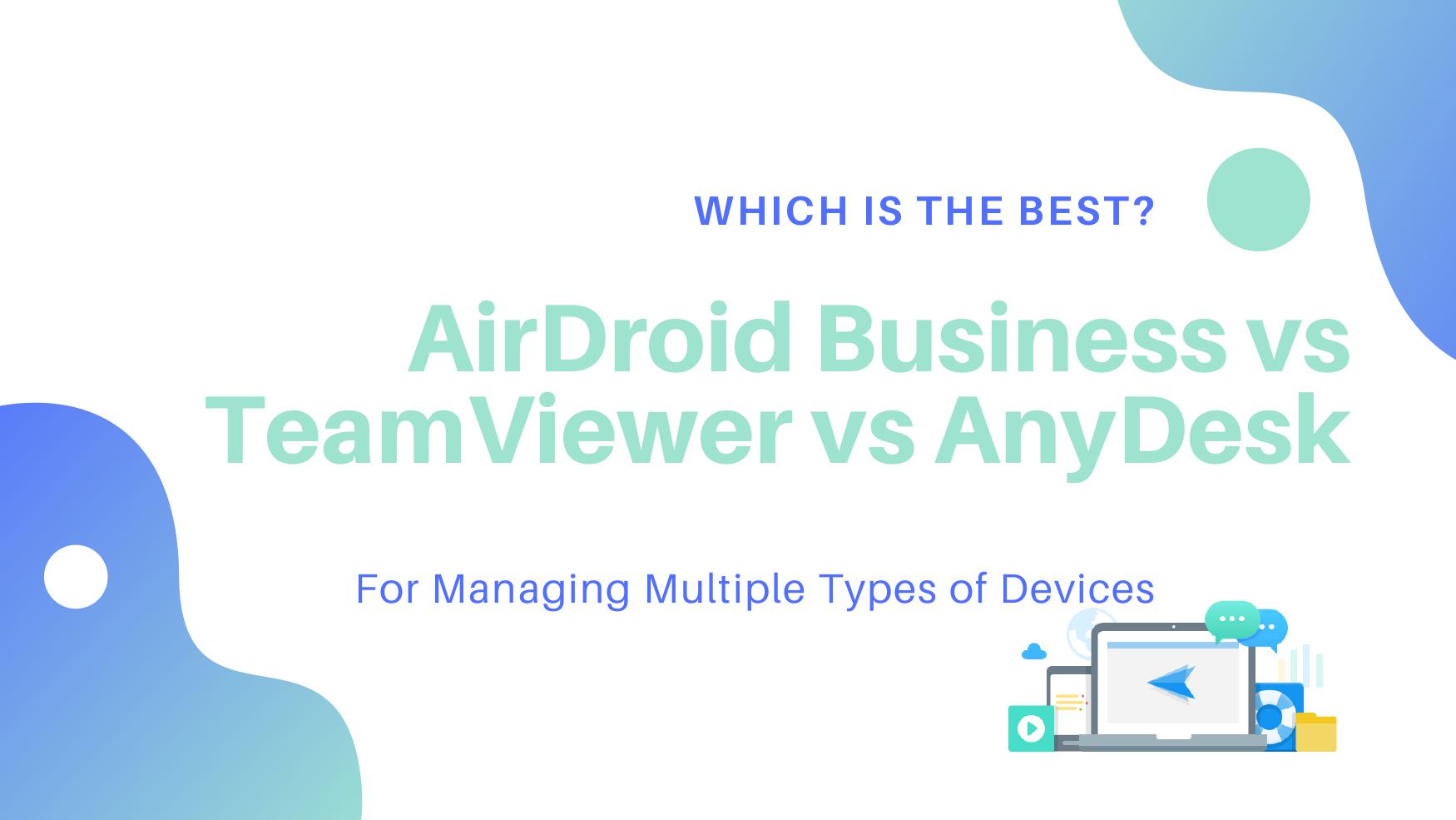 While remote work will continue to stay, choosing the right remote access and remote control software to manage your mobile-first workforce seems all the more urgent than ever. Multiple device management and constant remote troubleshooting are two things every business will face. Therefore, it is always recommended to evaluate what feature does each remote device management solution provide that can best fit with your business needs.
Strictly speaking, remote access and remote control are two of the most important features considered in a remote device management tool. And two of the biggest players in this area are TeamViewer and AnyDesk. However, when your business needs more than just simple remote access and control for devices, a more robust tool such as a Mobile Device Management (MDM) Software like AirDroid Business is what you may need.
Below is a product comparison among AirDroid Business, TeamViewer, and AnyDesk regarding 3 most popular MDM features, which are:
Remote Access and Remote Control
Bulk Device Management
Large Files Transfer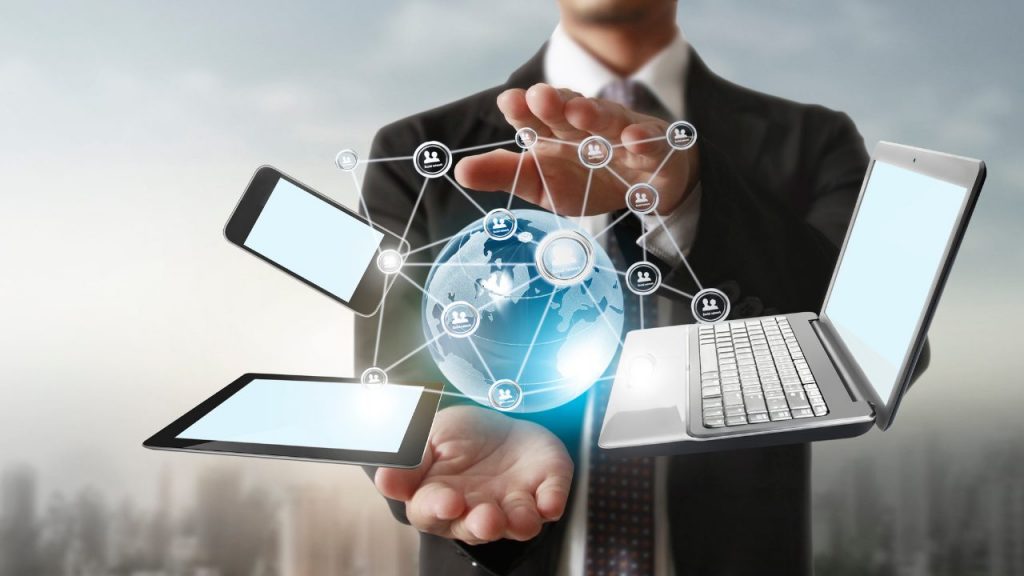 Remote Access and Remote Control
Remote access is an essential capability of any MDM solution provider. It enables administrators to remotely access devices and provide support for devices troubleshooting within a businesses' network.
AnyDesk: AnyDesk enables administrators to remotely view and access devices through their remote support function, which means devices can be accessed remotely, and issues can be diagnosed and resolved without the remote user having to participate in the resolution.
TeamViewer: TeamViewer enables users to access remote desktop devices from another computer, smartphone, or tablet. Users can then access selected desktops, files, or applications, or prompt files to be printed on a remote, linked printer. In other words, TeamViewer focuses primarily on remote desktop access rather than mobile devices.
AirDroid Business: AirDroid Business also offers remote access and remote control features, particularly for unattended devices. It enables users to manage a network of remote devices en masse. This means administrators are able to monitor a device's status via remote control, view device's home screen, and troubleshoot any bugs or issues without involving the users.
In short, all these three tools allow remote access and control. TeamViewer and AnyDesk emphasize on manned device. On the other hand, AirDroid Business centers on unattended remote access for Android devices. For companies that deploy Android devices in the field, AirDroid Business offers administrators full access over these unmanned devices.


Bulk Device Management
For many growing SMBs and enterprises, device management efficiency plays a critical role in an MDM solution. Bulk device management refers to a centralized interface that allows businesses to manage large quantity of devices at the same time. Let's take a look.
AirDroid Business: AirDroid Business is scalable in terms of managing both attended and unattended mobile devices, desktop, and tablets for businesses of any size, so long as they operate on the Android OS. Convenient user account management and device grouping help streamline daily device management workflows. IT administrators are able to define devices and their roles within a company effortlessly.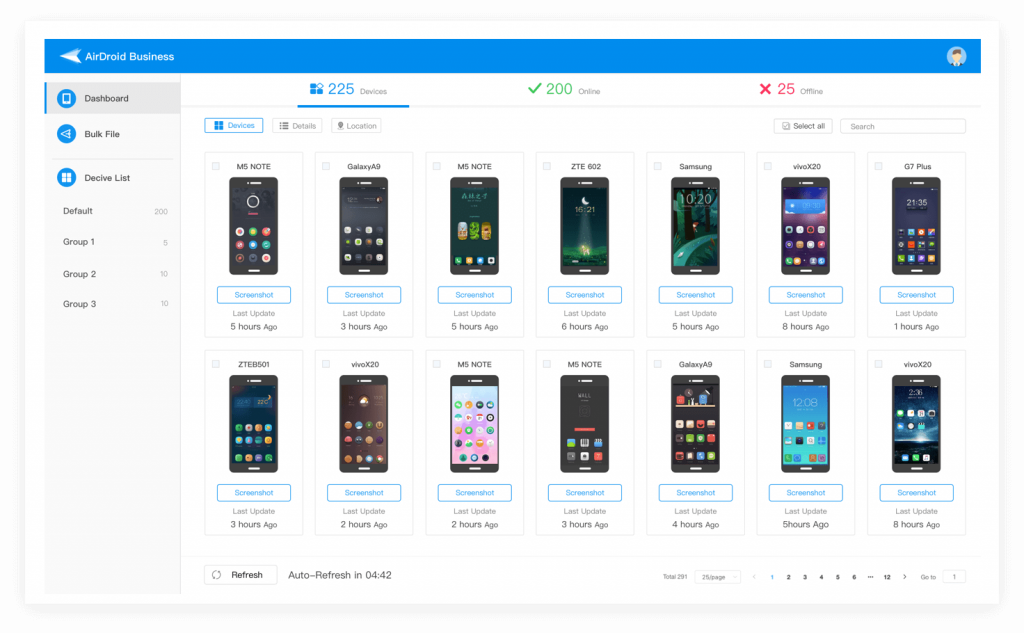 AnyDesk: AnyDesk is scalable in regards of managing attended devices for companies of any size. AnyDesk allows access of a computer from a mobile device, but does not claim to enable users to access and control mobile devices.
TeamViewer: TeamViewer is scalable, meaning that the solution can fit users' needs. The solution, however, is purpose-built for bulk desktop device management, with an additional add-on offered for mobile devices. That being said, TeamViewer works better for businesses that need to remote control computers from another desktop while AirDroid Business offers unattended remote control for Android mobile devices and tablets.
Large File Transfer


Considering most businesses are introducing mobile devices into their business operations,  having the ability to send large files remotely and securely to different devices can make a great difference.  As such, swift, two-way file transfer capabilities are essential when selecting an MDM solution.
AirDroid Business: AirDroid Business offers TLS encryption, which enables users to manage, monitor, and transfer files securely through a two-way channel to selective devices within the network. If you have a diverse business and need to send various files to specific devices, file transfer in bulk is the best option to go with. Again, these file transferring process from one end to the other doesn't require any manual interference.
AnyDesk: AnyDesk claims that files can be transferred to-and-from devices securely within a network. However, specific security details on encryption are not publicly available.
TeamViewer: TeamViewer enables users to transfer files through an AES 256-bit session, which encrypts data in transit. In terms of big file transfer, users will need to request permission if they want to remotely send files, so it works better for mainly for desktops.



In respond to the rising demand of remote workforce and the global pandemic, remote device management tools are witnessing outrageous requests. While AirDroid Business, TeamViewer, and AnyDesk all having similar features to achieve remote tasks, it's up to a business to work out their requirements to find the right mobile device management solution for them. In addition, some MDM features you should consider include product features, device compatibility, operating system, pricing, and more. If you are specifically looking for Android device management solution, visit AirDroid Business for more information.