Last Updated on September 7, 2022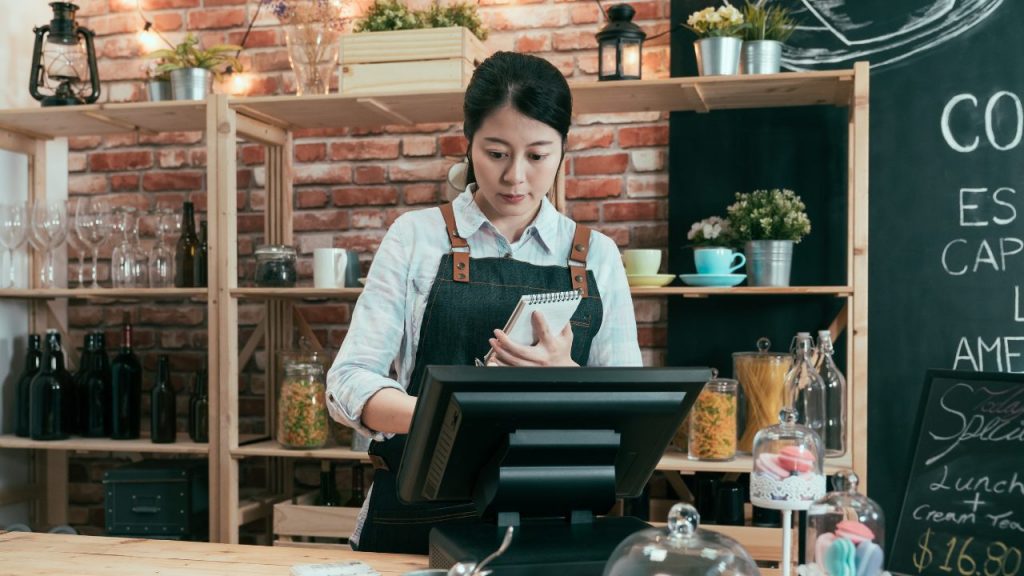 As a merchant, you will certainly know what an electronic payment terminal (TPE) is, or even contactless payment. But have you ever heard of mPOS? Are you familiar with this new payment solution, which is particularly advantageous, among other things, for newly created businesses? mPOS is a pin pad type mobile payment terminal, which connects via Bluetooth to your smartphone or tablet. It is the latter which, thanks to a payment application, will act as a cash register. For each transaction, the terminal will connect to the Internet server (wifi or 3 / 4G) of your phone or tablet, via Bluetooth technology, to operate. Thanks to the mPOS bank card reader, you can cash in sales anywhere, with less equipment. You can operate on android mPOS; and this makes life much easier for brands who are within the realm of eCommerce and Retail. It makes sales easy, customers can enjoy hassle-free shopping and it is a known and secure way to make payments.
The future is certainly being driven by mPOS systems in the 21st century. The advantages of mPOS Point of Sale mobile technology has many advantages, especially for young businesses in their early years and nomadic businesses:
1. mPOS is cheaper to buy than a traditional TPE.
2. It offers great mobility.
3. This payment system makes it possible to collect by bank card in places that usually do not or hardly allow access (in markets for example).
4. mPOS technology requires a lower hardware investment, provided you already have a recent smartphone or tablet at your disposal, and you choose not to issue a receipt in paper format.
5. It allows the merchant to be more in tune with their eco-responsible values thanks to the payment application which allows receipts and receipts to be sent to the customer by telephone (sms) or by email.
6. By implementing MDM software (management device management), eCommerce and retail businesses can ensure your mPOS system is secure from cyber threats. You can also manage device data much more easily.
To focus on driving customer engagement in-store, mPOS is an important step. It provides retailers with a smart, integrated point of sale solution that leverages centrally stored information to unlock omnichannel sales opportunities and increase productivity and effective mdm for these systems also allows omnipresent security of sales. The mPOS solution provides retailers with a rich customer experience that gives in-store employees a single, consistent view of the customer, including purchase history, preferences, and wishlists.
This usability promotes a timely and quick sale, easy, effective, and little fuss. It allows more one on one time with the customer and it allows you to utilize your time more effectively. According to The Business Insider, "multiple surveys have mPOS adoption at over 40% in the US among small to medium-sized businesses, but we estimate adoption is lower for retail merchants."
"MPOS is probably the cheapest payment solution for the merchants. Ideal for beginners and those with a low daily transaction volume." Says a Forbes financial expert.
Difference between POS and MPOS
POS stands for Point of Sale and usually consists of a computer, a cash register, and a printer (if you are a retailer, a barcode reader should not be missing). But a POS is more than a collection of devices. Perhaps one of the most important elements is the software. With the POS software, you can position your products and assortments, set prices, and issue invoices. With some, you can manage stocks or settle tables in your restaurant. So far so good.
So there are different reasons for choosing a POS software. But in the meantime, these systems have changed all over the world due to technological revolutions: Smartphones, tablets, the Internet, wherever you are: e-commerce, digital signage that is supposed to influence buying behavior, innovative services that are supposed to offer better customer experiences.
Just as the technological development changed from the firmly anchored telephone to the portable radiotelephone and then gradually to the mobile phone, the cell phone, and currently the smartphone, so the classic cash registers are moving to the POS and are now moving to the mPOS, the mobile point of sale. But it is important to always have your devices fully protected. Once this is implemented, the use of the system greatly increases the possibilities of accompanying customers through the shop, serving and cashing anywhere on the shop floor, shortening queues, and finally letting customers pay directly on site.
eCommerce also offers shoppers a way to buy online and enter their information into a secure form. When you hold and manage sensitive data for a manufacturer, such as financial information, it is important to have MDM for eCommerce, to provide stability for customers. mPOS can not only provide better customer experiences but also offers much more. With an mPOS, your business data is always safe in a data center (cloud) and MDM for retail offers this. Let's talk about the power of information:
1. Connect to the internet from home.
2. Log in and see how your company is doing.
3. Track how much you've sold.
4. Why does one branch sell more than another?
You can recognize customer movements, sales, and inventory with simple means, in short: you get the basics for better decisions in your hand. With an mPOS you will save yourself a few headaches and you will be well prepared for the changeover. Digital, after all is leading the way. With MDM for retail, you can be sure that all of your data is completely safe and secure. So what are some of the best tips in place to help businesses manage their mPOS systems?
Let's take a look at 10 mPOS management tips for retail to put into practice today!
1. Use MDM solutions
When you use mPOS, it is managed through mobile devices, therefore proper device management is key. When using MDM for mPOS, you are able to monitor the device, ensure it is safe and secure and you can create secure passcodes, avert cyber attacks and more. A lot of private information is stored on these systems, so an MDM will assist you in all areas to keep things safe. When not dealt with properly, cyber attacks can damage your business. They can lead to personal financial information of customers being used and therefore putting your business into poor light. With mdm for mPOS, you can leave these worries behind.
2. Use time clocks for better time management
To ensure that you're using your time wisely, you can take advantage of this system to get the most of its features. They are regulated via a secure PIN password when clocking in or clocking out and workers are able to monitor their own hours and this will allow everyone to keep better track of hours worked and regulate future hours for all staff members. This reduces the need for other software and IT challenges on other computers or mobile devices. This way it can all be done in one place.
3. Simplify training and learning process
When training staff to use the mPOS systems, it can take up a lot of time and money.. Make the most of your demo features to ensure that you are using them to teach your staff. If your workers are well trained using the help available on the system; this will save time and money and you can focus purely on the sales! Alternatively, you can lock your Android mPOS into purposeful kiosks that allow employees to access business-relevant apps only to avoid unexpected tampering and additional troubleshooting costs.
4. Manage checkouts and transactions easily
With MDM solutions, you are already aware that using your mPOS is a safe and secure tool. With mPOS management, you can remotely monitor and track transactions to ensure smooth payments and detect abnormal device activities, which could deter theft and internal problems with staff.
5. Schedule your workers' hours
Another tip is using your mPOS system to schedule in things that you need to get done, updating shifts, removing shifts and data and ensuring that all people are working to schedules and goals.
6. Secure payroll
With MDM for retail and ecommerce, you can secure and maintain the payroll at one time. You can eliminate errors, stop delayed payments and therefore keep things running efficiently at all times. This is one great tip to help keep your business running smoothly. You can access the data through different devices including your Android.
7. Interacting with buyers
Interacting with buyers on a personal level is improved when using mPOS systems. It gives you the freedom to talk to them and utilize face-to-face selling techniques, allowing the customer to get the products they need with the help they deserve.
8. Keeps financial data safe
Any company that doesn't take data privacy seriously will not last long in today's world. You can keep your financial data private and limit access to certain users with mPOS systems. MDM further ensures that private information can only be accessed and is secure from any theft or cyber attacks. A great tip for companies wanting to better their financial security.
9. Implement discrepant tipping policy
Did you know that with mPOS you can add tipping to the monitor which allows customers to make discretionary tips if they are happy with customer service. For businesses running face-to-face sales, this is a great benefit and can vastly improve their customer service reviews and boost sales further. Any tips are generated and tracked and dispersed among all employees fairly.
10. Boost sales with a reward system
When your top employees are rewarded then this generates healthy competition and better service to all, which reflects on your business. It helps bosses see who is performing well and who isn't, which could help businesses change their business plans for the better.

AirDroid Business is an all-in-one MDM software that is designed for Android devices. It offers remote device management (RDM), remote monitoring management (RMM), remote access, and control, which are all highly desirable features for managing mPOS devices. The software comes with additional security features such as Kiosk Mode and Mobile Application Management to help business lock specific app and webpage visits on Android devices as well as automatically update apps remotely. For more information, start your 14-day FREE trial or talk to our sales today!