Last Updated on July 19, 2022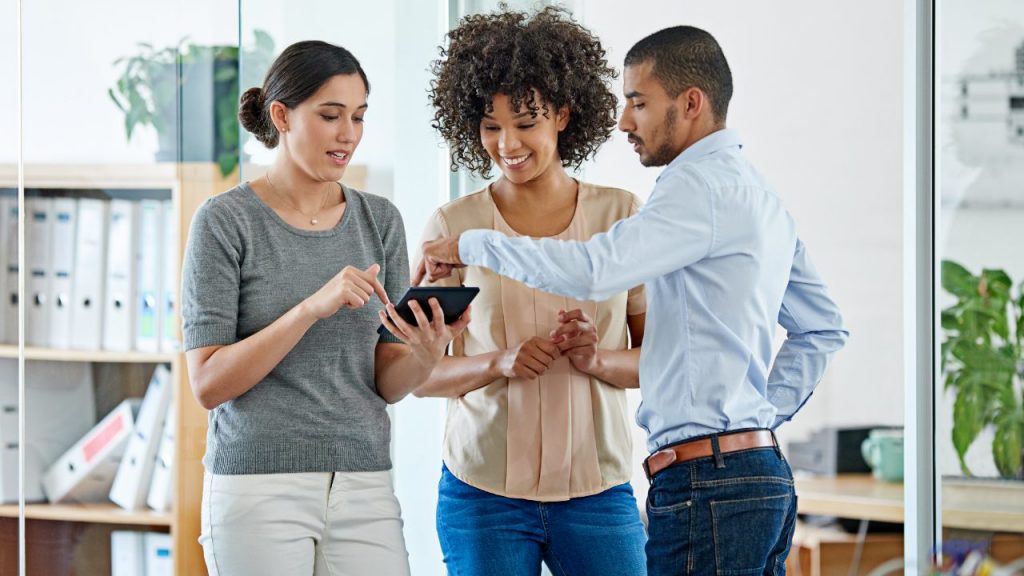 A mobile workforce can boost your company's productivity and performance. If you haven't already, your company should consider the merits of enabling a mobile workforce in 2021.
Remote work is being adopted at rapid speed. More companies are adopting mobile workforces, while employees are increasingly searching for remote work opportunities. In 2018, 70% of millennials wanted flexible working options. Recently, BCG found that up to 40% of employees are working remotely across the US, Germany, and India. Those employees maintained or improved their productivity.
In the past, managers and senior employees would assume remote workers to be unproductive. This has changed with digital transformation in the workplace, and the development of workplace technologies. The cloud, SaaS, IaaS, and other software solutions make it possible for remote employees to work efficiently. In the UK, 60% of remote workers wish to work from home on a part-time basis going forward.
Follow this guide to reap the benefits of having a mobile workforce in 2021.
What is a Mobile Workforce?
According to HR Technologist, a mobile workforce is "a group of employees who work outside an office but are connected to it through mobile devices and computers".
A mobile workforce refers to employees using various technologies to work off-site. In recent years, there has been an increase in remote working. Businesses can maintain or boost their productivity while having a mobile workforce. This is due to the development of technologies catering to remote working. The shift towards mobile workforces has accelerated even further due to recent global pandemic.
Today, a business can incorporate remote device control tools and applications like FaceTime into the workplace. These tools enable employees to stay connected to the office regardless of their geographic locations. A business can adapt to new technologies so it can improve its performance. A mobile workforce opens doors to new possibilities in key areas of business.
Why You Should Adopt a Mobile Workforce
According to IBM, a mobile workforce seeks to ensure high employee productivity in and outside the office. Reports have shown that working from home one day a week boosts productivity by 13%. Remote working employees tend to take fewer sick days and can log more hours at work. However, the benefits of adopting a mobile workforce go beyond productivity.
A mobile workforce can mean higher employee engagement. Gallup found that engagement is highest among employees that spend 60% to 80% of their time working remotely. This is key to having a mobile workforce, as companies with high employee engagement show greater profitability. Remote working can also mean a better work-life balance for employees and happier professional lives.
Every business seeks out ways to lower expenses. Having a mobile workforce means a decrease in office running costs. By decreasing the number of employees working in offices, management can cut costs on utility bills. A company can adopt an online business phone service to handle business telephone communications. With remote employees, the company can also purchase smaller internet packages.
How to Enable a Mobile Workforce
Judging by the trends, remote working is here to stay. It is challenging to adopt a mobile workforce but it can be rewarding when incorporated correctly. It is easier to adopt remote working because of the variety of technologies available in today's market. Companies are less skeptical of the benefits of a mobile workforce. The question is, "how should I enable a mobile workforce in my company?"
Here are a few pointers to set you in the right direction:
1. Design a functioning ecosystem
These days, a company is expected to run its operations 24/7. It is possible to achieve this with a functioning tech ecosystem. Technology has enabled companies to run without employees staying on the job. Cloud technologies have created applications, communication channels, and automation software that can handle different aspects of the business.
By designing a functioning technical ecosystem, it is possible for employees to work from remote locations. Investing in SaaS, PaaS, or IaaS, your company enables the workforce to operate remotely. Automation solutions are highly effective at increasing productivity in the workplace. Many of these tools take over the menial tasks your employees typically need to complete.
By adopting online software, you ensure that your employees can monitor information from anywhere. Marketing teams can track metrics online, and IT teams can monitor servers and make fixes remotely. Customer service teams can avail themselves of services from VoIP phone companies and handle calls from home. The development of an ecosystem of remote technologies, allows a mobile workplace to flourish.
2. Train your employees in remote technologies
Different companies can adopt various technical solutions for their daily operations. Your local and mobile workforce must stay on top of any technology adopted in the company.
Make a point to train and upskill your workforce to unlock its full potential. A company runs only as well as its talent allows. If your employees can understand and leverage the technologies adopted, you will see an increase in productivity and performance.
It is crucial that a business avoids overlooking its employees when adopting new technology. Some employees can adapt to workplace changes effortlessly, while others need some assistance. Some employees may be challenged when learning how to get a virtual phone number. Others are technical geniuses, and pick up new software in an instant.
By properly training your local and mobile workforce, you ensure that everyone understands the technologies the company adopts. You can employ remote support software that helps with employee training. There is a mixture of training methods that could be beneficial to the workplace. For remote workers, you can use a blended learning option. Be flexible, it will help.

3. Improve workforce management
There are a number of remote workforce management challenges a business may need to address. The larger the mobile workforce, the bigger the challenge becomes. The key is to ensure open and fluid communication between members based in different locations. A company could switch to VoIP and provide a dedicated phone platform for communication between team members.
Alternatively, a company may look to establish a connected workforce using collaborative tools and conference calling software. This enables team members to speak clearly while avoiding misunderstandings. Employees will be on the same page and it will be easy to keep track of the tasks that are distributed across team members.
Make sure to set clear goals and expectations for your mobile workforce. Allow some flexibility or room for the employees to manage their own time and workload. Keep an eye on the lead time for each project, while communicating with your remote workers. It is key to communicate in a casual and constructive tone. This is because text-based messages can be misunderstood.
4. Improve data security
It is crucial that a company improves its data security when operating with remote technologies. If a company has a data breach, it can be placed in a precarious position. When your data is breached, it means that an external party was able to collect information that should be privy alone to your company. This could mean a breach of privacy for your customers.
At the worst, other actors are able to impersonate your company and interact with clients or customers on your behalf. To avoid risky situations, you must improve on data security and IT remote management. Cyber-attacks are not limited to large profitable businesses. They can impact small to medium-sized businesses, too. The data you hold is equally as important as your other assets.
It is data that enables a number of departments to run effectively. After improving data security at the workplace, your business can improve its level of trust with the public. It is important for people to know that you respect their privacy and take it seriously. When operating with a mobile workforce, data security will also include other devices.
Today, employees use personal computers, laptops, cell phones, and wearable devices to complete their work. Your data security plans must encompass all of the devices handling company data, irrespective of location. Incorporate data security strategies that will ensure data security compliance. Then you can confidently adopt a mobile workforce knowing that your data is safe.
Enable your mobile workforce today
You should consider tweaking work models at the workplace. Are there departments that can achieve goals without working on-site? Are there talents you wish to employ that are operating in distant locations? Today, most companies benefit from having a hybrid or mobile workforce model. If you have not adopted this yet, you should.
An efficient mobile workforce boosts the productivity of your company. It may be challenging to adopt new technologies and tweak company culture. However, the benefits will outweigh the costs. Your office will cost less to run, employees will be more engaged, and productivity will increase. In the end, you can perform better and reach greater success.

Author Bio:
Richard Conn – RingCentral US
Richard Conn is the Senior Director, Search Marketing for RingCentral, a global leader in unified communications. He is passionate about connecting businesses and customers and has experience working with Fortune 500 companies such as Google, Experian, Target, Nordstrom, Kayak, Hilton, and Kia. Richard has written for sites such as Cincopa and Multibriefs.