The customer's experience with a customer service team is pivotal to how they view your business. For many customers, speaking to a customer service agent for the first time will create their long-standing image of your brand.
This is why you must get customer service exactly right for your business.
Sentiment Analysis: What is it?
Sentiment analysis is a form of speech analytics whereby algorithms are used to determine the tone of a particular piece of text. The software will look for specific keywords that highlight where the customer's emotions are positive, negative, or neutral.
Knowing the customer's emotional state can help you select the best action for dealing with their query.
With those who receive good customer service 44% less likely to look elsewhere, improving customer service must be a top priority for any business.

Sentiment analysis is predominantly used for digital customer service platforms. There is plenty of literature out there on how to improve the customer experience for digital consumers, but sentiment analysis is one tool that remains relatively unknown.
The software used for sentiment analysis can take the texts from various channels – email, webchat, or social media – and determine customer sentiment.
Automated customer service has been a lifeline for many businesses due to its money and time-saving advantages. However, the last thing an angry customer wants is to be put on the phone to a robot.
This is where speech analytics comes in. With analysis of the consumer's tone, you can ensure you don't put an already agitated customer through to an automated agent.
8 changes implementing sentiment analysis will bring to customer service
#1 Read the customer's mood
Boosting customer relations is made a much simpler task through sentiment analysis. By determining the consumer's mood through their query, the agent dealing with them will not be going into the interaction blind.
This is particularly beneficial if you're functioning as a mobile workforce. When you don't have your colleagues nearby for support, it can feel quite daunting to deal with an angry customer. However, if you were already expecting an angry consumer, you are less likely to be caught off guard and can enlist back up in advance if necessary.
For example, if from the speech analysis it is clear the customer is angry about a software defect, a customer service agent who is knowledgeable in this field could be automatically allocated to this customer.
Angry customers love to ask to speak to a manager too, so in a worst-case scenario – have a manager on hand for the most tricky customers!

#2 Prioritize tickets
Good contact center workforce optimization will provide your business with the right tools for prioritizing your tickets.
When a customer contacts a business via email, chat, or a social media platform, they will be given a ticket. A problem many companies are criticized by visitors for is their inability to prioritize these queries.
With the help of semantic analysis, your business will know which queries are the most urgent and relieve those customers' stress by reducing their wait time.
If a customer states in their query that they are only available to speak for the next hour, prioritize them.
On the other hand, if a customer uses a friendly tone in their query and does not suggest urgency, feel secure in saving them until last – just make sure you thank them for their patience.
#3 Improve brand reputation
Dealing professionally and empathetically with customer issues will boost your brand reputation.
A customer approaching your company with a simple query can quickly and easily be answered by an AI agent through robotic process automation.
This keeps the queue to get through to a customer service agent vacant for more frustrated consumers.
Funneling your customers through different channels depending on their query's urgency and nature adds professionalism to the customer's experience, which will enhance their opinion of your company.
It's also worth combining customer service and marketing teams when using sentiment analysis. The two teams can work together successfully to foster brand authenticity and strategize on responding to customers.
A positive customer service experience can help with customer retention and increase the chances of your company being recommended by previous customers to their friends and family.
#4 Highlight strengths and weaknesses of agents
Continual use of sentiment analysis will build up a reliable database of how customers react emotionally to your company's customer service agents.
Certain agents may be better at instructing customers. This can be made clear through sentiment analysis, as the database will show which agents generally receive a more positive reaction from their interactions.
Such agents could then be reserved for the queries that revolve around a customer struggling to navigate an app, for example.
Customer service agents will naturally have their weaknesses, though – and this is not always their fault.
Often customers will get in touch with software malfunctions, and just as often, agents won't be knowledgeable in that area.
If your agents appear to struggle in this way, it's worth considering adding developers to the customer service team. Although they are not trained to communicate with customers, developers know in detail how their software works and will be a valuable asset when dealing with a frustrated consumer who just wants a quick fix.
#5 Highlight strengths and weaknesses of products
An added bonus of including developers in the team is that they can see if their functional testing results have been replicated in the real world.
What is functional testing? Functional testing is how app and software developers test their product to check it does what it's intended to do and that another user could get the same results.
Sentiment analysis can afford your business an insight into how products are being received. Which features add value to your client's lives and which, if any, they're finding disappointing.
An awareness of this will help to provide even more empathetic customer service in the long run.
Furthermore, if the development team then starts working on improvements, agents can share this information with any frustrated customers to let them know that the issue is being resolved. This helps you demonstrate that you're listening to the customer and that you value their opinion.
#6 Personalize the customer experience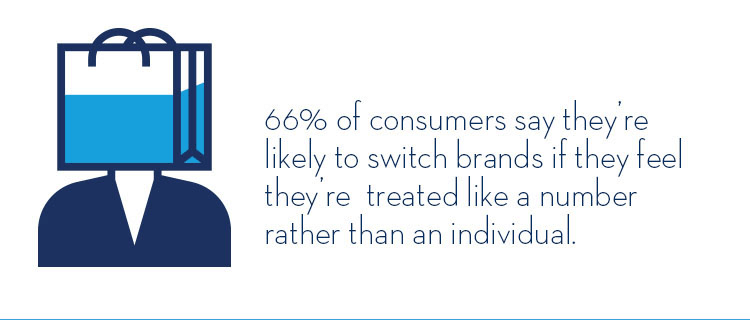 Every customer's situation is different – this is obvious. But not all businesses change their approach to consumers based on their specific needs. If your company does personalize its approach, you are sure to stand out as a provider of empathetic customer service.
Through the implementation of speech analytics, you can target your most upset customers to ensure customer retention.
Picture this scenario: a customer has bought your product as a gift for their child, and it doesn't work. As you can imagine, the child will be upset and the consumer very frustrated.
Sentiment analysis will have picked this up and bookmarked it immediately as a priority query. But in such an instance, empathetic customer service over the phone might not be enough to keep this customer on your side.
A formal apology letter might be what a customer needs to be retained and appeased in some situations. This creates a personal connection with your customer and shows them that you care and won't replicate your mistake. Nevertheless, apology letters are time-consuming, and you must use sentiment analysis to be sure only to send these in the circumstances vital to sustaining your brand's reputation.
#7 Save time and money 
This brings us to how sentiment analysis can be cost and time-effective.
One of the many ways the digital workplace is evolving is through the increased usage of automation. Automation is a great way to save time and money.
If you can introduce automated bots to your team of customer service agents, you can save time and money on training up more colleagues. Not every query needs to be answered by a person. Chatbots can be deployed to deal with the least emotionally charged and urgent questions.
Finances can be a big issue for many companies, especially those with higher landed costs.
What is landed cost? Landed cost is the combined price of a product, its shipping, customs, insurance, and any other costs that need to be paid before it reaches its destination.
For many companies that ship overseas, landed costs will be high. It's also likely that businesses that post overseas have more customers, and thus their lines may be busier.
All the more reason to invest in sentiment analysis! 
#8 Learn from customer reviews
The way a customer responds after their query has been answered is the same as them leaving a review.
You can see if a customer's tone and mood were lifted after speaking to an agent through sentiment analysis. If it has, then you know that your customer service is up to standards.

Source: Pixaby
Although formal reviews left online are what your potential customers will see, the reviews left by a customer when finalizing a discussion with an agent are most vital for your business.
If you find that the tone of your customers has not changed for the better after interaction with your customer service team, the customer service and marketing teams can discuss what's going wrong through video conferencing. Perhaps offer additional training to any agents that are struggling. To allow weaker agents to learn in action, they could be paired with stronger, more experienced staff.
Through analytics and screen-sharing, colleagues can come together to find a solution to any issues raised by sentiment analysis in their approach to customer service.
Author Bio – Victorio Duran III – RingCentral US
Victorio is the Associate SEO Director at RingCentral, a global leader in cloud-based communications and collaboration solutions. He has over 13 years of extensive involvement on web and digital operations with diverse experience as web engineer, product manager, and digital marketing strategist.