Last Updated on January 9, 2023
What is Application Management Services?
Application management services, also known as mobile application management (MAM) software is a mechanism within a mobile device management (MDM) solution that allows administrators to have absolute control over app updates, releases and troubleshooting on remote devices. It helps admins further secure app data and enforce device policy to limit data sharing outside the organization.
Most importantly, it allows IT admins or business owners to have granular control over the apps on these commercial devices and tablets. Tasks such as app testing, staged rollouts, scheduled release, and customized in-house app library can all be achieved through a centralized dashboard.
How to Use App Management Services?
Below are 6 major ways how a mobile application management software helps enterprises and small businesses better audit hundreds or even thousands of Android devices distributed in the field.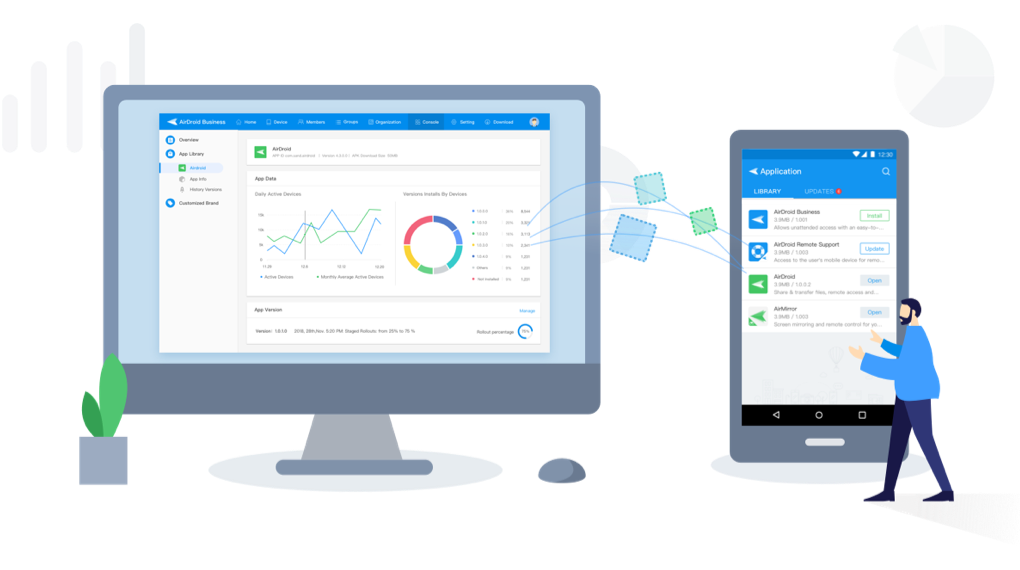 Test apps on Android before release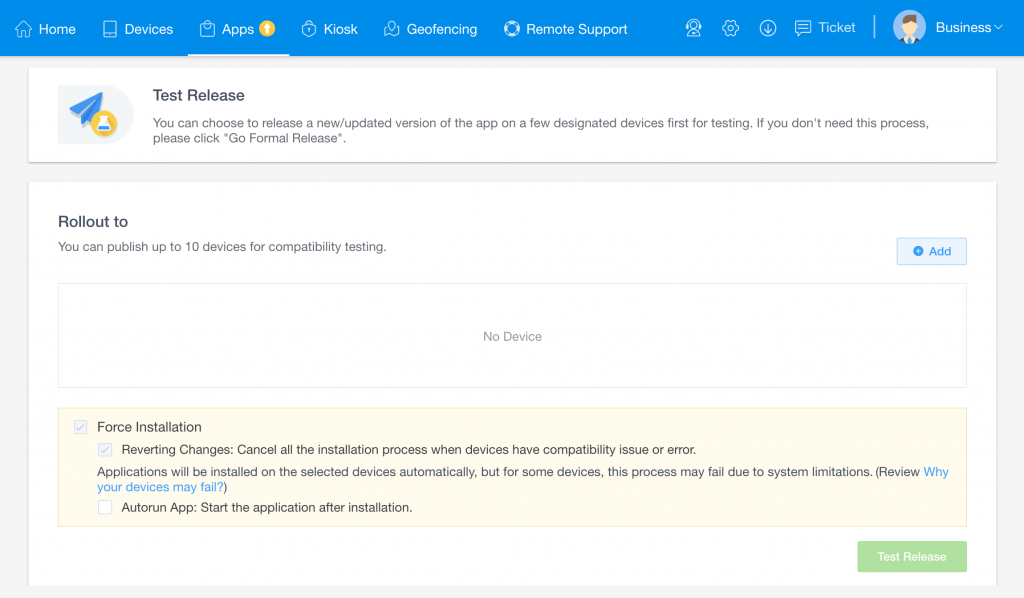 Companies need to regularly keep their apps up-to-date in order to maintain their high service quality. One way to ensure your business app is working properly before releasing it to your end users is by running an in-app test update. With AirDroid Business App Management tool, you can test up to 10 difference devices for every test run.
Hence, if your business is using different Android-based device brands such as Samsung, Huawei, Xiaomi, or OnePlus, you will be able to identify bugs and troubleshoot issues for each device model in advance. This way you can promise a better user experience for your clients or employees once you release the app officially.
Use Staged Rollouts to release app updates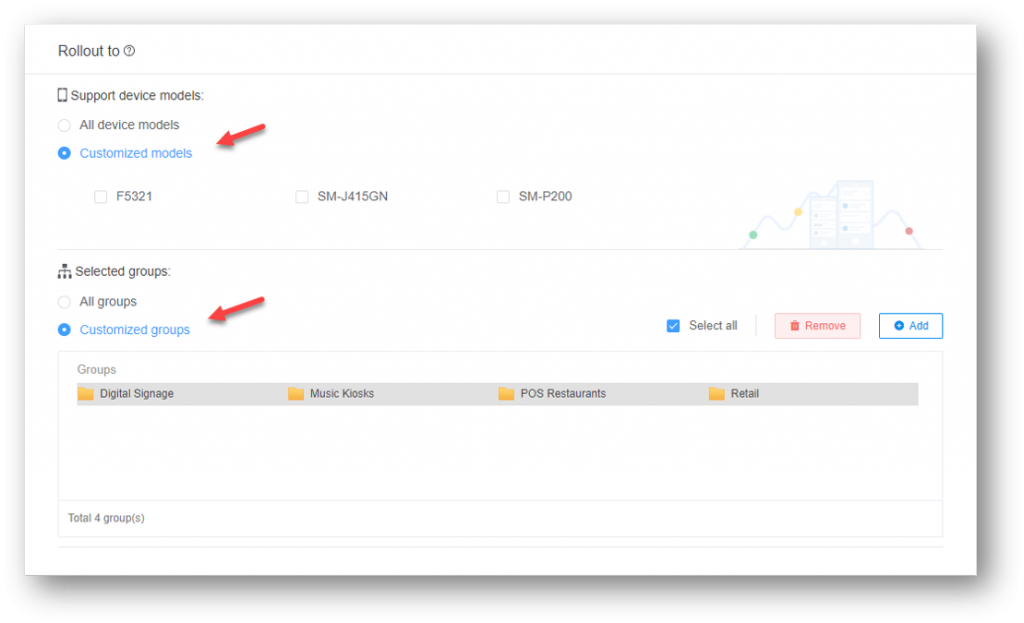 Staged rollouts is one of the MAM features that allow admins to roll out app updates gradually and remotely by different dimensions, including percentage, locations, device types, and device groups. The biggest advantage of this is to prevent complete device malfunctions when you need to update apps across more than 10 Android devices at the same time. With Staged Rollouts, you minimize impact on your businesses and IT workload at the same time. For enterprises with large fleet of devices distributed out there, Staged Rollout helps organizations save operational costs and on-site travel time considerably when releasing apps to the public.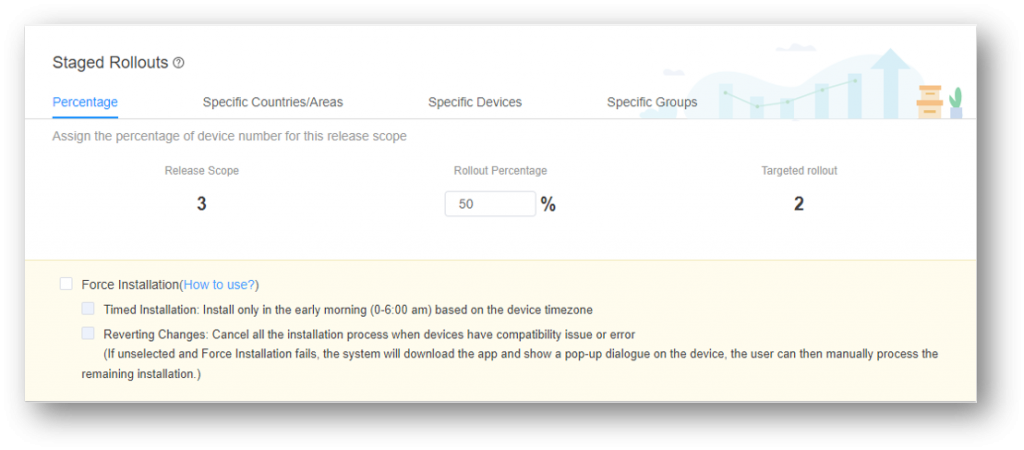 Schedule automatic app updates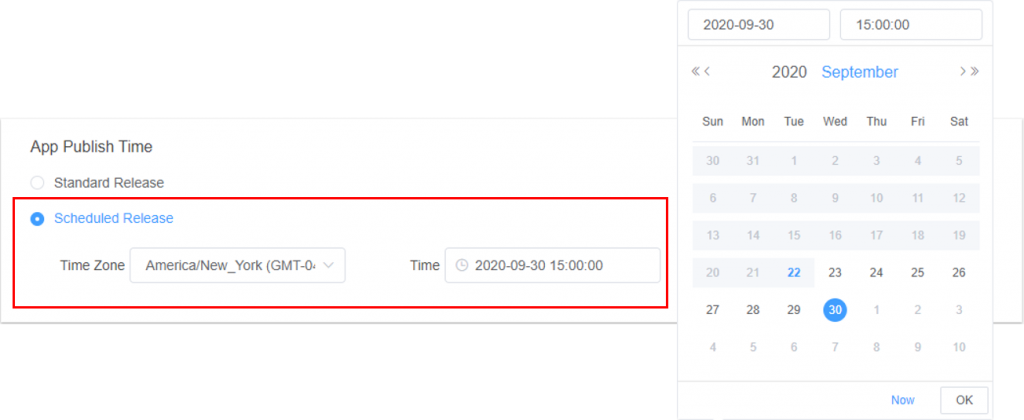 It's imperative for businesses to keep their apps at the latest version and create more engaging user experience. In order to avoid end user's inconvenience during hectic business hours, you can use Schedule Release to set up the time to update apps automatically or the time you want to release an app onto your Android devices. You can also select your time zone, specific time and date for your Schedule Release.
For example, if your Android devices are distributed in different countries, you may remotely schedule your apps to auto-update at its corresponding time zone. Alternatively, if you would like to immediately publish your app updates, you can select Standard Publishing in AirDroid Business Application Management Service. You can always run a test update before activating a formal release. Follow the step-by-step guide here.
Force install/update apps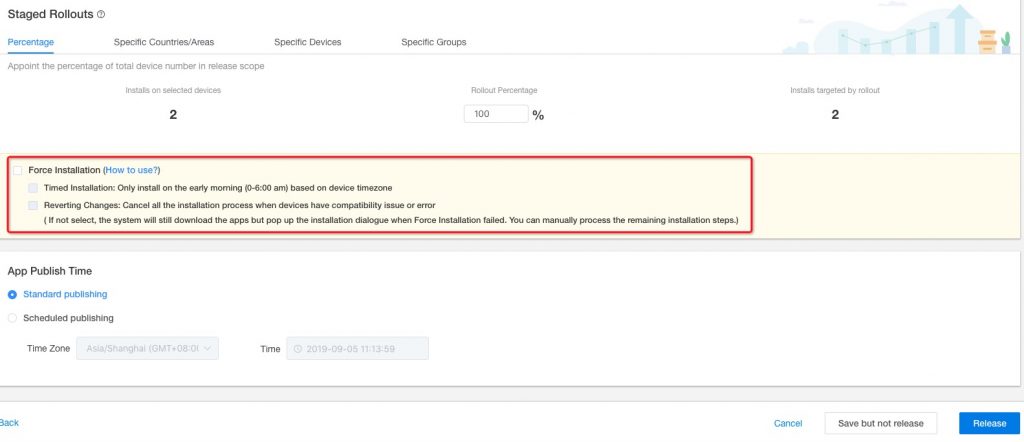 In the case of serious app errors or bugs, IT admins can enforce app installation or replacement immediately using Forced Installation. This feature allows admins to remotely install an app on Android devices without users' permission. By providing immediate technical support, your business may increase productivity and reduce frustration from your employees or customers.
Force Installation is especially useful for unattended devices because technicians will not need to waste time travel a long way to enable manual updates and downloads. It can also prevent non tech savvy users from tampering the device to further ensure mobile app security for the company. Industries that implement digital signages or mobile kiosks can therefore keep track of their remote Android screens at all times and react faster when a device error occurs.
Furthermore, AirDroid Business offers additional features to choose when admins are enforcing app installation.
● Timed installation: This will enable the install or update to be executed from 00:00 to 06:00 (based on each device's time zone) to avoid interfering with business hours.
● Reverting changes: The system will automatically cancel the installation or update when compatibility or errors are detected during the process.
You may also view the installation status from your centralized dashboard, Admin Console.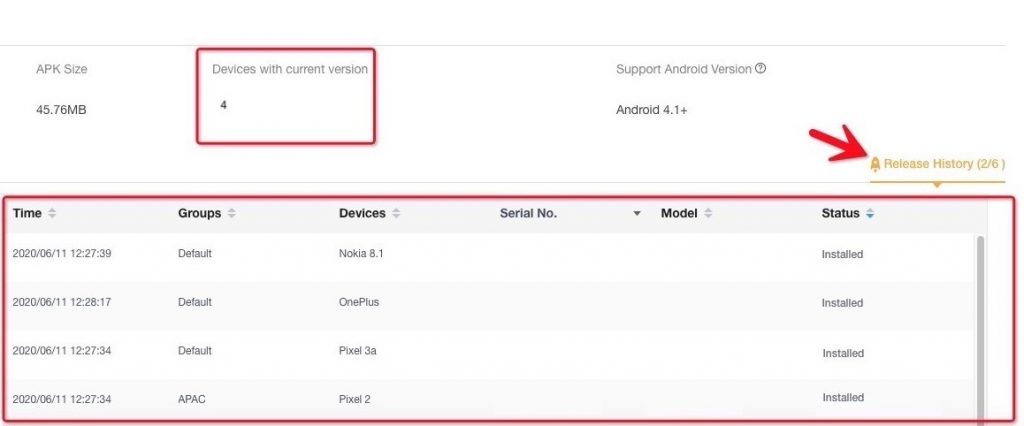 Create an in-house app library
AirDroid Business App Management Services enables users to create and update their in-house applications, upload an installation package (APK), write app introductions, upload screenshots, and set up the publication of these apps. Businesses can also have their company-owned app library to make app management more efficient.
● Upload and customize app details: you can fill in the app details, such as the name of the app, short and long description, icon image, and screenshots.
● Multi-language support: create different language sets for your apps if you are publishing the apps in different languages.
● Add release notes: add update information like modifications and notes for each update
Tip 💡: If your app supports multiple languages, you may also complete the set up in your AMS section in Admin Console. Check our step-by-step guide here
Customize your app library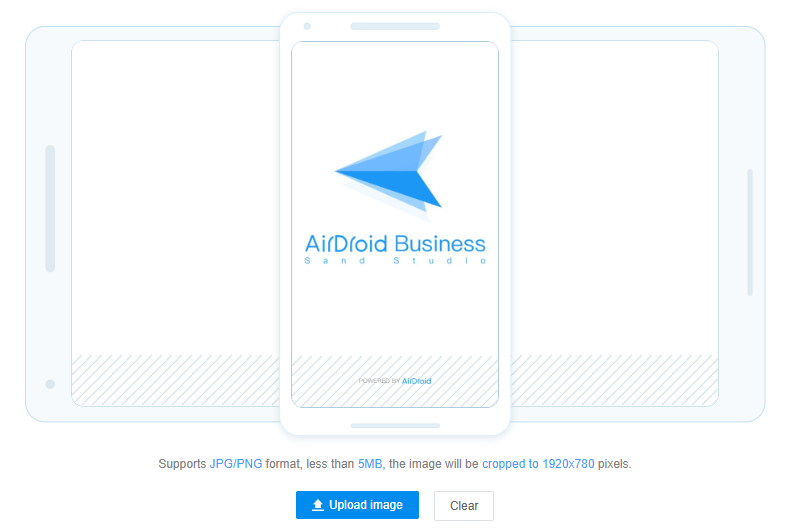 The AirDroid Business Application Management Service (AMS) enables users to fully customize their applications for brand cohesiveness. Administrators are able to customize the app's name, icon, launching page, and the images on the user interface. Read our set up guide here.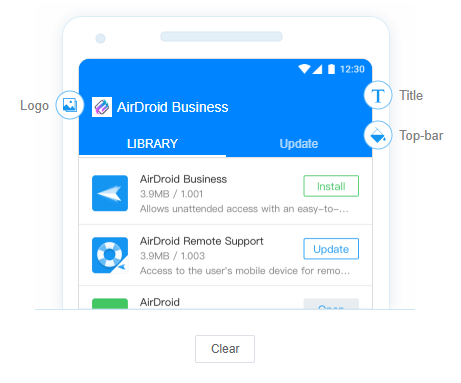 Android App Management Trends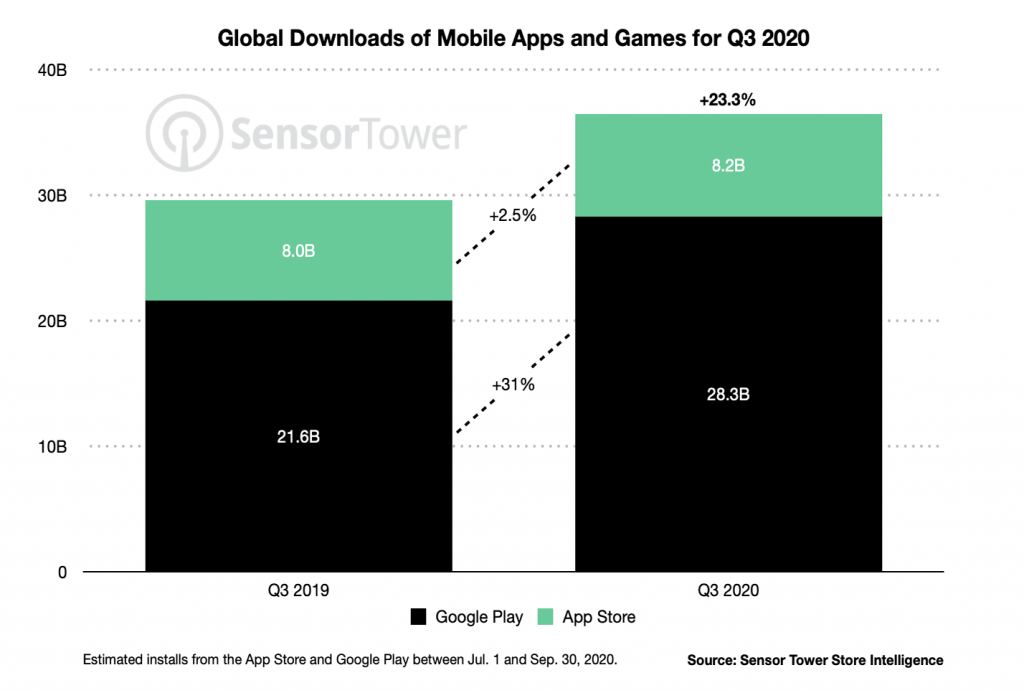 When looking for an app management software for your organization, one critical factor is the device's operating system and compatibility. According to an app statistics report released by BuildFire, one significant insight is that Android-based system will continue dominating the global market share in the years to come. In addition, the use of mobile apps by companies saw a staggering increase of 98% in 2018!
Along with the growing trend of digital workplace and mobile-first transition, it is expected that more companies will be implementing mobile devices or tablets into their workforce to maintain productivity. When you have multiple devices deployed out in the field, running app updates or releases on several unattended Android devices could be a nuisance.
But, with the right Android mobile application management tool, admins or business owners will be able to manage apps on Android device from PC effortlessly. Application management service makes remote app installation and update easier than before.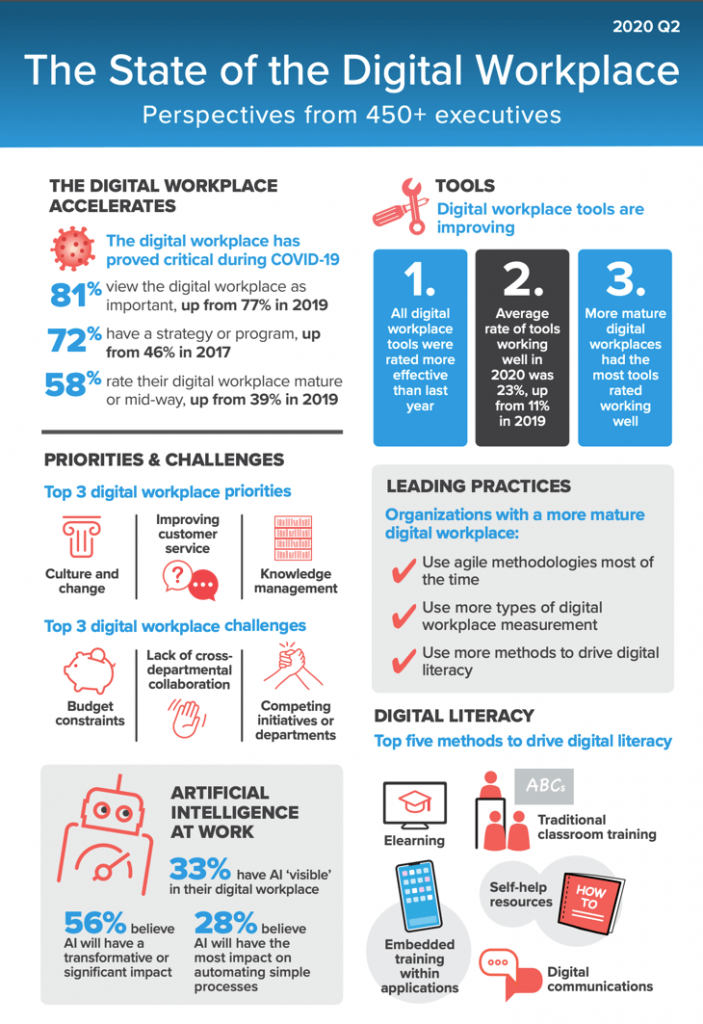 There is no doubt that updating apps on a single android device is completely different from updating apps on enterprise-owned or commercial use devices. You need a professional mobile application management (MAM) platform to help prevent unforeseen technical errors en masse. For businesses that are using devices with Android OS system, AirDroid Business allows you to remotely update, release, and uninstall apps across multiple devices while securing device data.
For other MDM features such as Remote Access and Remote Control, Android Kiosk, Geofencing, and Remote Support, please visit our site for more information.