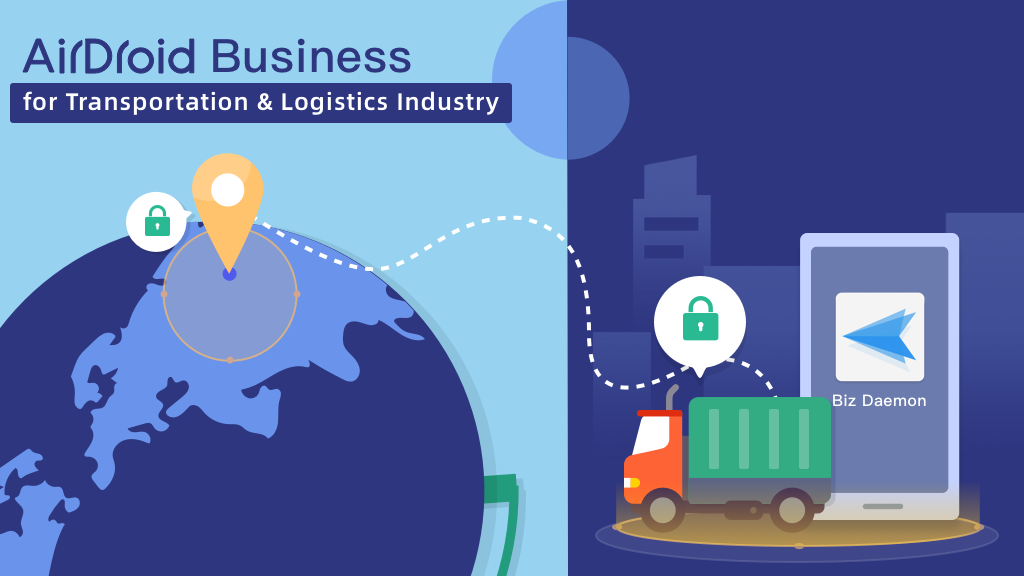 Introduction
---
The transportation & logistics industry relies on efficiency and constant optimization of processes to meet the bottom line. Especially during turbulent times, organizations need to look at their business and operation process and adapt to new challenges, from technology, employee training, daily operations to IT management.
For most organizations, the challenges are about making sure the technology investment in apps, services and devices work without downtime, and that employees don't get interrupted by dragged down by constant troubleshooting and waiting. To make sure these apps & services work like a charm for drivers and delivery staff 24/7, AirDroid Business is here to offer an easy way to centrally and remotely manage your devices and apps, while your fleet of trucks and vehicles are out in the field doing what they do best.
What is AirDroid Business
---
AirDroid Business is an all-in-one remote device management platform, which helps you manage, access, track, and secure your Android devices out in the field.
We know that the devices, services and apps for your truck drivers and delivery personnel are integral to the success and bottom line of your business. AirDroid Business is the productivity tool to ensure that everything is working as they intend to.
How does AirDroid Business work?
---
As your devices grow, it becomes much more difficult to track and monitor every single one of them. Finding the right device and checking device details is taking up a lot of your IT manager's time.
You can easily enroll devices and see them all in one place using a browser, which makes managing, monitoring and customizing a breeze.
There are also many add-on features that you can use to enhance productivity, from locking down devices, managing apps to tracking devices.
Logistics companies' experience before AirDroid Business
---
A lot of time and resources are invested on apps, services and devices for the truck drivers, hoping to make their job easier and more efficient. The reality? A lot of them aren't well-versed in technology, so a lot of misuse, and accidental malfunction are happening, causing them to lose valuable time and energy
There's no way to really know if your drivers are using the company-issued on work-related tasks. Watching videos, chatting and playing games are common distractions that could hurt your bottom line, for an industry that relies heavily on efficiency.
As your devices grow, it becomes much more difficult to track and monitor every single one of them. Finding the right device and checking device details is taking up a lot of your IT manager's time.
What can you do with AirDroid Business?
---
Manage and monitor all your Android devices in one place
Deploying devices to your drivers are only half of the story. You can simplify the process of managing devices using AirDroid Business' browser-based dashboard.
Put devices in different groups – by region, driver or shift – so everything is easy to find when you need them. You can also make bulk changes using device grouping.
Take screenshots of your devices to quickly see if any of them isn't working the way it's supposed to.
Invite other members of your team and give them different levels of access
Remotely support drivers to minimize downtime
You want to also be available to your drivers when there's a technical issue. AirDroid Business comes with a suite of remote access tools to help you get the job done.
Remotely control the driver's device. This is super handy when the quickest way to see and tackle the problems is to directly gain access to the device.
Remotely view the driver's device. This is mostly used in situations where the driver is showing your IT manager his or her screen to explain what the problem is. If the issue is as easy as locating a setting and switching it on, a simple look at the screen should do the quick without needing to gain control of it.
Remotely send files to the driver's device. This can be an updated manifest, a company notice or a document that your HQ needs to get in the hands of the driver. You can also send files to multiple devices at once.
Lockdown devices and apps so drivers can focus on their work
A lot of our logistics customers require that their drivers only have access to certain access to apps and services on their devices. The reason is two-fold: it makes it much easier to use without accidentally changing the settings and navigating the device in general. It also prevents drivers from using the device for non-work related activities that could distract their work.
Lock the device using single or multi-app mode. Single app mode limits access to only 1 application – this is ideal when all you want the drivers to do is to use the one company app that you install on their devices. Multi-app mode gives you more flexibility, allowing limits to selective apps, such as messaging, inventory and camera.
You can customize branding layout for a more professional look. Many of our customers who have different teams and divisions apply different branding layouts so the devices don't get mixed up.
A secure web browser ensures that employees won't have access to non-work related websites, which helps with productivity.
Locate, track and automate tasks to optimize your everyday operations
You need to always know where your drivers are, for productivity and safety reasons. However, tracking the location is only half of the story; having the ability to extend your knowledge is where the value lies. The Geofencing add-on in AirDroid Business gives you a full suite of tracking tools to improve the efficiency of your everyday operations.
Track current and past location history of any device. This gives you full visibility into the delivery route of every driver. You will be able to spot any irregularities or find the path of a particular period of time.
Create a geofence on the map so you can get a notification when a device (carried by the driver) enters or exits an area of the location specified by you. In addition to getting notification, you can also automate certain actions such as locking or resetting the device
Analyze the path history of each driver (by device) and see if you could find any irregularities or insights for further improvements. This is vital to making your business run more efficiently.
How to choose the right plan for your organization
---
AirDroid Business offers flexible pricing plans to grow with your business.
Choose from the Basic, Ultimate, or Enterprise plan. See the full feature comparison here. 
You can increase the device limit or switch from Basic to Ultimate anytime. 
Add-on features such as Kiosk Mode, App Management, or Geofencing can be purchased separately depending on your needs. 
💡For Transportation & Logistics organizations, we generally recommend getting the Ultimate plan, which will give you the following features: 
Sending files and documents to multiple devices, perfect for getting important information to the hands of every driver. 
Device grouping, which will make finding a specific device much easier when the total number keeps growing. 
Member and access management. You can invite team members to help manage and monitor your devices. 
More about Transportation & Logistics:
How to get started
---
If you don't have an AirDroid Business account, you can apply for a 14-day free trial, which gives you access to the Enterprise plan, which includes every feature and add-on.
You can learn more about our pricing plans here.
If you are already in trial, you can visit our Help Center to find more how-to guides.