Last Updated on March 10, 2023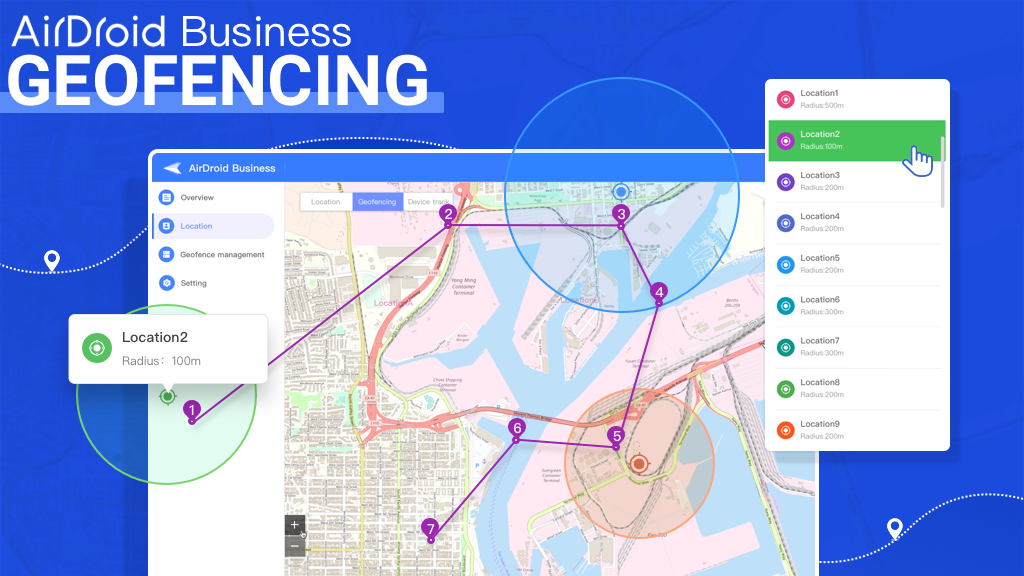 Many of our customers have already embraced mobile transformation and are sending them out in the field to give employees better productivity. For instance, truck drivers now use Android devices for communication and managing their logistics delivery; health organizations use Android tablets to track the location and health status of patients.
However, as your business and number of devices grow, how do you effectively monitor and manage the entire deployment when you have hundreds of devices out in the field on a daily basis? You need an Android geofencing and device tracking solution.
What is Geofencing?
In the context of mobile device management (MDM), Geofencing is a location-based security mechanism that allows administrators to set up policies to restrict unauthorized access to corporate sensitive data coming from outside the organization. It is particularly ideal for field-devices or commercially-used devices that are distributed out in the field, such as transportation and logistics. Geofence lets you track and monitor the location of your devices, with advanced analytics features and automated workflows to help you improve security and operational efficiency.
How can Geofencing protect my corporate devices?
Geofencing empower IT professionals or operational managers to ensure corporate-owned devices are restricted to configured geographic areas. With AirDroid Business MDM solution, you can create digital location-based fences, set up device compliance rules and trigger corresponding actions when the rule is broken. Additionally, you can design better delivery strategy based on the data collected from your daily operations.
Track Android devices from a centralized dashboard
For transportation and logistics companies, having the ability and flexibility to know the location of all your deployed Android tablets and devices is very crucial. A centralized dashboard can help operation managers monitor all the unattended Android devices on a map and keep track of daily delivery performance.
Refresh device location with one mouse click
With just one mouse click, IT admins can refresh all the location details simultaneously even though the devices are scattered in various places. Enterprises usually have hundreds or even thousands of unattended devices deployed in the field, making device tracking a challenging task. With this built-in Android geofencing feature, managers or IT admins can quickly identify abnormal activities, such as vehicles deviating from pre-designated route. IT manager can therefore respond immediately by pushing notifications onto the remote device or trigger an action to remotely lock the device to protect corporate data from being accessed illegally.
Use customized filter to find specific devices right away
Businesses are likely to encounter circumstances where they need to locate a certain group of devices for performance analysis. The fastest way to locate a group of devices is through customized filters which allow you to search, filter, and pinpoint one or multiple devices within minutes. With AirDroid Business built-in features, an admin can first categorize devices in groups according to different commercial-purposes. These configurations will be synchronized to your Android geofencing dashboard where different filters can be applied to find certain devices efficiently.
Path tracking and view route history
Path Tracking feature enables you to see the full activity history of any GPS-enabled device. It is especially useful when you have many devices out in the field for a long period of time on a daily basis. Whether it is to see where a lost or stolen device had been to get information or checking if a vehicle or employee had gone off-path, path tracking can give your business valuable information and insight.
To view detailed route history, you can select a specific data range to get a full picture of device activity. You can follow the trail and scrutinize a visual path history of a device for abnormalities. You can check a path's activity sequence and match with a specific time point of the device's location to see if your operation process needs further modification.
For security and productivity purposes, managers can also use these route history data for more in-depth analysis.
👉 Free Download: Airdroid Business MDM For Logistics & Transportation Datasheet
Discover how to monitor data roaming usage and remotely troubleshoot drivers' devices. Automate app updates without drivers' assistance.
Create virtual fences to monitor device movements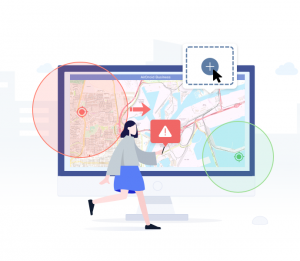 Many businesses have vehicles, devices or personnel out in the field. How do you track their activities when they are out for a long period of time moving in various directions? Is there a way to monitor and track these devices in an efficient manner? With Android geofencing, you can easily create virtual fences at any location to monitor the entering or exiting activity of a vehicle, device or personnel.
For instance, you can create geographical boundaries for your HQ station and various warehouses across different locations. When your truck driver enter or exit an assigned warehouse, you will receive real-time notification alerts. Furthermore, you can create virtual fences at any location you want for different tracking scenarios. You can also adjust radius easily by dragging the circle. AirDroid Business Geofencing for Android devices also lets you map a geofencing profile to any device or device group with the most flexibility.
Manage all your configured geofences in one place
When your company has so many devices distributed to personnels in different cities, it's imperative to minimize the time and money spent on maintaining device security. In this case, setting up virtual fences according to different geographic conditions is one way to tackle this issue. Android geofencing functionality further allows enterprises to manage and modify multiple virtual fences from one single dashboard. The intuitive user interface is designed to help you manage all your deployments and geofences as you scale. You don't need to worry about the deployment becoming too overwhelming as you can easily locate and see all your geofences on the map.
Automated workflows for streamlined operations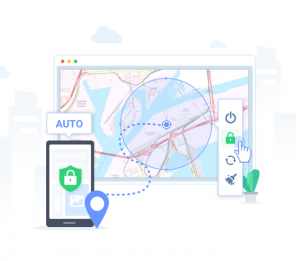 Workflows work side by side with geofences. The idea is simple: you can automate certain tasks using in or out-of-area triggers. It will enhance your productivity and efficiency so that your team's valuable time does not get occupied by constantly checking the dashboard. Workflows are also categorized by different levels of actions. Admins can create different workflows for different scenarios. You can have your team be notified when the most critical automation such as resetting the device gets triggered, as it may need a swift follow-up.
Automated security measures for data protection
You can automatically trigger specific device security measures to protect company data when devices leave the digital geofence. Some commonly triggered actions includes remotely locking devices, resetting devices, power off and more. For example, when an Android tablet used in class learning was accidentally brought home by a student and the GPS detected that the device had left the digital parameters, the system will trigger an automatic action, which is locking the device to further protect sensitive data. Enterprises can shorten the response time and further secure unattended mobile devices and tablets more efficiently.
Real-time alert system for higher productivity
Stay up-to-date with your device's status and whereabouts at all times with real-time alerts. After creating virtual fences and configuring workflows, whenever a device deviates from the designated geofence, a predefined action will be triggered, along with an automated email alert sent immediately to admins. Keep everyone in your organization informed at all times. It will come in handy when a critical workflow does take place and needs everyone's attention.
Detailed log records for strategy planning
Organizations will have access to a log report that lets you customize and filter the device, date, workflow, and actions taken. Check the event log regularly to find patterns of concern. You can also download the report and send it to your team for further analysis.
How do I get started?
Geofencing is available to any AirDroid Business user with a 14-day free trial. Sign in to your Admin Console or sign up here for a 14-day all-access plan with no credit card or setup fees required.