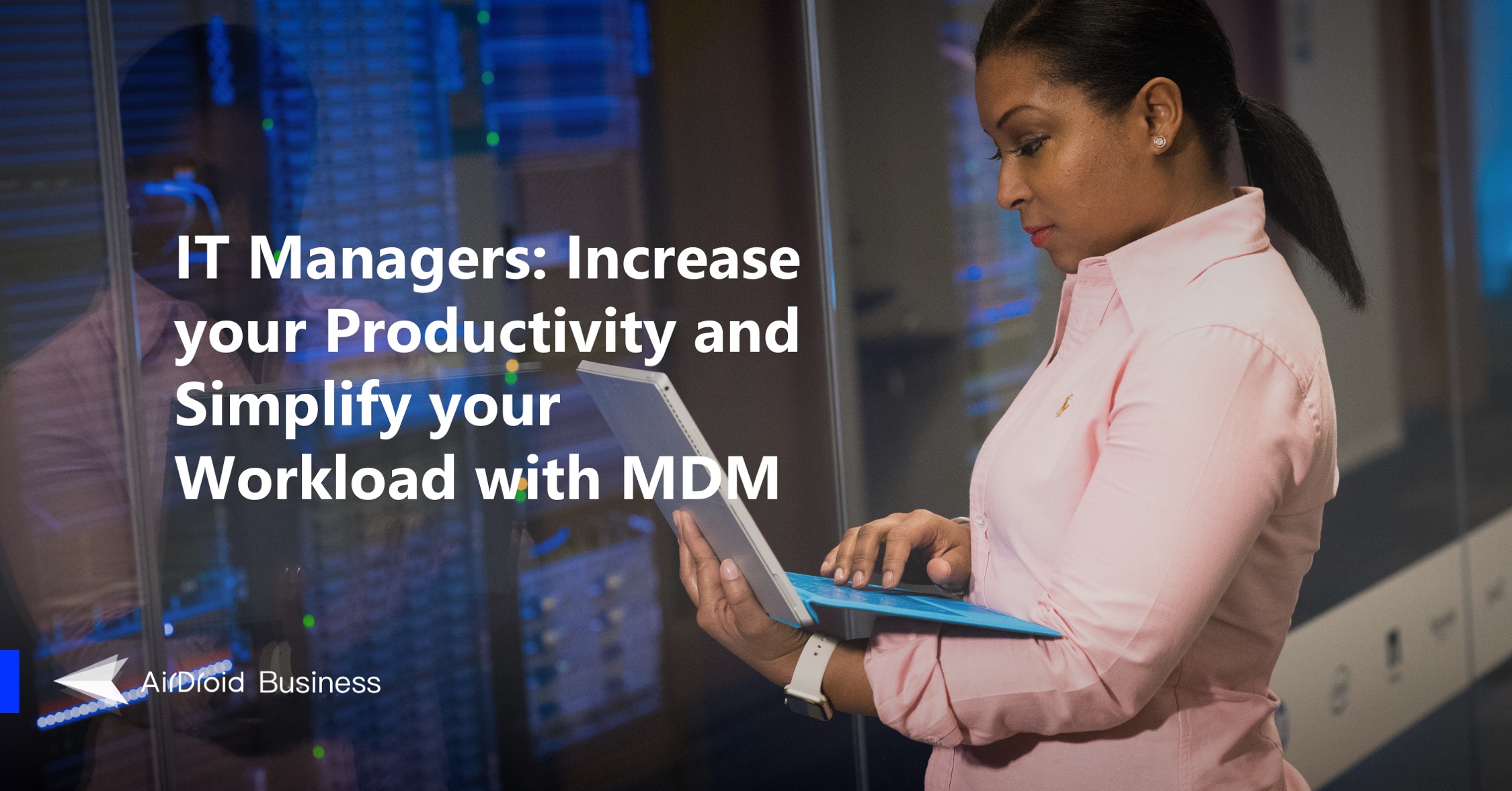 IT Managers arguably have one of the most diverse and demanding roles within any business structure. Not only are they responsible for the general maintenance and upkeep of all software, computers, and devices within a company's network, they're also required to work one-on-one with personnel to solve all manner of IT issues while keeping abreast of new trends, technologies, security advancements, and choosing which to implement company-wide.
This pressure is made more cogent in businesses that use mobile devices as part of their regular operations, requiring many IT managers to spend countless hours traveling to perform maintenance, deploy updates to devices one-by-one, and spend time on the phone with employees to diagnose and solve issues as they arise (with no visual of the issue at hand). With this in mind, it's no wonder many IT personnel report they feel time-poor, unproductive, and stressed[1].
Luckily, solutions exist that can streamline and simplify an IT Manager's workload, increasing productivity, and ultimately reducing stress levels. The answer is mobile device management, or MDM, which enables IT Managers to control, manage, deploy updates and perform maintenance, and more, all from one simple, central, cloud-based console.
So how exactly can a cloud-based MDM software do this? To help you understand, the AirDroid Business team has pulled together three key ways that MDM can simplify an IT Manager's workload, while increasing productivity and reducing stress.
Routine Maintenance
In companies with a remote workforce, many IT managers are either required to schedule a time for employees to bring their devices in for maintenance, or travel to employees to implement updates on-site. This is a common pain-point for many IT Managers, being both time-consuming and inconvenient.
MDM solves this issue by enabling IT Managers to deploy updates, and conduct maintenance remotely. Using the right solution, Managers can view a device's status, schedule and install updates to single users or self-defined groups of users, ensuring each remote device is up-to-date and secure with as little effort as possible.
Remote Troubleshooting
How many IT Managers have complained about spending hours on the phone with personnel trying to troubleshoot an issue from their descriptions alone? We can't answer that question, but we did survey our users and found that it's a common challenge faced by many IT Managers.
To solve this problem, implementing the right MDM solution tool will enable an IT manager to view a devices' status, and through remote viewing capabilities, enable personnel to show the manager the issue they are facing while talking them through it. This not only cuts down the time spent on diagnosing a problem but enables IT Managers to find and implement a solution much faster, without having to leave the office. Remote support assisted by an MDM software will no doubt help cut down costs and improve customer satisfactions for all businesses.
Management of Unmanned Devices
Many businesses now use unmanned devices – or kiosks – as part of their regular operations. While convenient for users and customers, the upkeep of these unmanned devices can be not only troublesome in terms of surveillance but also expensive and time-consuming in sending out technicians for regular maintenance and updates.
The right MDM solution will enable IT Managers to manage and control unmanned devices, empowering them to deploy updates remotely to ensure the kiosk up-to-date and running smoothly. Better still, a solution like AirDroid Business allows IT Managers to activate the devices' camera, enabling real-time surveillance if necessary, and GPS tracking capabilities enable the tracking of devices in the case that the unmanned device goes missing or is stolen.
The above mentioned methods are only part of the features in an MDM solution. To learn more about the full-range of productivity-enhancing mobile device management features, apply your 14 days FREE trial with AirDroid Business now! You can also visit www.airdroid.com/business for more information.
[1] https://www.teksystems.com/en/insights/press/2014/teksystems-stress-and-pride