Last Updated on August 28, 2023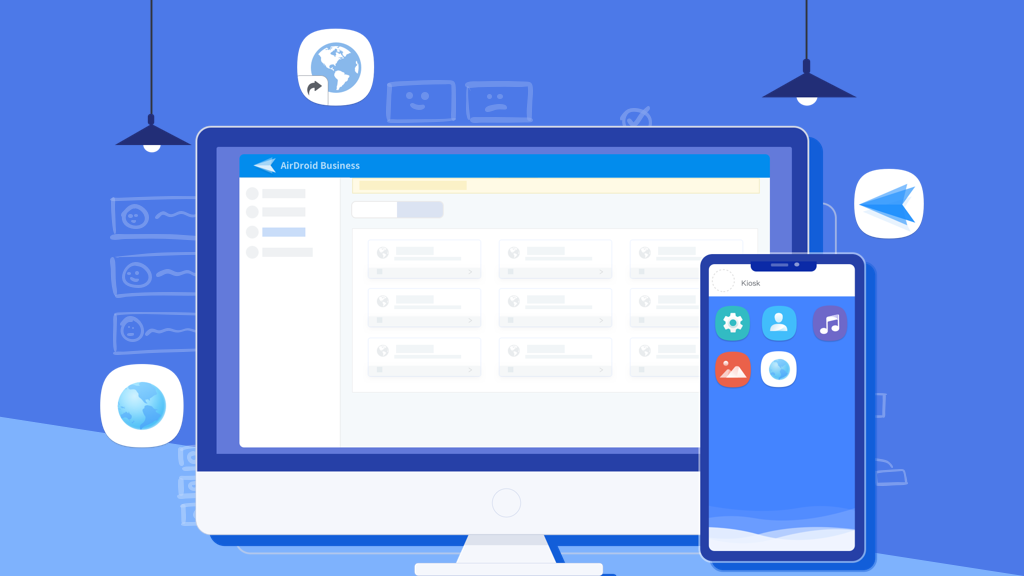 AirDroid Business' add-on feature, Kiosk Mode, has been developed for SMBs. Users around hundreds of countries are leveraging Kiosk Mode to elevate their businesses. With affordable pricing and a valuable set of functions yet, we are thrilled to introduce the addition of AirDroid Kiosk Browser and Website Allowlist to the already well-equipped Kiosk Mode to make your Kiosk business even better! Let's check them out.
AirDroid Kiosk Browser
AirDroid Kiosk Browser provides a secure but customizable internet environment for IT staffs configuring restrictions to avoid being tempered from users. Going forward, it is also an essential tool for enterprises that owns web-based apps or websites to present their own interactive content to your customers in a secure environment.
AirDroid Kiosk Browser also allows your IT administrators to tailor different configurations so that you can restrict users from accessing harmful or inappropriate content and fully control your users' browsing behaviors.
Features Highlight
✔ Untraceable Environment – Incognito mode
✔ Information Protect – Auto-clear cache
✔ Compatibility – Auto page adjustment
✔ Feasibility – Allow desktop website
Website Allowlist
While AirDroid Kiosk Browser helps you to protect Kiosk devices and restrict user's web browsing behaviors, Website Allowlist comes into play as "The Gatekeeper of Webpages".
Website Allowlist can be used to allow access to specified websites. Enables administrators to make either single or multiple websites accessible when in kiosk mode.
For example, you may have the Kiosk homage set as your company webpage but do not want end users tapping external links such as Facebook or Twitter.
Features Highlights
✔ Convenience – Allow Auto-fill
✔ Security – Allow alert dialog
✔ Unattended Automation – Auto-refresh
✔ Customization – Name & icon

So how exactly can you leverage AirDroid Browser and Website Whitelist in your business? With these new features, you could easily set up self-service kiosks or public interactive kiosks, such as for…
Kiosk Ordering System
Self-ordering kiosks come with plenty of benefits for restaurants, especially for fast food chains. Not only can significantly reduce queues, but also possibly increase sales by avoiding social friction. In addition, displaying a range of extra selections on the screen leads customers to buy more than they would have otherwise.
Read more: How Self-Service Kiosk Technology is Revolutionizing Restaurants
Hotel Check-In
Hotels can use digital kiosks to help weary travelers to streamline the check-in process. With auto-clear cache and incognito mode, guests can securely enter their details, take a photo of their ID, or specify any extras or add-ons. The results? Guests can simply wait in line to collect their key.
Read more: Lock Android devices into Single App Kiosk Mode
Rating System
The best way to understand where an SMB should start is to identify customer pain points, and the easiest way to do this is to simply ask your customers. The easiest method for collecting customer feedback is to install a kiosk at either the entry points to a store or at each checkout. By doing this, store owners can better understand what's working and what's not, and make changes accordingly to give customers the best in-store experience possible.
and so many more! Don't see a kiosk suggestion for your industry? Let us work to include a relevant suggestion for you. Contact us HERE.
How to set up?
Getting started is easy – upgrade your Biz Daemon to v.1.0.7.1 and follow the steps to enable AirDroid Kiosk Browser and Website Allowlist.
Read our Self Help Center Article for simple step by step guide: Features of AirDroid Kiosk Browser and Website Allowlist
Log in now to try it out! Sign up for our 14-day free trial to get full access to AirDroid Business. No credit card or setup fees required.