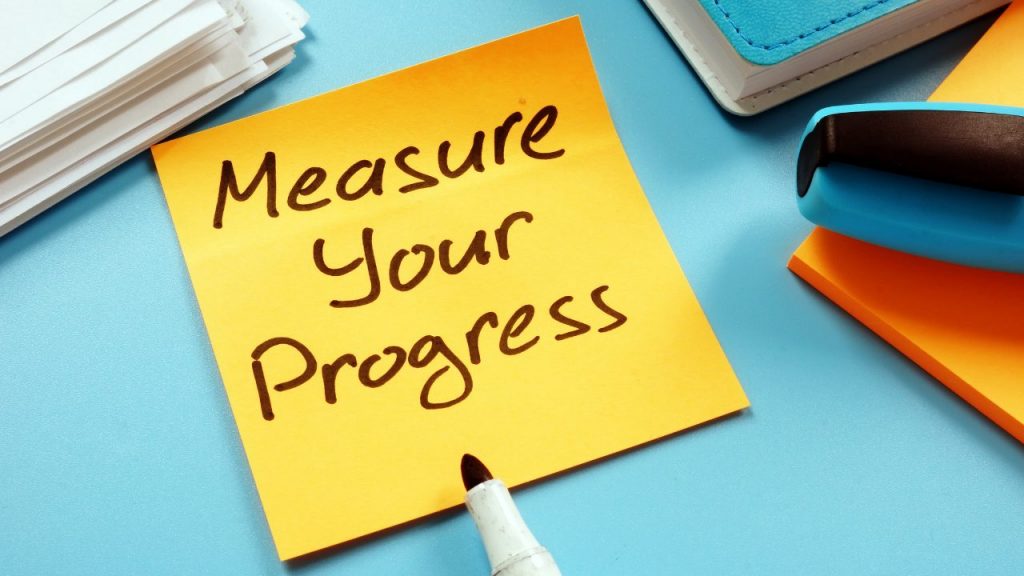 The COVID-19 pandemic has upended varied operations, sectors, and industries, with customer support being no exception. According to a survey consisting of AI analysis of more than 1 million customer service calls by the Harvard Business Review, customer service is among the hardest-hit company functions by the COVID-19 pandemic. Hardly surprising.
From skyrocketing customer anxiety and frustrations to agents struggling to respond to unpredictable cancellations and changes, CX teams are feeling the heat. In such a scenario, setting the right goals as well as expectations for the customer support agent can make all the difference. So if you wish to lay a solid foundation of delivering consistent, optimized, and effective customer support, we have got you covered.
In this post, we will look at the customer support teams goals you should be measuring and driving to make your business seamless and profitable. This brings us to the next most important question:
"Why are customer support team goals the need of the hour?"
A fair question. Given the unpredictable business climate, CX leaders and managers have no option but to invest in time, effort, and energy to set goals for their team and create a milestone-driven blueprint–one that can steer their team and guide the members in the right direction, at all times.
Here is a quick rundown of why customer support goals have emerged as a raging priority:
Provides a sense of direction and focus: As per data, 58.5% of consumers post-COVID care more about customer experience when deciding which companies to support and buy from. So CX leaders need to guide the members and showcase the various check-points that can lead them to the end destination. This will empower your team to work more independently and with greater accountability. The idea is to drive ownership and responsibility of work by keeping everyone 'in the know' about the various goals and objectives that need to be delivered. 
Helps monitor and analyze the team performance: Setting a robust goal-driven framework can augment your organization's customer support efforts by:
Facilitating a constructive feedback-led, user-centric culture
Driving one-on-one opportunities for conversation with the various team members for a more personalized analysis of work performance
Helping set a goals-led benchmark for agents to measure themselves against to continually improve on performance and pivot as needed
Boosts employee morale: Given that everyone refers to the same goal plan for driving actions and reviewing performance, the entire team can work together and achieve the business goals as well as personal goals. The end goal is to demonstrate to team members how their individual actions are contributing to the overall success of the company and boost employee motivation in the process.
Moving on, let us deep dive to understand the seven customer support goals that teams should be driving.
The general rule of thumb for setting goals is following the 'SMART' philosophy. Team leaders need to create goals that are Specific, Measurable, Achievable, Relevant, and Time-bound instead of being ambiguous, unrealistic, or vague. Additionally, remember that your customer support goals should always be aligned with the overall goals of the organization for them to be results-oriented. This also allows easy goal tracking and encourages teams to constantly meet up and discuss progress as well as performance, ensuring that every member is on board and working with the right momentum.

Increase your CSAT score
Improving customer happiness should sit at the top of your organization's priority list. After all, happy customers directly translate to more loyal customers and self-confessed brand advocates.
To monitor your customer satisfaction levels, you can use the customer satisfaction (CSAT) survey as one of the primary performance indicators (KPIs).
Using a customer survey like this allows you to gather real-time feedback on whether they are happy with the service or not. To get the CSAT percentage, simply subtract the percentage of customers who respond positively from 100%. You can also look at other metrics such as the Net Promoter Score (NPS) or other business metrics such as customer renewals and churn rates to gauge progress.
If you are wondering about why you should laser-focus on boosting customer satisfaction, the data provides a compelling case:
According to Microsoft, 90% of customers use customer service as a deciding factor in determining whether or not they want to engage with a company.
Another survey by Invespro claims that investing in new customers is 5 to 25x more expensive than retaining the existing ones.
Clearly, focusing on boosting your existing customer base' happiness makes business and logical sense.
The learning: Stating your goals in a specific, measurable and time-bound manner, in this case, improving the CSAT score, enables your team to focus on what is important and consistently deliver a stellar customer experience.
Speed up response times for customer queries on social media posts
Speed of service has become central to providing a great customer experience. Research claims that for 12% of Americans, their number one frustration with customer service is "lack of speed." 
What needs to be mentioned here is that speed of service does not simply translate to responding quickly to service requests. It also means supplementing the team reps with the right tools and platforms (think: integrating a live chat software for website, for instance) to accelerate the response time and enhance the service. These tools can work round-the-clock and are most cost-effective while providing high-quality service. They also take over key repetitive and routine tasks, allowing agents to focus on problem-solving.
Remember that measuring the customer wait time will ultimately depend on the channel you choose to measure.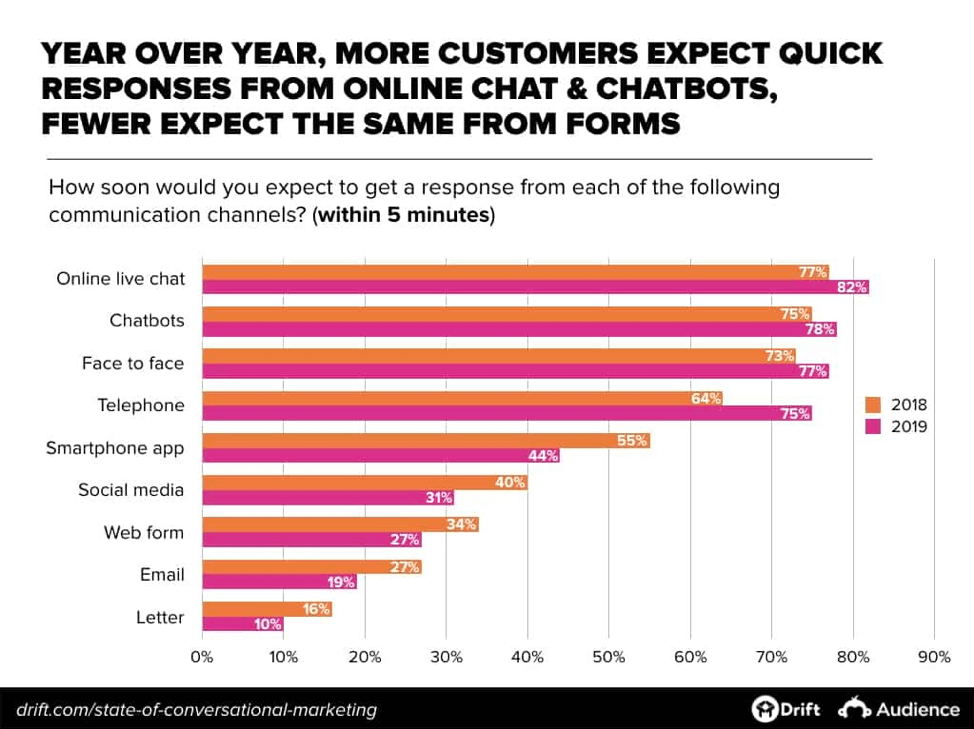 You can look at the following two metrics to calculate the average response time on social media posts:
Average Response Time (ART) — It is the average time elapsed between the total consumer messages and agent replies. McDonald's response time in the below post is instant and friendly, making it powerful: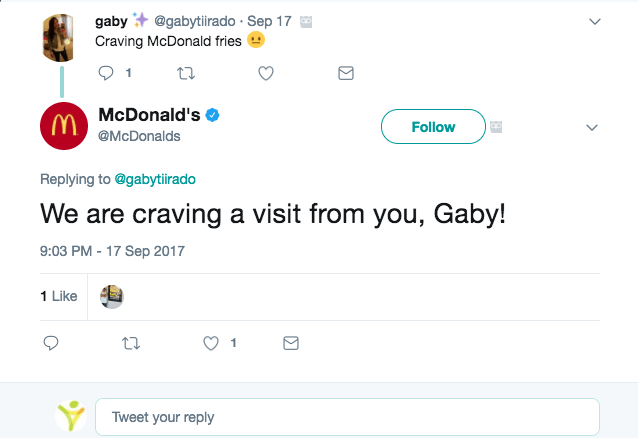 First Response Time (FRT) — It is the average time elapsed between the initial customer message and the initial agent reply.
The learning: Boosting the speed times should be a collective team goal as opposed to being an agent goal. At the end of the day, extraordinary customer service should be marked by agility, accuracy, and speed.
Reduce cost per contact
Every organization, be it big or small, struggles with budget restraints. Any strategy that can reduce the overall costs can turn out to be a game-changer. One such strategy that CX leaders often look to deploy is lowering the cost of supporting customers without compromising on quality. 
Here is how you can measure the cost per contact (CPC):
Total cost of providing support (labor, tools, and other costs) / Number of contacts received
Pro tip: Try segmenting this calculation using varied criteria such as contact channel, user type, etc. to get more accurate and targeted results. Also, you can use more cost-effective tools such as chat instead of driving phone support to reduce your CPC.
The learning: Reducing cost is every organization's priority, and doing so with the right mix of tools, technology, and strategy can have impactful results on your customer service.
Work collectively on delivering an omnichannel customer experience to boost user engagement
Omnichannel customer experience has emerged as a must-have for businesses today. The idea is to ensure that your customer touchpoints and support channels are as integrated, seamless, and consistent as possible–whether it is sales, marketing, or customer support. For example, lululemon deploys an omnichannel strategy on its website: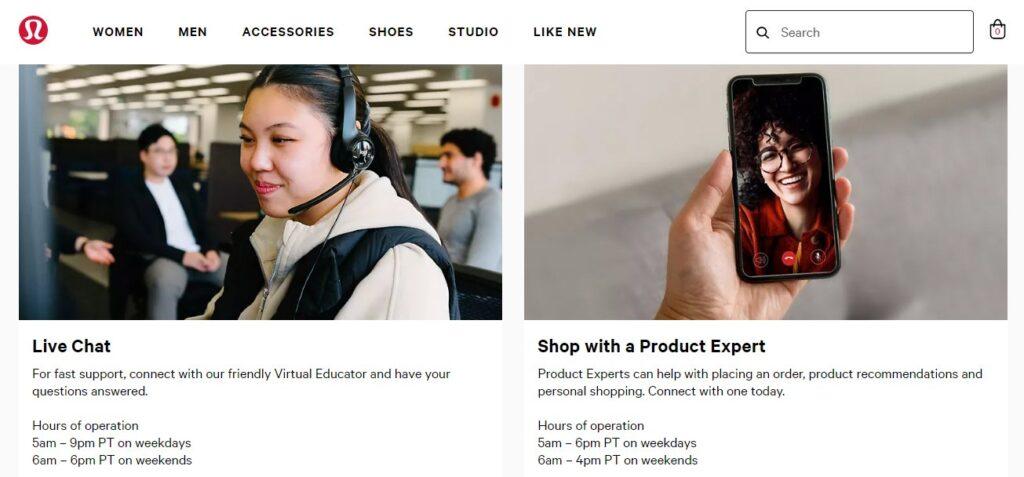 Customers can reach out to agents via live chat support, through email, browse through an FAQ section, or provide feedback with an online survey.
The learning: In addition to delivering an omnichannel marketing strategy, it is critical that brands deliver an omnichannel customer support experience–complete with multiple channels and platforms that customers can use to get in touch with the agent/brand. The idea is to allow customers to easily and quickly reach the customer service rep and provide a positive as well as consistent customer experience from start to finish. In terms of the channel chosen, make sure to be where your customers are.
Increase the lifetime value of a customer
Research from Smile.io indicates that the top 10% of customers spend 3x per order than the normal customer base, and the top 1% spend 5x per order. Clearly, building on the lifetime value of the customer can boost your bottom line.
There are numerous ways to increase the customer's lifetime value:
Featuring highly loyal users within your branding content–be it social media posts, on the website featuring testimonials, etc. User-generated content is here to stay.
Creating a feedback loop, actively listening to the customer's reviews, and acting on it can make the users feel heard and appreciated. In fact, data indicates that 25% of UK consumers want their favorite brands to make them feel special, and 25% want the brand to motivate and inspire them. Starbucks' "My Starbucks Idea" is an excellent example of this: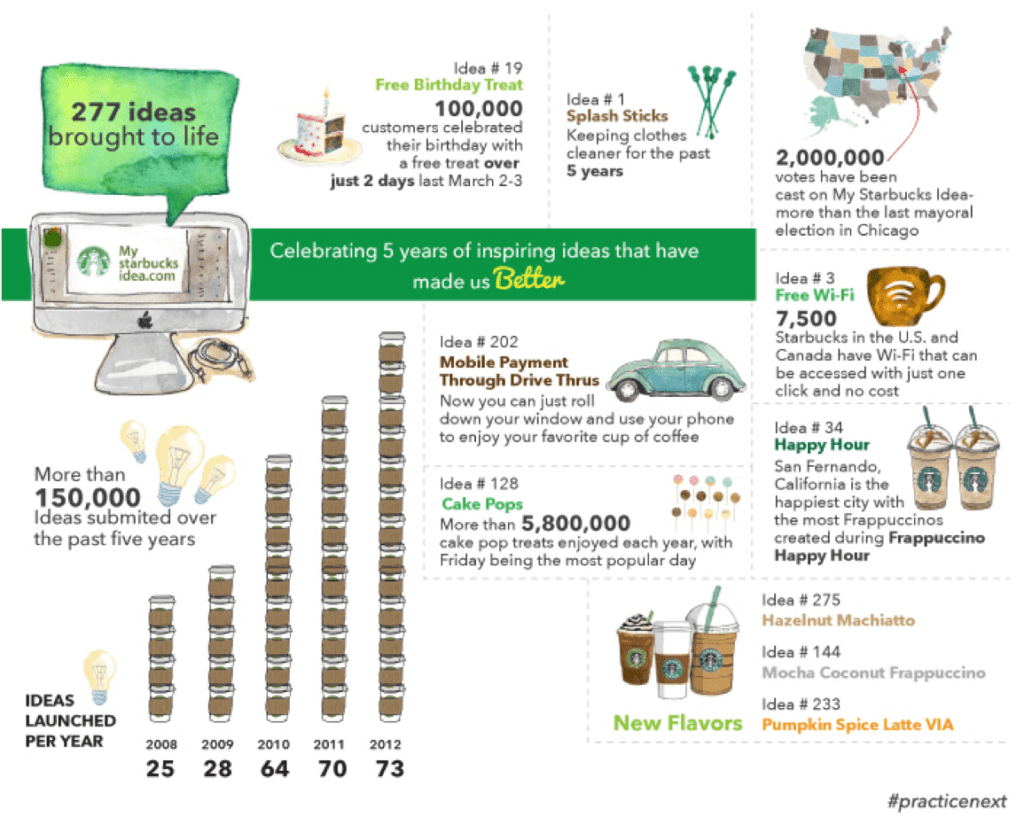 Sending customers hand-written notes, thanking them for the purchase adds a personal touch to your CX efforts and makes them memorable.
Providing new ways to make the customer experience convenient, seamless, and consistent through the use of intuitive tools, better-trained agents, more self-service options, etc.
Genuinely providing value-adds to users and solving their pain-points through a high-quality offering.
Here are five simple ways to calculate customer lifetime value.
The learning: Improving the customer lifetime value is an ongoing and holistic process. Brands need to constantly measure how well they're faring in the user's eyes and boost strategies to improve the customer experience throughout the user journey. A one-off strategy will not cut it.
Improve the troubleshooting criteria score on quality assurance reviews
Troubleshooting issues forms the basis of effective customer support. Agents need to be trained so that they can instantly and accurately diagnose issues. Data supports the ability to have trained agents, claiming that "29% of consumers rank first contact resolution as the most valued customer service interaction. A knowledgeable representative comes second at 18%."
Plus, to further improve the troubleshooting criteria, customers should be offered additional support by way of self-service tools and in-depth knowledge bases to drive timely and efficient query resolution. Asana's knowledge base page on its website is a comprehensive, well-researched, and well-structured page that you can take inspiration from: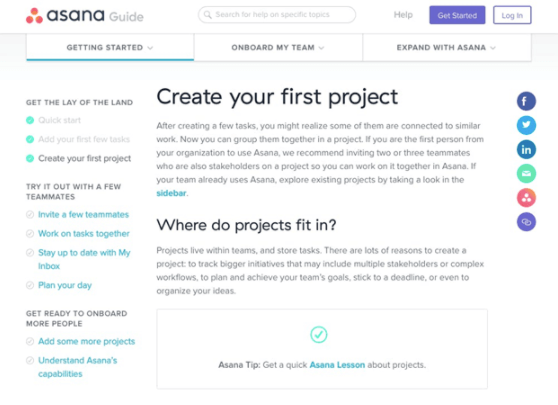 One of the most surefire ways to analyze and measure your troubleshooting skills is by combining it as a part of your quality assurance reviews. For instance, improving your troubleshooting criteria could entail boosting the resolution time for tickets and increasing the volume of support tickets an agent can effectively address.
The learning: The ability to troubleshoot with precision and accuracy allows brands to deliver a holistic customer experience. So organizations should definitely include this goal as part of their overall CX strategy, particularly when businesses are in the thick of a global pandemic and are struggling to provide a five-star experience with limited resources and constraint in budgets.
Improve the customer onboarding process
Having a great customer onboarding journey is the first steps towards creating a lasting first impression. It literally marks the beginning of a long-lasting relationship and in turn, boosts the customer lifetime value.
There are multiple ways in which you can enhance your onboarding journey such as:
Integrating visual engagement tools like co browsing so that the agent can interact with a customer in real-time.
Make "how to" videos a central part of your onboarding process to aid knowledge retention and emphasize key points.
Analyzing the user action at every step to track and understand usage patterns so that you can leverage the insights and create a personalized user experience.
Instill goals and create strategic "Aha! moments" to demonstrate the real value, benefits, and features of your offering. 
The learning: A well-conceived and logical onboarding journey can ensure that your customers leave the platform with a positive and great user experience.
Driving customer experience based on guesswork/hunches can prove to be fatal for your brand. It is critical that CX leaders and managers collectively prioritize the key CX goals they wish to achieve and work towards the same in a strategic, logical, and user-centric capacity. Take inspiration from the goals mentioned above and personalize your support efforts to stay ahead of the competition.
Author's Bio: Dhruv Mehta is a Digital Marketing Professional who works at Acquire and provides solutions in the digital era. In his free time, he loves to write on tech and marketing. He is a frequent contributor to Tweak Your Biz. Connect with him on Twitter or LinkedIn.