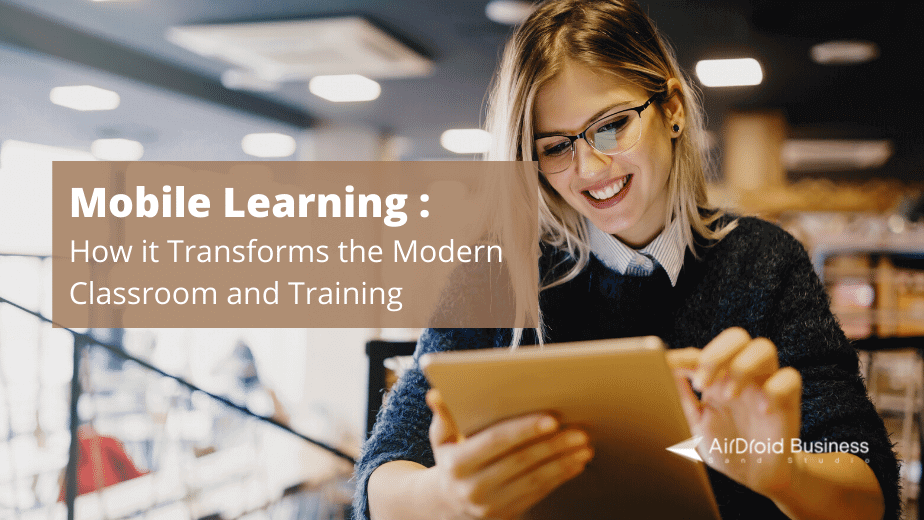 What is Mobile Learning?
Mobile learning consists of learning on the go, via your smartphone or tablet. In other words, m-learning offers the possibility for employees to follow their training wherever they are, with online courses and other content being accessible at all times. This learning method is available on many LMS platforms but, as we will see later, it is necessary to be vigilant in the choice of the latter, m-learning does not come without some technical constraints. Finally, mobile learning is aimed at a wide audience: as soon as the employee has a smartphone and the LMS is compatible, they can benefit from it. For some years now, the use of mobile devices such as smartphones and tablets has also enabled so-called "mobile learning". This is a type of learning in which users can repeat and deepen content such as vocabulary while on the move.
However, "mobile learning" is always to be seen as a supplement to conventional learning methods and not as a replacement until recently due to the pandemic that has changed our lives in many ways. Mobile and remote learning has then become THE solution that allows learners to continue pursuing education or training while staying safe.
Photo: Unsplash
The term mobile learning can be translated as "mobile learning". Thanks to its flexibility, learners have access to training whenever they want. The content presented is fun and totally personalized. This motivates the participants to achieve the set goals. Faced with the democratization of the internet, mobile learning trends have emerged:
➤ Virtual reality: immerse yourself in the world of training through a helmet. For example, the Enedis company uses this approach to train its employees and distribute their content.
➤ Augmented reality: different from virtual reality, augmented reality allows you to have a 2D or 3D interface. This learning trend adds dimension to the training. Tasks and steps can be followed in real time. This is a good strategy for manual jobs.
➤ Peer learning: this learning technique motivates exchanges between learners. They have the opportunity to share their knowledge and experiences. Mobile learning facilitates these discussions which can take place on forums, by emails, by messages or through an audio format. They participate in the development of each. The trainer/learner relationship is evolving in order to make room for collaborative learning. There is a real commitment.
➤ Blended learning: this e-learning training is supplemented with face-to-face courses. This format can be completely personalized by the learners. Beyond the face-to-face side, participants have access to all educational media on mobile.
The Advantages of Mobile Learning
Mobile learning has many benefits, and they help everyone involved. An online study in Germany showed that 83 percent of HR managers rate the flexibility provided by mobile devices in professional training as very important. The study shows the importance of the efficient use of one of the most important resources in distance learning: time. The permanent availability of teaching content via net, notebook, smartphones or touchpads is particularly valued, which enables learners to make ideal use of time slots. The morning bus trip can be used, for example, to study learning materials or to contact fellow students and tutors. During their lunch break, learners can take part in chats and forums or organize their learning processes from their mobile devices. This is the same for any industry and also within all education sectors. Here are some of the biggest impacts that they are making on the world today.
Photo: Unsplash
Training is accessible everywhere, all the time
As you can see, one of the main advantages of mobile learning is to offer employees permanent access and anywhere to their digital education. This makes life easier for many of them! Especially since some LMS platforms, like Rise Up, are coupled with an application that works offline. More and more nomadic and autonomous employees are seeking training that combines flexibility and unlimited accessibility. In addition, in sometimes overloaded schedules, it is difficult to make room for face-to-face sessions or to reserve long time slots for training.
Employees who travel frequently, such as salespeople, in particular, benefit greatly from learning on mobile. As soon as the online training is accessible via a smartphone or tablet, Employees can decide for themselves when and how much time they devote to it. It is also they who determine what content they'd like to view according to their individual objectives: revise, review a poorly understood online course, deepen a specific point. Ultimately, mobile learning is the vector of greater learner attendance, and therefore of increased training efficiency.
Content in more varied formats
While mobile learning provides access to e-learning modules, it also goes hand in hand with new formats. Learning on mobile even introduces a new way of acquiring knowledge, based on short (micro-learning) and varied content (videos, audios, infographics, short texts, etc.), perfectly suited to consultation on a smartphone. As a result, the learner can log in to listen to a podcast lasting a few minutes, read a selection of articles from the web targeting the targeted skills, view a brief presentation in the form of slides, etc. Finally, this "fast learning" makes it possible to respond to immediate needs. For example, when receiving new products in a store, it is interesting for sellers to be able to immediately consult their characteristics, to have a comparison or to know the warranty conditions, all directly by connecting to their mobile. New education formats will help people discover new ways to learn.
More engaged learners
Mobile learning guarantees better learner engagement. The playful side of a mobile device like a smartphone or tablet, is its almost "reflex" use, which pushes employees to regularly log on to their digital training. Especially since career is often "gamified". The gamification is to include in the progress of the learner badges to win–learners earn an award badge/title after completing a course or when reaching a certain level. Emulation is then created between employees, who have additional motivation to advance in their learning. In addition, learners come together in a community and are invited to directly share resources with their peers. It is social learning. This greater involvement in the training system also strengthens learner engagement. It makes people want to learn and have better outcomes in the end because there is less force and pressure.
It is versatile with excellent communication
Digital education is versatile and promotes communication with other students or the teacher. There are many applications for messaging, chat, and online forums that facilitate communication between students and in turn between them and the teacher and vice versa. If we also take into account that the use of these channels is becoming more and more frequent among the younger population, promoting their use in the classroom is a stimulus to facilitate communication. Although it is true that at this point it is essential to establish clear rules of use and the figure of one or more moderators who intervene when any abuse is committed or any of the established rules is violated. But not only can communication improve, but there are also tools (online office, google drive office suite, etc) that allow collaborative work (several people interacting with the same document) between students. This is a great help to carry out projects and group tasks.
Things to Keep in Mind When Implementing Mobile Learning
Photo: Unsplash
1. Divide the contents into times of 2 to 5 minutes
In the words of Josh Bersin: "Today's employees are overwhelmed, distracted and impatient."
The internet and mobile devices generated a faster rate of content consumption. People are used to immediacy, which is why mobile learning is more beneficial if we focus on creating training content with short-term formats. Studies confirm that people lose concentration after 90 seconds when surfing the internet using mobile devices.
Therefore, instead of long-form modules, it is advisable to divide the content into small segments of 2 to 5 minutes. In this way, students can better digest the content and retain the knowledge for longer. For example, if you have a course that lasts 30 minutes, divide it into 5 modules of 5 minutes each that contain the important information and this will make it easier to consume. Extra content can be included in buttons or external links. If you want to go deeper into the contents, students have the option of doing it through a click or an immediate download. It makes things simple and effective.
2. Visual and interactive learning
Think about how you and your students use the mobile phone, and then use that same behavior as a reference to create an engaging and interactive mobile learning experience.
Nobody likes to read long texts on mobile devices, especially if they are small. We must focus on creating highly visual content to be consumed quickly and effectively on mobile devices. For example, use different formats such as images, videos, infographics, and even the integration of podcasts and even social networks.
3. Know your audience
When implementing mobile learning, the characteristics of the learners should always be taken into account. Creating courses for an audience of millennials who work from home is not the same as creating a course for managers over 50 years old. Take a closer look at your audience, their frustrations, desires, characteristics, and behaviors to understand how and where they interact with mobile devices. Do they use smartphones instead of tablets? Do they use iPhones or Android? Or a combination of devices? It is also important to find out where they use their devices. Depending on what you discover, you may be able to adapt the content for a lifestyle on the go.
4. Leadership is key
Although we all use mobile devices in our daily lives, it is important to promote a culture in the company when creating training programs for this medium. It must transmit positivism and create habits around mobile learning. It is important that the employees in the company feel that they have guidance and support along the way to make inquiries.
5. Focus on the benefits of mobile learning when promoting your courses
After implementing your mobile learning program, you want to make sure you promote it effectively throughout your organization. And the best way to do this is to focus on the benefits of this model. Emphasize how it is more personalized, easier to access, more convenient, and more fun.
6. Social learning
What is the purpose of phones if not for communication, right? However, many students feel lonely when taking an online course. Part of a successful mobile learning strategy is to recognize social media as a resource to motivate students and connect them with other people. Additionally, peer-to-peer interaction on relevant training topics can be a source of learning in its own right. People can learn from each other.
7. Implement good MDM
Mobile device management (MDM) software has its perks for mobile and remote learning. MDM includes storing essential information about mobile devices, deciding which applications may be present on devices, monitoring how the devices are being used, restricting access to certain websites, locating devices, protecting devices in the event of loss or theft, and more. This is vital for mobile learning, as it will protect the learners of the remote learning devices as well as for instructors to have better control over the data stored in the devices. It will also ensure that any problems are flagged up beforehand and dealt with to reduce device downtimes, and ultimately, to improve overall learning experience.
💡 Read more about MDM for Education.

Photo: Unsplash
Final Thoughts
Mobile computers have become a popular means of interaction among students and teachers, thus offering a means for the development of efficient teaching resources specific to mobile learning. Mobile learning complements and supports the traditional and distance education system, it is used mainly as reinforcers of knowledge and as a means of communication.