Last Updated on January 30, 2023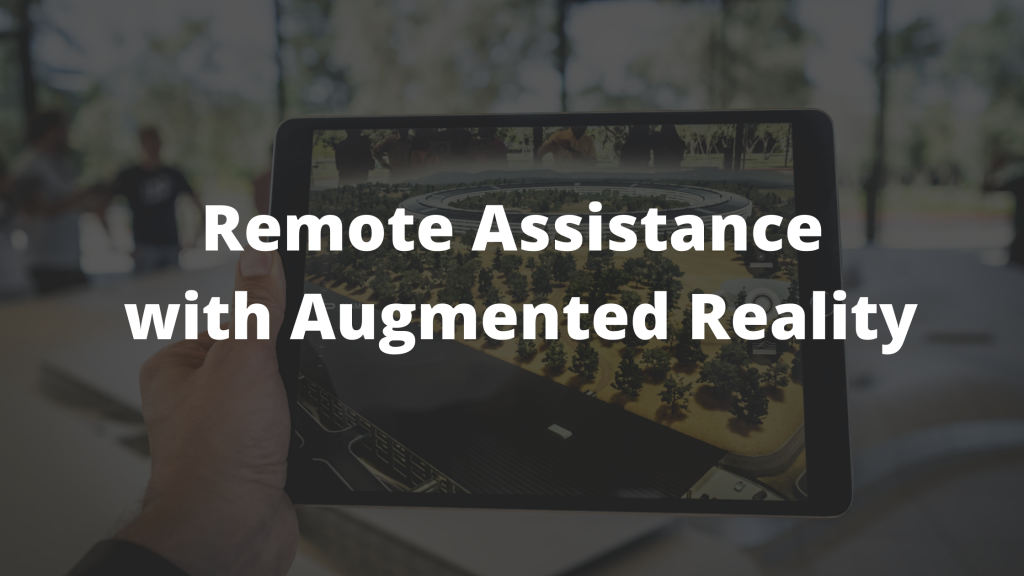 While many people may have a basic understanding of virtual reality (VR), most are not as familiar with the concept of augmented reality (AR). Virtual reality is a completely immersive experience that separates the viewer from the physical world through the use of a VR device that the user wears. In contrast, augmented reality typically uses a camera on a smartphone to add digital elements to a live view. Mixed reality (MR) combines aspects of both augmented and virtual reality that allows real-world and digital objects to interact.
Many businesses are starting to use augmented reality technology (AR technology) to assist in providing remote technical support to employees and customers. With the current rapid pace of technological advances comes an ever greater number of tech issues that need to be resolved quickly and easily.
AR technology helps to solve this problem by guiding customers and employees through the troubleshooting process in real-time with an overlay of onscreen visual instructions. Being able to instantly communicate from anywhere in the world eliminates the need for an IT technician to travel on-site, reducing time and costs.
Here is a look at some important ways augmented reality camera technology is being used by businesses and other organizations to improve the effectiveness of remote IT support.
How AR technology supercharges tech support
If your employees or customers experience any tech issues with their devices, your IT team has to be able to get them up and running again as soon as possible so that employee productivity and the customer experience is not adversely affected. This is the perfect scenario where augmented reality for Android and iOS can step in to save the day.
Customers and employees can be easily led through the resolution process by overlaying onscreen visual instructions on the camera images of the device. It can clearly guide customers and employees through the adjustments they need to make to return the device to optimal functionality.
Troubleshooting a physical device with AR technology
One of the biggest benefits of augmented reality camera technology is the ability it gives businesses to virtually send an IT admin to any location to provide customer support. With the help of the customer's or employee's phone camera, the IT admin can directly view the issue to offer remote visual assistance.
The IT technician can then clearly show the device user what sequence of steps are needed to troubleshoot their issue. Miscommunication is often one of the biggest hurdles in providing remote IT tech support. With AR technology, IT agents can see the problem without having to blindly rely on the customer's description. Being able to visually confirm on both sides that the issue is resolved prevents repeat support sessions in order to fix the same issue more than once.
AR technology removes any roadblocks by allowing the IT admin to guide the customer or employee in the exact troubleshooting process required to fix the problem. This can be achieved by adding 3D markups to the image the customer or employee is viewing. It is as if the IT technician is with the customer or employee in the same physical space wherever they may actually be.

Simplifying the user experience for customers and employees
A difficult and frustrating tech support experience can create a negative impression of your business in the minds of customers. Once that impact is felt, it can be difficult to erase. This can result in the loss of repeat business and customer loyalty. A study by NewVoiceMedia revealed an estimated $62 billion is lost by U.S. businesses alone due to poor customer experiences.
Chatbots, FAQs, knowledge bases, and other self-service options are often not enough to solve challenging tech issues for customers. By using augmented reality technology to facilitate remote IT support, businesses can immediately help their customers, which ensures a high-quality user experience.
Chatbots, FAQs, knowledge bases, and other self-service options are often not enough to solve challenging tech issues for customers.
How AR technology works with AirDroid Remote Support
AirDroid Remote Support for Business lets your IT team pinpoint issues quickly by viewing images through your customer's device camera. Skip the guesswork by guiding your customers through the resolution process with the ability to place 3D markers onto real-world objects. Screen sharing also allows for swipe and click gestures, screen edits and recording, voice chat and recording, texting, and file sharing.
Imagine one of your customers is trying to use your self-service kiosk that is not working properly. With so many working parts it is challenging to uncover what specific part is causing the problem. Instead of your customer trying to provide you with an accurate description of what is going wrong, the IT team can connect to their phone with the remote support app installed and view the kiosk through the camera once permission is given to do so.
Voice chat can also be enabled to facilitate direct communication. Finally, a 3D marker can be placed on the kiosk to reboot the device. Conventional remote access software will not allow your IT team to see the physical surroundings of the kiosk without the integration of AR technology.
If you have more than 10 devices in your company's fleet, you should consider adopting a full mobile device management solution that includes AR-enhanced remote support software. This is especially true if you need to monitor device status, create member accounts, and leverage grouping capabilities along with remotely controlling devices. In this case, AirDroid Business can be combined with remote support instead of just having remote access software alone.
Conclusion
With augmented reality remote support software, your IT team can easily and quickly connect to your customers and employees to troubleshoot tech issues for Android devices. View what their Android smartphone camera sees while drawing, adding text, or tagging real-world objects with 3D markers as a reference point. Collaborate effectively by guiding people through troubleshooting, device setup, or maintenance procedures without the guesswork—as if your IT admin was there in person.
Equip your business to be able to immediately respond to critical time-sensitive situations without diminishing your customer service experience. Plus, your business can avoid the costs of device downtime and having your IT technicians travel onsite to fix issues. Get a 30-day free trial to discover how AirDroid Remote Support can help your business.