Last Updated on July 19, 2022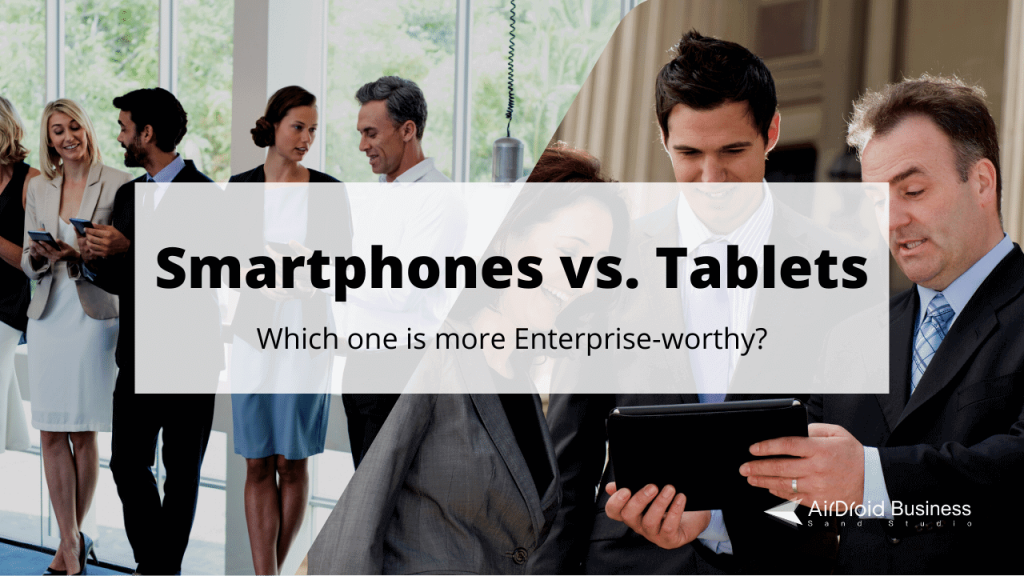 Mobile devices have come a long way since the invention of the cell phone in 1973. Now, most of us can't imagine our day without our smartphones or tablets.
Smartphones and tablets keep us connected with friends, family and the outside world. They inform us, entertain us, and allow us to engage us with certain types of content.
When it comes to remote workplace, mobile devices like smartphones and tablets can improve communication, increase productivity and even give businesses a competitive edge.
Each type of device has its own set of benefits and potential downsides, so which one has the bigger potential to reshape the way businesses operate? Which one has a better enterprise potential- smartphones or tablets? Let's find out!
Although smartphones and tablets are not-so-distant cousins, they have some significant differences we will discuss in this article.
They both come in handy in today's digital landscape. They have the potential to make our lives and jobs way easier. When it comes to utilizing their full potential, you need to consider the following:
Depending on the industry you work in, do smartphones or tablets have the capacity to create a ''work-on-the-go'' environment? Are they versatile enough to complete tasks from the beginning to the end?
Are these devices too fragile for rugged work environments, and how long can they last in harsh work environments?
Can they include some technical functionalities commonly needed in enterprises, such as barcode scanning or push-to-talk communication?
What about security? How strong is the security of smartphones and tablets, and how can you keep your business information safe?
Are smartphones and tablets compatible with your enterprise management systems?
Can data collection programs and workforce applications run smoothly on your mobile devices?
Are these devices capable enough to automate your business operations or run your ERP?
Once you have all the answers to these questions, you will start to get a better idea of which device might have an upper hand in your industry.
​Mobile Devices Across Different Industry Verticals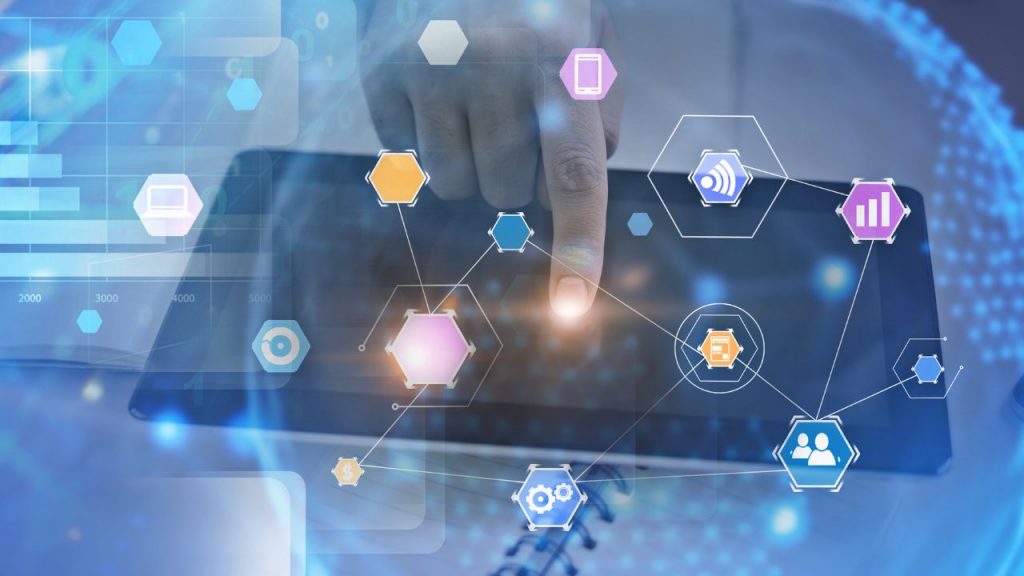 Next, it's time to think about mobile device management for enterprises. Let's look at a few examples.
If you work in the field service sector, you might prefer a smartphone. Smartphones are smaller than tablets, making them more portable and a better choice for this type of industry.
If you work in the real estate industry, a tablet may be a better option for your day-to-day tasks. You can update local listings, give your customers a virtual tour of your inventory and more.
Tablets have the edge when it comes to battery life, so they're ideal if you are showing your customers their new potential home. If they decide to sign the contract, you can gather important data in a few easy steps on the spot.
You can't do the job the same way when your job description requires handling field service management, visiting different sites compared to sitting comfortably in your office. Therefore, mobile devices can help you bridge that gap, make data flow smoother and improve different communication channels.
Integrating mobile devices with enterprise capabilities can open a new world of possibilities.
​Benefits Of Mobile Device Management For Your Enterprise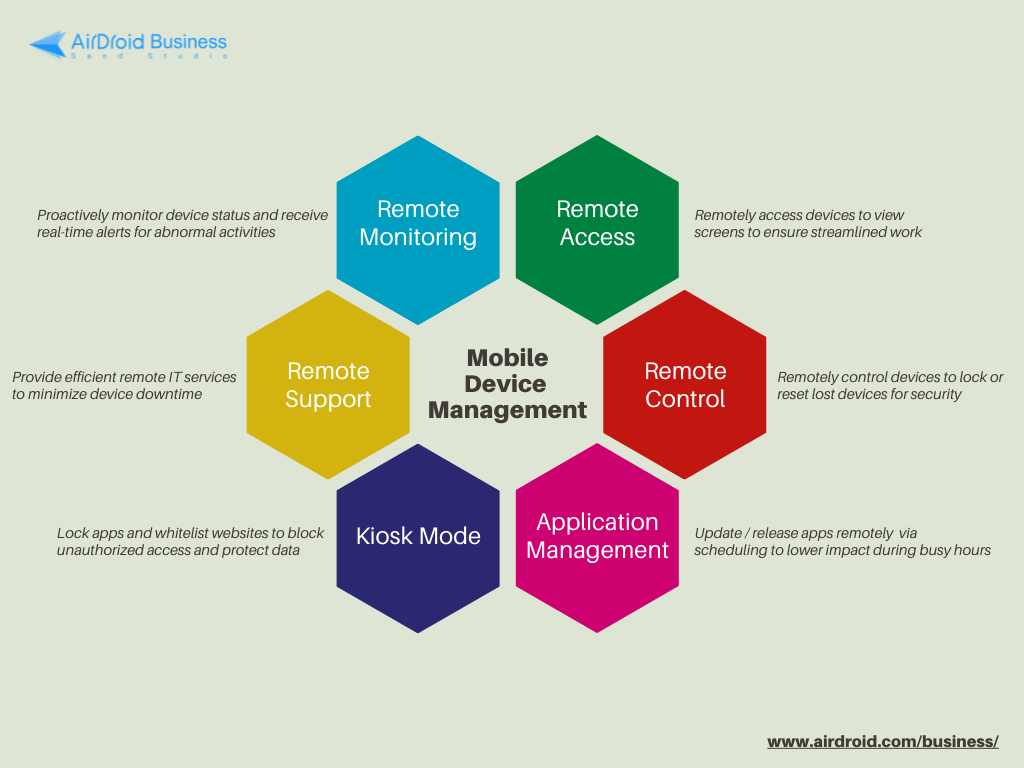 Mobile devices offer a myriad of benefits across different industry verticals, and they can be utilized for diverse business roles.
For example, let's look at account managers. They work with clients directly. With the right device in hand, they can perform tasks with more ease, from anywhere.
Mobile devices can help with:
Reviewing prices and discounts is much easier
Sharing product information with clients in just a few clicks
Updating the product stock
Viewing customer information and their shopping history
In this case, the tablet seems like the superior option.
HR departments can also benefit from the clever use of mobile devices.
For example, HR apps can assist employees in many ways: they can submit timesheets, fill out and send reports, confirm onboarding sessions and training schedules, make announcements and more.
All in all, both smartphones and tablets integrate seamlessly into most workspaces. Plus, they offer something familiar to all of us.
Most of the population knows how to use Android OS outside their workspace because it is intuitive and practical. This allows the not-so-tech-savvy employees to learn how to operate on mobile devices faster, without any obstacles.

​Smartphones vs. Tablets; A Clash Of The Hand-held Titans
Smartphones are built for the bite-sized type of information that will entertain us easily. They help us better communicate, and they're handy in performing some easy tasks.
Smartphone apps are often created for social media, locating the places we want to go to, playing various games, and even searching for nearby sales.
However, it seems like many enterprises are switching to tablet-specific apps because they can see the huge potential lying in tablets.
Let's make a quick comparison of why tablets might have a slight advantage for your enterprise:
Battery life: Tablets have more battery life compared to smartphones. Tablet batteries are twice as big as the ones in smartphones, therefore more durable. Tablets are known for the amazing battery life — once charged they can last weeks on little to moderate usage.
Compare that to the smartphones that often do not last a full working day, which is often frustrating. Additionally, with the help of an MDM tool, you can remotely monitor your devices' battery status and get notified when the battery is running low.
Screen size and graphics: Tablets offer advanced screen graphics and better computing power compared to smartphones.
User Experience and User interface: With the latest technological advancements, Android OS can run on a wide variety of screen sizes. This needs to be considered from day one when mobile app developers design the apps. Tablets offer more space and they can show multiple sets of information simultaneously.
Technologies such as augmented reality can work great on tablets: Augmented reality will revolutionize business in many ways. A practical example: your remote workers can access real-time remote help. With AR, they can locate the problem easier.
If you make the right choice, the right mobile device can give your company a competitive edge. You can streamline your operations, cut the costs, make data flow much smoother which in the end can accelerate. It can also enhance your brand image — your company will appear more cutting-edge and more tech-savvy when your potential clients visit your headquarters.
As a result, both your customers and your employees will have a more immersive experience of your services.
​Key Tablet Uses For Enterprises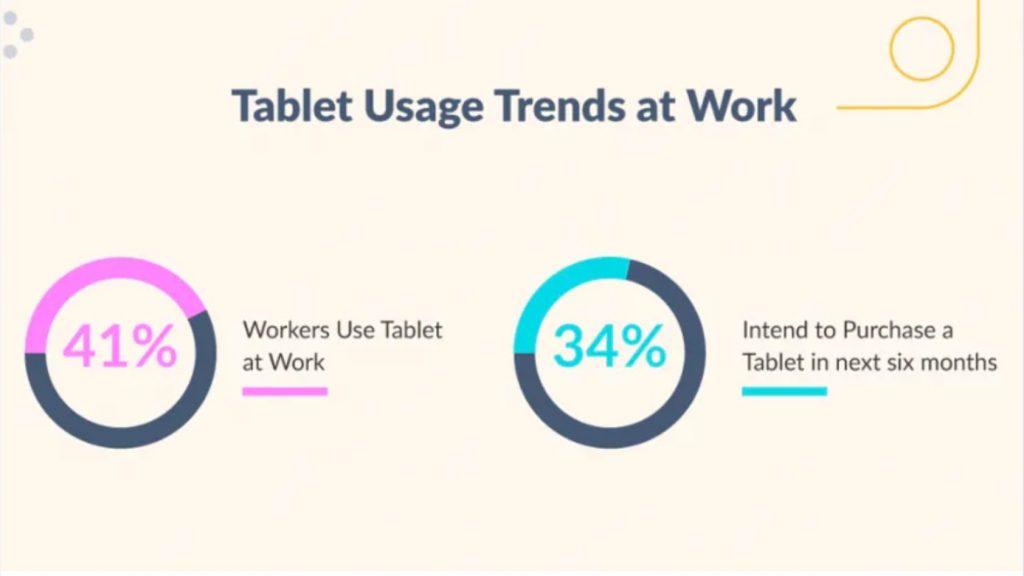 Think of a tablet like a hybrid between desktop computers and smartphones. Tablets are meant for use in more fixed positions often with both hands for the best experience. They can be carried around in a briefcase, thus are much more practical compared to laptops but the downside is that you can't carry them around in your pocket
Better durability for extended work sessions: Tablets will work for a longer period of time which makes them a way better choice for long working sessions. For example, tablets can be a much better tool for editing videos or pictures since they are combining both functionalities and great visuals.
Better video calls: Tablets are a better choice when it comes to video conferencing because they are backed up with better screen graphics. When you are conferencing with your clients you will appear more professional. Propping a tablet on the table will look much better than holding a smartphone in front of your face while talking with your clients.
Reading and writing documents: Tablets are a superior choice when it comes to document viewing, writing, and reading. You can easily read documents on the larger screen.
So the verdict is, if you are running reports, editing images, preparing various contracts, or writing a lot of notes during meetings, you can benefit from a tablet.
​Key Smartphone Uses For Enterprises
Smartphones can be used in many different ways, in different locations, and in many different scenarios. They are more mobile compared to tablets, but they have a much smaller screen size. Yet here are the reasons why they can be a great asset for your enterprise.
Smartphones are more practical and handy: They are low-weight with durable batteries and they can fit your pocket. They can use voice commands and you can easily operate them using just one hand. This is a perfect device for on the go.
Smartphones are great for communication: If your job description demands talking on your phone a lot, sending and getting a lot of texts or instant messages, a smartphone is a better choice for you. Since it can be by your side at all times, it can improve your communication channels tremendously.
Smartphones can be used easily on job sites: Most smartphones are backed up with high-quality cameras. If you often need to take pictures of your worksite, you can do that with just a few short clicks. Smartphones can capture better quality pictures compared to tablets and they are much easier to carry around. Tablets have better graphics but they were not built with great cameras in mind.
So, if your job description requires you to travel a lot and visit various job sites, capture data or get a lot of calls or instant messages, perhaps a smartphone is the solution you need.
​Disadvantages Of Mobile Devices To Keep In Mind
Unfortunately, mobile devices also have downsides. Here are a few things to keep in mind:
Your employees can open a link in a phishing email and download malware to the device.
Hackers can intercept cell phone communication, which does not jeopardize just the device but the entire network.
IT teams that are launching mobile device apps without thorough testing can compromise the entire work environment. So the security of tablets and smartphones should be your number one priority.
Secure company-owned devices with AirDroid Business MDM ➡ Try for FREE
IT teams need to be sure that the devices are compatible with enterprise software. In addition, they need to ensure that the backend can handle additional workflow coming from the mobile devices.
System integration represents the toughest challenge for IT teams when they are mobilizing their workforce. Unfortunately, some systems are too old, and they do not support today's standards.
Problems with regulations and compliance can arise. Businesses need to ensure that utilizing mobile devices won't violate regulations (for example, HIPPA).
IT teams need to understand all service plans and take every single detail into account. For example, if they are going to limit the number of calls and messages, they need to monitor the data consumption and they need to be able to shut down the device remotely if it is stolen or misplaced.
​The Final Decision On Smartphones vs. Tablets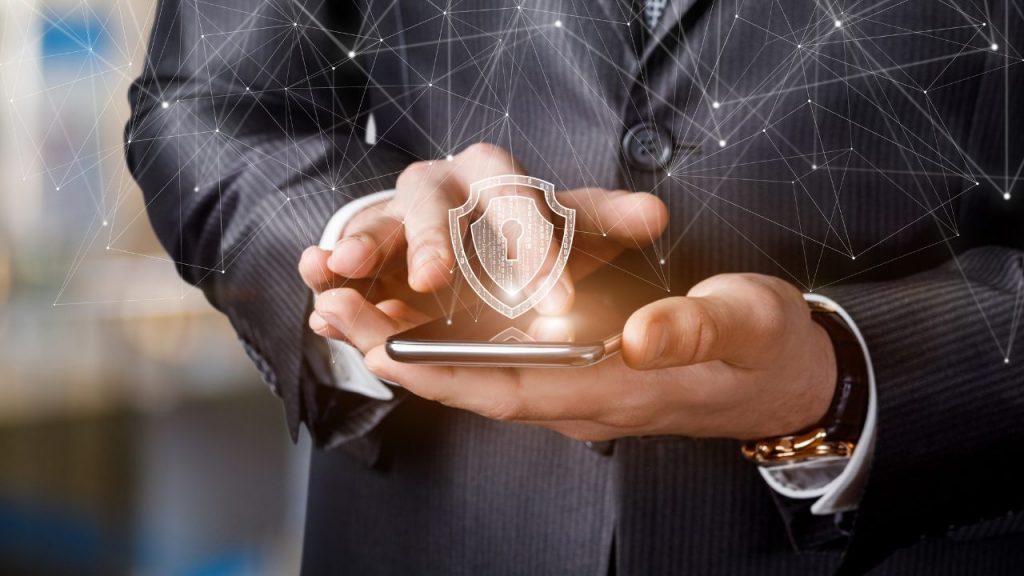 The final verdict is that different consumer mobile devices can find their place and help enterprises grow, but it depends on a few factors.
The most important factors you need to consider before integrating mobile devices are compatibility with enterprise systems, compliance with state regulations, and improved user experience. They both have the potential to improve communication, streamline the processes and help you keep the important and sensitive information secure.
Our verdict is that both platforms have enterprise potential. Every solution is unique in its own way, and each comes with an amazing set of options that can help simplify and streamline your operations.
All in all, tablets seem more advanced than smartphones when it comes to performing more complex tasks and providing a better user experience. They are the step between a smartphone and computer, packed with features that are easy to use and navigate.
Smartphones are great for improving the mobility of your workforce — they can also streamline communication, and they're great for data sharing and reporting.
To decide which one will fit better into your day-to-day tasks, analyze your processes and define exactly what you hope to gain from implementing a mobile device into your workplace. Then choose the one that's best for your business and further boost your business mobility with an MDM software.

Author Bio:
Christopher is a digital marketing specialist and a freelance blogger. He is focused on new web tech trends and digital voice distribution across different channels. In his free time, Christopher plays drums and Magic: the Gathering.