Last Updated on August 5, 2022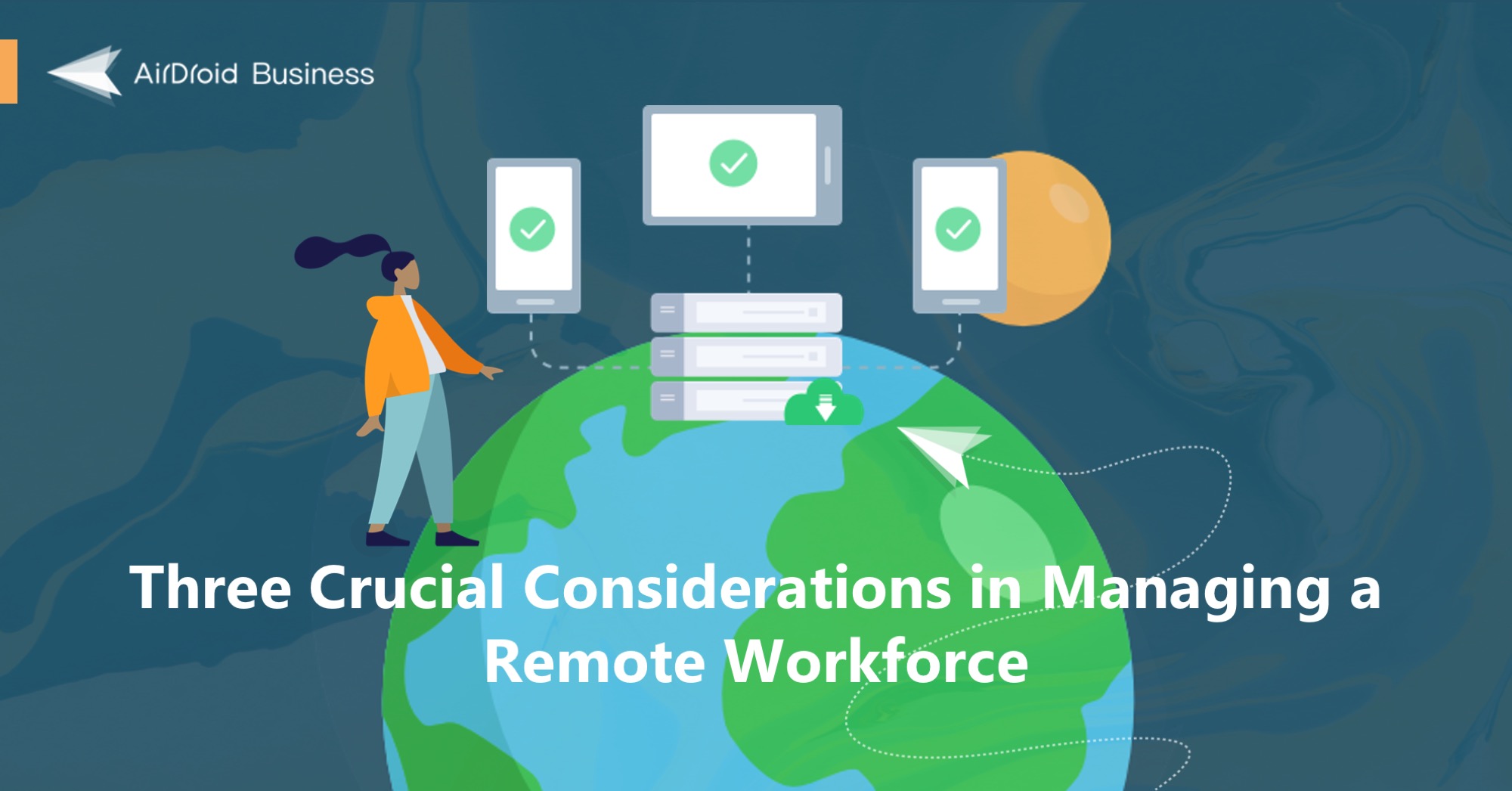 The technological innovations of the past decade have completely changed the way people work and do business. What was previously the 9-to-5 rat race, complete with long commutes and desk-lunches, have made way for flexible working arrangements, enabling workers to maximize their productivity, forge an equal life-work balance, and avoid the pitfalls of typical in-person office politics.
This is evident in the many businesses – both large and small –  who, at the request of the 80 to 90 percent of employees who have called for remote working options, have implemented the framework to do so. In fact, as it currently stands, 50 percent of the workforce work remotely[1].
However, the shift to a remote workforce presents its own challenges, requiring business leaders, managers, and IT personnel to review current processes and reeducate themselves on how to best manage a network of remote workers. As such, we have pulled together some crucial considerations for those in leadership and IT positions who are looking to make the move towards a remote working future.
Timely and Effective Communication
One of the biggest hurdles in working with a remote team is having timely, open lines of communication. It's clear to see why: in an office, a team member can get up from their desk and speak with the person they need to get information from in a timely manner, whereas when working remotely, the most prominent illustrator of distance is when a coworker, manager or employer is hard to get in contact with by either phone or email.
As such, business leaders and IT managers need to implement communication best practices while also finding the right technology to enable fast and clear communication. Best practices could include set reachable hours, where employees are required to be reachable quickly via phone call, email response guidelines, where employees must respond to, or at least acknowledge emails within a set time-frame, or open calendar sharing, where employees and managers alike share their schedules so colleagues can easily see the best times to reach their colleagues. A number of platforms exist that also empower clear, fast and easy communication, like business-dedicated instant messaging, and collaboration platforms.
Positive Relationships
It's widely understood that positive relationships are the key to employee engagement[2], but when employees are working remotely, forging those positive relationships can be tough. As such, a crucial consideration when making the shift to a remote workforce is finding ways to ensure employees can forge positive working relationships. This could include implementing weekly video conference catch-ups, encouraging team members in the same location to grab a coffee (while on the clock) to collaborate on a project, or implementing quarterly employee meet-ups, where everyone on a team is required to come to one location and interact with one another.
The Right Technology
Finally, the most crucial consideration in making the shift to a remote workforce is utilizing the right technology, and this is where mobile device management, or MDM, comes in. In a nutshell, MDM enables business leaders and IT managers to remotely manage, control, and secure the devices a remote team use to do their work.
Without MDM, IT managers are faced with lengthy and costly travel times to many different locations, or frustrating phone calls to conduct routine maintenance or diagnose and resolve issues. But, by using an MDM solution like AirDroid Business, IT Managers are able to not only view the device to diagnose an issue but also deploy – and install – new software and updates, track devices, transfer bulk files to specific devices, lock devices down to one single function and more, all from the comfort of their desk.
As such, implementing the right MDM technology is crucial to the easy management and smooth running of any remote workforce, and when devices are running smoothly, it's much easier for employees and business leaders to focus on our crucial factors, like clear communication and forging positive working relationships.
To learn more about how mobile device management can provide the framework for your remote workforce, or request a 14-day free trial of AirDroid Business, please visit: https://www.airdroid.com/business
[1] https://globalworkplaceanalytics.com/telecommuting-statistics
[2] https://www.gallup.com/workplace/229424/employee-engagement.aspx