Remote devices, smartphones and tablets have become a pillar for small businesses, and are essential vehicles for SMBs to foster communication, collaboration and productivity. But for businesses with remote workers, or offsite devices, they can present a challenge. After all, they need to be monitored, updated and maintained regularly. So, how can an SMB provide this upkeep with as little effort as possible?
The answer is mobile device management, or MDM.
At a base level, MDM allows businesses to control, secure and enforce policies on remote devices. The problem is, most MDM platforms are developed for enterprise level businesses, and are priced as such.
AirDroid Business was created to give SMBs an effective MDM solution, without the extra functions that don't provide value to SMBs, all at a realistic price point.
So how can your business utilize AirDroid Business as a mobile device management solution?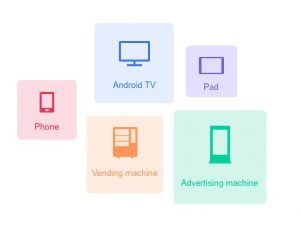 To Manage Remote Devices:
AirDroid Business enables SMBs to monitor remote devices en masse. This means administrators are able to check a device's status via remote control and work with the user to identify any hardware bugs, from memory to CPU, all through the AirDroid Business remote control function.
Imagine a remote worker contacting you with complaints about processing speed on their Android device. Rather than having to send out a technician to diagnose the issue, administrators are able to quickly diagnose potential issues and offer solutions via the AirDroid Business remote control function, without leaving the office.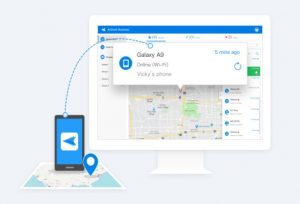 For Surveillance and Device Tracking:
Through the AirDroid Business interface, SMBs are able to monitor a device's location and online status. This is especially useful for field teams where each team member is working independently, and adds a layer of security and protection for both the field team members, in the case of any incident, and for the device owner, as any lost or stolen devices can be tracked.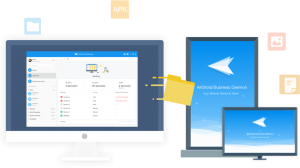 For Bulk File Transfers:
Without MDM, many SMBs have to spend countless hours sending files one-by-one, contacting each member of their network to remind them to update their software, or spend time physically visiting remote, unattended devices to install important updates. AirDroid Business enables administrators to transfer large files in bulk, to all devices, allowing the timely installation of important software updates, as well as the dissemination of important information to select – or all – users in the network.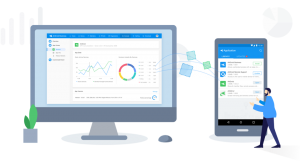 To Build a Custom App Store:
AirDroid Business enables users to build a custom app store using the latest feature of AirDroid Business: Application Management Services, or AMS. AMS enables administrators to release custom applications and provide updates and maintenance. Users can also decide the scope of their application release by appointing targeted device types and groups for the applications to be published to. Customization is taken to the next level with the AMS interface allowing administrators to create custom icons and appoint a name for their applications.
To Limit Devices for a Specific Use Case:

Whether you're trying to secure sensitive information or prevent the use of devices for anything unrelated to work, AirDroid Businesses' 'kiosk mode' allows administrators to lock devices so only work-related applications and functions can be used. Think of the time, money and hours of productivity lost to employees scrolling through social media, or the security risk of having an employee leave your business prior to returning their device. AirDroid Businesses 'kiosk mode' gives more control to administrators to maximize employee productivity and ensure devices are only being used for work. 
To Manage Unattended Devices:
Does your business have unattended devices, like digital billboards or vending machines? Many SMBs with these devices spend a lot of time, effort and money contracting engineers to visit, install updates and perform routine physical maintenance. AirDroid Business enables SMBs to install updates remotely, and with their surveillance function, allows SMBs to remotely inspect unattended devices for physical damage prior to sending out a technician.
For more information about how AirDroid Business can save you time and money, or to learn about the other benefits of our MDM solution, contact us at biz@airdroid.com, or visit our website at www.airdroid.com/business.