Last Updated on August 5, 2022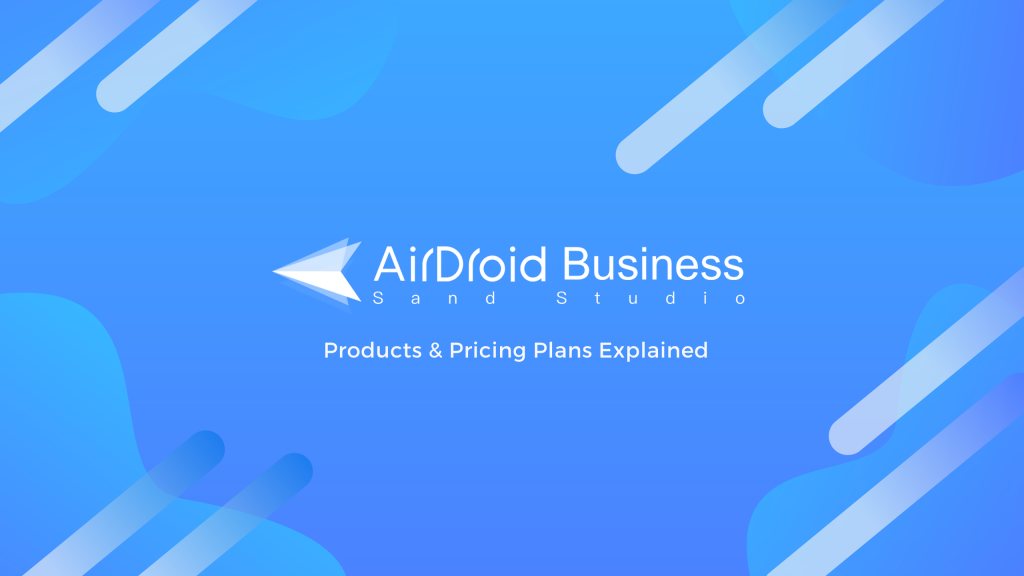 To begin, here are a few key things to help you understand how AirDroid Business works:
The core product – AirDroid Business
We also offer three add-ons – Kiosk Mode, App Management and Geofencing
You can buy add-ons, increase device quantity limit at any time
All products are built on the AirDroid Business platform, which lets you monitor, manage, access, secure and track Android devices
What is each product for?
---
Core Product
AirDroid Business – a remote device management platform that lets you easily monitor and manage the status of your Android devices, and remotely take over any device that needs troubleshooting or maintenance. It's made for both manned and unmanned devices.
Add-on Products
Kiosk Mode – lockdown devices to allow access to certain apps, websites or system settings. Kiosk Mode can reduce support workload and greatly improves user experience.
App Management – remotely and automatically install new apps and updates across devices with a suite of rollout customizations. App Management makes regular and critical updates much more efficient and less risky.
Geofencing – track device location and route path, create virtual geofences to get notifications when devices enter or exit the zone. Geofencing offers an easy way to track moving devices and gain insights to improve route efficiency.
What are the Price Plans for AirDroid Business?
---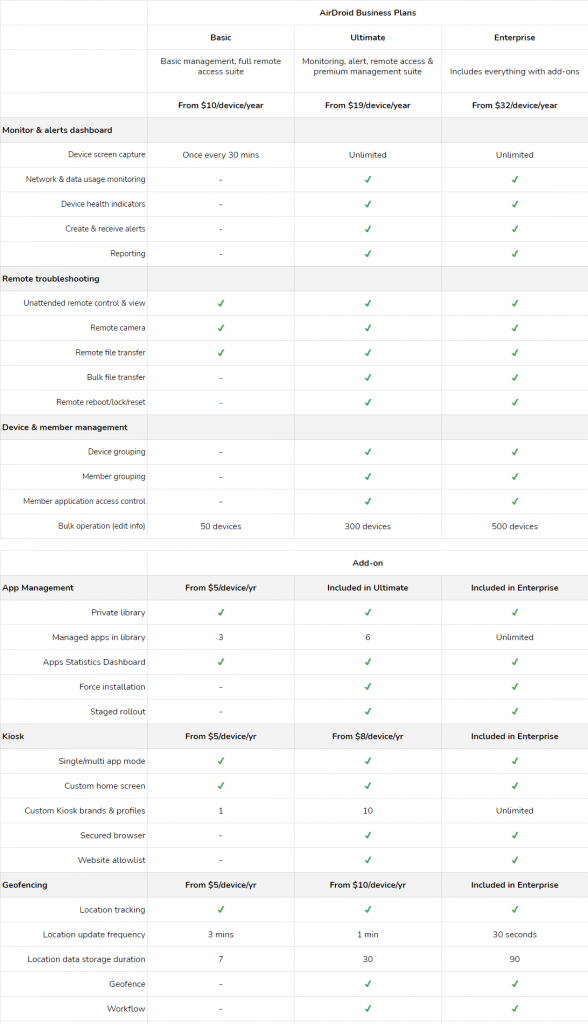 *You can see the full feature & pricing comparison here.
Basic Plan – Remote access suite for small teams & offices
The Basic plan offers a powerful remote access suite for teams with over 10 attended & unattended Android devices. You can also create multiple user accounts instead of everyone using the same account. It's a great starting point if your main goal is to be able to access or take control of your devices at any time without being on-site. The Basic plan is also scalable from 10 to 200+ devices.
Ultimate Plan – Device management & remote access for small & medium-sized organizations
The Ultimate plan is a full-fledge remote device management solution that gives you robust monitoring & management capabilities, and the ability to access or take control of any device at any time. You also get advanced access right control for your team for different assignments and tasks. When managing a large fleet of unattended devices, teams can quickly know which devices aren't working just by looking at the latest screen captures. The Ultimate plan is designed to make device monitoring, management & maintenance easier than ever for organizations.
Enterprise Plan – Full features & add-ons for medium & large organizations
The Enterprise plan is the complete package with more room for managing a large fleet of devices, plus all the available add-on to lock down and track devices. The Enterprise plan is designed for medium and large-sized organizations that want to simplify the everyday process of managing hundreds or even thousands of devices out in the field. It consolidates monitoring, managing, controlling, securing, and tracking devices into one easy-to-use yet robust interface.
How does the AirDroid Business Price Plan work?
---
Choosing the base plan
Step 1. Choose the base plan according to your needs
Step 2. Select add-on to add to your base plan
Step 3. Select the number of devices you need
Step 4. Go to check-out
How does add-on work?
The features and pricing for each add-on vary depending on your base plan.
You can add additional add-ons to Basic and Ultimate plan at any time (Enterprise includes every add-on)
We have a full feature list and pricing comparison on our website.
Try AirDroid Business for free today
Our 14-day free trial comes with the Enterprise version, with no credit card or setup fees required. Get started today and see how AirDroid Business can make managing Android devices much easier in every aspect.