The Internet of Things has been raising lots of discussions and debates (of course for the benefits it offers). According to IoT Analytics in 2020, the number of connected IoT devices crossed 12 billion, which was 2 billion more than the estimated devices.
Recent trends indicate that this technological transformation will not just be restricted to random "things" but will be ubiquitous, or what few are calling the Internet of Everything
As the majority of the professionals started to demand the use of their devices, mobile device management (MDM) software has come into existence to provide an online framework for formalizing internal policies and best practices to address the factuality of BYOD. Thus, a number of top MDM solution providers such as AirDroid Business offers variant features for efficient, secure, and scalable IoT device management.
What is the Internet Of Things?
Internet of Things is a network that includes numerous systems and devices including sensors, machines, gateways, and computers that put together and transfer the data over a wireless network without the interference of humans. The number of systems may run in billions. IoT connects people with things and things to things in real-time.
IoT devices can be remotely controlled and monitored. They can also be used to communicate and interact with others over the internet. From smartwatches, smart appliances, and smart homes to self-driven vehicles, IoT can be seen everywhere around, in our lives.
IoT device management platform is where all embedded devices are connected to the internet, with the motive that they can collect and exchange data with each other. It provides the advantage to devices such as interacting, collaborating, and learning from each other's experiences similar to what humans do.

IoT technology promises to bring immense value into human lives. With the latest and newer wireless networks, superior sensors, and revolutionary computing capabilities, the Internet of Things can be the next frontier in the race for its share of the wallet. IoT applications are expected to equip millions of daily use objects with connectivity and intelligence.
As the IoT-connected devices are set to run into billions of numbers;, the need to remotely control and manage these devices will become critical in the coming future. IoT Device Management tools help organizations organize, monitor, and remotely manage devices at scale in a swifter way.
For more than two decades, there have been several studies and experiments done on managing IoT, its life cycle and serving several businesses across various industry verticals. It has manifested and proven that the technical process and infrastructure potential, across the IoT value chain, helps clients to extend their Cloud applications to seamlessly integrate and manage Things.
Airdroid Business provides a remote device management platform that enables its customers to improvise the application value further by cutting down operational costs and optimally increasing the device uptime. IT managers can easily access and control IoT devices remotely from a centralized MDM dashboard.
What is IoT Device Management?
IoT device management is a series of processes that include equipping, validating, configuring, monitoring, and analyzing the connected devices in an IoT environment with the aim to provide and support the whole spectrum of their functional capabilities. That is why a secure and effective mobile device management solution is highly recommended to keep multiple smart assets connected, up-to-date and secure.
Challenges of Managing IoT Devices
In the generation of the Internet of Things, systems of endpoints and computers have the capability to sense for themselves and use analytics and business intelligence to revert faster and better than a human. Reactions and adjustments will take place without any human involvement, and often without any human acknowledgment.
Today businesses are relying more on Internet of Things devices to make good decisions, out-think the competition, reduce costs and improve the efficiency across the organization. While IoT networks are quickly becoming a part of business operations, there are still noteworthy and crucial challenges to managing an IoT network. Whether it's connectivity data obstacles, scalability, or security, it is certain that a lot of businesses today are struggling to manage all of them.

Challenge # 1. Security
The most prominent challenge related to IoT device management is cybersecurity as it pertains to information technology. It's not just the data connection that is vulnerable and weak, but everything that's connected to the actual hardware.
Imagine a smart IoT sensor-equipped manufacturing unit. In such equipped units a property manager or maintenance associate can use a mobile device to check the device status, read incoming data, or send in commands. But what if an outsider attacker were to seize and lay one's hand on the control of the machine using known sensitive or weak security measures to gain access?
The possibility is that this techie could shut down all the connected devices and machines, which in turn cause overheating or overloading of the system. He would also have access to the sensitive data of the organization.
Solution: While this challenge can't be fully denied, the application of appropriate security measures can take a long way. That means bringing in data encryption, device monitoring, authorized access controls, even using advanced AI monitoring tools to regularly audit security into the system operation.
Challenge #2. Network Reliability
In the situation of a power outage, the local internet service provider often encounters downtime and the entire system goes offline. Similarly, natural calamities or emergencies too can affect data centers, which is why most IoT solutions require them to operate competently. In such situations, entire devices or systems may go down completely.
Solution: If low-power and remote device management support are prioritized for the Internet of Things market, it will definitely help the organizations to cope up with these situations better. AirDroid Business offers comprehensive remote device management with the help of its MDM tools and services. The platform allows organizations to monitor the status of their device, access, track and maintain the systems. The users can also easily install the updates and enable broadcasting within the network and lock devices into a kiosk and more.
Challenge # 3. Privacy
The majority of the online connections are secured using a form of encryption. What this indicates is that the data is locked safe behind a software key and cannot be decrypted or translated without the proper authorization.
Even after being aware of this fact, there are several companies that still actively choose to avoid using encryption. It's especially dangerous when they store sensitive digital content such as user accounts, passwords, and personal details in something that's in a "plaintext" file.
IoT platforms can gather, transmit and utilize data, which is not encrypted, making it completely weak and easily accessible. This could have higher risk for businesses that continually deal in sensitive data. They have minimal privacy for all involved parties, clients, and employees.
Solution: In such a scenario, the best way of securing data and protecting the privacy of all involved parties is by erasing it from existence. But this isn't practically possible. Thus the next best thing organizations can do is, implement strong data encryption and have minimum access points and gateways from where the data is being accessed.
Challenge # 4. Power, Storage, and Resources Utilization
Undoubtedly, electronics devices and systems need power to operate, and IoT networks aren't any different. Additionally, data requires physical storage space. Despite a huge amount of cloud and edge computing solutions, remote servers are still required to store the digital content. These remote servers need an enormous amount of energy. At the same time, data centers require large-scale cooling systems to perform under extreme loads.
Solution: As technology is becoming more advanced, it has become more structured about resource allocation and utilization. It is important to employ smart resource management and sustainability protocols to meet the needs of IoT systems to function optimally. One of the best ways could be to install a renewable energy source such as a solar power system at a location to overcome this challenge.
How to Manage IoT Devices?

There are 5 key conducts that companies should keep in mind when it comes to managing IoT devices.
1. Accept device multiplicity as an opportunity, not as a challenge. These additional devices and endpoints can potentially transform a business.
2. Economies of scale should be employed. Whether you need to manage ten or ten thousand devices; it should be seamless and trouble-free. This is possible when you manage the IoT network with MDM tools.
3. Remote Monitoring and real-time alerts play an extremely important part of IoT device management. This will help in reducing the impact of system downtime and operational costs.
4. The IoT landscape is complex with a large number of devices, clouds, Sensors, connections, information, and much more. In such a situation, catering to ever-increasing needs and add-ons to the network becomes a challenge.
5. Future-proof the investment. The IoT is at a pace! Every few days, new standards and protocols are introduced. It's better to ramp up with the emerging changes so that you are not left behind in a competitive world.
The Significance of IoT Security
The absence of security consideration at the initial design process points towards the company's responsibility to focus on security enhancement and the need to protect their devices, networks, and data consistently. In this situation, Remote monitoring and Management (RMM) could be helpful. With RMM, businesses can remotely access IoT devices. If the users want to access and manage their devices via web or mobile app, they will be able to log in to installed devices from anywhere.
RMM is provided by a managed service provider (MSP), who manages the services, like networks, infrastructure, and security IoT through their consistent support, without visiting the client's site.
The primary benefits of Remote monitoring and Management are:
• Easy Access to network and systems
• Elevated Speed
• Regular updates of new systems and applications
• Better Time and resource management
• 24/7 monitoring to enhance the security
• Track every important information about each of the device
• Track the connected mobile devices and geographic location of the device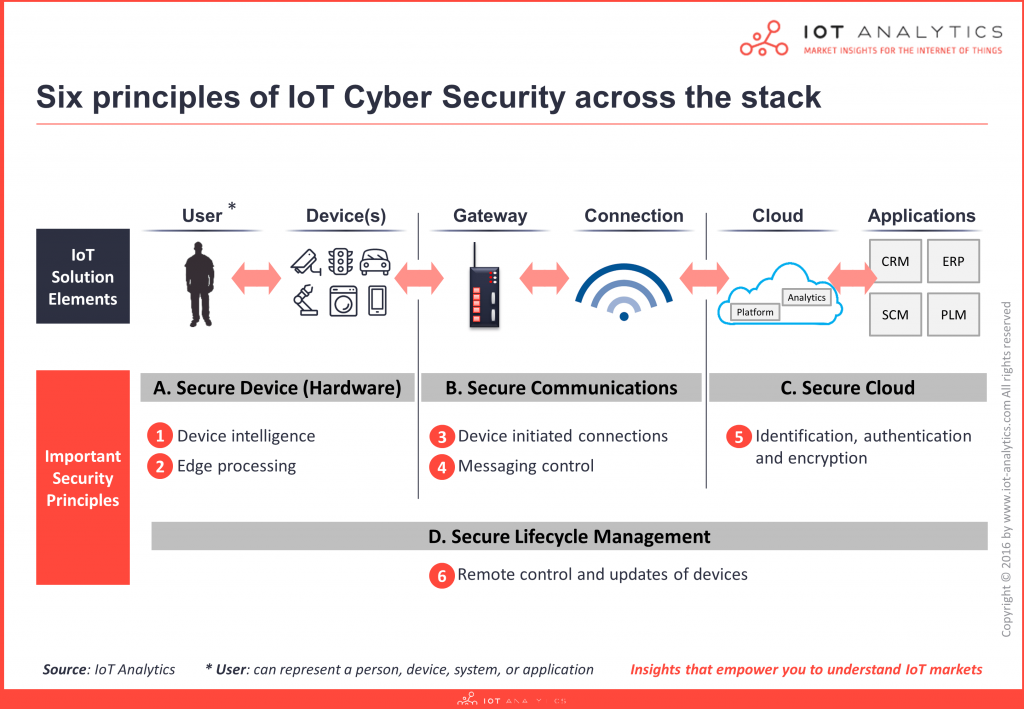 IoT has become a significant part of how people live, communicate and do business. During times of increasing demand for IoT device management solutions, the Internet of Things is undoubtedly at a rising pace. A secure and reliable IoT device management platform is urgently in need for businesses to enhance enterprise security and boost productivity simultaneously.
AirDroid Business is an all-in-one MDM software that is designed for Android devices. It offers elementary remote device management (RDM), remote monitoring management (RMM), remote access, and control, which are all highly desirable features in terms of managing IoT devices. The software comes with additional security features such as Kiosk Mode and Mobile Application Management. Businesses can further lock their devices for a specific app and webpage visits as well as automatically update apps across a fleet of devices. This whole process of cloud computing, isn't possible without MDM. For more information, start your 14-day FREE trial or talk to our sales today!