Last Updated on September 7, 2022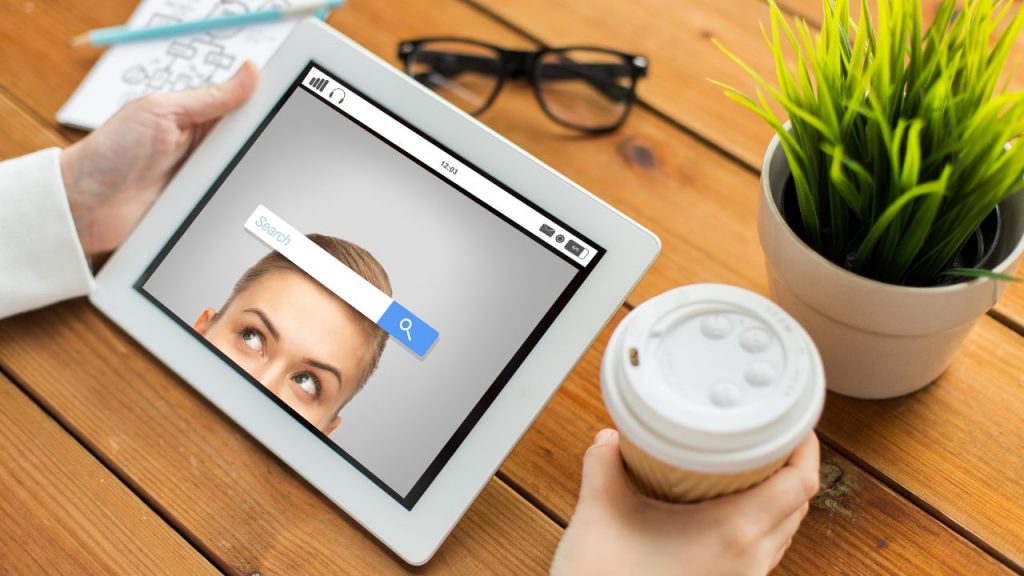 Companies are witnessing prolific use of mobile devices at work nowadays. More than half of the employees use personal devices for work. Yet, businesses are also distributing and deploying company-owned devices to further streamline operations. 87% of businesses are dependent on their employee's ability to access mobile business apps from their devices. To further strengthen corporate data security, device lockdown and browser lockdown are two most prevalently used methods in mobile device management for enhancing productivity.   
Although device lockdown and browser lockdown have similar features, they serve different purposes and benefits. In this article, we'll learn the difference between these two lockdown solutions, the benefits of both, and industry best practices.  
What is Device Lockdown?
Device lockdown is a Kiosk Mode mechanism that restricts user access to specific apps and configuration settings on mobile devices or tablets. 
Features of Device Lockdown 
• Multi/Single App Mode: IT admins can restrict user access to approved apps only and prevent employees from using relevant applications at work to increase productivity. Furthermore, businesses can apply single app mode on Android devices and turn them into purposeful, interactive kiosks to improve customer experience. 
• Block WiFi, Cellular Connection: With Kiosk Mode device lockdown solution, IT admins can block their managed devices from connecting to unsafe hotspots or public WiFis that may lead to potential data security risks. You can also limit user access to cellular networks to prevent unexpected data surge from other non-related device activities at work.  
• Paint Unified Brand Messages: Device lockdown allows businesses to customize their lock screen images and wallpaper design so the end users like customers and employees can receive unified brand impressions whenever they are using the device. This helps companies build customer loyalty and employee satisfaction at the same time. 
Benefits of Device Lockdown Solution 
• Improved device security
Device security is a priority when it comes to mobile device management for all businesses. Locking down devices allow IT admins to carry out strict authorization and access policies towards apps and settings for employees and end users.
Device lockdown mechanism alleviates your IT teams from frequent device tampering issues and troubleshooting sessions. This will greatly reduce your maintenance and personnel expenses. In the meanwhile, you can allocate more financial resources to improving product qualities or other strategic activities.
• Enhanced customer experience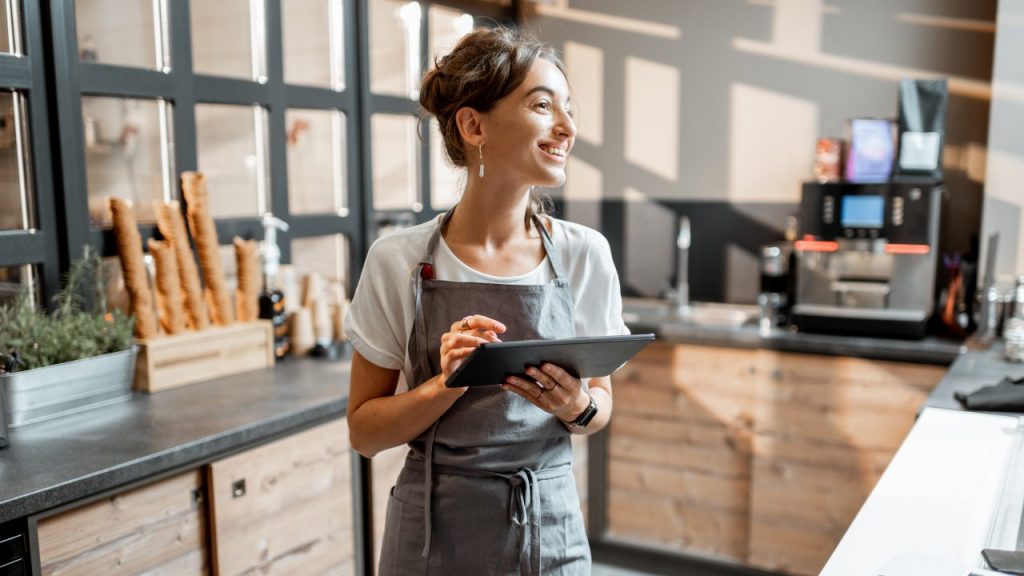 When you lock your devices into interactive or single purpose kiosks, you keep your customers engaged with intended business activities. You can provide more immersive and holistic customer experiences, which further grows your customer satisfaction at the same time.
• Higher work productivity
Device lockdown solutions help keep your employees stay focused with their tasks without having access to social media or gaming apps at work. This helps enhance productivity and drive efficiency towards goal accomplishments. You can also prevent excessive costs of app data usage that are not related to work.
• Minimized device downtime
When you lock managed devices to limit user access and usability, you avoid risks of device malfunctioning and cyberthreats. This will minimize your device downtime and increase data security. By improving the device uptime, you can offer better user experience and maintain business continuity altogether.    
• Maximized hardware service life
Device lockdown prevents your devices from unexpected or malicious meddling. That means you no longer need to spend money on regularly replacing broken devices. With maximized shelf-time for your hardware, you not only save more on operational costs but boost productivity in the long term.  
How to enable Android Device Lockdown?
Step 1. Sign up and Log in to the AirDroid Business Admin Console. 
Step 2. Click on "Kiosk" and then "Config File"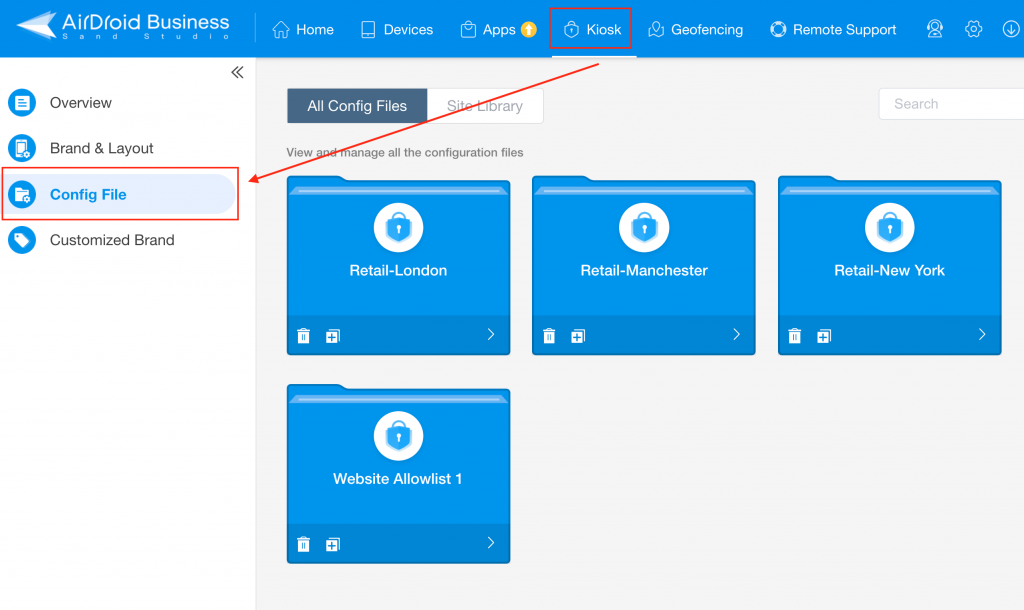 Step 3. Create a new Config File and name it
Step 4. Go to "App Allowlist" and add the apps you want your users to access, then click "OK"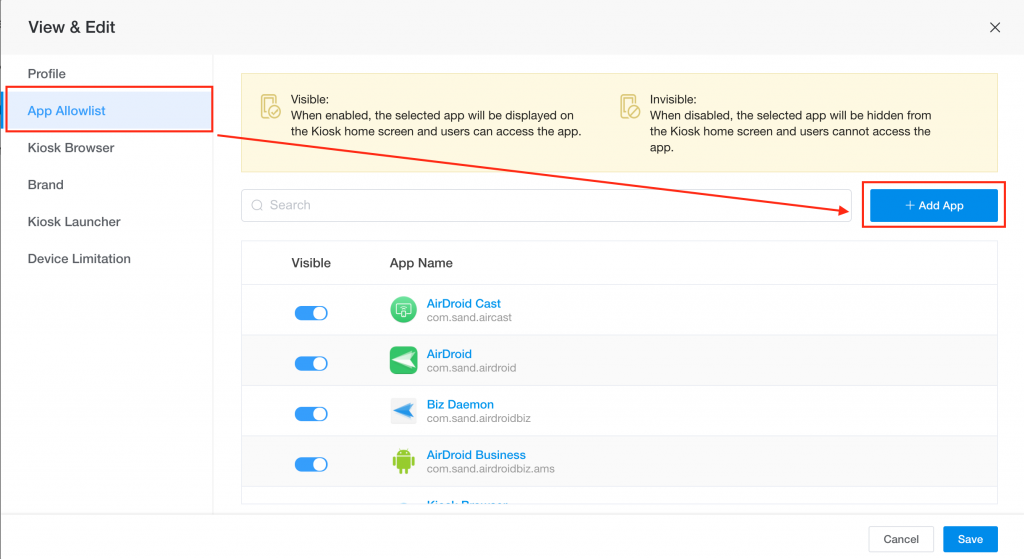 Step 5. Go to "Kiosk Launcher" and click "Single App Mode"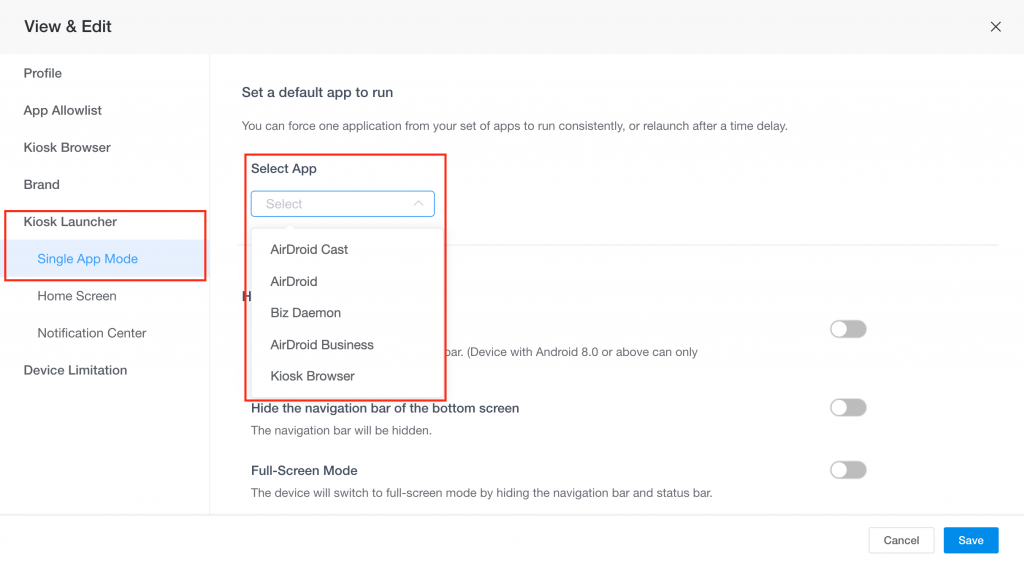 Step 6. Select the one app you need. Enforce Home Screen and Notification policies if necessary then click "Next"
Step 7. Configure your WiFI and cellular network connection then click "OK"
Step 8. Click "Add" and select the devices or device group you want to apply to this Android device lockdown profile. And you're good to go!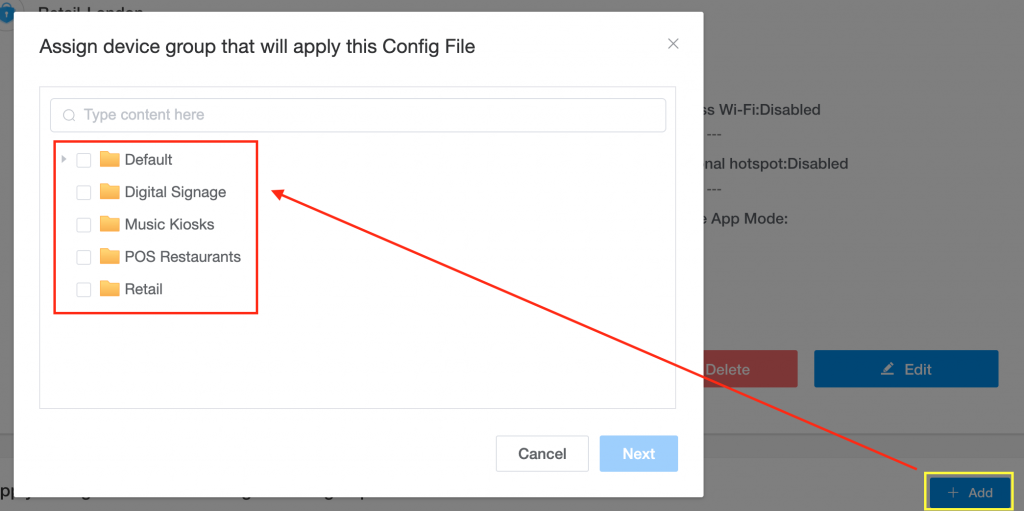 Use Cases of Device Lockdown
Retailers use device lockdown to turn Android into self-service kiosks that support food ordering, check out, navigation, and more. This helps businesses provide a more engaged user experience while safeguarding company data from being accessed by outsiders.
Healthcare institutions use Android tablets, mobile phones and other IoT devices for patient monitoring, data entry, and administrative tasks. With device lockdown solutions, hospitals can ensure that personnel from different departments have limited access to sensitive data and different devices, further protecting their patients' privacy.  
Schools are distributing devices and tablets to students for classroom learning. IT admins can lock devices into single/multi app mode and block cellular data connection to keep students focused in class. Device lockdown in Kiosk Mode can also help prevent data breach or malicious attack from outside the school's network.
• Transportation & Logistics
Many transportation and logistics companies issue field devices to their drivers to better track their delivery process. Since some of the delivery routes may be in remote areas with limited network connectivity, companies can lockdown their devices into dedicated-purpose to save data costs. Additionally, locking down devices helps keep drivers focused while they are driving.  

What is Browser Lockdown?
A Browser lockdown ensures users have access to approved websites and that all browsing behavior comply with data security policy. 
Features of Browser Lockdown
Website whitelist lets IT admin filter out irrelevant URLs and only let users access business-related web pages for intended purposes. This keeps users from visiting other entertainment sites that may lead to serious cyber security risks.
• Browsing security setting
Apart from creating lists for approved websites, IT admins can also set usage policy to protect company and personal data from being stolen. For example, companies can activate the "Auto Clear Cache" function to periodically clear all browsing history to avoid malicious data theft.
• Block access to other functions
IT admins can also use browser lockdown to block users from configuring other browser settings such as opening a new tab, change to incognito mode, or switch between desktop and mobile site. These restrictions are to help businesses ensure device security and fend off illicit downloads or browsing behavior when the kiosks are used in public. 

Benefits of Browser Lockdown Solution
• Secured browsing environment 
By locking down the browser on your company-owned devices, you can create a safe browsing environment for both employees and customers. This is particularly important if your device end users need to constantly access websites to complete their work tasks.  
• Engaged browsing experience
Engaged browsing experience is another benefit of browser lockdown. IT admins can filter unauthorized website URLs to offer streamlined browsing experience for their end users. In addition, they can configure different browser settings based on groups of devices. Therefore, they can provide more customized device usability to help their employees complete a task more efficiently or create a more satisfying in-store experience for customers. 
How to enable Android Browser Lockdown?
Step 1. Sign up and Log in to the AirDroid Business Admin Console. 
Step 2. Click on "Kiosk" and then "Config File"
Step 3. Create a new Config File and name it
Step 4. Go to "Kiosk Browser" and "Website Allowlist" 
Step 5. Click "Add Sites" and then add your approved websites
Step 6. Go to "Browser Settings", configure your desired browser functions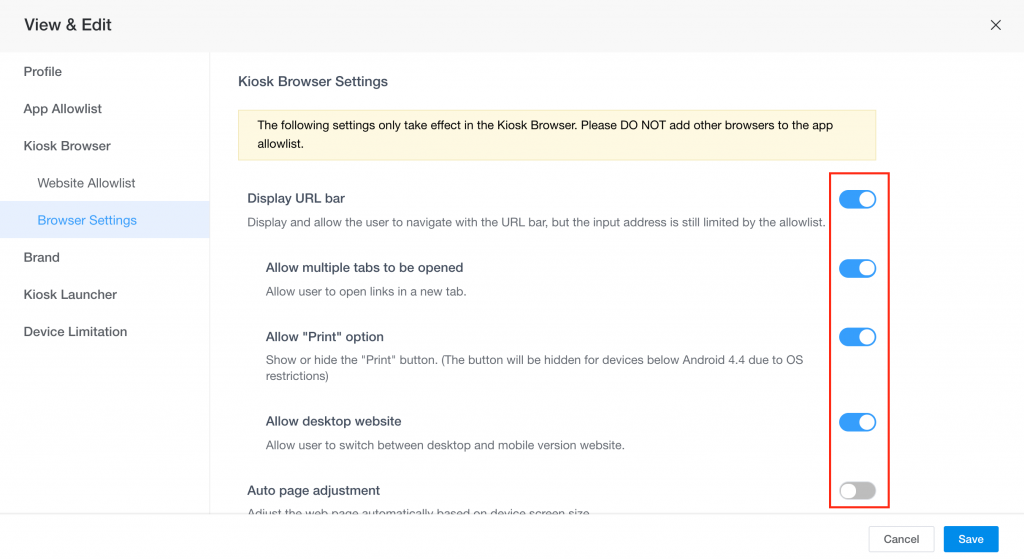 Step 7. Click "Next" to configure other device settings such as full screen mode, hide notification bar, etc and click "Save" when you complete the settings. 
Step 8. Click "Add" and select the devices or device group you want to apply to this Android device lockdown profile. And you're good to go!
Use Cases of Browser Lockdown
Manufacturing industry uses browser lockdown on their rugged devices to maximize efficiency and drive down overhead costs. Employees can use the device to remotely control industrial machines. It can also enable passcode policy to rule out any unapproved access for security purposes.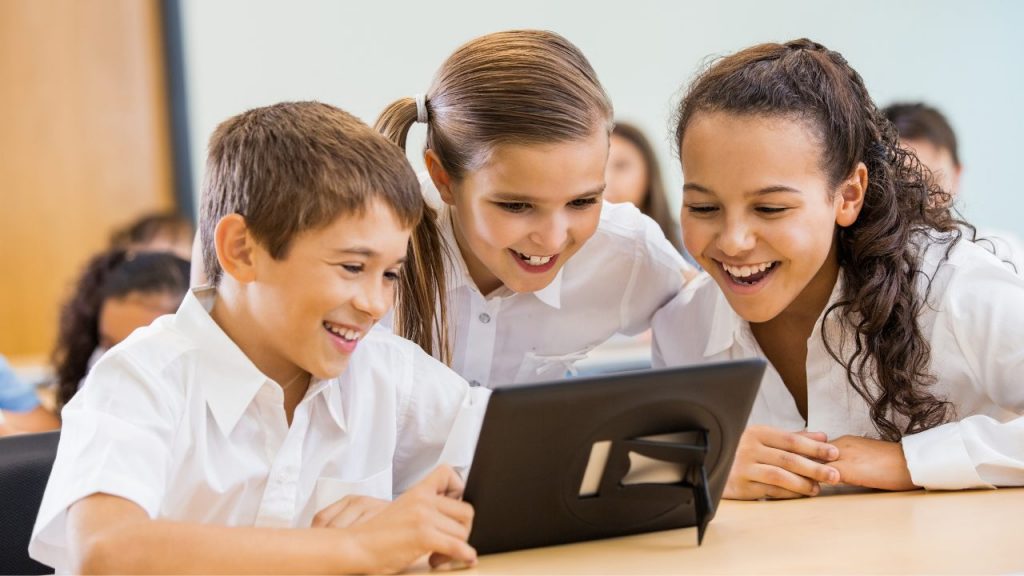 Educational organizations apply browser lockdown on students' devices to ensure they can visit school-related websites only. This way, students are less likely to visit inappropriate sites or trigger data breach issues when they navigate through webs.  
Many retail stores are implementing Android tablets or interactive kiosks on site to create a more pleasant shopping experience for their customers. Customers can use these tablets to look for more product-related information. Some stores even offer the option for shoppers to enter their member data on site and collect points when they complete a check out. Under these circumstances, stores need to enable browser lockdown and other functions such as auto clear cache history to make sure customers' data are safely guarded. 
Choosing Kiosk Lockdown Types
There are several differences and purposes for applying device and browser lockdown on Android. The primary of applying Kiosk Mode is to keep your managed devices safe and streamline productivity for your business. Therefore, you should first evaluate how each mechanism can benefit your operations. Then you can decide if you want to apply either one of the kiosk functionality or both.
AirDroid Business MDM software offers an intuitive dashboard that lets you create separate Kiosk profiles for varied device groups within a few mouse clicks. Start your 14 Day Free Trial or talk to our sales for more information today!