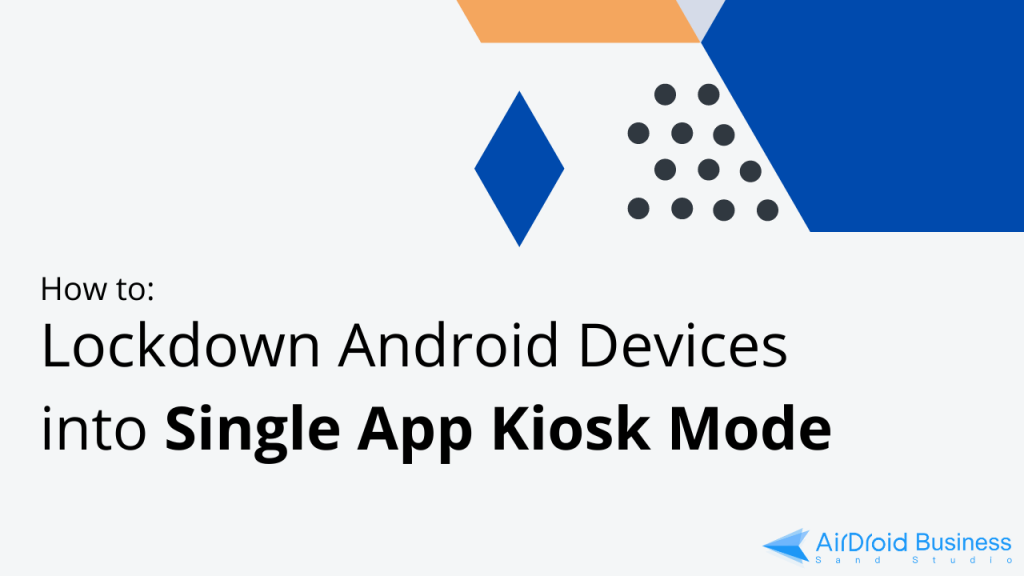 What is Kiosk Mode?
Kiosk Mode is a mechanism that locks your Android mobile devices or tablets into single-app or multi-app mode, enabling your users to access only business-related services such as apps and websites without tampering other system settings.
How to lock Android tablets into single app Kiosk Mode?
Follow this android kiosk mode tutorial and you can easily lock Android devices or tablets into one app in five steps using AirDroid Business.
Step 1. Log into AirDroid Business Admin Console

Step 2. Navigate to "Config File" and name your Kiosk profile

Step 3. Navigate to App Allowlist and select the apps you want on your device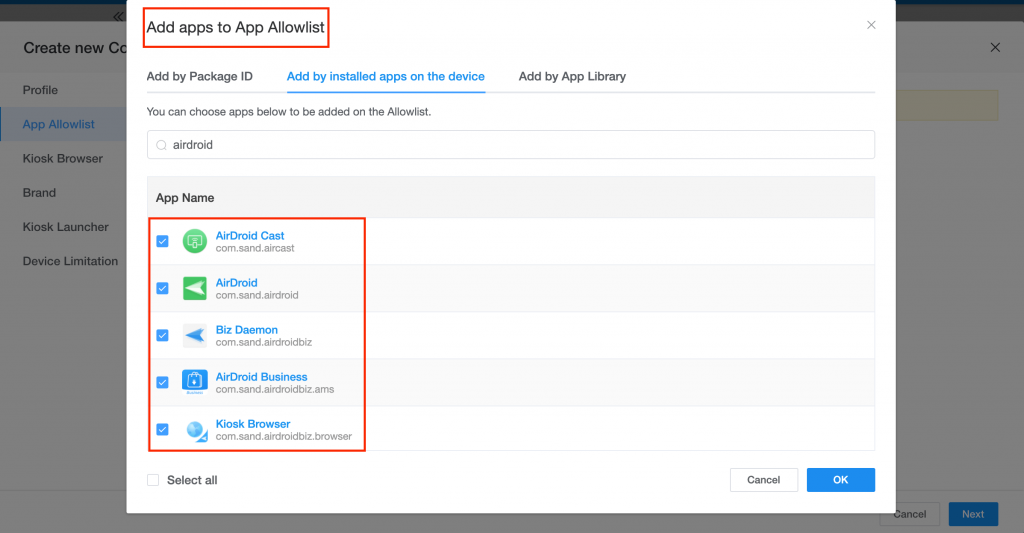 Step 4. Navigate to Kiosk Launcher and select the app you want for single-app mode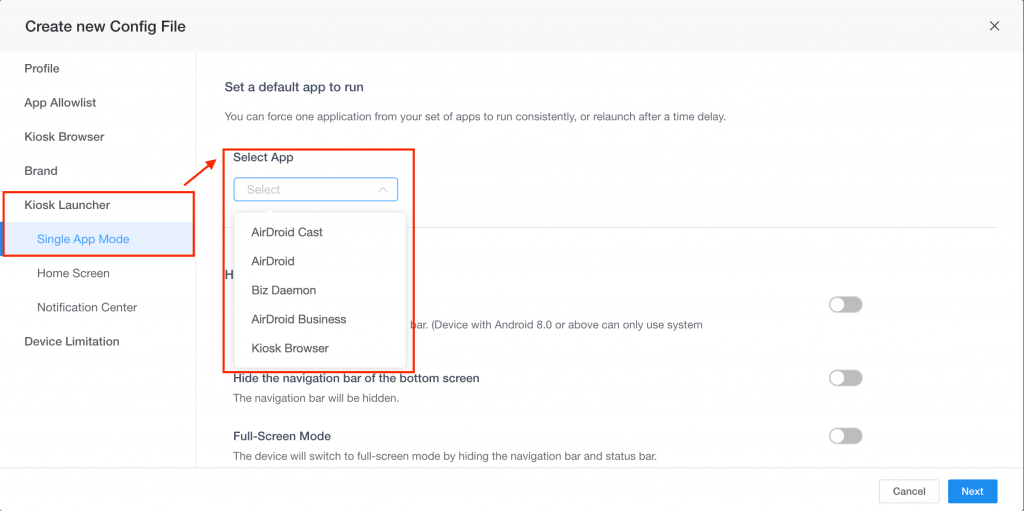 Step 5. Apply the profile to your selected devices or device groups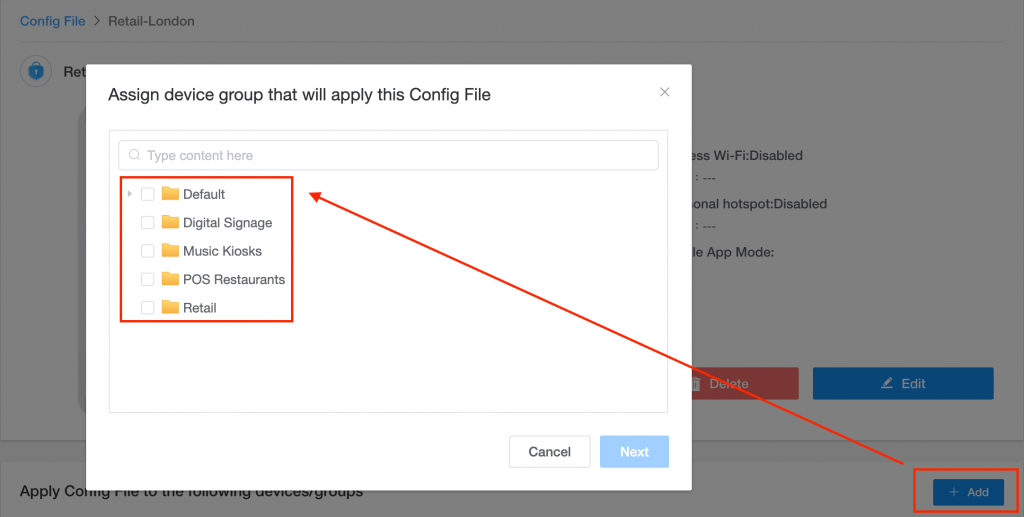 Apart from turning Android into single purpose device, you can also lock Android tablet to one or certain website using "Website Whitelist" feature.
Video Tutorial: How to lockdown Android Device Into Kiosk?
How to exit Android single app mode?
If you'd like to remotely exit the single app Mode from your Android devices, follow these 2 steps:
Step 1. Select the file you set up for single app mode


Step 2. Select the devices you want to exit from single app mode and click remove.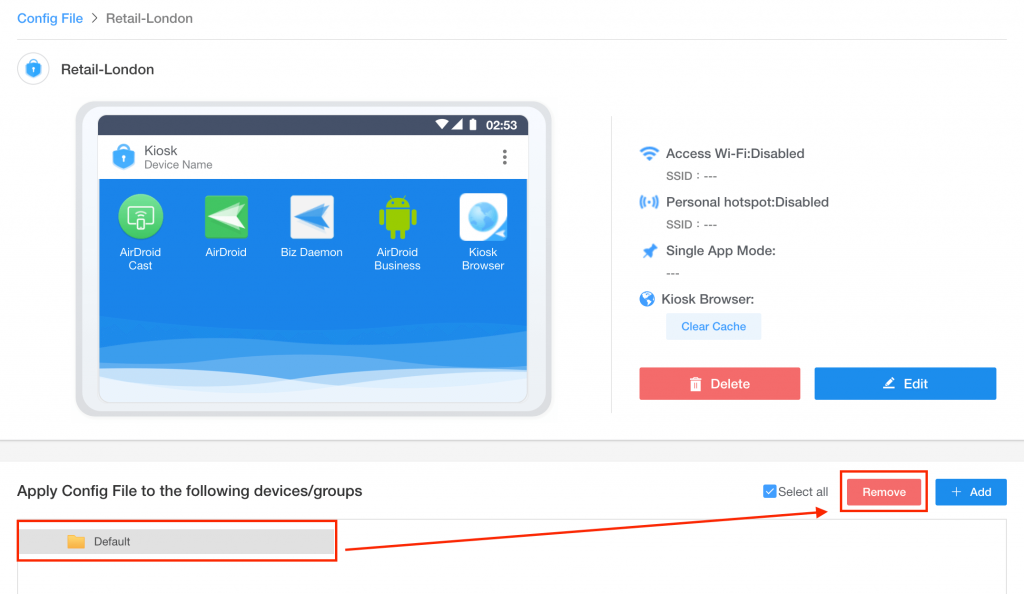 Download Free Android Kiosk Guide and set up your first kiosk today!
Android Tablet Kiosk Mode Examples
Depending on the purposes that Android tablet kiosks serve, they can be categorized into 5 types:
Self-service Kiosks
Self-service kiosks provide a faster and simpler way for customers to complete an intended task by themselves. More and more industries are now adopting self-service kiosks to provide a better user experience while enhancing work productivity at the same time.
Healthcare: Many hospitals or healthcare organizations place self-service kiosk machines at the reception for patients to check-in for appointments or pay for prescriptions.
Retail/Restaurants: Many restaurants are now going digital by distributing tablets to customers for ordering food. By applying Android tablet kiosk mode, restaurants lock their Android to one app, limit their tablet use for food ordering and payment only to reduce device malfunction. For example, McDonalds and other fast food restaurants are already using self-service kiosks to minimize customers' waiting time. Businesses are now implementing kiosks for restaurants to lower operational costs while improving customer experience simultaneously.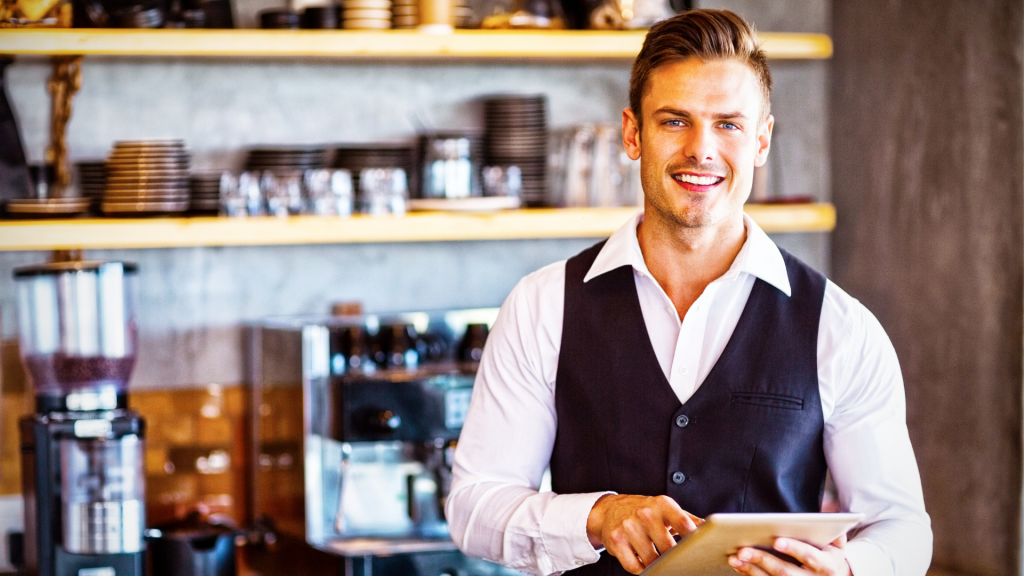 Banking: Financial entities are placing self-service kiosks for customers to complete easy tasks such as money withdrawal. Some are also turning tablets into multi-app Kiosk Mode for new customer onboarding, demo, or data collection.
Related article: How Self-Service Kiosk Technology is Revolutionizing Restaurants
Information Kiosks
The main purpose of information kiosks is to provide users another means to retrieve the information they need without consulting a staff member. This can greatly reduce frustrating communication between an organization and their customers. It also helps boost customer engagement.
Education: Schools or universities use information kiosks to display latest information or events. Additionally, classrooms may turn Android tablets into interactive kiosks with touch screen to keep students more focused and engaged. Schools can also lockdown kiosk browsers to prevent students from accessing illegal websites.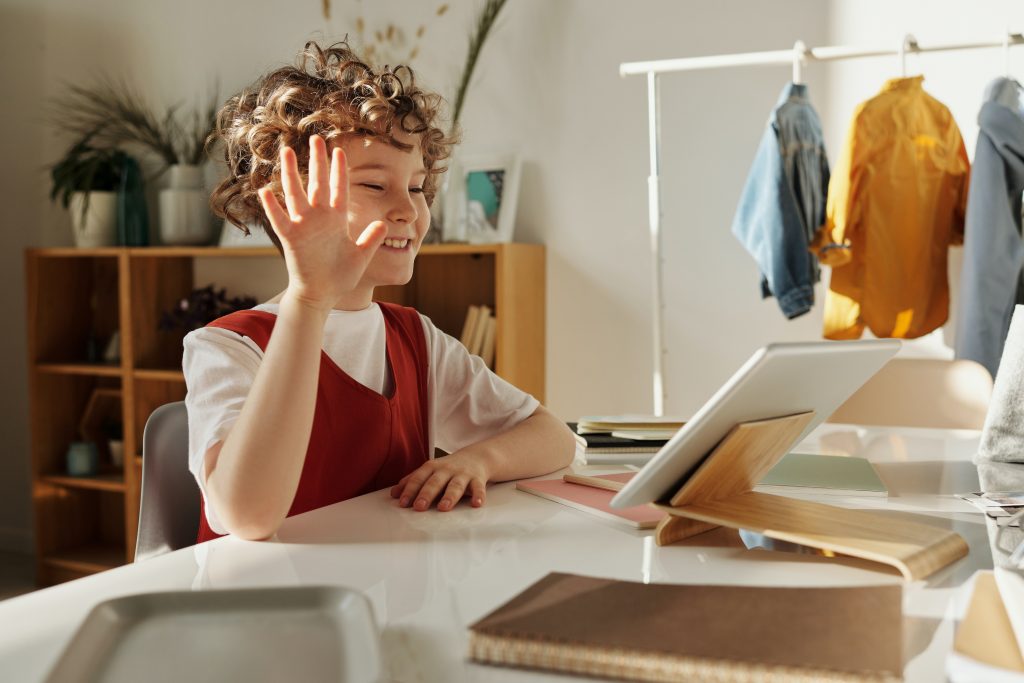 Government: One prominent example is the tourist kiosks we see when we go traveling in different countries. Visitors are able to obtain trip information very quickly by checking places to go and eat on information kiosks. Other government-related kiosk cases include the ones used in local infrastructures such as libraries or administrative offices.
Corporate: Information kiosks used for corporates can mostly be seen at the reception for visitor registration or conference rooms where they display company news.
Internet Kiosks
Internet kiosks allow the public or your customers to have access to the internet, particular websites and applications where they can receive information or complete a certain task.
Retail: Many retailers now use tablets as mobile kiosks that help businesses collect customer emails when they visit the store. Customers can also view company-related products on the mobile kiosk to learn more about the business before making a purchase.
Transportation: Many airports offer internet kiosks for travelers to use for a limited set of time. And the device will lock automatically when time out to ensure device security.
Related article: IT Remote Management: 5 Best Practices for Retail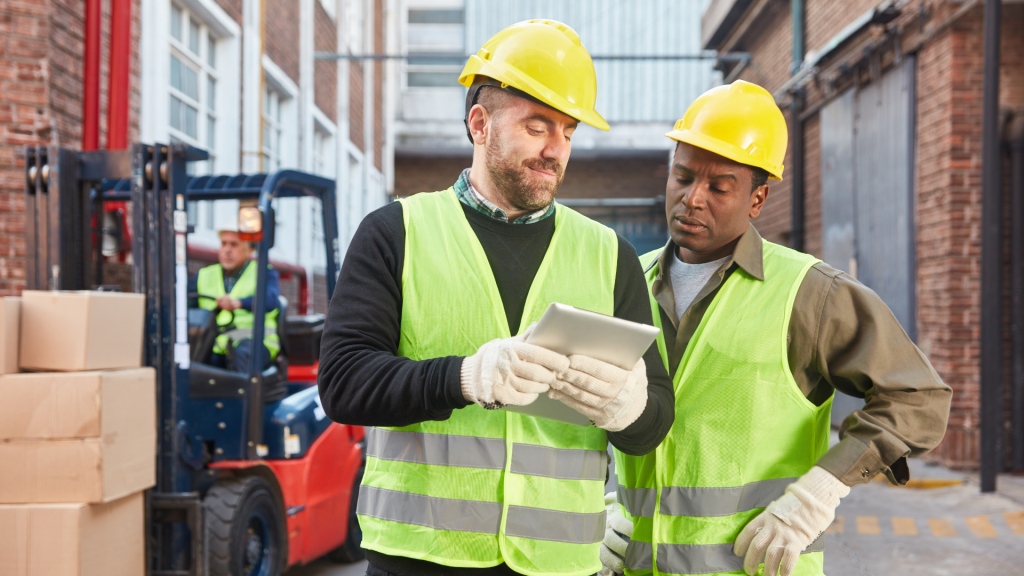 Wayfinding Kiosks
Wayfinding kiosks are used to navigate visitors around the location and offer details of nearby places to encourage them to explore more. This provides a more interactive way for users to engage with the place.
Hospitality: Hotels and resorts incorporate wayfinding kiosks to introduce all the facilities that are accessible to their clients, display enticing videos and encourage them to make the most of their stay.
Constructions: You'll also see a lot of wayfinding kiosks when entering buildings that encompass different businesses such as shopping centers and company offices. These interactive kiosks can help you discover the right information you need, point the way, and save you a lot of time.
Related article: Wayfinder Kiosk – Improving the Visitor and Employee Experience
Advertising display Kiosks
Advertising displaying kiosks refer to stand-alone kiosks, mobile devices or tablets that display digital media content. Sometimes they also come with dynamic features that invite users to interact with the screen and learn more about your business.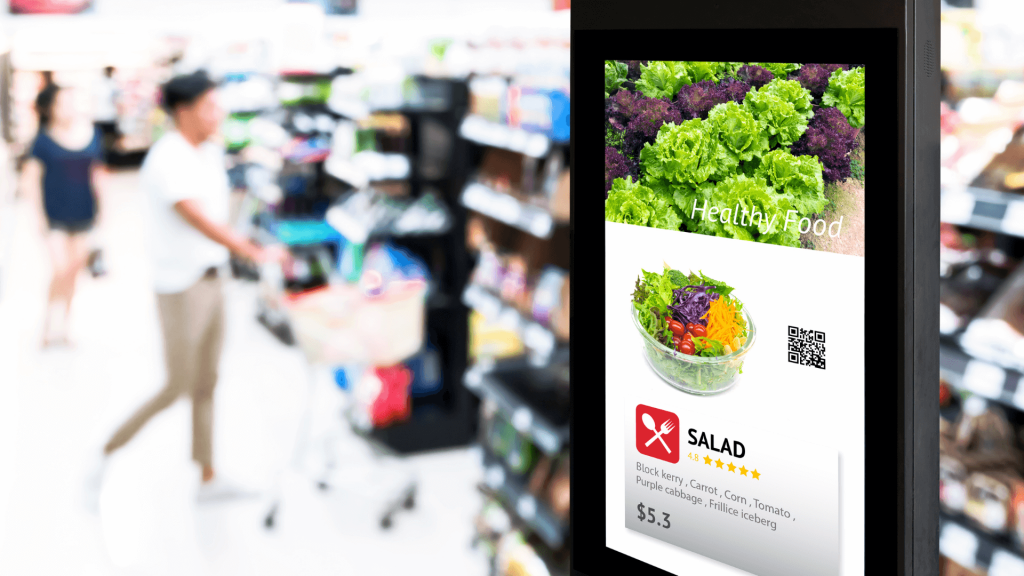 Retail: Retails is one of the industries that have been using advertising display kiosks or "digital signage" explicitly for the past few years. It not only attracts customers with fancier content but creates a more immersive experience during their shopping journey that eventually leads to higher sales and customer satisfaction.
There are many reasons why industries are applying turning their Android into kiosks. The ultimate goal is to prevent device malfunction, reduce IT workload, create better user experience, cut down costs, and most importantly grow their business continuously!