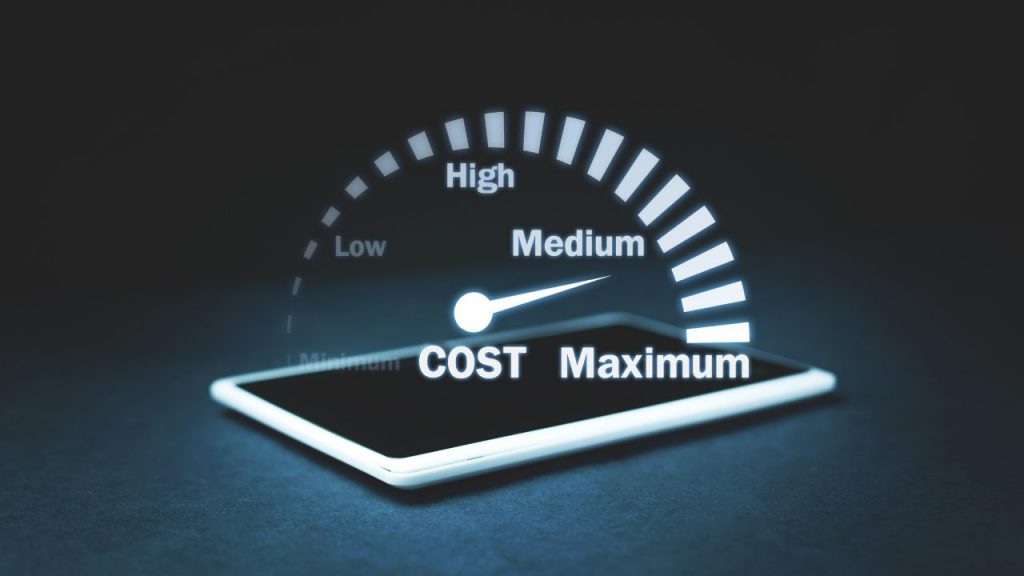 Businesses need to embrace the trend of mobile device usage. Growing number of corporate devices and applications are being introduced into the digital workplace to increase productivity. According to a study conducted among IT executives, 82% said smartphones are highly important to employee productivity. In addition, 27% of small business owners use business related apps for seamless operations.
Prevalent adoption of work devices and tablets is propelling continuous adaptation in business mobility management. The healthiness of your enterprise mobility therefore depends largely on streamlined workflows, data security, and device uptime. In order to efficiently manage a fleet of company-owned devices, you'll need a Mobile Device Management software. 
What is Uptime?
Uptime is a metric that indicates the percentage of time that a hardware, an IT system or device is successfully operational. It's a reference of how long a system is working smoothly. On the contrary, downtime refers to when a system or device is not working properly.
In the case of device management, IT professionals use uptime to identify a total consecutive amount of operational time based on the managed devices. Undoubtedly, every company seeks to improve device uptime and maintain the system's working percentage at 100% for the highest productivity. By strategically using mobile devices at work and increasing device uptime, organizations can expect less expenses on troubleshooting, personnel recruitment, and data overage. 
Why Android over iOS?
More and more companies are choosing Android-based devices when it comes to business use. The latest statistics show that Android dominates the global mobile OS market by 87%, while Apple's iOS controls 17%. Moreover, Android owns 80% of global mobile users and over 60% of tablet users. These figures suggest that Android OS has been many organizations' top choice when it comes to selecting company-owned devices and mobile device management solutions.
There are many benefits of choosing Android over iOS for your managed devices.
• Diverse hardware options: The appearance of smartphones look almost identical to each other these days. However, Android devices offer more hardware options, including large and small screens, modular add-ons, and QWERTY keyboards. For businesses that deploy digital signage, interactive kiosks or rugged devices, Android's diverse hardware options make everything so much easier. 
• Customizable UI: Android offers a plethora of customized widgets and skins for users to tailor their interfaces including lock screens, home screens, weather display, etc. For businesses that deploy interactive displays or tablets for general customers, this gives them more flexibility in establishing brand images and sending brand-specific messages. 
• Open source: Open source Android OS allows developers and hardware manufacturers to make changes to the operating system's core software. This also enables companies to make changes in the OS to fit into their specific industries more easily.
• Easy app distributions and development: Many companies are developing their in-house apps for streamlined workflows. There aren't many limitations in Android app distribution. You can publish your apps on third-party stores without complications. And there's no hefty app development fee. For SMBs with limited resources and budget, Android seems to be a better cost-effective way.
• Better value: The market offers myriad choices and options for Android devices with varying price tags. There are more than half a dozen good Android phones that cost less than $250. It's more budget friendly for most organizations since 85% of companies are regularly using mobile devices for business-related tasks. 
In this article, we will introduce 5 budget-saving tips to increase your Android device uptime using AirDroid Business MDM. Different industry best practices will also be illustrated to give you a more in-depth understanding on improving your business continuity. 

1. Proactively monitor your device performance
Android device management is recognizing a switch from reactive to proactive approach. The greatest limitation in managing remote Android devices is insufficient response time when technical errors occur. A proactive device management approach such as remote monitoring and automated alerts can detect potential malfunctioning risks in advance and send your IT team real-time email notifications for quick fixes. This greatly reduces the probability of chaotic system breakdown and removes unnecessary stress for your staff.
Device management workflows vary from industry to industry. The most efficient way to manage multiple Android devices' performance is through customized monitoring templates. AirDroid Business offers eight types of performance templates for organizations. You can receive real-time data on device network, battery capacity, cellular data usage, screenshots, location, and more. IT admins can further configure different Android alerts for each managed device or device groups to take preventive measures.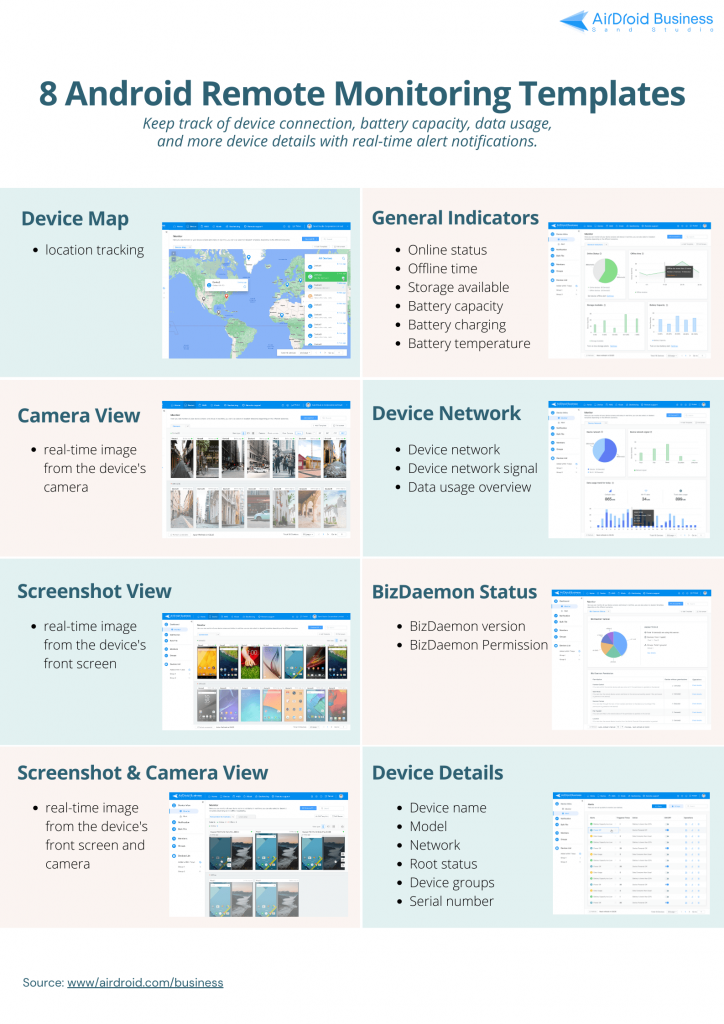 Proactive methods don't just stop at remote monitoring and alerts. IT admins in the digital signage industry can remotely view the screen of their Android devices to make sure these screens are displaying the right content. Companies in security or event marketing can check the views of their Android remote cameras for susceptive activities. These preventive tasks from AirDroid Business MDM may help your IT team save considerable time for troubleshooting, avoid repetitive maintenance, and reduce personnel expenses.      
2. Block insecure network, website and apps
Nowadays, businesses are suffering from incessant cybersecurity risks. Cyber threats like malware, ransomware, and phishing emails are putting grave financial stress on organizations. Companies may deploy attended and unattended Android devices for in-house and customer-facing purposes. Without any compiled network policies, this could lead to device tampering from end users, surging cellular data costs, and even illegal app downloads or website visits that result in serious data breach.
Restricted device usage is mandatory to keep your enterprise free from astronomical cybercrime expenses. Cybersecurity Ventures expects global cybercrime costs to grow by 15% per year over the next five years, reaching $10.5 trillion USD annually by 2025. IT admins can explicitly block connections from Public Wi-Fis, restrict cellular data connections, whitelist websites, and apply browser lockdown on Android using Kiosk Mode in AirDroid Business MDM. Your IT team can create different Kiosk Profiles for your selected devices or device groups based on your business activities. 
Blocking malicious or work irrelevant websites and apps from your Android devices is highly recommended. Restaurant owners may apply Kiosk Mode on their mPOS, such as limiting access to social media, to keep their employees focused at work and increase productivity. Transportation and logistics companies can filter urls for entertainment websites to avoid overage on cellular data. For customer-facing businesses, self-service kiosks or interactive displays with restricted user access can ensure better user engagement and boost sales.   
WATCH VIDEO: How to use Kiosk Mode in AirDroid Business
3. Actively track your device location
One nuisance about mobile device management is when a device is lost or stolen. 10% of mobile devices break or go missing during each year of deployment. Without proper security measures and location details, businesses may be facing serious data leak or worse, permanent shutdown. Losing a single device can cost a company up to $50,000 in lost productivity, downtime, support and management. With the help of the Device Map Template, IT professionals can get a hold of all Android devices whereabouts in one screen view. But there's more you can do.
Corporations can further lower the overhead costs of Android device management by using Geofence in AirDroid Business. For example, IT admins in logistics companies may find detailed route history for each device recorded in the centralized dashboard called Admin Console. To closely track the movement of each deployed Android and take preventive measures for emergencies, you can create separate automated workflows and digital parameters for your devices.
When a device enters or exits the designated fence, it may activate a particular workflow and trigger a security action to protect your company data from being accessed by outsiders. Other security measures you can configure include remote lock or remote wipe on Android. 
Lost and stolen devices can generate problems including confidential data loss, device deployment setbacks, and employee downtime. With Geofence and workflow management, you can save unnecessary technical fixes and allocate financial resources for revenue growth. 
4. Keep your apps up-to-date
Regular app maintenance comes with multiple benefits. Having your softwares and applications updated is also another way to save budget on business device management. Keeping your Android apps at the latest version is important so you can enhance data security and improve user experience at the same time. Since each device has numerous apps installed and serve different purposes, you'll need Application Management Services (AMS) to perform bulk updates or other configurations remotely. 
An Android app management tool like AMS brings several advantages to companies. As more companies are developing their in-house apps for streamlined productivity, it's recommended to run app tests before releasing them officially, especially when your company is using different Android models for work.
In addition, if your devices are being deployed in different cities or even countries, time zone is a critical factor you need to keep in mind when it comes to remote app updates. To avoid impacting your business operations, you can schedule automatic app updates on your selected device groups using AirDroid Business MDM. In the advent of unexpected app breakdown, IT admins can also quickly replace the broken app with a bug-free app using Forced Installation without disrupting too much of your users' experience.    


5. Assign restricted device ownership
Protecting corporate data on fleets of Android devices is not easy. For one thing, you need to handle every employee's access to sensitive data. For another, you need to prevent customers from modifying your device settings. Not to mention the risks of unencrypted file transfer and malevolent passcode entry your IT team needs to worry about. Luckily, IT managers can employ different levels of restricted access in Members & Groups using AirDroid Business MDM. 
There are three different roles that IT managers can assign to their device users. They are Admin, Team Member, and Viewer. An Admin has unrestricted access and permission to configure all devices. A Team Member are only permitted to access and manage devices assigned to him/her. Lastly, a Viewer can only check specific devices and has zero permission to modify them in any other way. Restricted device ownership can be quite handy for both SMBs and enterprises.
Whether you're an in-house IT manager or managed service provider (MSP) , you can make sure users access a device or device group solely for their tasks. This diminishes financial risks of data breach as well as endless troubleshooting, helping your organization get back on track for positive business growth. 
| | | | |
| --- | --- | --- | --- |
| Roles/Accessibility | Admin | Team Member | Viewer |
| Access to Devices | ⭕️ | 🔺 | ❌ |
| Remote View | ⭕️ | 🔺 | ❌ |
| Remote Camera | ⭕️ | 🔺 | ❌ |
| Remote Control | ⭕️ | 🔺 | ❌ |
| Invite Members | ⭕️ | ❌ | ❌ |
⭕️ Full access 🔺 Limited access ❌ No access
Companies, big and small, are adopting mobile device management to gain competitive advantage in this mobile-first marketplace. Constantly increasing your device uptime is an ongoing task that requires strategic planning and industry knowledge. AirDroid Business MDM is more than ready to take on stressful burdens and make device management for Android as effortless as possible for your IT team. Start a 14-Day FREE Trial with features of our Enterprise Plan or Get Quote today!