Last Updated on October 19, 2022
After being listed as Momentum Leader for the first time in Summer 2022, AirDroid Business has once again been awarded the G2 High Performer badges for Fall 2022 reports in several categories, including MDM, enterprise mobility management (EMM), mobile application management (MAM), and remote support.
That's not all. AirDroid Business also received the Easiest To Use, Best Estimated ROl, and Fastest Implementation badges in most of these categories. The awards accurately showcase the strength of our product and highlight the customers' satisfaction with our user-friendly interface, efficient setup process, and relatively affordable pricing.
According to G2's report for EMM, AirDroid Business was rated over 90% for Ease of Use, Ease of Admin, and Ease of Setup – all around 5% higher than the average.
Since managing a huge fleet of mobile devices is usually a headache for many large-scale companies, AirDroid Business takes pride in securing these ratings. Our development team has been aiming to make the software as handy as possible for enterprise IT to get on track right away.

AirDroid Business gains a foothold in mid-market
It is also worth mentioning that most of the badges AirDroid Business received this time round are categorized into the mid-market segment, which means that our product has obtained more and more organic reviews given by customers who work at a company with 51-1,000 employees.
Here are some of the accolades we received on G2.com:

We are grateful for our users' support and all the positive feedback. We will continue to provide the best solution to our customers regardless of their business size and sector, allowing them to manage their enrolled devices with peace of mind.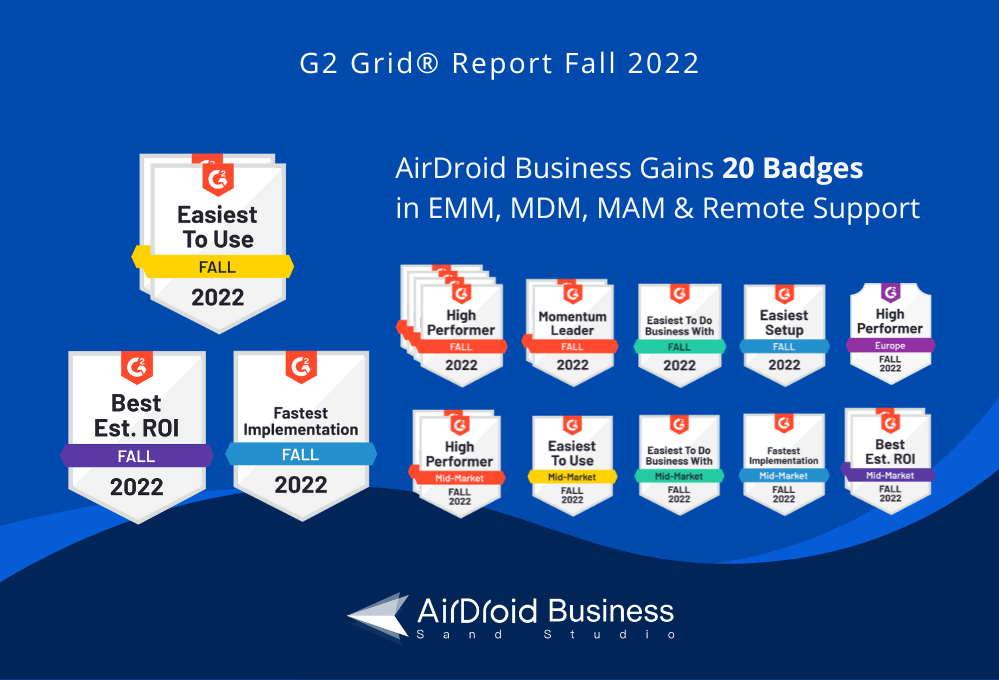 Get started with AirDroid Business
Our enterprise-grade MDM solution is designed to improve the mobility and productivity for businesses of all sizes through remote access, device provisioning and deployment, mobile application management, policy settings, kiosk mode and geofencing. With AirDroid Business, IT professionals can remotely access and control a large fleet of attended and unattended Android devices, install and update apps through our far superior Application Management Services, track and analyze inventory with reports, and use our patented Black Screen Mode for privacy protection during remote control sessions. To get started with AirDroid Business, sign up for a 14-day free trial.