Last Updated on April 28, 2023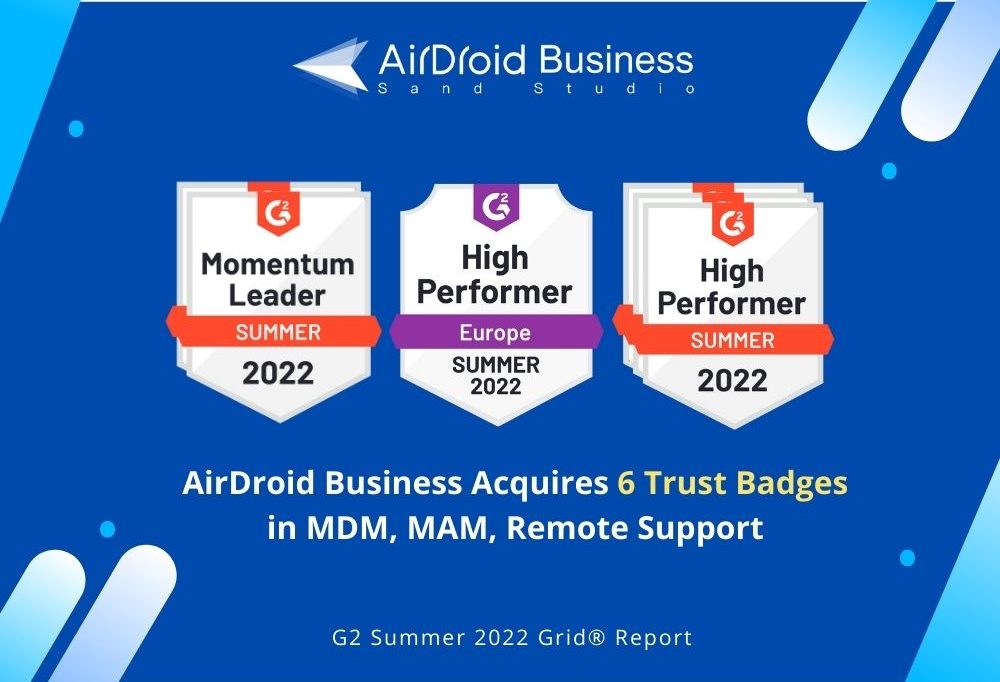 An unstoppable trend of remote work and mobile device deployment is on the rise around the world. Riding on this wave, AirDroid Business – which provides Mobile Device Management (MDM) solutions to businesses – has reached several milestones and continues to thrive.
Today, we are thrilled to announce that AirDroid Business received a new G2 badge – Momentum Leader (Summer 2022). It is an award that reflects our rapid growth over the past year.
For those who do not know, G2.com – formerly known as G2 Crowd – is one of the world's most trusted websites where users can leave comments and give ratings on business software. It represents a wide range of authentic opinions from actual users rather than a solo point of view presented by one analyst.
Momentum Leader: around 30% increase in market presence
Each season, G2 will publish new market reports that show a list of top-rated, high-performing software and subsequently bestow badges on the providers. This is the first time AirDroid Business has been listed as Momentum Leader in the Momentum Grid® Report for MDM.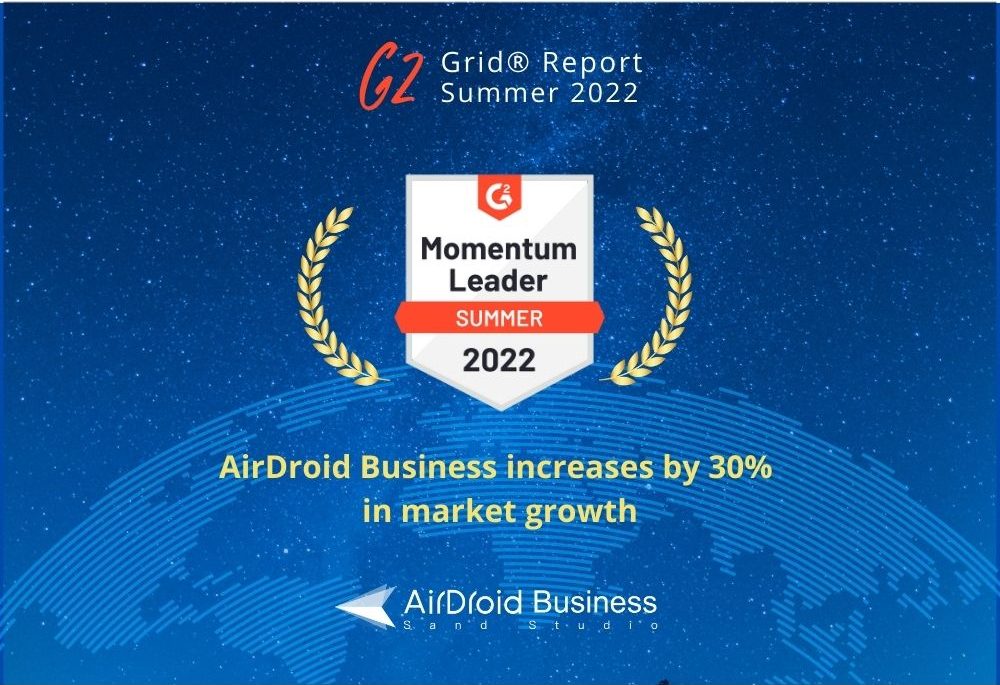 This badge is awarded to business software products that achieved the most positive movement last year. It is determined by market presence and year-on-year changes.
In this case, AirDroid Business earned the badge by a massive 30% increase in market growth. Of all the scoring metrics on G2's report, two particularly stood out – social and employee growth. Both reached a high level of scores that registered over 95%.
High Performer in Europe: over 95% of users like the easy setup
Aside from the Momentum Leader badge, AirDroid Business is also named as High Performer in Europe Regional Grid® Report for Remote Support (Summer 2022). It is a huge breakthrough for us since we were only listed as "Niche" in spring and experienced such a significant leap in merely three months.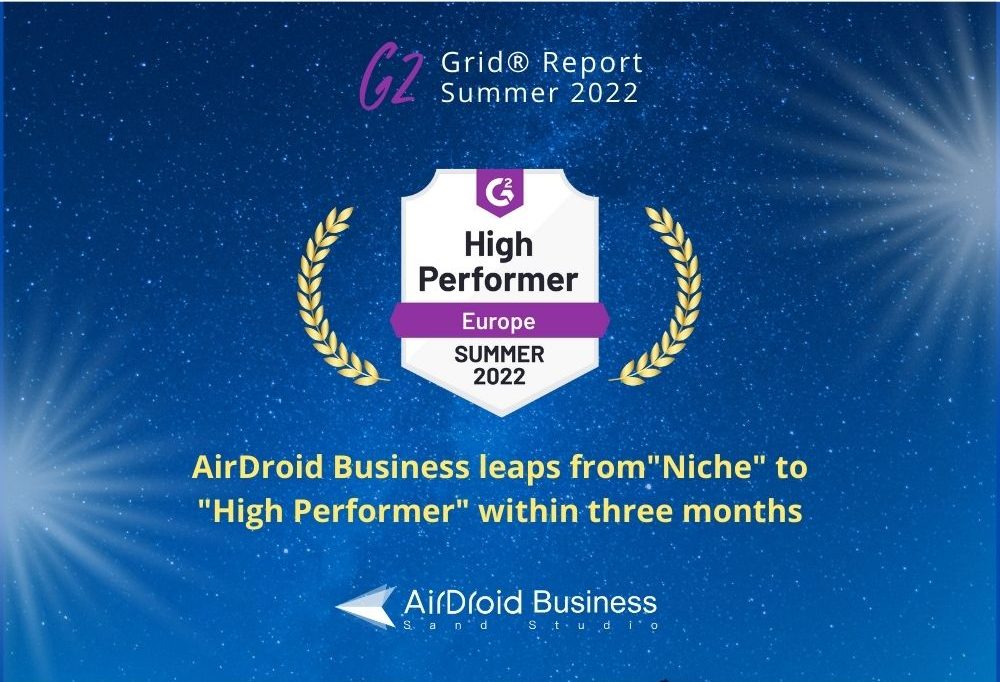 To evaluate each company's performance in Europe, G2 collected reviews from users in that region and focused mainly on end users' feedback. It turned out that, among different criteria in the satisfaction rate, our European users commonly believe that AirDroid Business is heading in the right direction, and over 95% think our product is easy to set up.
Overall, AirDroid Business has garnered six G2's Trust Badges this summer, including three high performers and two momentum leaders. Plus, as the functions of our product become more comprehensive, we are currently not only categorized on G2 in MDM, Mobile Application Management (MAM), and Remote Support but also in Geofencing and Enterprise Mobile Management (EMM).
Without our customers' support, we would not be able to achieve any of these. In the coming years, AirDroid Business will continue to grow and upgrade our product to offer a more satisfying user experience by constantly listening to our users' feedback.

About AirDroid Business:
A full-package Mobile Device Management (MDM) solution for Android-based devices. It allows businesses, managed service providers (MSPs), or IT professionals to remotely manage devices via the cloud. Some essential features include being able to remote access and control unattended devices, update device apps and files in bulk, track and analyze inventory with reports, and so much more – all designed with the goal of maximizing business productivity in mind.
The MDM solution also comes with additional features like Kiosk Mode, Mobile Application Management (MAM), and Geofencing to further secure your organization's IT infrastructure. To learn more about it, please visit airdroid.com/business.
Furthermore, we also offer Partner Programs for OEMs, ODMs, MSPs, Resellers, and Distributors, where we provide exclusive and extensive resources to grow your business with you. Find out more details or sign up to become our partner today!