Today, large and small businesses are all making the most of mobile technology. You might have already begun moving parts of your business onto mobile software – such as finding the best team calendar for your employees to access with ease on their smartphones, or deploying a productivity app.
But whether or not your business has already started investing in software solutions, a mobile point of sale (mPOS) solution is an increasingly must-have technology for organizations of all sizes.
In fact, it is expected that the value of transactions made with mPOS systems will rise by 21.08% by 2025. Using an mPOS solution will keep your business up-to-date with the latest trends, as well as offering a wide range of benefits.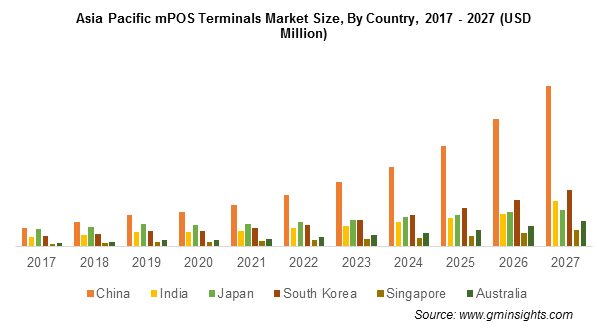 We need only look at the mobile tech trends that are dominating the market to recognize that we live in a world where customers and employees value technology-driven services. An mPOS system for taking payments at your business is one of many tech-based solutions for increasing revenue, improving customer service, and streamlining your processes.
What is a mobile point of sale (mPOS) solution?
An mPOS can work wonders if your business is creating a sales process that wants to put customer experience and flexibility first. But before diving into why you should consider an mPOS solution for your business, let's cover what exactly an mPOS is.
Put simply, a mobile point of sale system is a point of sale system that is – you guessed it! – mobile. An mPOS system usually uses a card-reader, smartphone, or tablet to take payments, rather than a traditional fixed POS like a cash register.
An mPOS system performs the same functions as a traditional cash register – but it's fully portable and wireless. Just plug it into the audio jack or charging port of a smartphone or tablet, make sure you're connected to the internet, and you're good to go.
These days, most consumers expect to be able to pay quickly and easily with their card or digital wallet. Seriously, when was the last time you carried cash? Digital payments are so much faster and more convenient.
mPOS systems can take payment from a variety of sources – such as contactless cards, digital wallets such as Apple Pay, Google Pay, and Samsung Pay, or by allowing customers to scan a QR code and pay online.
An mPOS system can work for all types of businesses. Retail stores may need an mPOS that can scan barcodes and send digital receipts to customers' emails. Cafes and fast-food restaurants might wish to invest in a self-service kiosk to speed up transactions. And those without a bricks-and-mortar store, such as food trucks and taxi firms, need a fully mobile payment method. Whatever service your business provides, an mPOS solution is a modern, flexible, and streamlined way to serve your clientele.
Outlined below are the many ways an mPOS solution can improve your business. Whether it's happier customers, happier employees, or a cost-effective and flexible POS software that you're looking for, there are plenty of reasons why you should join the growing number of businesses using mPOS systems. 


How can a mobile point of sale solution improve your business?
Investing in an mPOS solution isn't just about keeping up with tech trends – it has a whole range of benefits. Let's have a look at some of the ways an mPOS solution could improve your business. 
Shorter queues 
Did you know that 39% of shoppers leave empty-handed due to long queues? We've all experienced this frustration – if you've only popped in for a couple of items on your lunch break, you don't want to be hanging around while the person in front of you buys up the whole store!
Many businesses simply accept that busy periods, staffing problems, and long queues will lead to a loss in transactions. But an mPOS system could offer a solution to this and significantly streamline the purchasing step in your customer's journey.
Many mPOS systems are speedier than the traditional cash register and the extra mobility granted by an mPOS will let your customers pay anywhere inside your store, without having to line up at one fixed pay point.
In large department stores, customers don't have to carry their basket through the whole premises in order to pay. For example, if you're shopping in the lingerie section, you can pay for your purchase right there – and if the member of staff taking the payment is from that department too, they can answer any queries at the same time.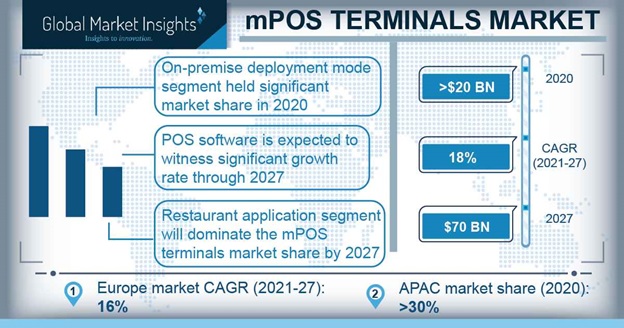 Better customer experience
Shorter queues are one bonus of mPOS software that customers will love. But investing in an mPOS solution for your business could enhance your customers' experience in other ways too.
An mPOS software could personalize your customers' in-store experience in many ways. You could use mPOS to store customer information, allowing your business to easily set up a loyalty program or offer discounts on special occasions such as birthdays.
Upgrading to an mPOS system in your business could also be part of your mobile marketing strategy. For instance, if you have a loyalty program or app, why not make sure it links up with your mPOS to offer a personalized experience to your customers? When a payment is made, it could let them know how many loyalty points they've generated, or announce that they're eligible to claim a free gift.
Discuss with your marketing team the ways in which an mPOS could be used in combination with their marketing strategies. And if you're interested in more ways to improve your marketing, why not check out how to boost marketing team efficiency–the ultimate guide?
Better employee experience
Using an mPOS solution can also benefit your employees. The quicker check-out time, increased mobility, and accessible software that comes with mPOS systems makes things much easier for your staff.
Seeing a giant queue snaking across the store is almost as demoralising to staff as it is to shoppers! Lessening your employees' stress and giving them the tools to streamline their job will lead to happier staff and customers.
An mPOS will empower your staff when it comes to serving your customers and keeping the business running smoothly. In addition to this, a simpler payment system in your business will give your employees more time to chat with your customers and make their experience more personal – a huge bonus for both employee and customer experience.
An mPOS doesn't only help with customer interactions. Businesses are increasingly integrating their mPOS solutions with other parts of the business. You might be looking for a discord app replacement, or something similar, to improve lines of communication between staff. Investing in an integrated mPOS solution can help you keep track of stock – especially if your company has multiple locations.
Flexibility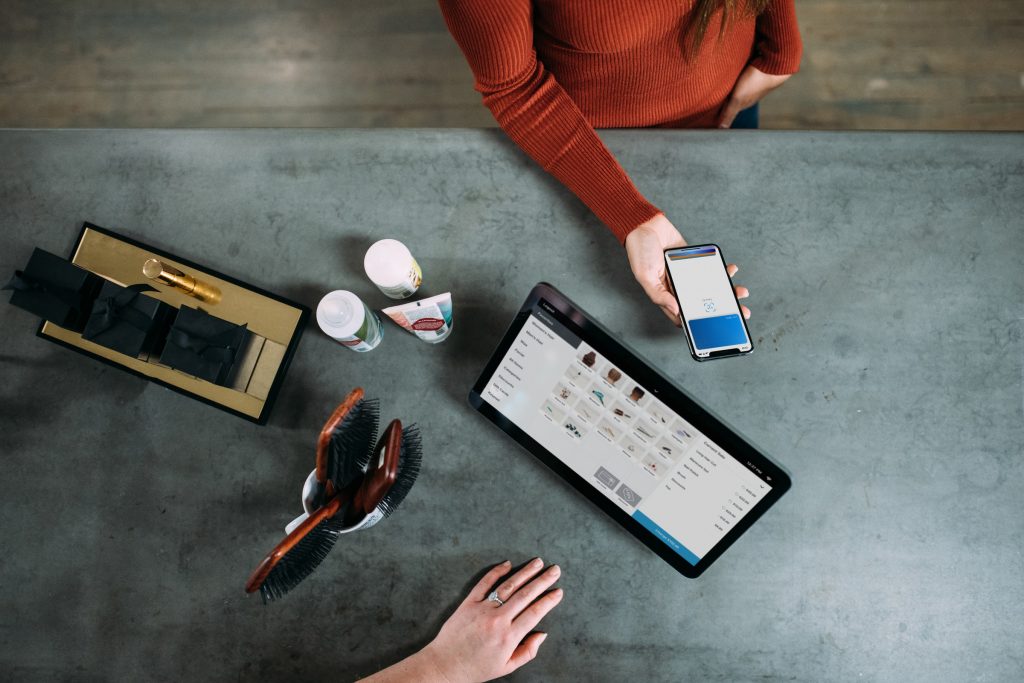 Freeing your POS from the cash register at check-out or behind the bar at your cafe or restaurant is an obvious perk to mPOS systems. An mPOS solution for businesses, whether it's a self-service kiosk or an mPOS that allows employees to make sales anywhere in your store or restaurant, brings with it a great deal of flexibility.
In large stores, mPOS allows you to have multiple, moveable pay points – and it's also great for pop-up stores or stalls at events such as street fairs, where fixed cash registers are impractical and customers appreciate the option to pay digitally instead of carrying a wedge of cash.
Integrating mobile apps across your business enhances your flexibility and efficiency even further. An mPOS system can also be used to manage your inventory. Employees can let customers know if an item is in stock without checking the stockroom, which speeds things up and demonstrates up-to-the-minute product knowledge. Plus, the dreaded stock takes will be easier than ever when this information is stored in accessible mobile software. 
Security
Another huge benefit of mPOS solutions for businesses is increased security. You may worry that mPOS software poses a greater risk against you and your customers' cybersecurity. But this simply isn't the case.
The reality is, mobile security is getting better and better every year. Not only can customers trust that their digital payment methods will be safe and secure, mPOS systems often offer an additional level of security for transactions. No card data is stored on the mPOS device, so your business can still comply with privacy and security regulations.
Companies that offer mPOS software are required to have stringent security protocols and they often have cyberattack insurance too. Using a legitimate, widely-used app or software for payments means that you can feel confident that cyberattacks will be unlikely. Do your homework and ensure whatever mPOS platform you choose has robust security measures in place. 
Cost-effective
The final question you may have is, are mPOS solutions expensive? This was once true, but nowadays acquiring and setting up an mPOS system for your business is cheaper and easier than ever. Like with most tech solutions, constant improvement and growing demand has driven down prices.
Everything involved in mPOS – from the devices themselves to the set-up and ongoing maintenance of the system – is dropping in price. With so many companies offering mPOS systems, prices and the quality of service on offer are competitive.
Upgrading to an mPOS system used to involve investing in expensive hardware, as well as set-up costs. But today you can often download an app to your phone or tablet. Alternatively, you can speak directly to an mPOS provider who will do all the legwork for you.
The best mPOS systems also work on all devices and operating systems – so no matter what smartphone or laptop you and your employees have, a great mPOS solution will work for everyone. 
Finding the right mobile point of sale solution for your business
Finding the right point of sale hardware is vital for any business. It is easy to be overwhelmed by the wealth of options out there. Choosing the right mPOS system for your business is all about knowing your requirements.
Building on the tips above, the key factors you should look for in an mPOS are:
• Top-notch security measures
• Cheap and easy set-up 
• Personalization capabilities to suit your business
• A POS system that allows payments from a variety of sources
• The ability to integrate your mPOS with other mobile and tech solutions in your business
• High-quality support from your mPOS software provider
Ultimately, finding the right mPOS solution for your business comes down to your specific business needs. Do you want customers to pay using self-service kiosks? Do you want your staff to be able to take payments on the go? Figure out your needs and must-haves, and you'll be on your way to finding the perfect mPOS solution for your business.
Upgrading your business's POS to an mPOS is also an opportunity to explore other ways you can improve your tech. The ease with which you and your employees can communicate will be improved by an mPOS solution – but you may also be looking for other ways to upgrade this, such as finding apps similar to Skype. Improved employee communication is a fantastic way to increase your employee engagement and speed up processes at work like training and shift scheduling.
An mPOS system will also streamline your inventory checks and accounting processes. A great mPOS system could consolidate your inventory, sales records, and employee records into one online space, which might get you searching for QuickBooks alternatives. Many mPOS systems also integrate analytics, so you can measure product performance and use customer data to inform future decisions.
In this age of technology, every business is looking for ways they can use mobile tech to improve their customer service, employee satisfaction, and profitability. Investing in a mobile point of sale solution is the first step in upgrading your business for the future. 


Author Bio: Elea Andrea Almazora- RingCentral US
Elea is the SEO Content Optimization manager for RingCentral, the leader in global enterprise communication and group video conferencing solutions on the cloud. She has more than a decade's worth of experience in on-page optimization, editorial production, and digital publishing. She spends her free time learning new things. She has also written for websites such as DemandGenReport, and CodeMotion.