Device inventory management has become an integral part for any organization wanting to streamline, monitor, and analyze fleets of mobile devices enrolled in an MDM solution. It's also an important factor to consider when selecting an MDM software. AirDroid Business just released its latest Reports feature that offers a granular view into your data usage, device performances, members activities, and more. Learn how to make the most of this MDM reporting feature today!
What are Reports in AirDroid Business MDM?
Reports is the newest released feature that aims to help IT admins generate mobile device management reports in a more simplified and effective way. This new feature allows you to check monthly reviews, after-event analyses, or make simple month-to-month comparisons for device usage trends. It is also part of the AirDroid Business Android MDM Solution, which offers additional device monitoring, remote access and control for SMBs and large corporations.
Why use MDM Reports?
More and more organizations are switching to mobile-only workforce, which requires attentive and responsive device inventory management for coherent business operations and higher productivity. AirDroid Business lets you generate various mobile device management reports that give you better control with inventory management with your Android devices.
Below are some of the benefits of using MDM reporting for your organizations:
➤ Secure and Fast Cross-Team Collaboration
A robust mobile workforce requires synergized cross-team collaboration. However, when you have numerous employees and devices to manage, corporate data security becomes the first priority. While MDM software offers the feature of setting configured device ownership to different users, not all department staff need advanced access to company devices.
Device management authority is usually given to members of an IT team. Under circumstances where IT admins need an on-site operator or in-store staff to modify some simple settings or replace old devices with a newer model, they can export a device report using the Reports feature. This will not only enhance data security for your company, but amalgamate workflows to reduce device downtime for higher productivity.
➤ Effective Asset Inventory management
Asset inventory management is the process of organizations managing their company-owned assets such as mobile devices, tablets, IoT smart devices, etc. It also includes proactively monitoring and analyzing metrics such as network status, CPU usage, physical locations, maintenance requirements, and more.
A fully functional mobile workforce depends largely on smooth device performance. By applying different filter criteria for the device reports, IT admins can efficiently identify low-performing devices caused by battery outage, unstable internet connection, or older device models. The collected asset data will provide you extensive insights on whether you need additional optimizations or app updates to improve your device uptime.
Who can use Reports?
The Reports feature in AirDroid Business MDM is suitable for all IT administrators and business operators that need access to device data for more seamless workflows. Company-owned devices usually contain sensitive information that will require authorized user access to prevent data breach or data loss.
When an IT admin receives notification for device malfunctioning or peculiar device activities, they can simply filter out a list of dysfunctioning devices, and send it to on-site operators for immediate technical support. Your operation team only needs to resolve tech errors according to the exported device management report they received from the IT team, without requesting additional access to these devices. This way, you can also prevent your devices from malicious cybersecurity risks.
💡 You can assign devices to different projects to quickly filter report results.
What kind of MDM Reports are available?
We have so far rolled out the Data Usage, Device Inventory, and Member Account Activity Log Reports, along with the following currently in the pipeline and will be added to your Workbench going forward:
• Data Usage
• Device Inventory
• Member Account Activities

(New!)

•

Application Versions

(coming soon)

•

Device Online/Offline Status

(coming soon)

•

Device Health Indicators

(coming soon)

•

Screen-on Time

(coming soon)

•

Remote Connection History

(coming soon)

•

SIM Card Status

(coming soon)


How to create Reports with AirDroid Business MDM?
Creating MDM reports using AirDroid Business is simple and fast. With the help of device reports management, IT admins can streamline workflows and operations more efficiently.
Here's a step-by-step guide on how to utilize mobile device reports with a centralized dashboard using the AirDroid Business MDM solution.
Step 1. Log into your AirDroid Business MDM Dashboard — Admin Console. Then navigate to Devices → Workbench → Reports

Step 2. In the Reports section, select which type of mobile device management reports you'd like to generate.

Currently, businesses can export Reports of Data Usage, Device Inventory, and Account Activity Log. More reports are coming in the future.
*Please note the MDM reporting feature is only available for Ultimate and Enterprise Subscribers
#1 Creating

Data Usage Reports
When selecting Data Usage Reports, IT admins can select a particular device group or specific device for more exhaustive information. This feature also helps your team get a comprehensive view on whether additional configurations or glitch fixes are needed to optimize your device performance. You can also use the search bar on the top right to locate a particular device faster.
For example, if a particular app is consuming too much data within a short period of time, you may consider setting up automated alerts and responding with quick remote troubleshooting to increase your device uptime.
Data Usage Reports allow IT managers to check the following metrics:
• Data usage up until the past 30 days
• Visualized data usage trend ranging from yesterday to a year
• Your top 10 data consuming apps on your Android
• Detailed data usage results for individual device
Simply configure all the filters you need and click "Export" on the top right corner and you'll receive your MDM Data Usage Reports as an Excel file.
#2 Creating

Device Inventory Reports
IT admins or business owners can get a holistic understanding of all managed devices using the Device Inventory Reports. The report includes 36 different device details for IT teams to customize their own MDM reporting.
Some of the most commonly selected items are device rooting status, remote access permissions, battery temperature, network connection, and online/offline status. IT teams will be presented with a list of filters that help them generate in-depth analysis on your organization's overall device performance.
You can follow the steps below to create your own Device Inventory Reports:
Step 1. Select the device type to display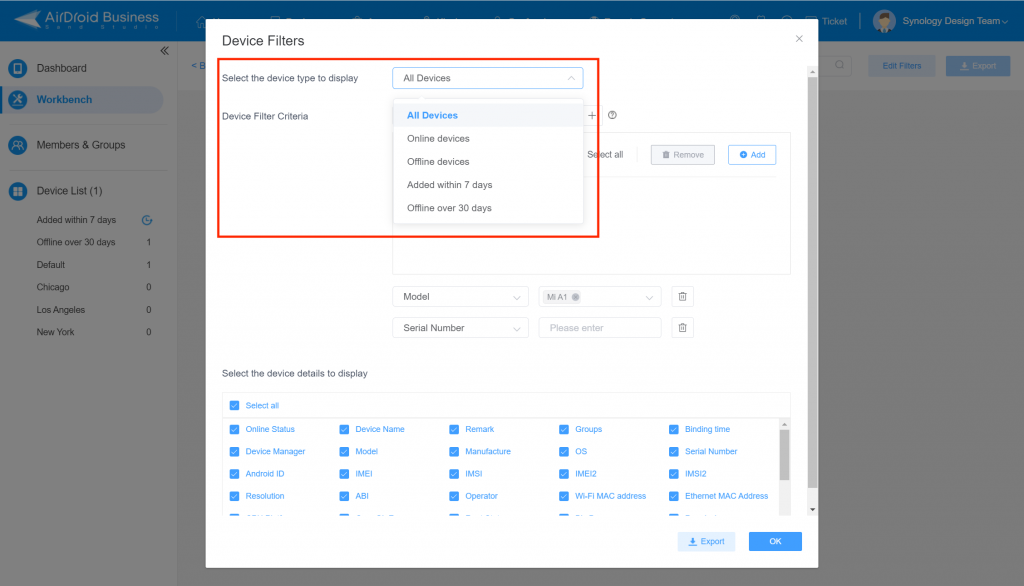 Step 2. Select your "Device Filter Criteria"

Step 3. Select the device details to display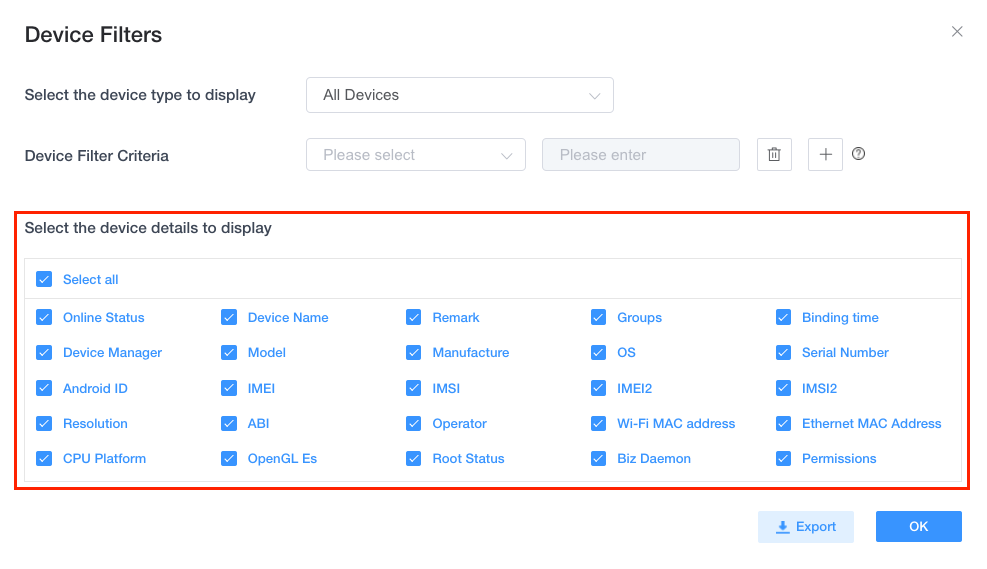 Step 4. Click "Export" and your Device Inventory Reports will be downloaded as an Excel format.
#3 Creating

Account Activity Reports
This report view allows business owners and IT managers to monitor all types of activities that's been done on the account — providing them full transparency on account and user activities. It is useful for larger organizations which have many admins taking in charge of different groups of devices. Not only could it help IT managers or supervisors easily trace the historical activities performed on devices when needed, but most importantly, it allows them to monitor how the device management system is being used to prevent their members from abusing the system or using it inappropriately.
For example, when seeing an unusual surge in device data, IT managers can use the Account Activity Report to track down who, among its members, has been using the remote accessing function (remote camera, view, or control) more than necessary. This report could also be used for finding out the person in charge of an improper device setting that violates company policy. Being able to identify these abnormal activities and knowing who was responsible for them will help organizations resolve issues quickly and prevent any further loss.
To view activities done by a certain admin, you can simply type in the User ID or the account email address to start your search. Or, you could select the types of account activities or the device name/group to begin with (view the below image).

➤ Types of Account Activities available to track and filter:
| | | | |
| --- | --- | --- | --- |
| • Account Action | • Device Enrollments | • Device Information | • Bulk File |
| • Members & Group Settings | • Remote Access | • Settings (general) | • Apps Management |
| • Kiosk Settings | • Geofencing | • Alerts | • Notifications |
Final Thoughts
AirDroid Business MDM Reports help IT admins keep track of all device vitals in one view. With other built-in features like remote view, remote monitoring and automated alerts, Kiosk Mode, and application management, you can create a secure mobile workforce effortlessly.
Get your IT teams in action and start exploring the powerful MDM reporting feature today!