Last Updated on April 24, 2023
Digital signages are everywhere – you drive down the road, visit your favorite restaurant, go to a bank or a school, or head down to pick or drop someone at the airport – you will see different brands utilizing digital technology to promote themselves.
What is digital signage?
Digital signage – a part of signage that handles digital technologies like projectors, LCD, and LED. These digital platforms deliver digital information, images, videos, and live streaming media. Digital signages can be found in schools, banks, restaurants, hotels, transportation systems, stadiums, public spaces, offices, amongst others. The principal goals for using them are for advertising, marketing, wayfinding, and fairs and exhibitions.
Digital signages come in different sizes, and choosing one of them can be daunting. It can also become confusing to decide which digital signage is best for your business. For choosing the best option, you should be clear about your business needs, the budget, and the timeline for your content marketing strategy. 
Examples of digital signages
Augmented reality bus stop advertising campaign – You can install digital signage displays on the sides of bus shelters, making them appear like a window or a door. For instance, Pepsi did it for its brand advertising campaign. They used rotating graphics, video graphics, and animation to gain the attention of their audience. Such campaigns prove to be engaging for all the people passing through the street.
Interactive games – Digital signage games present a simplistic yet hugely powerful approach to reach and engage with more people and be amazed by your brand. For instance, offering interactive entertainment in dining spaces and inspiring buyers to sign up for competitions in stores. 
Wayfinding – Whether you want to find your way towards an office or traffic areas or find a free space, the digital signage methods can allow you to do so. Introducing creative and interactive building wayfinding tools can be a smart way of making the course joyful and easier. 
Social Media – Blending digital technology with digital signage will allow your audience to feel more coherent with your brand. For instance, featuring user-generated content and pictures of pets on Pinterest and Instagram.  
Digital Communication – Integrate digital signage in platforms like display calendars, announcing crucial information related to the company with digital displays, weather reports, social media information, amongst others. This step will make it engaging for your employees as well as visitors. 
Message & Promotions – Medical facilities might employ digital signage for displaying the latest medical news for patients. For example, a dentist can display information about a new toothpaste brand – reminding kids to brush their teeth three times daily.

How can digital signage help your business?
Organizations have been shifting their approach from traditional advertisements to digital signages for a while now. More stores, restaurants, and hotels are also choosing digital signages to spread awareness regarding their products and services. Moreover, the global pandemic made things worse for businesses, hence, the newfound approach of digital signages has attracted more business owners. If you are still undecided about adopting this technology, check out these 10 exciting ways on how it can improve your business. 
#1 Increasing social media awareness and engagement
If one of your organization's objectives is to stay connected with your audience, then using digital signage via social media platforms is an amazing way to do so. While driving a marketing promotional campaign for your services and products, you will need to cater to as many social media channels as possible to reach out to the maximum number of people. Instead of using traditional ways such as emails, newsletters, print media, using social media to spread and deliver your message is much more efficient.
Also, this is a great opportunity to expand your business from personal mobile phones to public display boards. You can promote your business by connecting with the audience on a personal level by showing the company culture and behind the scenes. 
#2 Allowing businesses to make use of multiple channels
Signages used earlier involved banners, neon signs, posters, pamphlets, etc. These promotional materials are fixed and no changes can be made to them. Once these materials are printed, there are no chances of making any improvements in them, without incurring additional costs. However, you can customize digital signage anytime – be it a logo, menu, names, infographics, or more. You just have to make a few clicks, and your mistakes can be easily rectified. Additionally, you can utilize a single display board for various purposes, but in the case of traditional signage, you can use them only once.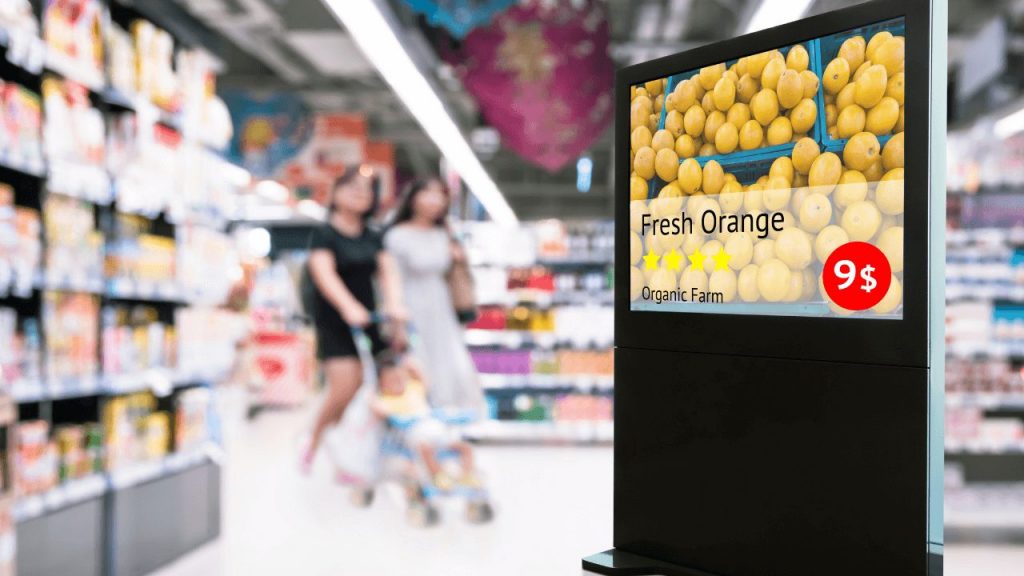 #3 Digital communication with employees and visitors
Digital signages can help your organization to communicate with your employees in a better way. They can help in making the employees feel cheerful as well. One example is celebrating birthdays and announcing employee of the month through displays rather than using traditional team report software. The global pandemic has completely redefined digital signage usage in the corporate world. Any news associated with the COVID-19 is now exhibited 24/7 to remind staffers and consumers about maintaining personal hygiene.
Not only employees, but the experiences of customers and visitors can also be made better with the help of digital signage. For instance, hospitals install digital signage on every floor either in the hall or near the counters, so that patients are aware of their turn to see the doctor. Additionally, in case of any surgery or operations, family members can keep a tab on the updates about their loved ones. All the other healthcare-related information is also displayed on these boards.
For building a positive image and promoting the credentials and expertise of medical healthcare professionals, their experience can also be displayed using digital signage. Both staff as well visitor experience can be enhanced by the conventional signage display.
💡💡💡 Also Read 7 Ways the Digital Workplace is Evolving
#4 Building strategic alliances and getting sponsorships
The majority of brands nowadays collaborate to achieve joint benefits such as increased brand publicity and sales income. Digital signage can also act as a mediator for organizations to become a partner or sponsor each other. They allows business partners to creatively present their ideas about their products and services to their audience. 
For instance, a cosmetic company can collaborate with retail stores of H&M to display their merchandise information on H&M's in-store display digital signage platforms. Another example is an alcohol company collaborating with sports pubs and bars to present their promotional videos on digital signage.
#5 Use digital signage to collect information – Big Data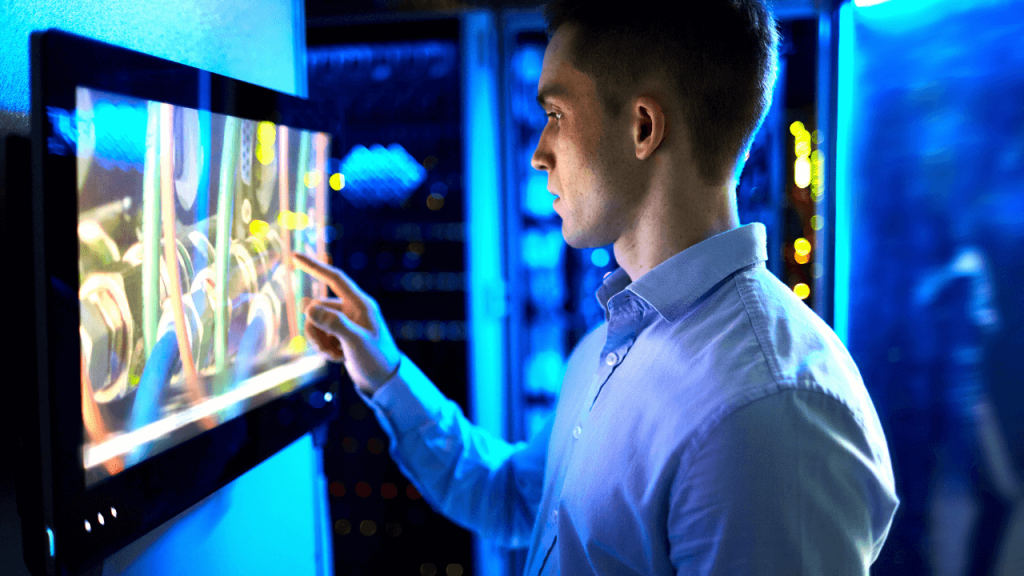 When businesses use traditional signage, it means one-sided communication. Digital signage enables businesses to target a specific audience and also collect data by directing customers to answer surveys or questionnaires. The data collected with the help of digital signage material can be helpful for futuristic advertising purposes.
Customer information and choices would help organizations to design better services and products such as the right menus, the right merchandise packaging, the correct location to launch a specific product, and many more. The use of digital representations and interactive mirror display boards has become a necessity for flourishing businesses. 
#6 Communicate your story to your audience
Every brand aims to build a genuine connection with its customers. These days, consumers have ample options to select from, and they wish to be considered seriously and attended to in modernized culture. Using digital signage is a wonderful idea to express your story and develop a relationship through engaging promotional content. You can notify and inspire your viewers efficiently through retail broadcasts and videos. Digital signage also helps to build brand image and give brand significance. 
#7 Saving huge amount of money
As compared to traditional marketing communication methods, digital signage is a much cheaper way to promote your products and services. Digital signage allows businesses to present and promote a variety of content and schedules in a flexible manner. Moreover, indoor display signage has a long-lasting capacity.
Enterprises can restore various pictures with videos by just performing a few clicks on a content management system (CMS) – provided by software of digital signage. Outdoor displays are also perfect if the business has a low marketing budget for long-term goals. However, they should also ensure to tighten security measures. 
#8 Increase customer satisfaction by reducing waiting time
With the help of digital signage, organizations can inform the customers about the amount of time they have to wait in a queue to purchase a commodity or use a service. For instance, restaurants can display the information about food orders being prepared and ready-to-be picked, SPA centers and medical facilities can display the customer queue number.
Many businesses also use interactive digital signage to let buyers complete their transactions through self-service kiosks. This step encourages the company to release workers' pressure at the stand while assisting more shoppers simultaneously. Furthermore, people waiting at the table to be served can find information about their order on the digital signage display, reducing their irritation and keeping them engaged as well. Attracting customers and keeping them satisfied by using digital signage can also help in ensuring customer loyalty.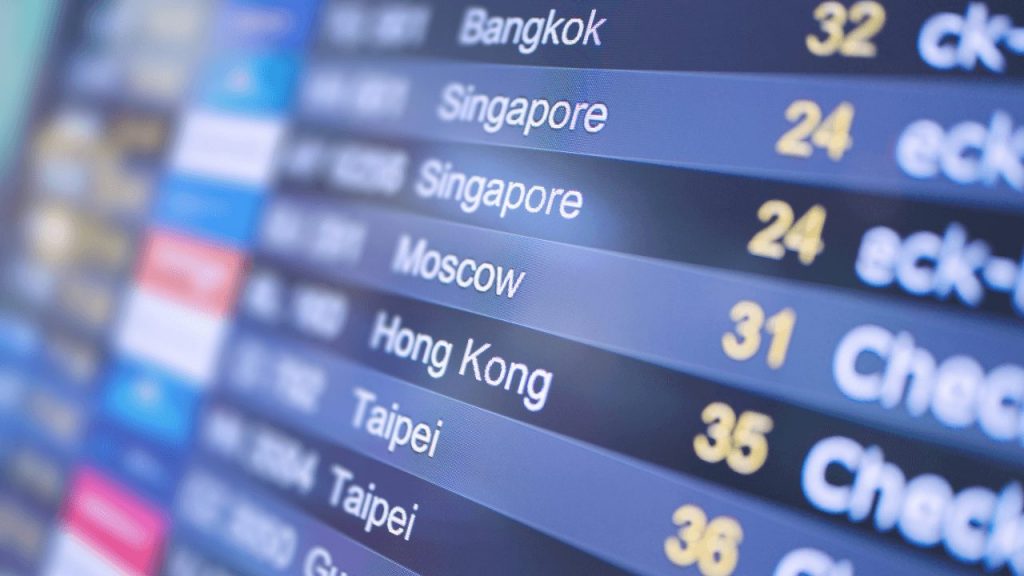 #9 Upsell goods and services
Undoubtedly, visual content has a bigger impact on human minds than plain text. Sometimes consumers are confused about the products and services they wish to buy, and they require a little push for their final buying decision. With the arrival and innovation in digital technology, buyer purchasing behavior and the journey is becoming more confusing and lengthier.
Offline retail stores, shopping outlets, and other enterprises can use this for their benefit by utilizing digital signage and making the shopping experience less complicated as well as joyful for the customers. Businesses can display all promotional offers, voucher codes, and limited-time deals on digital signage and help customers to move to the next level of the purchasing funnel.
Businesses can also upsell and boost the sale of their product or services by promoting the same on digital signage displays. With the help of digital signage, organizations can promote their content in a myriad of creative ways. They can educate, engage, entertain, and share their advertising appeal with their audience quite easily. 
#10 Promote a positive brand image by displaying credentials & reviews
Businesses should always be open about promoting their products and services to their audience – especially the businesses that are performing well. It is always nice to promote the positive reviews and testimonials received by customers. This helps the new customers to build trust and also ensures credibility within the current customer base.
Retail stores can display their positive reviews about customer satisfaction, shopping experience, and also about the top-selling product of a particular brand. A video graphic can help in influencing and attracting customers more – again helping in building brand trust and credibility. 
Remote Management of Digital Signage
With so much positive impact of digital signages on business growth, the need for remote management of signage devices is also accelerating. It is not a productive idea to visit the location of the signage to maintain its operation and publish or edit its content, every now and then. This is especially when you have more than one signage device positioned at different places.
This is where remote management of digital signages comes into picture. 
Publishing, republishing and editing of content can be done without visiting each site
Reducing human effort and gaining more accuracy

Final Thoughts
Digital signage can increase sales and traffic for a business in a plethora of ways including selling, promoting, purchasing, and client success. It is important to note that an organization is usually provided with the appropriate device and content management tools as well as software. Along with the right tools and software, it is also crucial to make sure to use the right content to reach out to a specific target audience. These will help businesses to streamline everyday signage advertisements and build a more satisfying consumer experience.
Electronic signages are as helpful as the messages broadcasted by them. If a business has the freedom of using unlimited finances, it should opt for comprehensive setup LCDs with fitting content. All commercial ads would not necessarily make an impact on the consumer. However, the digital signages that succeed in making a positive impact, typically invoke powerful emotions in the minds of consumers.
Digital signage is a strong way to build and uphold the name of a brand. The fascinating point concerning digital signage is that it can be simple enough for a business to build a solution to the problems of customers and it is equally easy to present that solution to the clients and staffers. If your business is presently thinking to incorporate digital signages, then the above 10 suggestions can help you to strategize your objectives. 
Digital signage remote management could be a simple solution to reduce human errors and efforts for managing your signage systems. Remote management tools like MDM, offer management of  TV Screens, signage boards, etc., irrespective of the size and location of the placement of signage systems, from one centralized dashboard. 
Take advantage of AirDroid Business's 14 day free trial offer to get a trustworthy device management solution for digital signage for your business.