Last Updated on January 16, 2023
For most business and IT managers, excessive usage of smartphones and mobile devices has transformed the customer service industry completely. On top of that, the ongoing global pandemic is further driving companies to seek out solutions to resolve countless technical enquiries rushing into the customer support's inbox every day. In order for businesses to continuously sustain exceptional customer service quality, having a timely customer support system that helps troubleshoot with remote iOS or Android devices plays a crucial role here.
What is Remote Support Software?
Remote support software is the technology that allows customer support agents to remotely access employees' or clients' devices in order to provide immediate IT support services. 
In most cases, IT remote support can be further categorized into two types: attended assistance and unattended assistance. With the increasing usage of smart phones and ever-growing remote working trend, unattended IT assistance is taking up more importance for both SMBs and enterprises. Hence it is imperative to know how to select the best remote support software for your business and customers. Below are several key features a Remote Support solution offers.
Remote Support Software Key Features
Remote control (Restricted permission)
Remote access (Restricted permission)
Screen sharing
File sharing
Annotations
Remote camera sharing
Cross-platform support (iOS, Android, Windows, Mac)
Augmented Reality
One-way Audio Sound
Live chat
Secure connection via 9-digit code
Security and personal data protection have always been the biggest concern when it comes to remote support. AirDroid assigns each device a unique 9-digit code that only the user of that device can see. Most importantly, customers do not need to go through fussy steps to receive help. They can simply download AirDroid Remote Support from Google Play Store or Apple Store, no accounts or VPN required at all. Furthermore, once a screen sharing session starts, both parties can stop their sharing activity anytime. Therefore, customers can rest assured that their private data is safe and their support providers take their best interests very seriously.
AR camera with 3D Markers
Augmented reality as a remote assistance tool is common in most remote support tools. It allows both the service agent and customers to visualize malfunctioning devices and figured out the fastest way to resolve technical issues. With AirDroid Remote Support, IT support agent can place 3D markers while using the AR camera feature.
Each session is allowed to add up to nine 3D markers. In addition, these 3D markers will respond to the distance accordingly without straying away from the original instruction given by support agents. You can also remove these markers altogether by clicking the bulk delete icon. This feature is particularly useful for businesses with their devices, vehicles or machines deployed out in the field. Most importantly, all the other features, such as real-time tutorial gesture, image sharing or file transfer are all available when you activate AR on your device.
Through augmented reality remote support, agents are able to provide immediate assistance as if they were on-site with their customers. This is particularly useful if your customers are having hardware issues out in the field. Businesses are able to empower knowledge sharing with their customers while adding value to their customer service. This will indeed help optimize support workflows and promise better sales performance for an organization in the long run.
*Please note the tutorial gesture is not available for iOS users when activating AR. More information can be found here:
iOS – Which devices support AR Camera or AR Tutorial?
Android – Which devices support AR Camera or AR Tutorial?

Screen Sharing and All-in-one Communication Suite
Real-time conversation and understanding between a support agent and a customer is imperative. Moreover, technical support may come in different aspects, ranging from a truck breakdown in the logistics industry to machine dysfunctional in manufacturing business. AirDroid Remote Support caters to these situations by offering an all-in-one communication suite that allows agents and customers to interact with each other in the most effective way possible.
Three main features included are:
voice call
voice chat
chat messages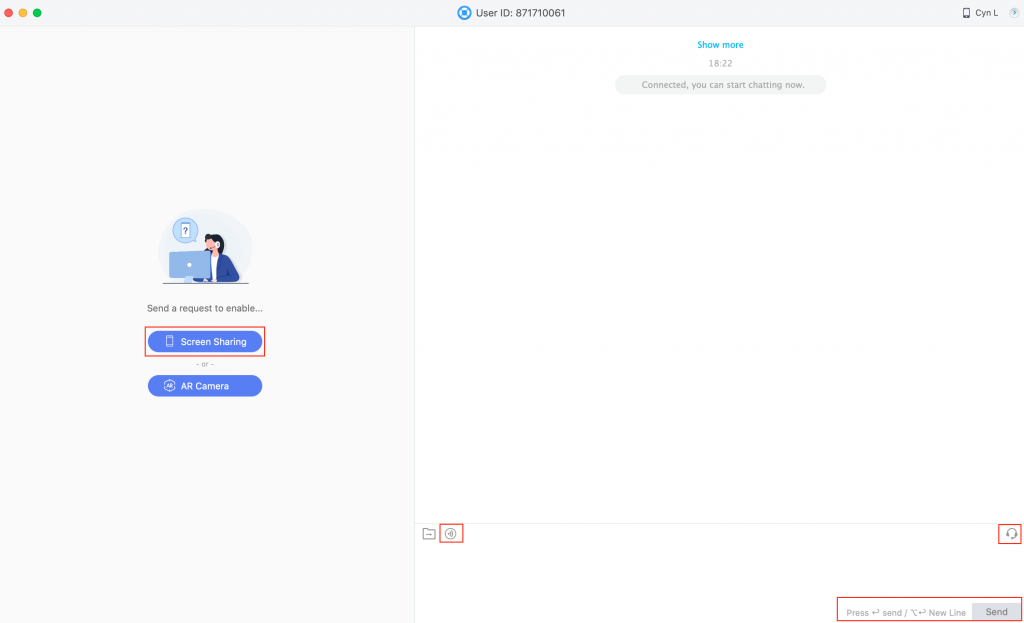 With real-time screen sharing, it allows businesses to offer efficient customer support without geographical limitations as long as there is an internet connection. Without physically sending technicians on site, businesses are also able to minimize their time and expenses enormously. Moreover, when enabling screen sharing during a remote support session, both parties can take a screenshot of the device's screen, edit the screenshot and then send it directly for more effective communication.
Flexible Seat Management
Customer Service is an indispensable department within a business, no matter big or small. This is where AirDroid's "Flexible Seat Management" may come in handy. It allows the account owner to purchase seats based on his/her business size in a more convenient way. The owner can also add or remove team members with a few mouse clicks whenever any job changes take place. Through flexible seat management, businesses can easily:
Reduce operating costs
Improve service quality
Enhance system availability
Minimize investment
Improve efficiency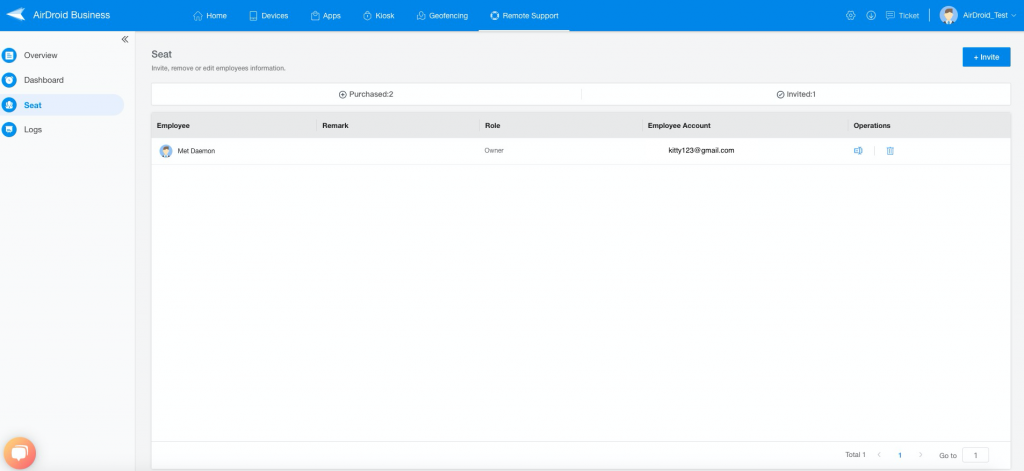 Another amazing perk is if you are already an AirDroid Business Remote Control user, you can easily import your team member list which you had previously set up under the Device tab in the Admin Console. 
Dashboard and log overview
With countless conversations generated every day, an informative dashboard is exactly what you need to keep boosting your business productivity. Companies are able to review their service hours on a monthly and daily hours. Furthermore, the dashboard also gives you insight on how each individual agent is performing. When significant business volume is identified, business owners will always have the flexibility to purchase additional service hours later on.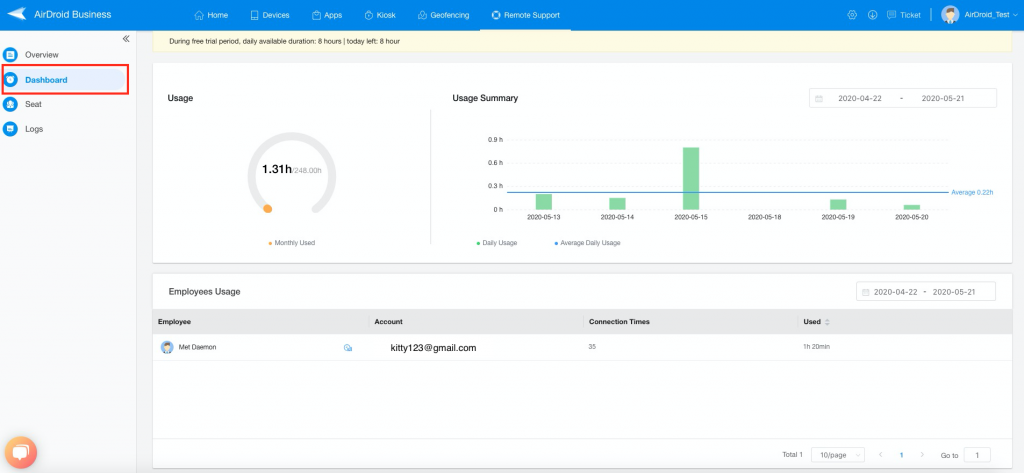 Businesses can also monitor more specific data, such as session duration, connection status or device type within the Logs section. Customer Support manager can get a holistic view of the team's performance via detailed breakdown. By analyzing each generated support session, businesses can retrieve valuable customer insight and improve their overall service quality.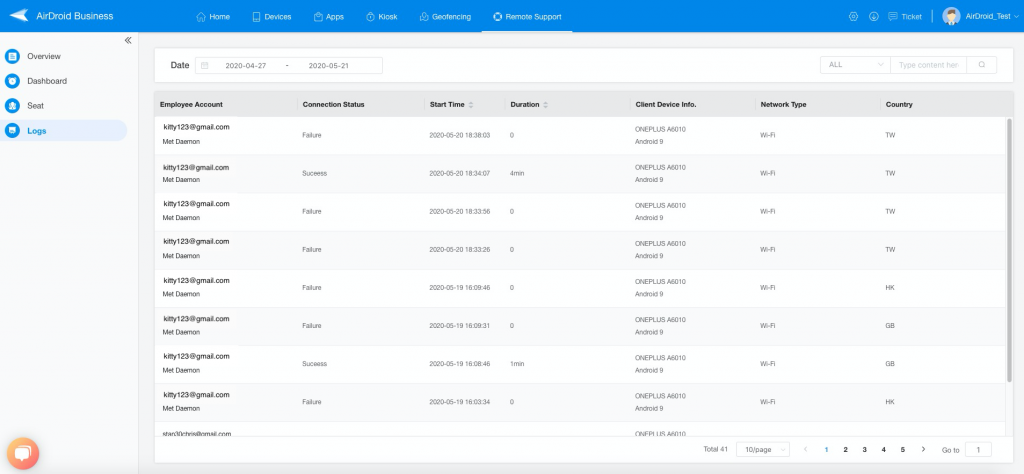 Remote Control (Restricted Permission)
The remote control feature in AirDroid Remote Support Software allows IT service agents to take over a device when being granted the permission by the client or customer. With remote control, IT support agents can solve problems more efficiently when the customer does not have sufficient IT or tech background to follow the instructions. In addition, during this remote support session, the customer will be able to see all the modifications completed by the support agent. This may also help empower customers' knowledge and improve customer satisfaction along the way.
You can enable the remote control feature by installing an add-on on the client/user's device. Just follow our step-by-step guide here.
How to start a Remote Support Session?
Follow these two easy steps to begin your remote support session.
Step 1: For IT support agent, download AirDroid Business (Controller) from Admin Console. For client, download AirDroid Remote Support (Controlled End) from the app store.
Step 2: Ask for your client's 9-digit code shown on the device and enter the code on AirDroid Business to start your remote session.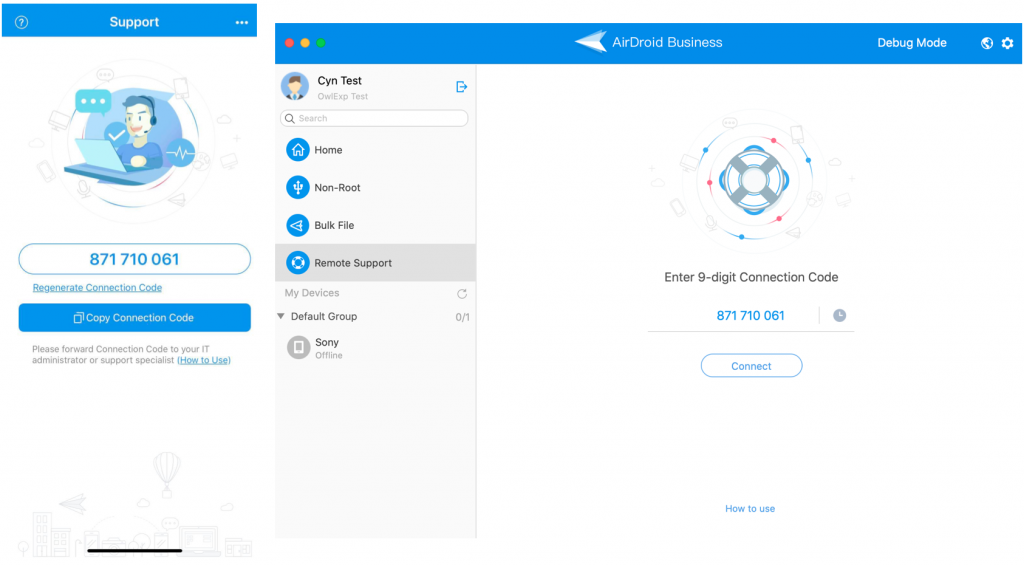 Benefits of Using a Remote Support Software
As a result of the global pandemic, many industries are forced to adopt a certain format of remote working mode to maintain their business continuity.  The benefits for businesses to enforce remote support include:
Shorten the response time from your support team
Enhance your business profitability and efficiency
Reduce frustration from both your employees and customers
Empower knowledge sharing with your customers
Add value and create competitive advantage among your competitors
AirDroid Remote Support Software helps revolutionize your customer service strategy by providing:
Easy-to-use Web browser interface and mobile platform
Secure and Hassle-free connection with help agents
Advanced AR camera with reference point
All-in-one communication suite with real-time screen sharing
Flexible seat management for all business sizes
Informative dashboard data for monitoring service performances
Detailed log records for further customer profile breakdown