Last Updated on September 20, 2023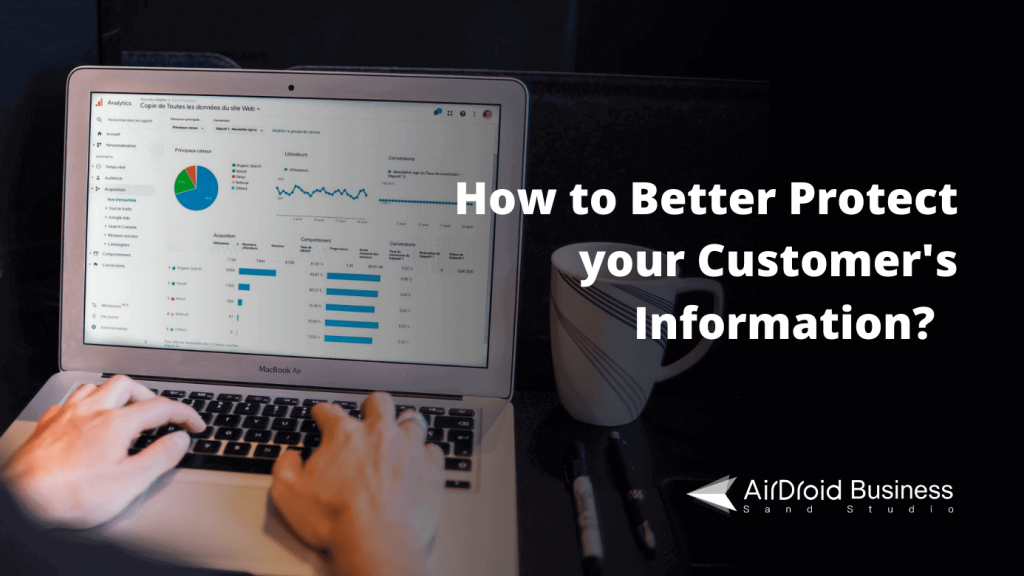 Technology and innovation have made access to customer data a walk in the park for many businesses. In today's world, access to customer data is one significant way businesses can provide services that their customers will find acceptable.
It helps you provide personalized services and offer customers products and services they will find relevant, which will lead to increased sales conversion. But, unfortunately, most good things have their downsides, and access to customer data is not excluded.
The same way you are interested in your customers' data to help improve their experiences with your business, cybercriminals and fraudsters also want access to your customer data for fraudulent purposes.
Furthermore, your company stands at risk of lawsuits and government charges if your customers' data is exposed to security breaches or is stolen. These reasons and more is why every business needs to take preventive measures to ensure their customer data is protected at all times.
Find out more about customer data protection and how you can achieve this.
5 Proven ways to achieve customer data protection
Leaving your customer data unprotected can lead to various issues for the company, including hacks, lawsuits, loss of trust, bad PR, and many others. These tips will help you keep your customer data secure:
Collect only data you need
Customer data can be very valuable to unauthorized personnel like cybercriminals when it contains tons of personal information for their criminal activities. This is why every business should focus on collecting only the necessary information for their marketing needs.
It not only increases customers' confidence in the business, but it reduces the external value of the data to those who might be looking to steal it.
Hackers are less likely to steal customer data that offers them no value. For instance, if all the customer data you have collected is their email address, a cybercriminal is less likely to steal this information because it does not provide much to work with. 
However, if you have location data, names, phone numbers, financial information, etc., your customer data becomes an attractive goldmine that online fraudsters can exploit.
When you ask your customers to fill in a long list of information in data collection forms, you put the company at risk of security breaches and make your customers' data valuable to criminals.
Taking only the necessary information also helps to portray your company as transparent, which boosts customer confidence in your business. To ensure that your company is only collecting the important data, conduct a regular audit of every piece of data you collect.
Start by identifying data collection points for your company, such as website forms, web store (or mobile app) data collection, analytical tools, etc.
Evaluate data you collect from these locations to see how essential it is for the company at the time of collection. Will it help to improve the way the business operates? Will it help to improve the customer experience for your customers?
If your answer to any of these is negative, then you may want to reconsider asking for it.
Password-protect smartly
Many companies now prefer to store customer data on software and online storage platforms instead of in paper format in files or cabinets. If you store customer data on computer software or online storage platforms, you must securely protect these platforms with strong passwords.
Protecting customer data with passwords can be risky, and so you must do this with adequate care and caution to ensure that the password is not compromised.
In creating a password to protect sensitive information, we advise crafting deeply complex passwords that hackers or unauthorized personnel cannot decipher easily. To be on the safer side, using a password manager and multi-factor authentication tool that is securely encrypted is essential.
For instance, LastPass uses strong encryption to ensure that your password is undecryptable. It also prevents the threat of having your password compromised because it can create and store complex passwords for you and your team in a way that is unreadable by hackers.
Password management tools also allow you to shut off access to the password if an employee leaves your company so that they do not put sensitive information at risk. The ex-employee will not be able to access the password manager, so they cannot log in to any of your systems to access the data.
Limit unauthorized access to data
If your company is handling sensitive customer data, you must identify key personnel in your company who will have access to this data. Not every member of your team needs to access this data because not all of them need it.
When fewer people have access to this data, it is at a lesser risk of vulnerability. Every point through which an employee or personnel logs into your data analytics tool is a weak point that hackers can exploit or breach.
So, if you have 10 people authorized to access your analytical tool, this means you have 10 points of weakness, and any one of them with a compromised password puts the entire data and business at risk.
The fewer people have access to your data, the lower the internal risk of data abuse you are exposed to.
Backup your data securely
Another way to protect customer data is by backing it up securely. No, this does not mean only backing it up in a hard drive (as this can be easily compromised) but also automating the process of backing it up and incorporating some secure encryption processes with it.
In choosing a backup solution, look for one that offers some form of extra security to the backup process. This is especially important for online cloud storage solutions. Encrypted online backup solutions offer tougher security protocols which are what your highly sensitive data needs.
Look out for a good encrypted storage solution; go for one that provides end-to-end zero-knowledge encryption. This means that only you will have the encryption keys for your files.
However, it is important to note that most of these tools' secure encryption may not allow for the integration of third-party apps so that your customers' data is super-protected.

Enable firewalls and antivirus
It never hurts to go the extra mile to ensure all-around protection of your data. Setting up firewalls can help keep out unauthorized web activity on your business' internet network to prevent occurrences of malicious or fraudulent activity on your sensitive information.
On the other hand, antiviruses can prevent, detect, and remove viruses and malware from your computer. It is a security measure that ensures your customer data is not infected with viruses that can corrupt and destroy it, rendering it useless for your marketing efforts.
Many comprehensive antivirus software offers your customer data files protection from malware like worms, Trojan horses, and spyware. Some may also offer extra protection, such as customizable firewalls and website blocking.
Why customer data protection is necessary
Protecting your customer data is also protecting your business from avoidable mishaps. Here are a few reasons why you need to protect your customer data.
Helps you stay compliant with the law
Different countries and regions have consumer protection laws that govern how customer data is collected and used. This means data protection is not optional for your business but a legal obligation.
These laws conduct the data collection process for businesses in their jurisdiction and may vary based on location. An example of this is the California Consumer Protection Act.
To avoid erring on the side of the law and facing fines and charges that could cost the business many resources, putting protective measures in place to secure customer data is wise.
Data breaches could cost you your reputation
As a business that collects data, your customers trust you to keep their information safe and away from cybercriminals. Breach of this trust can cost your business a lot, including reputational damage.
When your customer data falls into the wrong hands, it makes your customers lose confidence in the business, which may cause them to stop doing business with you. It may also lead to a lack of trust in your company's security protocols, which may deter them from sharing more data with the company.
These reputational damages cost you customers and reduce your ability to provide customers with the relevant service they require.
It helps you avoid monetary losses
The cost of coming back after customer data has been compromised is often higher than the cost of protecting it in the first place. The cost of data breaches in 2021 alone was at a $6 trillion high, and this figure will continue to increase as more cybercriminals get access to unprotected data.
With data protection measures in place, you can avoid data breaches altogether, as well as the costs of repaying customers for mishandling their data, legal fines, data recovery charges, and many others.
It helps to strengthen and grow the business
Many individuals are becoming increasingly concerned about who has access to their data and how they collect this data. A report by Pew Research showed that 93% of Americans want to control who and what companies have access to their data. In addition, 90% of them want to know what specific data they collect.
If your business is compliant with the guiding customer data protection law guiding your business's location, you have nothing to worry about.
This is because consumers are beginning to specifically look for companies that implement these protection practices and give them control over their data. Consumers prefer these companies and would rather do business with them.
If your company presents itself as data security conscious, you will be able to attract more clients that will boost company revenue and improve customer retention. You will become the preferred choice over your competition who are lacking customer data protection practices.
To avoid breaches that can hurt individuals (your customers)
Data breaches have adverse effects on not only the company but also the individuals involved. When cybercriminals gain access to personal information, they can use this to commit crimes that may hurt your customers.
For example, when some cybercriminals can use it to commit identity fraud. When criminals steal the identity of your customers, they could use the information to commit fraudulent acts that could damage the customer's reputation.
They may also steal their financial information and clear their accounts. Adequately protected data will help to avoid customer-crippling scenarios like these.
Two Important tools that can help with customer data protection
Data protection practices become more manageable when you have the right tools that can help you automate or speed up the process. We have highlighted two helpful tools below that will help you with this:
Osano
This is an easy-to-use software that helps you remain compliant with laws like the EU General Data Protection Regulation and California's Consumer Privacy Rights Act. It helps you transform your website from a risk liability to standard data privacy and protection-compliant site.
It provides you with critical data protection information that you need to know to help you avoid penalties. It also helps you manage data collection consent and data subject requests. To use Osano, you can try it for free or subscribe to its paid version (Business and Business).
Really Simple Systems
This CRM platform has an inbuilt feature that helps you collect customer consent to handle their data. Obtaining user content is a mandatory part of data protection laws, and this tool helps you collect data handling consent.
Its mailing and consent list allows you to record when the consent was given and who (the address) that gave the consent. You can use this tool in four versions: the Free, Starter, Professional, and Enterprise versions.
Conclusion
Customer data protection practices are something every business that handles customer data should get serious about. Today, you can get started with the five proven data protection methods we have highlighted and get familiar with your location's consumer protection act.
These will help you be a step ahead of cybercriminals and work in line with the law to avoid costly consequences.