Last Updated on September 7, 2022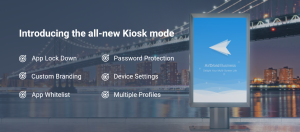 We are proud to announce the addition of the Kiosk mode feature to the already well-equipped AirDroid Business mobile device management (MDM) solution. The new feature enables administrators to turn any mobile device into a digital kiosk and manage it remotely, with the ability to deploy updates and run maintenance through the AirDroid Business admin control center.
With applications across a range of industries, from education and retail to logistics and entertainment, the AirDroid Business kiosk mode enables users to set up digital signage or interactive booths, and with the increasing costs of establishing and running a digital kiosk business ranging from $6000 to $30,000, AirDroid Business' Kiosk mode enables customers to install and run digital kiosks at a fraction of the price.
Features of the AirDroid Business Kiosk Mode Include:
Custom Branding:
The AirDroid Business Kiosk mode enables administrators to customize and lock a device's appearance, ensuring a consistent branding experience for customers. The function also offers users the ability to create and switch between custom brand profiles for different scenarios.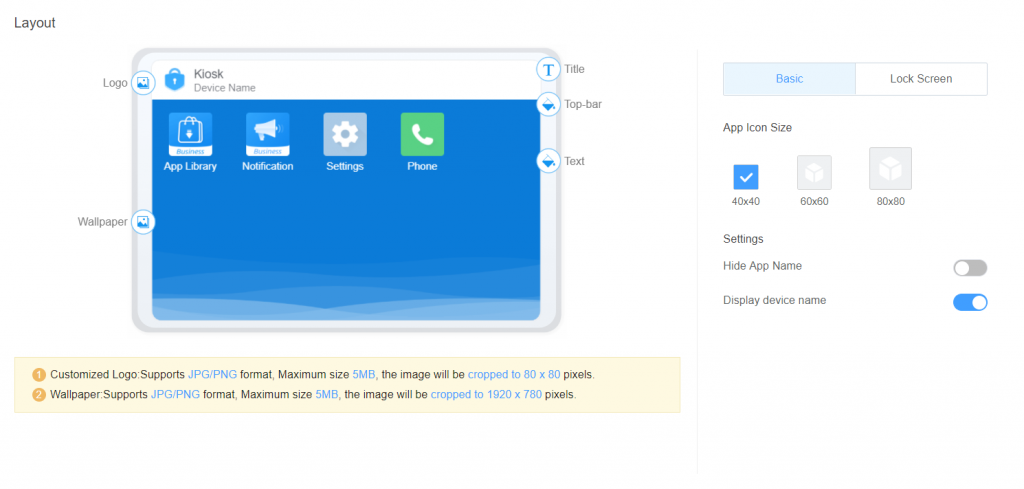 Application Whitelist:
The kiosk mode application whitelist function enables administrators to add apps to a whitelist. Only apps included in the whitelist are displayed when the device is in kiosk mode.
For example, a headphone company is able to set up a kiosk where potential customers can try out headphones by listening to music. The headphones are connected to a tablet. Because of the application whitelisting function, only Spotify and an equalizer app are available. This ensures the customer is focused on the product, and reduces the risk of device tampering for the business.
Device Configuration:
Kiosk mode enables administrators to have greater control over the settings available for potential kiosk scenarios and visitors. Administrators can create multiple configuration profiles that define which settings are accessible to staff or visitors. Some of the common settings include Wi-Fi and hotspot connection, display brightness, volume, orientation and more. This provides additional flexbility when managing a fleet of kiosks across different functions and locations.
Device Management:
Kiosk mode enables administrators to have greater control over their network by giving them a bird's-eye view of which devices are in kiosk mode, and toggle them on or off remotely when required.
Password Protection:
An administrator-set password protects the deployed device from unauthorized access when the device is in kiosk mode. This means only trusted on-site staff and managers have the ability to enter and exit kiosk mode. It also increases security by reducing the risk of tampering or service downtime.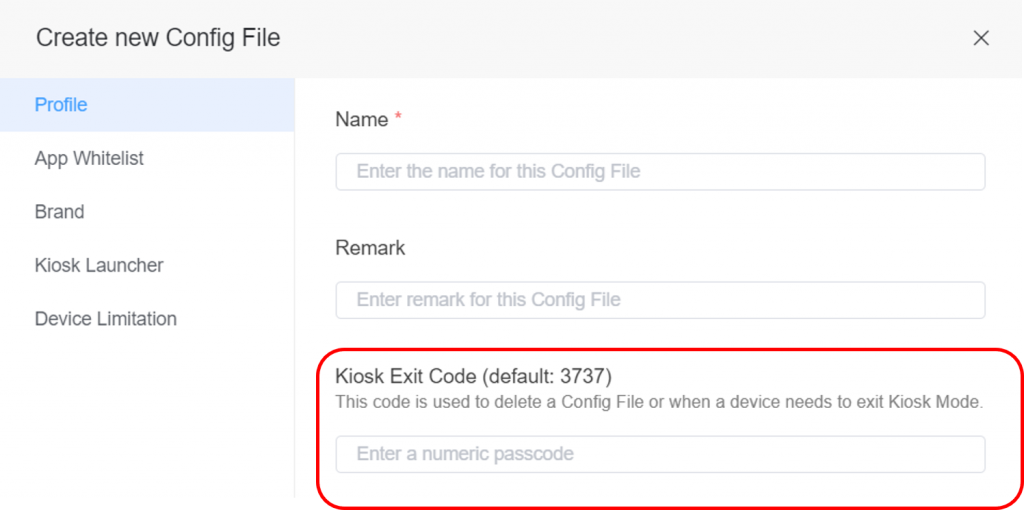 Are you in the market for something like this to better manage your business? Sign up here to get a 14-day free trial to get started or download our complete guide for AirDroid Business Kiosk below.