Last Updated on January 30, 2023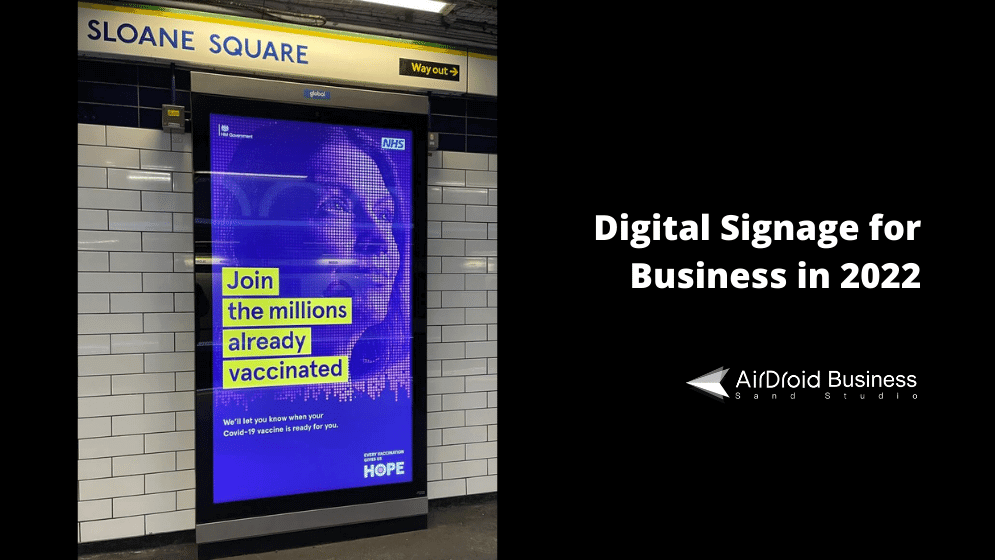 According to Screen Influence, "Digital signage has a 47.7% effectiveness on brand awareness." So, what is digital signage?
Digital Signage for business is a format for the dissemination of digital content broadcast through different types of screens. As we begin to face the evolution of advertising, we know more often now that consuming through screens, in malls, and shop windows is a great way to reach people. It has overtaken the traditional methods of advertising and has a greater advantage over other conventional media such as TV, radio, magazines, and newspapers.
You can easily communicate to the public with graphics and a message that is tailor-made to your own business. You can therefore share a series of multimedia messages for informational, advertising, or entertainment purposes, with high-impact results. You will find digital signage in many places, on screens across the city and beyond, which easily and effectively convey information. You will see that it has taken a front seat in the world of advertising and is subsequently found all over the world. 
There are two types of digital signage solutions. Some are placed outdoors. These are often used in public spaces, in the street, or at bus or subway stops. They are at access points to the cities so that it reaches the largest audience.
You will find that this type of digital communication format has a high percentage of recognition by users. It can be modified depending on the message and graphics that a business wants to use and therefore portray the very best for its company. Some popular sites with this technology are the New York Times Square in the United States or Nanjing Street in Shanghai.
The second type of digital signage is indoors. They may be placed around the points of sale or service of a company or organization. Touchable screens may even be used in this case but many people will find them attractive to look at and therefore provide a great advertising tactic. They are often connected to a computer and the graphics are imputed there at the HQ. Each business can create a set time for it to be shared. It is a simple but effective digital marketing solution. 
Why companies should implement digital signages into their business
There are a plethora of benefits for businesses when it comes to digital signage. Not only does it provide a great ROI, but it also does not take many implementations. Once your advert is live, there is no further need to do anything; which allows your team to focus on other marketing goals. So let us look at the five reasons to begin using Digital Signage advertising today.
Captures the audience's attention 
People are more likely to look at a digital screen than look at conventional advertising formats. A digital sign that flashes that offers the customers something will benefit you further. For example, this may be sharing new 50% off or new customer benefits, people will stop and look more so than a static advert that is on a leaflet sat in a pile near a till. Essentially the eye-catching graphics will positively impact your marketing effects. It will offer you the greatest brand awareness by proudly displaying your logo and the name of your company in plain sight. This message will last in the eyes of the consumer.
Well-designed ads are going to be memorable, which is why the design will play a major role in its success. Capturing the audience is the very first step in them following through with a call to action.
Improves customer experience
If you want to be dynamic and think outside of the box, you can do this by using digital signage. It is easy to format your digital signage to ensure that it is remembered by people. This is the first step in improving customer service. Customers who can see that you have put effort into your marketing materials will have greater faith in your business. It can generate a high level of awareness and transform the experience.
Many digital signs can also be interactive. This allows you to connect with an audience, ask questions, find information from them and also help you generate new demographics to tailor-make future campaigns. You can make new and impactful relationships simply by doing very little. It is ingenious!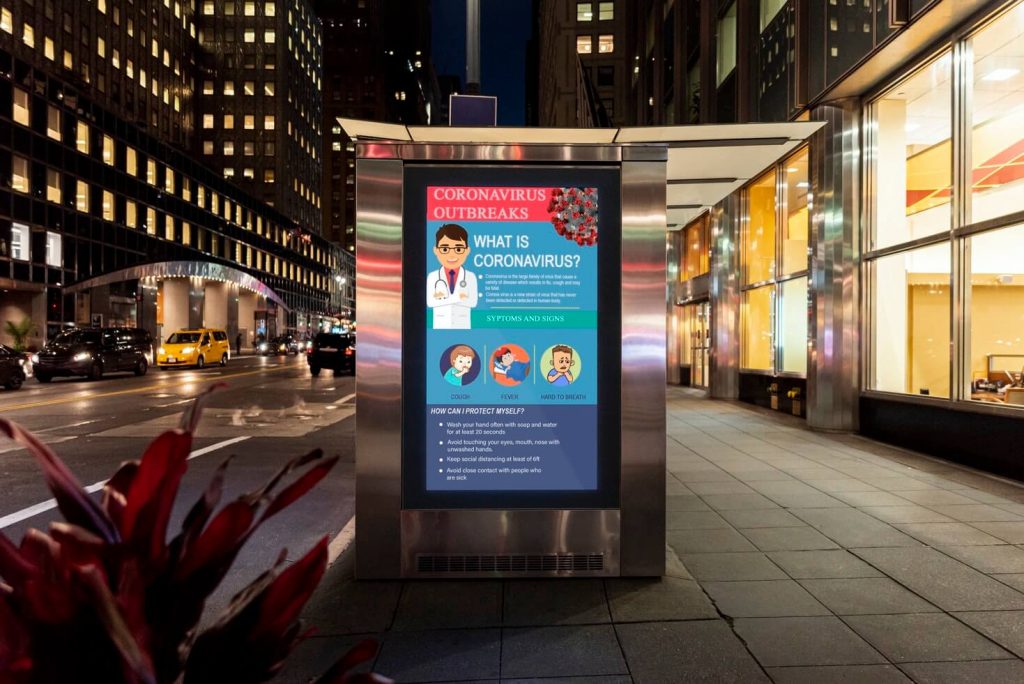 Increase brand engagement 
If you place a meaningful ad and people respond to it, you are halfway there with gaining new customers. The potential is endless. Many businesses will choose to add their social media icons and handles to an advert. This already is increasing the amount of communication you have. You may share with them your website, contact details, and a slogan. This will help you make a bigger dent in the market. You can share your brand in a creative way, and this in itself is beneficial to a saturated market. After all, when potential customers are entertained by content displayed on indoor LED screens, it helps them and you!
Valuable information for business decisions 
If you want to learn more about your audience, you first need to know what they like and dislike. Also, digital signage for business will allow you interactive efforts, to ask customers questions. This will help you in future decision-making. The technology will allow quick analysis of audiences to be obtained. This also allows you to react quickly and optimize content based on the results.
Allows remote content management
Messages directed to different locations can be broadcast from a single location. However, with this being said, you must have a reliable communication system in place. Viral threats could be problematic to your business. Therefore you must carefully consider MDM management and data protection. However, being able to advertise in any place does open up a world of possibilities and it's easy to obtain.
Types of digital signages used in different industries
We know about the types of digital signs used in general. These include Digital posters, independent screens, ceiling-mounted displays, outdoor digital signage, Indoor digital signage, digital menus, and more. But what industries use these to their advantage? The truth is, most businesses, if not all, can use them. To build brand identity, you can use digital signage in almost any niche. It is relevant to your beliefs and what you offer and is displayed in a carefully chosen place to have the most benefit. Digital signage solutions are used across many industries: 
Media and Advertising: Media and advertising companies will choose to place ads and signs in places that will gain the most momentum. Busy streets and areas will be best. Media companies can share relevant information.
Retail: Perhaps the most common industry that uses digital signage, and with good reason. Businesses can share offers, advertise new-in items, and more with simple advertising. Some even offer DynamicQR codes that allow the customer to go straight to the social media pages or website. Retail is a broad industry, but the promotion of products is very interesting. You can share new trends, sales and offers and even a call to action; for example "find us on the third floor". This is a very meaningful way to connect to a customer.
Restaurants: Many restaurants and food chains are opting for digital signage. You can create an interactive menu and therefore order your food and collect via this digital checkpoint. This has already been implemented in many McDonalds restaurants. The content shared for any restaurant can be specific to what you choose to promote. For example, photos of your latest special menu can be vital. You can also introduce staff members via this platform, or share how you source and cook your food. The more information that a visitor is armed with, the happier they will be.
Corporate and business: Company ads are an ideal way to boost morale and make people feel more connected and valued. Corporate businesses can use digital signage to announce a birthday, corporate celebration, work anniversary, new visitors, promotions, or valued messages. It can also be used to help other employees interact with each other. They can be used during meetings, to enhance the points being made, and to create vital information on a visual screen that is more likely to enhance the learning process.
Hospitals/Healthcare: These digital signs can be used to facilitate a better hospital. After all, patients and doctors alike may need to find a place, ward, or meeting room promptly. Interactive signs can guide you to the place you need to be. In addition to this, it can offer vital medical messages, health alerts and more, to assist public health.
Hotels and Travel: Hotels and travel industry professionals may choose to use these signs as a way to direct travelers and assist them with a better stay. Automated check-ins for example are great. Welcome information and information relating to the hotel could be simple for guests. Opening times of the spa, offers for the restaurant, and advertising the pool are great ways to enhance a traveler's experience. In the room or suite, digital signs may make room service much more accessible and easy for all. In addition to this, travel information and even entertainment are easy to obtain and make the guest's stay much easier. A modern, easy-to-use system is going to easily please your guests.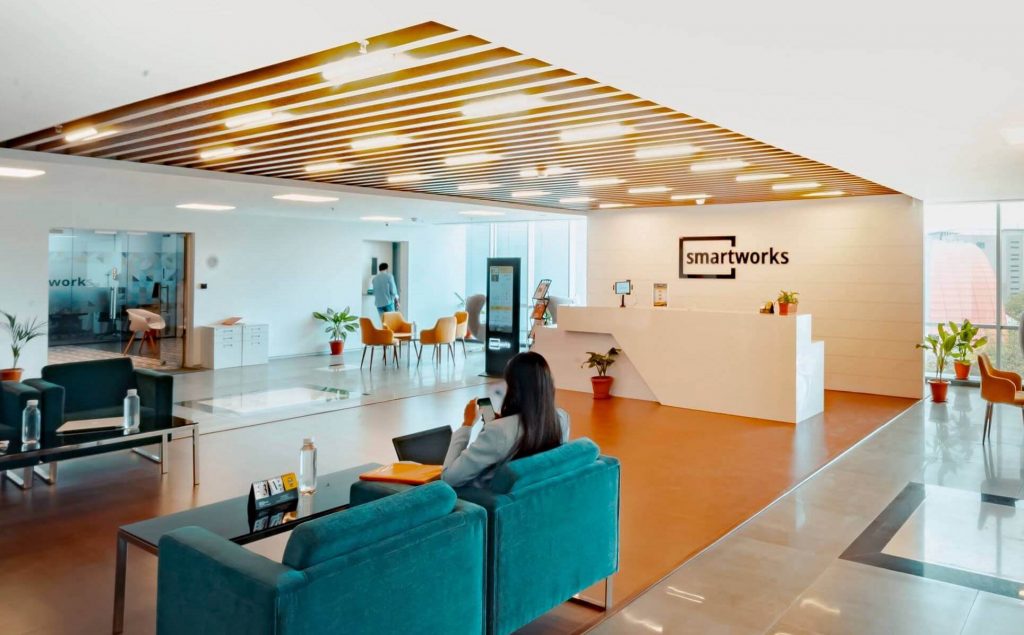 How to manage digital signage devices and players?
Digital signage is not simply a magical tool to use in your digital marketing efforts. Instead, many roles are played behind the scenes to create a seamless strategy. This technology is vital and must be well maintained. From connecting panels to a customer connect terminal, there are plenty of wires and software that ensure this works well. 
CMS (content management system) 
CMS is a vital element of digital signage management. It will help you create and edit the digital signs. Oftentimes, they have the property that they can be operated via a graphical user interface, and therefore the user of the program does not need to have programming knowledge. It is simple to use but effective and therefore you can add or change content depending on what message you need to convey next. You can create a newly selected template and you can use image management tools that also have image processing features. It means you can create great content for your ads, time after time.
Mobile device management solutions
Many companies manage their digital signage through apps on their phone. Mobile marketing is vital. Digital signage is only one of many facets. After all, most of our digital marketing is carried out via this method. Mobile marketing includes software, apps, and networks that we use in business. Social media of course is the most vital one in this sphere; although with digital signage, some forms of mobile marketing are implemented this way. Sharing apps and social sites with customers and integrating across all channels with a call-to-action. Therefore, strict diligence is required.
Mobile device management and MDM for digital signage will ensure that your apps are safe and your company is not threatened by cyber attacks. When optimally used, you can provide security and offer your employees a safe and secure way to manage the device, optimize it, locate the device and block any threats. 
Remote management & security
Remote management illuminates the implementation of a secure remote maintenance solution. This includes planning and integration through concrete technical measures and therefore ensuring your digital signage is secure at all times. A strong firewall is also vital. It is not just security for the digital aspect that is important, but also the physical element. Any business must protect the sign from damage or vandalism. Weather resistant products are best but some companies choose to further encase their signs. For example, Armagard offers double protection for Samsung OHF enclosures. The physical aspect may use specific types of cases that protect further. 
Conclusion
Digital signage in 2022 is most likely going to continue to evolve. Not only has it already proven its worth but it is a diversification technique for new businesses. Implementing an in-house broadcasting concept is vital. You can target your ads for your demographics, be consistent and offer relevant information via this channel about your brand. With a little focus on security, you can convey large-scale information whilst still maintaining security. You must not fail in your quest to execute this technique well. The right manpower and technology must be utilized and therefore you can certainly create the best digital signage and marketing plan for you in 2022 and beyond.