What is a restaurant digital signage? The digital signage that we see across many industries, is a relatively new communication channel for dynamically displaying on-screen content, such as images, videos, and other engaging information. Do you remember the last time you saw a dynamic information screen at the airport? Or perhaps a kiosk in a shopping mall? These are examples of how a digital signage is used as a form of dynamic display and it is linked to the marketing strategies of businesses. However, a digital signage can be used in more ways than this. For restaurants especially, you will find that a digital signage can provide an array of information about your food, how the food is prepared and other resources related to your business. As such, it is now incredibly popular to use digital signages in restaurants and food outlets. This type of content grabs the attention of people who pass by because it is so easy to digest. The digital signage often displays useful media and information that offers consumers something new to learn or see.
In the F&B industry, digital signages have taken on a new meaning and offer new ways for customers to consume. Restaurant digital signage, in particular, is a dynamic communication medium that has the following advantages: time-saving, flexibility and speed, improved user experience (e.g. by moderating the expectation of waiting times), and power of attraction and retention. It is also a more sustainable way to reach new audiences.
How digital signage plays a role in restaurant marketing
There are three types of interactive displays. Each type is directly related to the kind of audience it is reaching. The content must therefore be adapted to the behavior of the customers. With a suitable message, the impact of digital signage increases significantly. From digital menu boards to information kiosks, here is how it can affect and play a huge role in restaurant marketing:
Point of Sale digital signage
As mentioned above, a digital signage is an effective Point of Sale (POS) advertising tool. In other words, communication via a screen meets commercial and marketing objectives. This device allows you to develop your restaurant's brand image, differentiate yourself from competitors, and enrich your customers' experience. It can also be used to increase the flow of customers to your business, promoting special offers as well as boosting sales.
Point of Transit digital signage
The interactive display at places of passage makes it possible to hit a moving target. Therefore, the location of your screen is essential to capture and hold his attention. Content that is short, concise, and captivating is therefore recommended; being able to leave a good or unforgettable first impression is always crucial. Point of Transit (POT) digital signages are a very useful internal communication vector in companies. It is also an ideal tool for sharing information, guiding, raising awareness, or directing staff in real-time.
Point of Wait digital signage
Businesses can use Point of Wait (POW) digital signages to make customers wait pleasantly. The main purpose is to reduce the time and the feeling of waiting. Broadcasting entertaining or useful content is therefore essential. In this context, advertising messages will not achieve the desired effect. Your customers will quickly turn away from the screen. In this type of situation, informative content is more interesting. This is an opportunity to maintain the relationship with your customers. Present your know-how, your news or the novelties that you offer in a fun way.
8 creative ideas for restaurant digital signage and their benefits
Using digital signages creatively can turn out to be a profitable way to share your business information with potential and pre-existing customers. So what are some creative ways in which digital signage for restaurants can be used?
1. Fun Menu Board
The primary purpose of displaying a restaurant menu on a digital signage is to present information in a large format. But the idea does not stop here. All the creativity possible around the dynamic display allows it to go beyond the simple display of dishes and their respective prices. The content can evolve over time and be updated in different ways to attract the attention of customers.
2. Social Media Walls
A social media wall is simply a digital signage that is used to display in real time the contents of social networks such as Instagram, Facebook, and Twitter. You can share information about your store, and photos of your products and staff and bring a semblance of personality to your digital signage. By sharing your social media content in this way, it allows your audience to have a quick view of your social networks, which may prompt them to connect with you later.
3. Reviews & Rating Videos
Digital signages allow you to offer something special, such as getting your own customers on-screen. Whether these are testimonials or reviews, it gives new customers a chance to see what makes you special and how you stand out from your competitors. Reviews and ratings are also an effective way for people to see you talk the talk and walk the walk, so to speak. This revolution in digital signage allows you to creatively play with designs to make the most out of your restaurant's reviews.

4. Display Latest Order Images
This can be done through creative photography to promote a certain product, dish, or menu that you have. You can also display promotional offers that you are running and share the creative imagery with your customers. This may even entice existing customers to order something new for a change.
5. Waiting Time Display Boards With Images
To help your customers pass the time of waiting, you can use creative imagery and videos on digital signages, which can act as a great distraction. More importantly, you can use the display to show messages or alerts, such as time delays. Of course, a function that we know very well is the dissemination of promotions and products on offer, discounts, and events. This can be done while customers wait for their food to arrive.
6. Interactive Video Wall
An interactive video wall can be one that allows your customers to see where their food is coming from, for example. This can be a nice way to show people your organic produce, or where your meat comes from. People today are health conscious and desire to know as much as possible about their food. You can have separate interactive screens which are easily updated and synced to a mobile-responsive online account. This will allow people to see you are honest, open-minded, and customer-focused.
7. Self Ordering Touch Screen Menu Boards
The major benefit of self-ordering kiosks is that it cuts queues, solves waiting issues, and allows customers to feel empowered when they are making their choices. Digital menu boards can be easily configured on a mobile device or tablet, where you can add numerous categories and sub-categories. Customers can select items and add to "Checkout" and will be able to use coupon or voucher code on payment, which can be processed directly from the digital boards. Mobile Kiosks offer a fun way to make these boards interactive. It allows companies to customize the designs for the interface in order to keep a unified brand image across all devices as well as spread brand awareness.

8. Staggered Creative Wall Signage
Having a staggered digital signage display on the wall can act as artwork or wall photos that can be incredibly eye-catching. Not only does it look aesthetically pleasing but bright and bold artwork can attract new customers who are passing by the store. These bright-colored and styled digital signs can make a bold statement through creative use of text and imagery. A display of LED screens, strategically placed, can serve to inform customers about anything you want them to know.
Tools needed to manage restaurant digital signage
Whatever display systems are chosen, they must be combined with a management tool adapted to your needs. To make an informed decision, you must take several criteria into account.
Managing the fleet of dynamic display screens involves being able to interact with different screens, sometimes spread over several locations separated by hundreds or even thousands of kilometers. Many digital signage screens are unused, simply because they are not activated or configured properly. It is therefore very important to opt for an Mobile Device Management (MDM) service, which will help you to deal with the complexities of software installation and maintenance. One thing to note is that it is important to know the compatibility with external sources and the main multimedia formats used. Depending on the type of content that is intended to be distributed, it is essential to check that the chosen tools and team are capable of handling your digital menu boards.
Utilization facility
Screen management software must be simple and pleasant to use on a daily basis. Having an intuitive and ergonomic solution makes it possible to not only save on training and limit the drop in productivity linked to the "discovery" phase, but also make users autonomous in the space of a few days.
Scalability and quality of support
To avoid unpleasant surprises, it is always beneficial to question a potential software publisher about the changes it brings to its solution. A tool that is seldom or not updated should be treated with caution. Instead, you should choose a solution that has a more solid follow-up, with a potential for evolution to meet possible future needs. Moreover, you should discuss with the service provider about the level of support it offers, such as integration and training issues.
Proper planning
Proper digital signage management of a dynamic fleet of screens inevitably requires well-oiled display planning, in addition to switching them on of course. To do this, it is necessary to use a provisional calendar, thanks to which, each screen in the park can be managed independently by using broadcasting "slots" over specific time slots. The goal? Achieve a harmonized broadcast on all screens by avoiding the overlapping of time slots, downtime, etc.
Managing your digital signage must come with expertise. In order to achieve the highest rewards, you must ensure that you have a team behind you that is well versed in not only the creative aspect but also the security of utilizing this type of technology and how it can be changed and adapted, depending on your message and the information you desire to share. You can most certainly look at Endpoint Management solutions for your restaurant's digital signage. As for mobile-based digital signage specifically, like digital signage tablets, there are MDM solutions that allow you to manage device settings and play content on your digital signage remotely. Once this is implemented, you can have a reassurance that your digital signage is working effectively, it can be changed and adapted depending on circumstances, and finally, you can be sure that it is not vulnerable to fraudulent activities or cyber threats. Managing all this in one place and remotely gives you peace of mind and allows your entire team to work effectively. Some of the basic tools you will need to set up your digital signage ecosystem are:
Digital Signage hardware:
Android OS/iOS device (tablets, iPads, etc.)
Monitor or display screen with HDMI ports
Digital signage player​ or media/tv box
Interactive digital boards or kiosks
POS hardware for self-ordering devices (card reader, receipt printer, etc.)
Cloud-based Management Software:
Media player software
Content management/distribution system (CMS software)
Content creation software
Device management system (MDM software, etc.)
Reporting and analytics software
POS software integration (if the payment system is needed)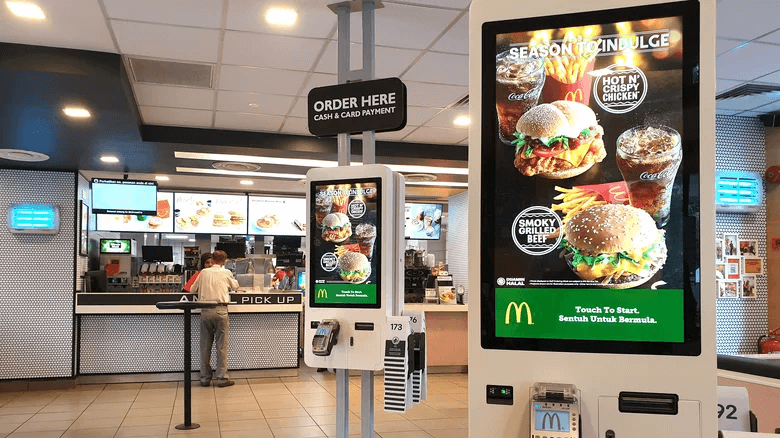 Conclusion
Refreshed digital boards and menu boards allow you to present relevant content to your audience. This means tailoring your information for each individual customer. These types of digital menus and digital signage for restaurants will also help your staff greatly. They will be able to highlight specific messages and they can also add their own information and customer service if the customer asks. Even in the age of digital marketing, you can still offer your customers something new. This way, they can offer you feedback and you can amplify your business message easily.