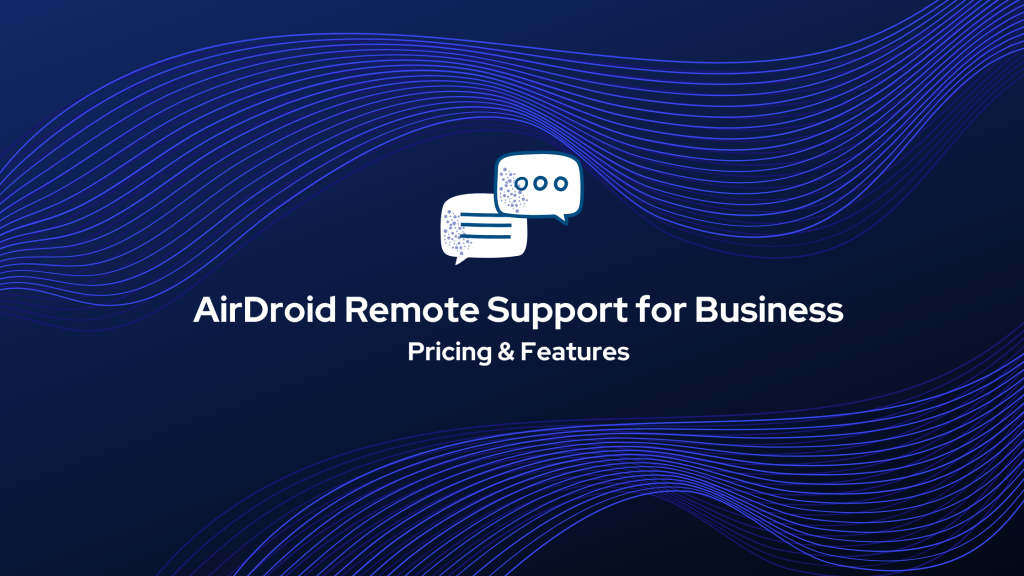 What is AirDroid Remote Support for Business?
---
Overview
AirDroid Remote Support for Business is an all-in-one remote assistance solution for IT professionals and customer service teams to tackle both hardware & software issues.
What can you do with AirDroid Remote Support?
Software troubleshooting
Real-time screen sharing – with permission, you can ask the person you are supporting to share their device screen with you. You can see the screen as the person is using the device.
On-screen tutorial gestures – you can use gestures like swiping and clicking to give instructions on using the device.
Messaging, voice chat & file-sharing – there's a variety of tools to help you communicate with the person on the other end in different scenarios, including texting, voice chat, voice recording, or sending documents or files in the chatroom.
Hardware troubleshooting
AR camera & voice chat – when the scenario needs you to see the physical surroundings of a device or equipment, you can ask someone on the other end to share the device camera. You can place 3D markers and use voice chat to give instructions on how to operate or fix a device.
Pricing Guide for AirDroid Remote Support
---
Pricing & Key Features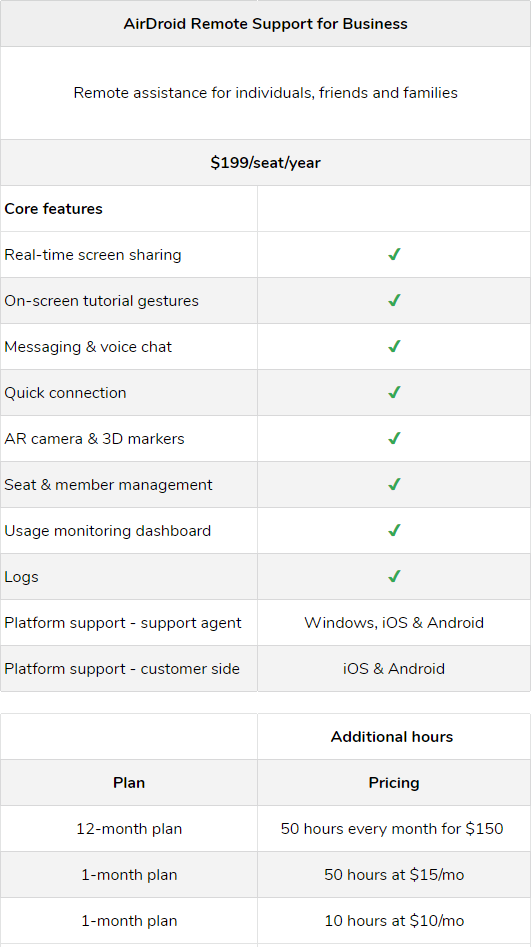 Quick guides & tips
Buying seats – every seat comes with 50 hours of connection time. The hours will reset at the beginning of every month. Each seat can only be used by one support agent at a time. It's recommended that you purchase additional seats if you have multiple agents working concurrently.
Shared hours – when you purchase additional seats, the added hours will be shared by everyone in the team. For example, you will get 150 hours/month if you purchased 3 seats and the hours will be shared as one hour-cap.
Additional hours expiration – you have the option to purchase additional hours when the default quota isn't enough. Note that the additional hours will be expired at the end of the calendar month and your hours will be reset. For example, you purchase 10 additional hours on September 5th, the extra 10 hours will expire on September 30th.
Frequently Asked Questions
---
1) What's the difference between AirDroid Business and AirDroid Remote support?
AirDroid Business – it's a solution for device monitoring, management, and remote control. It's designed for organizations that have more than 10 devices that need managing, and can remotely control the devices without being on-site.
AirDroid Remote Support – a 1:1 remote assistance solution that offers screen-sharing and voice chat for employees and clients who need tutorials or instructions on using a device or app.
Read our full comparison article here.
2) Can I remotely control a supported device?
Answer: No. AirDroid Remote Support offers real-time screen sharing between you and your supported client. It does not come with remote control. If you need to remotely control an attended or unattended device, please see AirDroid Business for more information.
3) How do I upgrade to a paid plan?
Answer: go to our pricing page for AirDroid Remote Support. Once you log in with your AirDroid Remote Support account, you can choose the number of seats and additional hours. Simply select your options and go to check-out to complete the order.
4) Can I add extra seats? How does it work?
Answer: Having multiple seats means that you can have different support agents connecting to different devices at the same time. You can add extra seats anytime to your account by logging in to the Admin Console and follow the steps to complete the purchase. Each seat will give you 50 connecting hours on a monthly basis (resets at the beginning of each month). If the new seat is added in the middle of the month, the hours will expire at the end of the same month and won't carry over.
Try AirDroid Remote Support free for 30 days