Enterprise mobility is an emerging trend every company is going after nowadays. It is the practice of utilizing, managing, and securing devices used in a workplace. The benefits of enhancing device management efficiency for businesses include a decline in operational cost, a rise in employee productivity, better data accuracy, and higher customer satisfaction. In order to effectively enhance your enterprise mobility, a proactive device management approach is called for.
Why do companies need a proactive device management strategy?
The biggest pain point of managing a fleet of remote devices is not being responsive enough for troubleshooting when technical issues arise. As businesses grow increasingly dependent on mobile devices and tablets for daily operations, streamlining workflows under secure networks become a priority for many executives. Here's a comparison between proactive and reactive approach from the perspective of mobile device management.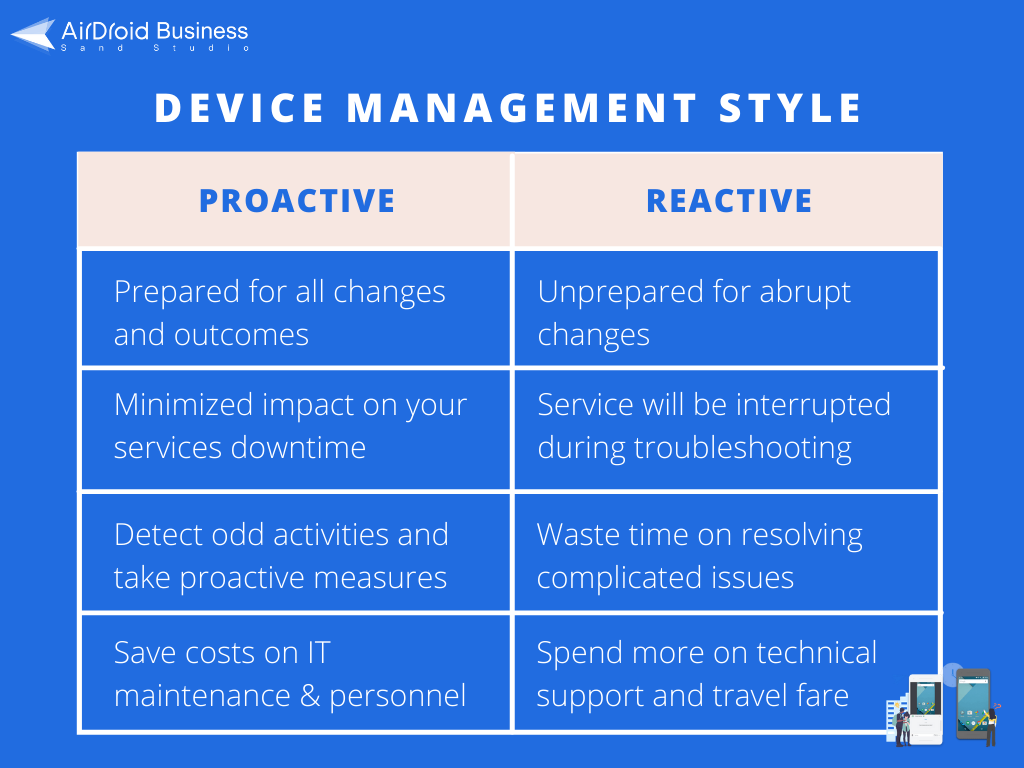 Now that we've learned the benefits of proactive device management, let's learn how to design a compelling strategy to remotely manage devices for your organization and strengthen your enterprise mobility altogether.
1. Select the right mobile device management solution
Businesses can thrive when adopting the right tools. When choosing an MDM solution to manage your remote mobile devices, it is important to understand if your operating system complies with the functionality provided by your selected solution. Though various mobile operating systems are available on the market, Android boasts the largest market share of 73% according to the latest statistics announced by Statscounter. Meanwhile, iOS takes up only 26%.
In addition, most MDM solutions offer free trials to businesses so they can have time to test out all the features and see if the solution actually matches with their requirements. For example, AirDroid Business, a G2 rewarded 2021 high-performing Android mobile device management (MDM) software offers a 14-day free trial for users. During the free trial period, users are granted full access to an enterprise plan. Users may use this opportunity to start managing their Android devices proactively and even schedule an extensive demo session with the MDM experts. The greatest advantage of using AirDroid Business MDM solution is its powerful yet intuitive dashboard, which allows users to remotely manage multiple unattended Android devices and tablets without leaving the office.

2. Encrypt data for cyber security
Protecting the company's sensitive data is an absolute requisite for all device management softwares. Cyber attacks and network security vulnerability have long been nuisances for many companies, big and small alike. With the prevalence of mobile devices in the modern workplace, when an employee loses his/her device, it could result in serious data breach if no immediate, proactive actions are taken. Under these situations, users can activate remote data wipe or remote lock to block any outsiders from accessing the device's data from AirDroid Business centralized dashboard, Admin Console.
It's recommended to take as many proactive measures as possible when it comes to enterprise data security. Most MDM solutions also provide TLS encryption under any data transfer process as well as password configuration. All of the above mechanisms are determined to keep your mobile devices safe from unauthorized access outside your company's network, lowering your risks of malicious cyber attacks for the long run.
3. Assign user permissions and device ownerships
Allocating clear device user roles and accessibility helps strengthen your proactive device management strategy. Large organizations mean more employees, and therefore more devices to manage. In order to make sure each user is accessing device data only relevant to their work, and to keep them from triggering unexpected data breach, organizations need to set a fine line within device ownerships.
IT managers can use AirDroid Business to assign three different user roles, including Admin, Team Member, and Viewer. An Admin has the highest managing privileges and is allowed to make device configurations while a Team Member has restricted permission to change settings on assigned devices, and a Viewer has the most limited access.
Moreover, you can group numerous devices into different groups for a more streamlined operation. For businesses that deploy their Android devices internationally, the user management and device grouping feature will be of great help when it comes to remote device management.
4. Frequently monitor and set real-time alerts
Businesses shouldn't stop after completing device deployment and configurations. Remotely monitoring your devices on a regular basis is critical within a proactive device management strategy. It allows IT admins or business executives to identify peculiar activities earlier and perform quick fixes right away to avoid disastrous system breakdown in the future.
Remote monitoring and management (RMM) is efficient and simple with AirDroid Business. This MDM software provides 8 customized templates for IT admins to monitor Android device performances in one screen view. When the system detects abnormal network connection issues, battery capacity problems, or even irregular surge in data usage, IT admins will receive real-time alerts via email, enabling them to provide responsive technical support using remote access and remote control.
Whether you're a managed service provider (MSP) or an in-house IT manager, it's your duty to ensure the company's mobile ecosystem is always working effectively and securely.
5. Block malicious websites with website whitelist

95% of cybersecurity breaches are caused by human error. Businesses implement mobile devices and tablets to serve different purposes. For example, retailers use in-store Android tablets to create a better shopping experience for their customers. K-12 schools and universities use tablets to create a more engaging learning experience. Companies distributed Android devices for effective inventory management and sales processes. In order to avoid cybersecurity breaches, IT admins should use website filtering to block malicious or irrelevant sites. This is to help companies avoid potential data loss and increase employees' performances.
When managing Android devices for customer-facing purposes like digital signage or restaurants' self-service kiosks, IT admins can also use AirDroid Business to lock devices into single app kiosk mode to restrict users from modifying Android settings randomly. By proactively applying this configuration to all of your Android devices, you can avoid costly cybersecurity expenses and better work productivity.
6. Manage app updates with tests and scheduling
Regular app update is integral to a business' operational efficiency. The prevalence of mobile devices and remote work trends is making device management more challenging than ever. Luckily, with application management, IT admins can easily schedule an update for installed applications and softwares remotely without manual assistance on-site.
As businesses roll out new applications for more streamlined workflows, they can run app tests on 10 different devices prior to an official release. For companies who adopt variant device models, this is one reliable way for companies to prevent cataclysmic breakdown and cause grave impact on operations. When app breakdown does happen, IT teams can quickly replace it with Forced Installation to minimize device downtime.
7. Track device locations with proactive security measures
Staying alerted with your device movement is critical when it comes to remote device management. Apart from using remote view and location monitoring template to track your device whereabouts, proactive security measures should be in place to help companies stay agile should data security issues occur.
AirDroid Business MDM allows IT managers to create digital parameters to closely track motions of their remote Android devices. If a device enters or exits the specified geofence, a designated security measure such as remote screen lock will be triggered. IT admins will receive a real-time email notification. And a set of passwords is required to successfully unlock the device to access the company data.
For IT services for transportation and logistics, location tracking and automated workflows serve as an advanced security to manage supply chains and freight. It can also be applied in healthcare for patient monitoring and wearable IoT device management.
8. Create Push notifications
Keeping your employees informed can greatly boost work efficiency. When companies release an updated app version or new operation policy, the fastest way to notify their employees is via push notifications. This ensures employees aren't missing any important information even when they are away from the office. AirDroid Business offers an additional feature which lets IT admins get an in-depth view on whether the message has been read by end users.
More businesses are switching from reactive IT service management to proactive style. In this article, we've illustrated the importance of having a proactive device management strategy for your company's mobile ecosystem. Now you are also equipped with numerous actionable tips on how to create one. If you've already had an efficient mobile device management tactique in place, learn how you can further improve it with the above-mentioned tips. If not, get started with AirDroid Business and create a painless Android device management environment for your company today!