Last Updated on March 27, 2023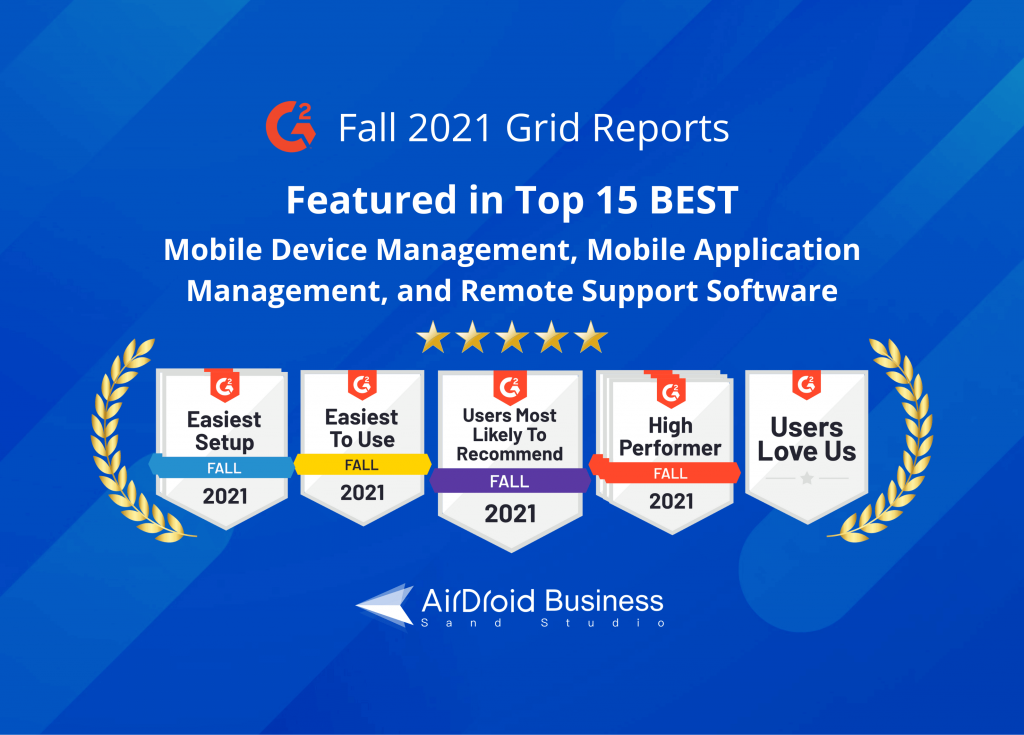 It is that time again, G2 has just released their Grid Reports for Fall 2021! 
As many businesses are already familiar with, G2 crowd is a platform where businesses can explore a variety of business software solutions, read reviews from real users, and make comparisons based on features and prices. This Fall, we cannot be more excited to announce that AirDroid Business got featured in the G2 Grid Reports again, but this time, in 3 categories: 
Grid® Report for Mobile Device Management (MDM) | Fall 2021
Grid® Report for Mobile Application Management (MAM) | Fall 2021
Grid® Report for Remote Support | Fall 2021
Besides being rated on customer satisfaction, G2 also looks at parameters such as compatibility with commonly used or company-issued mobile devices and operating systems. AirDroid Business has tested with many devices such as smartphones, tablets, and media player boxes, and it is proven to work best on ones that run at least Android 4.1 OS and newer for the most optimal remote control stability. Some critical functions to get qualified for being an MDM solution on G2 include having the ability to remote access and control managed devices, perform app and configuration management, monitor and run reporting on device status, and most importantly, having a security mechanism to protect devices as well as company's data.
Additionally, we have been recognized as "High Performers" in all of these categories and earned a total of 8 badges for the respective G2 categories—we can now proudly say that we are a triple-high performing solution provider that is dedicated to tripling your business growth!!!
AirDroid Business has also made some breakthroughs this season with No.1 ranking in "Users Most Likely to Recommend", "Easiest To Use", and "Easiest Setup" among other MDM solutions. Many of our customers were delighted with the simple interface, intuitive designs, and ever-evolving features of our software that allows them to implement and integrate it with their business operation and enroll devices quickly without hassle.

"Airdroid does many things so well. Specifically, I like the windows desktop app that allows me to quickly remotely access a player so that I can see exactly what is happening on my endpoint devices. This is very important for myself and Aura as we use AirDroid to monitor our Digital signage estate..."

— continue reading
We are truly thankful for the trust our users have placed in us and for giving us the opportunity to earn such honorable achievements. Being recognized by G2 as one of the top 20 mobile device management solutions and a high performer in the market is definitely a great milestone for AirDroid Business. It is our top priority to become a trusted partner to our customers and we are dedicated to building strong relationships with them; not only to understand their needs but also to continuously grow with our customers.
>>> Read more reviews to find out what your peers think about AirDroid Business MDM.
About AirDroid Business:
A full-package Mobile Device Management (MDM) solution for Android-based devices. It allows businesses, managed service providers (MSPs), or IT professionals to remotely manage devices via the cloud. Some essential features include being able to remote access and control unattended devices, update device apps and files in bulk, track and analyze inventory with reports, and so much more—all designed with the goal of maximizing business productivity in mind. The MDM solution also comes with additional features like Kiosk Mode, Mobile Application Management (MAM), and Geofencing to further secure your organization's IT infrastructure. To learn more about it, please visit airdroid.com/business