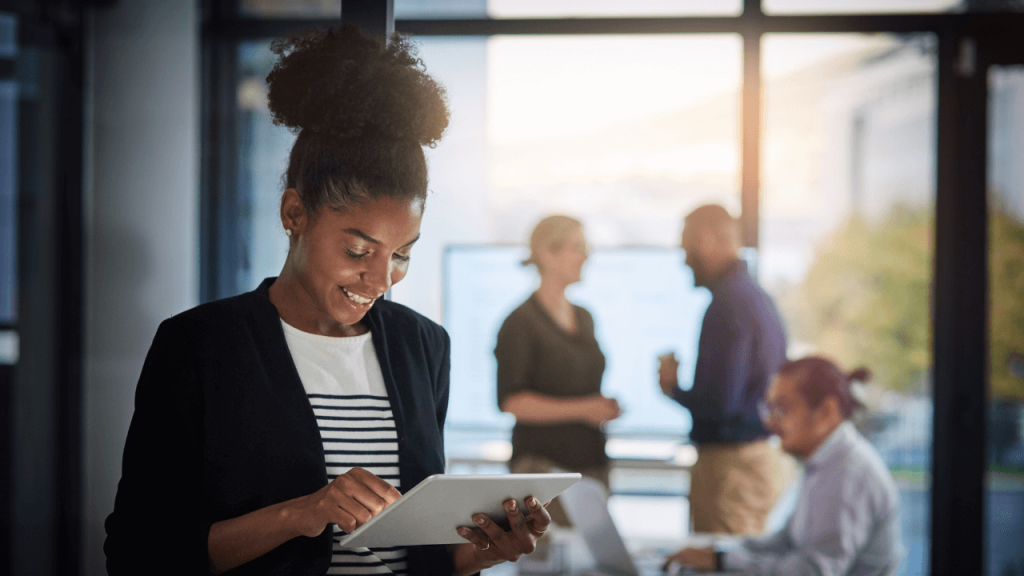 In just a short few years, the way employees and businesses use mobile devices has changed dramatically. With this trend, many questions arise around security, connectivity, privacy, and management. One concept that's becoming more widespread and familiar in the business world is Mobile Device Management (MDM). MDM is the process of improving corporate data security by monitoring, managing, and securing mobile devices such as laptops, smartphones, and tablets used in enterprises. It not only enhances security but also productivity for employees and businesses using multiple phones and devices.
The objective behind and reason you want to use MDM is to increase device supportability, security, and corporate functionality while upholding user flexibility. Employees are bringing their own phones and want to use these at work (BYOD). MDM software is one option an organization has to deliver secure mobile solutions to a workforce that wants to bring their own device. The benefits of MDM software that will help you succeed are undeniable. For instance, better security, increased efficiency, lower costs, and control over all mobile devices. Using an MDM tool enables organizations to have visibility over their devices as the software pulls valuable data from the managed devices. Given all this information, it's worth taking a deeper dive into the mobile device management trends and best practices.
Mobile Device Management Trends
Businesses are starting to realize that they need MDM for several reasons. Technology is evolving quickly and enterprises need ways to respond and keep up. Mobility solutions are at the top of corporation's lists because of the rapid adoption of smartphones and more employees working from home and in other remote locations. One function of MDM is that it ensures that user equipment, no matter how complicated, is configured to a consistent standard set of applications, functions, or corporate policies. There are a few trends to be aware of and that will help you better understand this phenomenon.
#1 Compatibility with mobile application management (MAM)
Mobile Application Management (MAM) or mobile app management is the management of the complete lifecycle of every single app used in an organization. It involves installing, deleting, and updating the apps on both corporate and personally owned devices used in the enterprise. It also entails managing the app licenses, permissions, and configuration. The definition also encompasses coming up with app policies that include restrictions of the apps and data stored on the apps.
MAM takes MDM further by giving organizations more control. MDM allows companies to set up devices as "work devices" through software and apps. MAM even includes setting up certain policies about what the device can and can't do. For example, they may be set up to block applications from accessing data or prevent the device from being able to connect to certain WIFI networks.
You can also say that MAM improves MDM. MAM aids in the process of MDM because it sets stricter rules and gives a company more control over what the device can and can't do. For example, the software can be used to increase security on devices. The better the security, the fewer data breaches and challenging situations you'll need to deal with at your company. You can rest easy knowing that what's occurring on these devices is being monitored and is protected from outside influences.
#2 Bring your own device (BYOD) will be more popular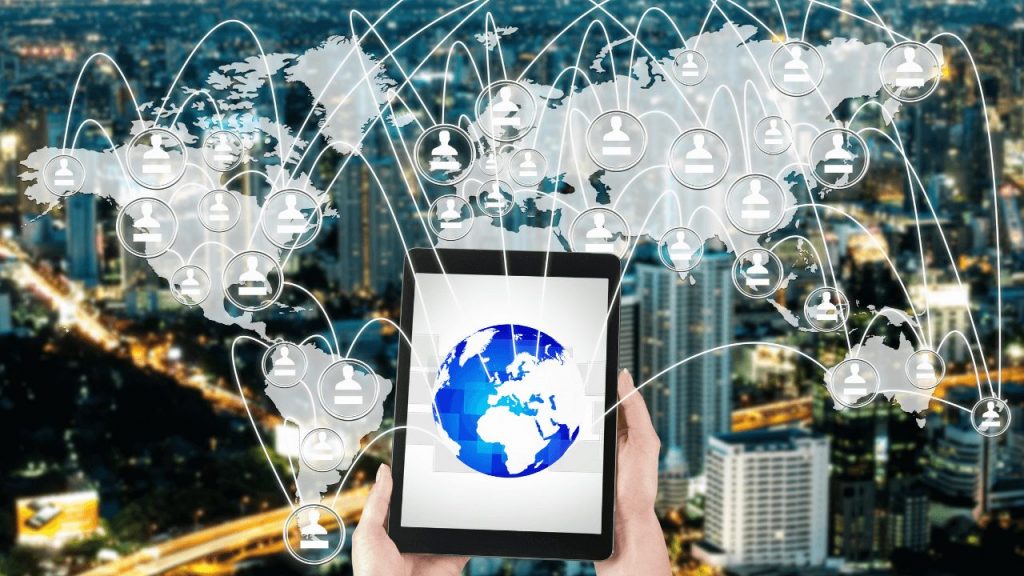 Many employees don't like having to carry around multiple devices for work and personal use. Bring your own device to work or (BYOD) is becoming more popular and companies need to prepare for this shift. BYOD is a term that refers to a trend where employees are bringing or connecting their own devices to the workplace for use and connectivity on the secure corporate network. There may be advantages to this trend. For instance, according to a study on consumer IT consumerization by Dell, 61% of Generation Y and 50% of employees aged 30 and above said they are more effective and productive using their personal devices for work. Therefore, there will soon be even greater demand for MDM software.
The trend of BYOD also improves workflow and helps employees get more done. Employees feel more comfortable using their devices and may be more inclined to work even when not in the office this way. Research shows that employees save 58 minutes per day and are 34% more productive when they are using their own devices. BYOD also saves companies money as they are not purchasing devices for all employees. For this reason, more and more employers are accepting the reality of the situation and trying to work with it instead of battling against it.
However, there is a risk that comes with this trend and employees using their own phones and that's security. It can also be frustrating and take time to enroll and authorize devices and employees manually. The good news is that MDM allows companies to be prepared for this shift. MDM makes BYOD safer and easier as it offers a centralized approach and makes it simpler to set up policies and functions. In fact, 56% of BYOD companies use MDM software.
#3 Shift to enterprise mobility management (EMM)
Another MDM trend is a move to enterprise mobility management or EMM. EMM is software that helps companies secure and protects devices used for work purposes. It's important to note the difference between EMM and MDM. For example, MDM manages the features of a device, whereas EMM manages the entire device. EMM is a complete package of services that offers full data security on BYOD and dedicated or corporate-owned devices for enterprises. EMM provides policy compliance, app customization, data, and document security, for instance. Overall, EMM is a more in-depth, holistic approach to MDM.
EMM is more essential now than ever before. Why? It's because more people are working from home and remotely due to COVID-19. This means that full business mobility is vital. Employees and business professionals need the ability to work safely from any location. It's now possible for this to occur with EMM. It ensures mobile security and protection for devices. It also makes it safer and simpler for employees to work from home. Now enterprises can use EMM to safeguard data privacy and prevent security breaches. Most importantly, it boosts productivity through the use of mobile applications.
Mobile Device Management Best Practices
You should avoid jumping into MDM and implementing such changes without first reviewing how to best implement and manage the change. There are mobile device management best practices that you should know about and may want to consider as you make this shift towards enterprise mobility and allow employees to use their own devices at your organization. Following these tips, you'll have a smoother and more reliable way to ensure MDM works for your business. These MDM best practices can assist your employees to be fully on board, as well.
#1 Understand business needs
Your first order of business is to figure out and understand business needs. Each MDM system will differ slightly depending on the needs of each organization. It's necessary to conduct in-depth research if you want to get your MDM right. For starters, think about which devices you need and want to use at your workplace. For instance, you may be using only smartphones now but also want to consider adding in devices like tablets and laptops.
Take the time to do your homework and get a better idea of how many devices in total will you be managing with the selected MDM software. Business owners or IT admins should also think about what specific devices you're working with (such as brands and models and operation systems). It may help to sit down with your leadership or management team and have a brainstorming session about how you can get your MDM strategy to align with your overall business objectives and plan. Keep in mind that your needs may be different now than they were in the past so it's important to make a decision based on the current situation and where your company and technology are heading in the future.
#2 Integrate with a third-party monitoring service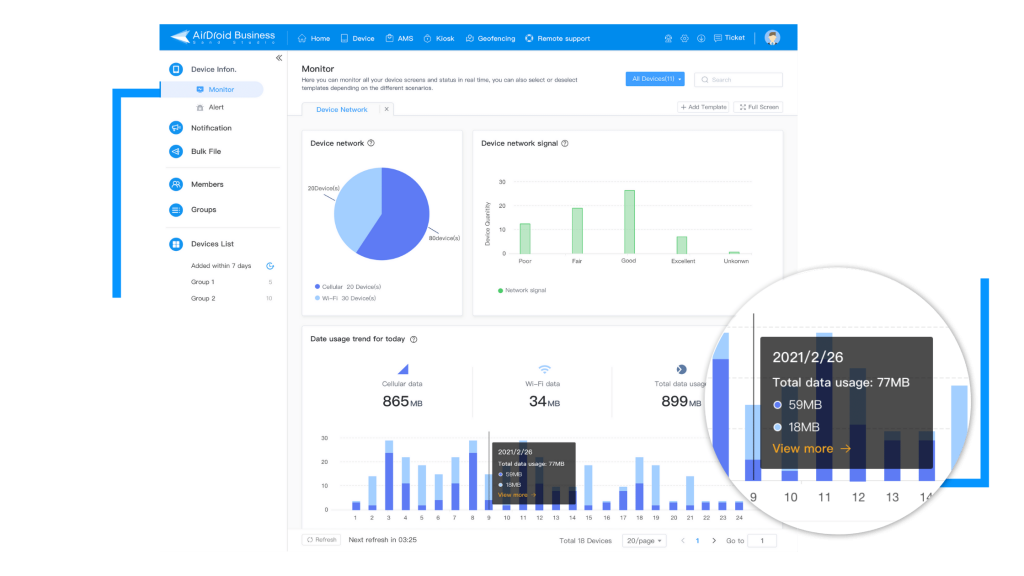 Another best practice to follow is to integrate with a third-party monitoring service. There are several companies that offer monitoring services to assist with MDM. There are also apps that you can install on work devices to help with the process. The services they provide range from wireless data to an option to use GPS tracking. Once again, you need to determine which you'll need and use at your workplace for your specific business.
Keep in mind that monitoring device usage is a tricky and time-consuming job. Therefore, give your IT staff and team plenty of time to learn how to use the software. They'll want to study it in detail, so ensure they're using it to its full potential. You may be able to save on IT costs, depending upon which software you choose. Some MDM options like AirDroid Business contain a built-in device monitoring system that you can take advantage of and save on these types of expenses.
#3 Set clear rules and policies for employees
One of the most important best practices when it comes to MDM is to set clear rules and policies for your employees. It is important to get everyone on board and ensure that each individual understands how it works and the rules that are set in place.
In order to seamlessly transition to MDM, it is essential that businesses are transparent with all members of staff. Employees not only need to know that their device is being monitored but to understand the reason why it is being tracked and what this means for them and the company. It is recommended that businesses design detailed and realistic acceptable use policies that you can share with your employees. Make sure it's clear and concise and that you offer them the chance to ask questions. They may bring up important matters or topics that you haven't fully thought through yet and will need to consider before you roll out your policies. Throughout the process, take advice from the human resources team, and allow their knowledge of employee and policy management to assist. In some cases, it may also be beneficial to utilise hr software as well.
Employees tend to follow the path of least resistance. Figure out all the details behind the scenes and work through the kinds on the backend and then lay it out for your employees in the simplest way possible. The goal is to make it as easy as possible for your employees to adopt MDM. One way to do this is to make security easy to follow. Ensure it's simple to follow the rules and security policies you've set in place. For instance, it can be quite effective if you have secure passwords or two-factor authentication in your framework.
Final Thoughts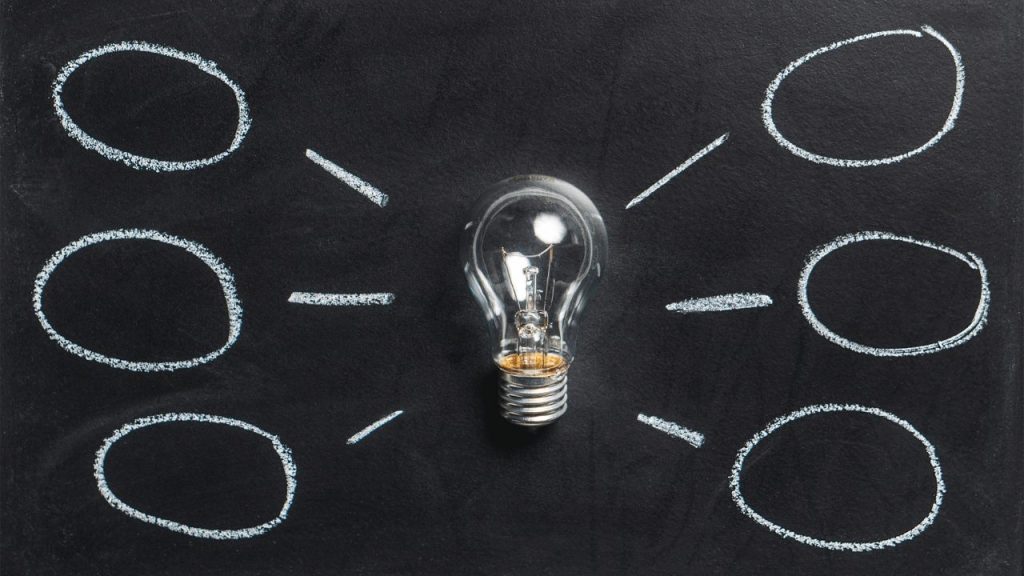 You'll want to be on the lookout for several factors when considering an MDM solution. For instance, that it's cloud-based for easy updates, passcode enforcement, and that it's scalable. You should also ensure a stable architecture, a good understanding of where their MDM provider is headed strategically, and that it integrates with existing security and management controls and workflows.
The reality is that the use of personal and enterprise-owned mobile devices will only continue to grow in the upcoming years. It's in your best interest to educate yourself on the matter and figure out a game plan for ensuring you can carry these changes out at your enterprise. BYOD is the way of the future and part of the modern workplace for many good reasons. Companies are okay with it and ready to welcome it with open arms, given how efficient and productive employees are when they use their own devices to work.
These are a few of the primary MDM trends and best practices you should know and take into account as you experiment with using it at your workplace. It's important to understand the technology and benefits behind MDM  and how the best practices support this shift and will help you succeed. The world and technology are always changing and you must be prepared to respond to this new type of working and remote workforce. Employees are eager to bring and use their own phones to work and instead of fighting the trend, you can use these tips and advice to help you navigate and work through it successfully. 

Author Bio:
Rebecca DiCioccio is the marketing manager at Paperform. Outside of work, Rebecca can be found exploring the outdoors or with a book in hand. Rebecca's background in copywriting and a keen interest in SEO and digital marketing mean she understands the importance of staying up to date with the latest trends in a dynamic and ever-changing industry.