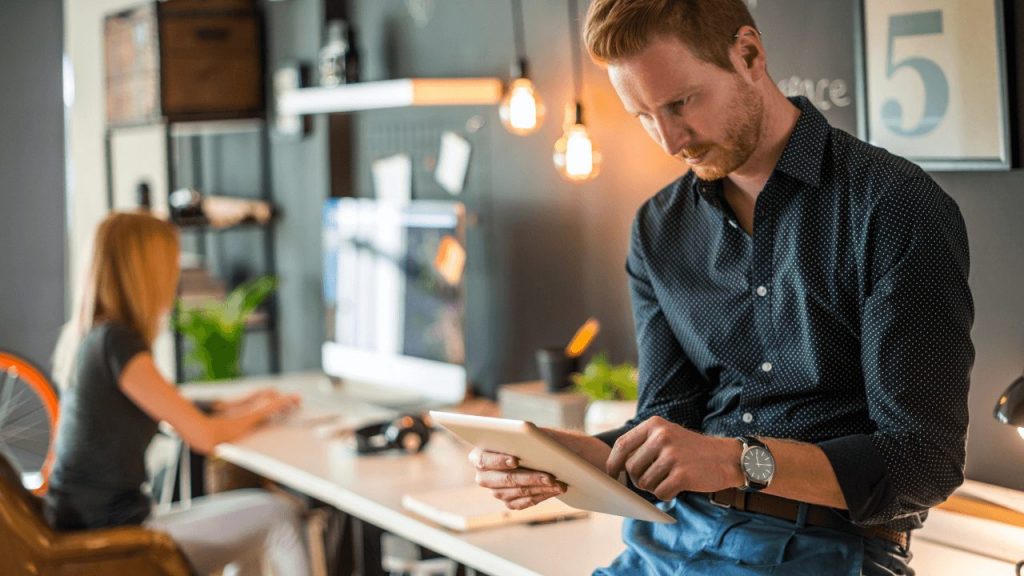 It's become quite apparent that progress in business works hand in hand with digitizing many of your operational processes. According to a Gartner report, digitization is one of the top three business priorities organizations need to succeed.
You cannot afford to manually run the organization when your competition is thriving with automation, making decisions on-the-go, and sharing information in real-time. With a more seamless work process, they are already a million miles ahead while you struggle to keep up.
To level-up in the game and get ahead of the competition, you need to make the most of the digital resources available for companies like yours. There are so many tools today that can help you boost your business; the problem lies in finding the right ones to run with.
Let's show you how digital marketing can shoot you forward on the playing field and the development tools you can use to aid your growth in this Digital Age.
Can digital tools help your startup grow?
Digital tools are the online programs, websites, software, or resources that can improve work efficiency, by making business tasks and activities easier to complete or carry out.
These tools have been made easily accessible through your web browser, such that you don't need to install them on your computer or device to be able to use them. Digital tools are important for business growth because you cannot effectively market your business digitally without using them.
One of the ideals for business growth in the Digital Age is digital marketing. Digital marketing is the strategies and methods you use to market and grow your business in the digital space. Social media, content marketing, email marketing, and other related forms of marketing are all digital marketing subforms widely adopted by industries like manufacture, healthcare, retail, and more
To perform any of these digital marketing activities to develop your business, you need a digital tool. For instance, content marketing requires SEO analysis tools such as SEMRush, or content analysis such as Yoast.
Email marketers also require tools necessary for their niche, like MailChimp. Working with all these tools helps to improve your work processes in different areas. With these tools, employees can become more productive in less time and exert less effort. Many times, it is also less expensive. All of this works together to stimulate business growth.
Key business areas you need tools for
There are certain key areas in your business that you cannot help but use digital tools. These areas are often the repetitive and tedious aspects of business that consume time and energy. Let's take a look at a few:
Money management
Money is one of the mainstays of businesses. It helps to move many processes forward, and proper money management ensures that there are always enough resources to keep the company afloat.
With money management tools, you can plan your finances properly to account for the business expenditure. Money management tools also assist with budgeting for small-scale and even large-scale businesses. Budgeting is a value that most businesses know the importance of. With excellent money management tools, preparing the business's budget and sticking with it becomes a breeze.
Information sharing and internal communication
One quality of a well-structured organization is sharing information among members of staff accurately and timely. Internal communication is necessary so that every team member can work in unity and with updated information.
It ensures continuity in projects when you can carry every member of the team along effectively. Nobody is dragging the unit back. Digital tools for internal communication like Slack helps you communicate with team members collaboratively, on-the-go and in real-time. With this, team members can make more informed decisions faster. If you want to go a step further, you can also consider investing in Unified Communications (UCaaS)
Brand marketing and design
This is another key area in business where digital tools come in handy. Brand marketing today is different. There's a shift in the traditional type of marketing, and digital marketing is the in-thing.
Marketing styles that attract digital customers are quite different, and your business needs to keep up with the trend to stay ahead of your competition. Digital tools can help prepare brand marketing materials quickly and efficiently to attract and generate leads through automation.
These tools also help you create designs for marketing faster and with less skill. This means that you do not need to be a qualified designer to make use of these tools.
With already prepared templates and designs, you can create professional-looking designs for your marketing campaigns.
Customer Relations and management
Customers will always be an integral part of your business, and the way you relate with them and manage their information tells how much you value them. Customers can tell when companies don't hold them in high regard.
Digital tools help you relate in a more personalized way with your clients, helping you build long-lasting relationships with them. A happy and satisfied customer would go to any length to promote your business to family and friends.
Digital tools also help you manage customer data securely and in an organized way to ensure this information stays protected. These tools also help with customer data analysis and give you accurate results and information about your customers and their preferences.
6 Practical tools to grow your business
Now that you understand the importance of digital tools for your business development check out these six game-changing tools that will help you scale.
This is one of the most effective tools for market research and conducting brand surveys. Attest gives you real-time answers that can show you customer insights when you need them.
This tool gives you real evidence to help you make decisions more confidently, growing your business without guesswork. With Attest, you can conduct surveys among your target audience and sample their opinions about your products or services to help you improve.
Consumer research no longer has to be that tasking and tedious job. This tool has so many features that make the process easy, and the best part is, the results are as accurate as possible.
You can conduct brand tracking surveys on this tool to check out your competition and see how your brand is growing in comparison. You can also find out how effective your campaigns have been and the loopholes you need to fill.
Attest also helps with consumer profiling to help you understand your specific customer groups and gauge how much impact your brand has on them, how they use your website or shop your products.
It allows you the option of exporting your results to PowerPoint to help speed up the process of making your presentations. It comes with various survey templates to help you kickstart your survey in record time. Straightforward and super-easy to work with.
Foyr is a 3d Floor Plan Software that helps you create an interior design without the rigors of moving through design platforms to get the final output. You can create your designs from start to finish on Foyr.
You can even upload your 2D design to the software and trace it out to create a 3D design for more ease. Better still, you can create a 3D design on Foyr with pre-modeled 3D products; all you need to do is drag and drop your preferred items.
Foyr offers solutions beyond 3D rendering; interior design becomes easy with the inbuilt tutorials that help you find your way around the software. You can also upload your already existing designs and include them into your Foyr room layout.
This software is built for functionality and ease, so you don't need to install the software before using it. Foyr works excellently on your browser, so you can get to work immediately.
The simplicity of its features makes it great for inexperienced interior designers yet sophisticated enough for professionals. It's the ideal Sketchup software alternative for interior designers who love ease.
Foyr offers scalable pricing for every business. With three pricing options billed monthly; Basic ($49), Standard ($79), and Premium ($179), you can choose any option that fits into your budget easily.
Do you need to create designs for your marketing campaigns or share them on social media? Canva is the tool you need. Canva takes on-the-go designing to a whole new level with the thousands of templates it offers for your designing purposes.
It's so easy to work with Canva that all you need to do is erase the texts or images in the design and replace them with your own. This helps you create professional-looking graphics and videos at the snap of a finger.
With Canva, you can bring your design ideas to life, even without prior knowledge in graphic design.
One of the most routine tasks in digital marketing is social media posting. Because your online presence needs to remain up to date and interactive with your audience, posting frequently is necessary.
However, it quickly becomes a chore and a tasking one at that. There's also a tendency for you to forget to post. But what happens if you can schedule your social media posts and then automatically upload it to your preferred social media?
This is the luxury Buffer gives you. With Buffer, you can schedule your posts to be uploaded at a particular time and any popular social media you choose. Not only that, Buffer helps you analyze your posts on these platforms to see what's lacking and where you can make adjustments.
If you need accurate information about how your website users use your site, you'll find it at Hotjar. Howtjar gives you a real-time visual of your website visitors, showing you when and where they visit your site.
This helps you identify where they face challenges that stop them from making a purchase. Now that you have the accurate info, Hotjar also enables you to modify your website to suit your visitors' buying behaviors. Of course, this will help you convert more leads!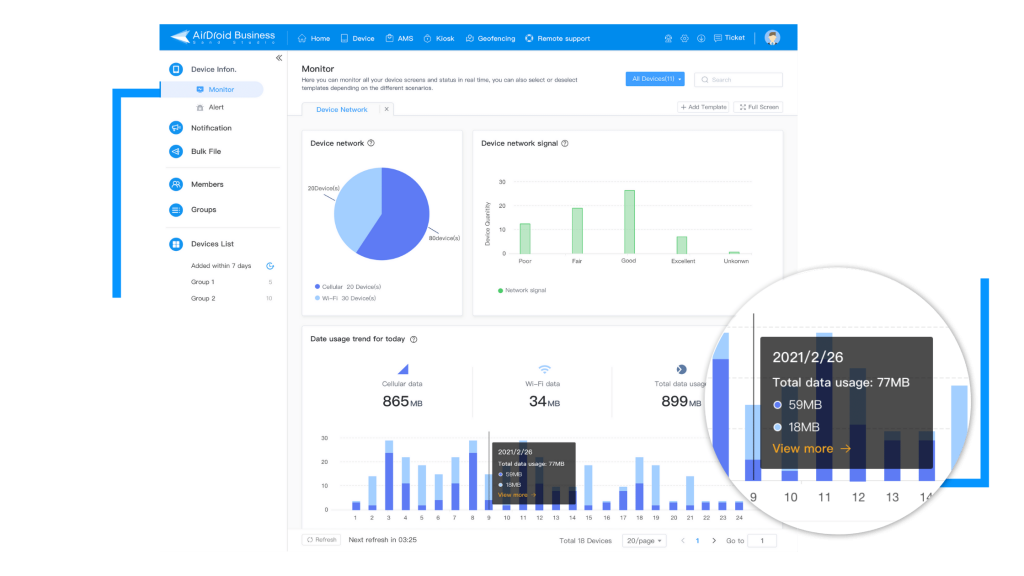 Have you ever been unable to manage your Android devices because they weren't near you? Or waiting for long hours to attend to urgent business matters because you can't reach your devices in time for troubleshooting? With AirDroid Business, this is no longer a challenge.  
AirDroid Business is a top-line mobile device management tool that many companies are making the most of in different industries. It is great for staying connected to Android devices at all times, no matter where you are.
Here is how AirDroid Business works; it's an efficient, safe, and fast MDM software that helps you access and control your Android devices from your computer. It's great for businesses who deploy multiple Android devices out in the field. This Android MDM solution can help you easily send files, push notifications, update apps, lock or wipe devices remotely using a centralized dashboard.
AirDroid Business also allows you to invite other users to manage specific devices assigned to them. This way, IT personnel, service providers, and other business personnel can manage their Android-based Smart TVs, vending machines and more without being on-site.
It has other special features like the remote camera, which allows you to start your device's camera remotely and keep an eye on the surroundings. If you'd like to monitor whether your digital signage screens are displaying the right content, you can also take real-time screenshots to confirm. Most importantly, all the remote access and control activities are executed under secure data transaction. 
AirDroid Business understands that many companies are built on privacy practices, so it uses secure and reliable practices such as TLS encryption. Any data you transfer between your devices is encrypted and secure. You can also access non-root devices remotely as the MDM software supports them, too. 
AirDroid Business offers different pricing packages for businesses of all sizes. Organizations are given the flexibility to scale anytime according to their business growth. Some of the most popular features include remote access, remote control, kiosk lockdown, and automatic app updates.

Final Thoughts
The Digital Age is a goldmine for many entrepreneurs today; all you need to do is tap the available resources to grow your wealth. Having understood the usefulness of digital tools for your business, you can go ahead to make the most of the game-changing tools we have discussed to help your business grow.
Author Bio:
Lydia Iseh is a writer with years of experience in writing SEO content that provides value to the reader. As someone who believes in the power of SEO to transform businesses, she enjoys being part of the process that helps websites rank high on search engines.