Last Updated on October 16, 2023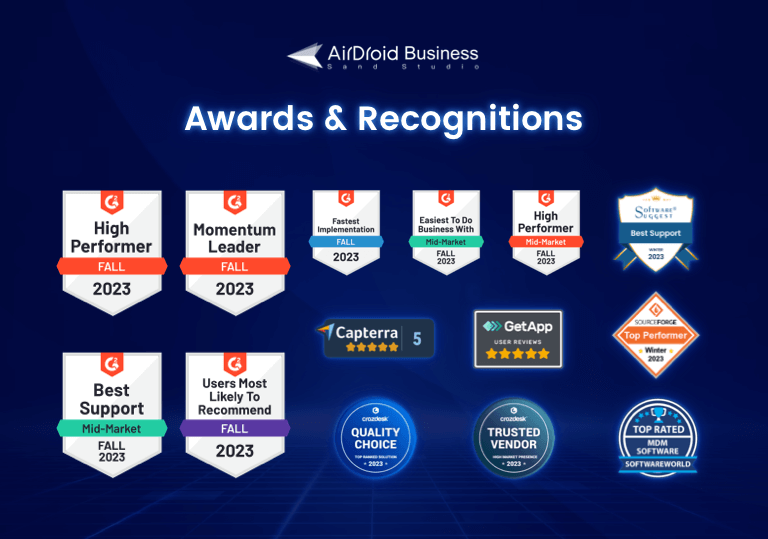 When searching for an MDM solution that is a right fit for your organization, it is important to ensure that the core features you are looking for align with your business needs. This is where B2B software review sites come into play, to help you make a more informed decision by offering real-user reviews from businesses that have similar needs and have been facing similar challenges like you.
Sources like Gartner, G2, Crozdesk, SourceForge, SoftwareSuggest, and other third-party review websites are great places to start your research on the top-rated software solutions and services for businesses.

Below are some of the awards and recognitions AirDroid Business has received since 2020. These awards and recognitions from our users and industry experts around the world have been a powerful source of motivation for us to continually innovate and improve our products and services.
We cannot thank our beloved users enough for their nonstop support and valuable feedback!
---
Badges Awarded by G2
Similar to Gartner's magic quadrant reports, G2 establishes extensive reports that rank the top-quadrant solutions in high-demand categories based on its most recent customer satisfaction and market presence every quarter. AirDroid Business, as one of the leading Mobile Device Management (MDM) solutions for Android, is honored to be featured in multiple Grid Reports and has been repeatedly recognized as a "High Performer" among all MDM, Enterprise Mobility Management (EMM), and several other popular category solutions with an overall review rating of 4.6 out of 5 and a substantial customer satisfaction score.
Additionally, our fast-growing demand and market presence has led us to earn the title of "Momentum Leader" among both MDM and EMM solutions while also gaining a foothold in the European region and Mid-Market segment.

More Awards and Recognitions Earned:
---
About AirDroid Business
AirDroid Business is an enterprise-grade MDM solution designed to improve the mobility and productivity for businesses of all sizes and sectors through remote access, device provisioning and deployment, mobile application management, policy settings, kiosk mode and geofencing. With AirDroid Business, IT professionals can remotely access and control a large fleet of attended and unattended Android devices, install and update apps through our far superior Application Management Services (AMS), track and analyze inventory with reports, and use our exclusive patented Black Screen Mode for privacy protection during remote control sessions.
Businesses will not only be able to secure their devices and gain better control over their daily operations, but with the time and resources freed up, they can then provide better services and improve efficiency. To get started with AirDroid Business, sign up for a 14-day free trial now
Connect with us on Social Networks!